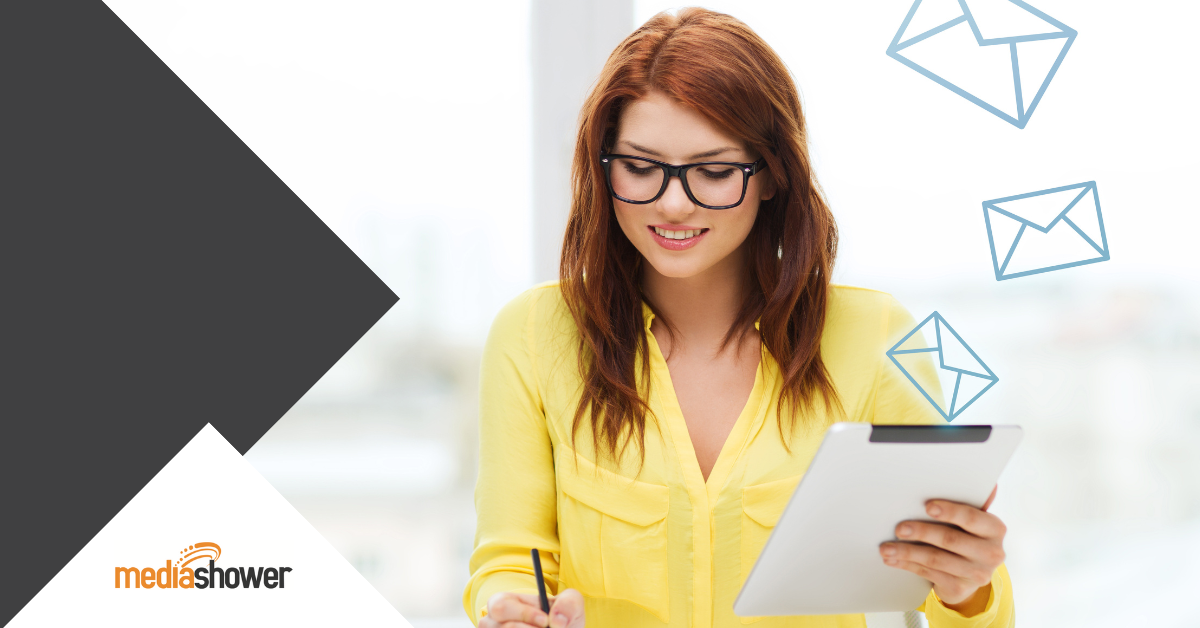 TLDR: Email newsletters have been around since the earliest days of the internet, yet they still generate $36 in revenue for every $1 spent. That's an impressive ROI for any marketing tool.
So What?
Using best practices to make your email newsletter as profitable as possible should be your goal as a marketer in 2023.
---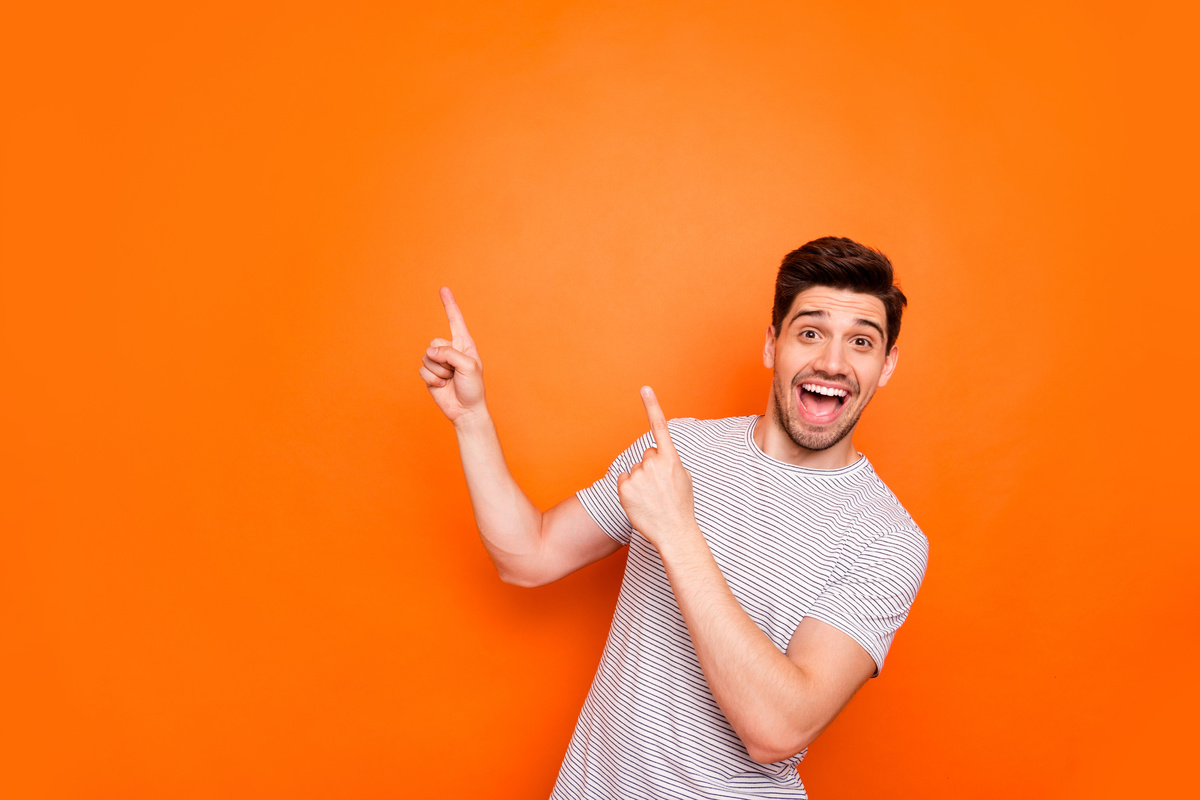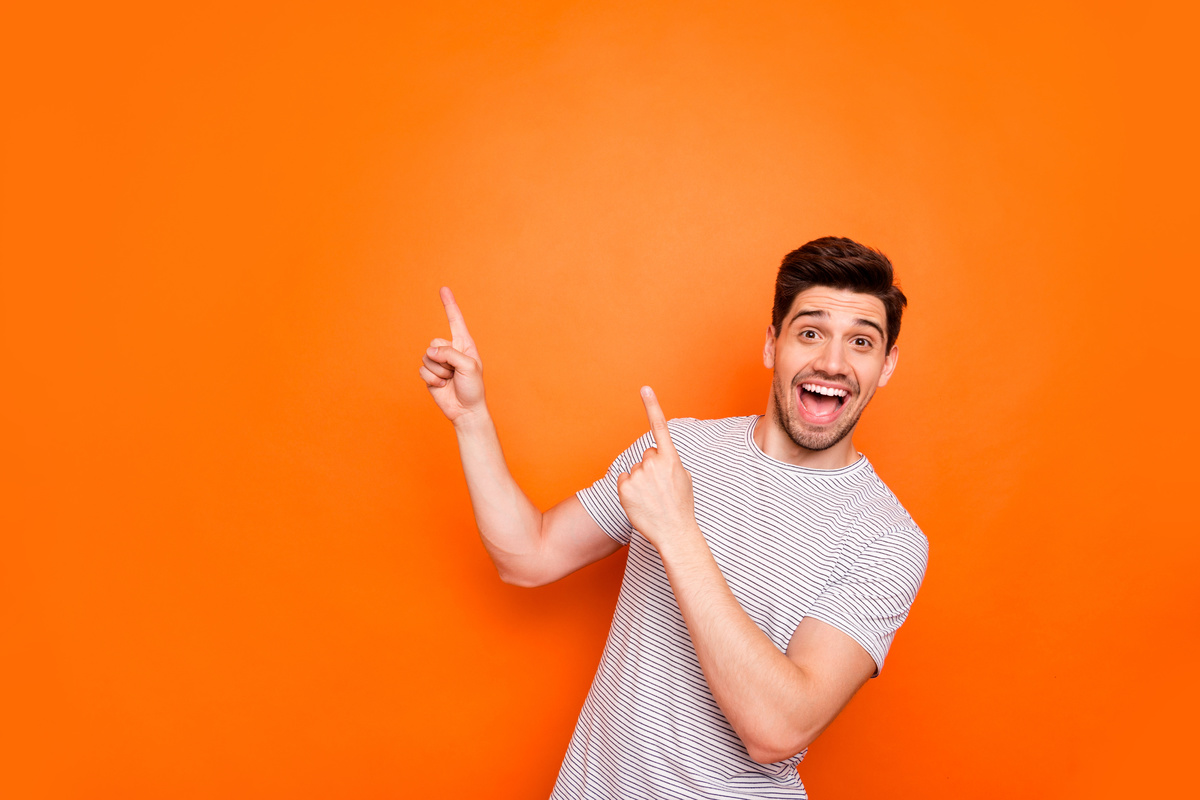 What is a Good Open Rate and Clickthrough Rate?
It's the question we get most frequently from our customers.
Per Constant Contact, a good open rate for newsletters is between 15% and 25%. Mailchimp found that the average open rate in 2022 was 21%, or about one open for every five newsletters sent. As your list gets bigger, your open rate will go down (more spam emails, etc.), but 15-25% is a good target range for most companies.
Clickthrough rates can be measured in two ways, and it's probably not clear in your email platform. Some email platforms measure true clickthrough rate or CTR (i.e., 1000 emails, 30 clicks = 3%); according to Hubspot, the average CTR is about 3%.
Other email platforms measure click-to-open rate or CTOR (i.e., 1000 emails sent, 200 opened, 30 clicks on the opened emails = 15%). According to Statista, the average CTOR is about 14% worldwide. Most email platforms use CTOR (even if they call it "Click Rate") because it makes the numbers look better.
Instead of open and click rates, we recommend focusing on total list size and heatmap tracking to see what your customers actually find useful. (See our companion article on How to Increase Newsletter Open Rates.)
Remember: even an unopened newsletter still gets seen. Even if a customer deletes without reading, your brand and subject line is still in front of them for a second or two — the same as a paid ad.
What is the ROI on Newsletters?
Statista reports that for every $1 spent on your newsletter, you will see an average Return On Investment of $36. Newsletters drive revenue because they're a form of communication your audience has asked for. Once someone has opted into your newsletter, they're more likely to open it when it arrives.
The cost is also right: unlike paid ads, newsletters are practically free to create and deliver. This combination of delivering to your best customers and prospects, and being (almost) free to create, make newsletters one of the most powerful tools in the marketer's toolkit.
That said, don't expect to see that ROI show up right away. Building a newsletter is a long-term effort, and — like all marketing efforts — it can be difficult to directly trace marketing leads back to newsletters. What they do is keep your company top of mind, so that when customers are ready to buy, you're the brand they think of first.
For this reason, newsletters are excellent for customer referrals. Especially in the B2B space, when colleagues ask colleagues for help, your newsletter can remind them to recommend your business first.
What Percentage Are Reading on Mobile?
This question is now impossible to answer, given that Apple Privacy Protection hides user device information for those who have opted in (which is at least 40% of Apple users, per Litmus).
Consequently, the numbers you'll find on the Web for mobile readership is all over the map, from less than 10% to more than 50%. Although published numbers are unreliable, our experience is that a growing number of emails are viewed on mobile devices.
In a sense, it doesn't matter: just assume that some of your readers will be on desktop, and some on mobile, so you need to test both.
This means viewing your newsletters on a smartphone, tablet, or other device — as well as the traditional desktop that you're probably using to create them.
Most email platforms have a feature to preview your newsletter in both desktop and mobile. Use it.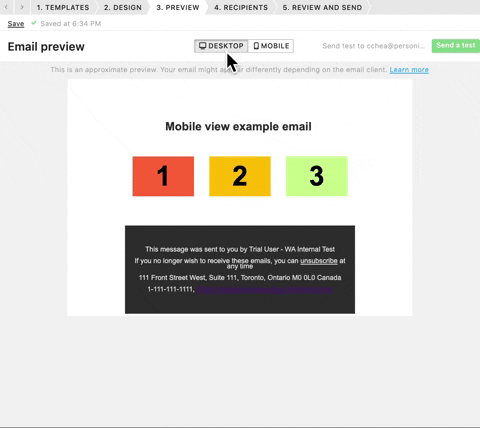 Wild Apricot software gives this example of a newsletter format that easily switches from desktop to mobile. 
What Types of Offers Work?
As we said in our How to Increase Newsletter Open Rates article, offers work.
Offering something of value in the subject line and preview text will consistently give your newsletters a boost. Here are some of the most effective offer types in our experience:
Free download (ebook, spreadsheet, template)
Free giveaways (book, T-shirt, merch)
Exclusive promo codes or coupons
Here's where watching your open rate can be useful, to see which types of offers work best. When you find an offer that works, try to build it into your newsletter marketing program once a quarter — not so often that it gets old, just frequently enough that it feels special.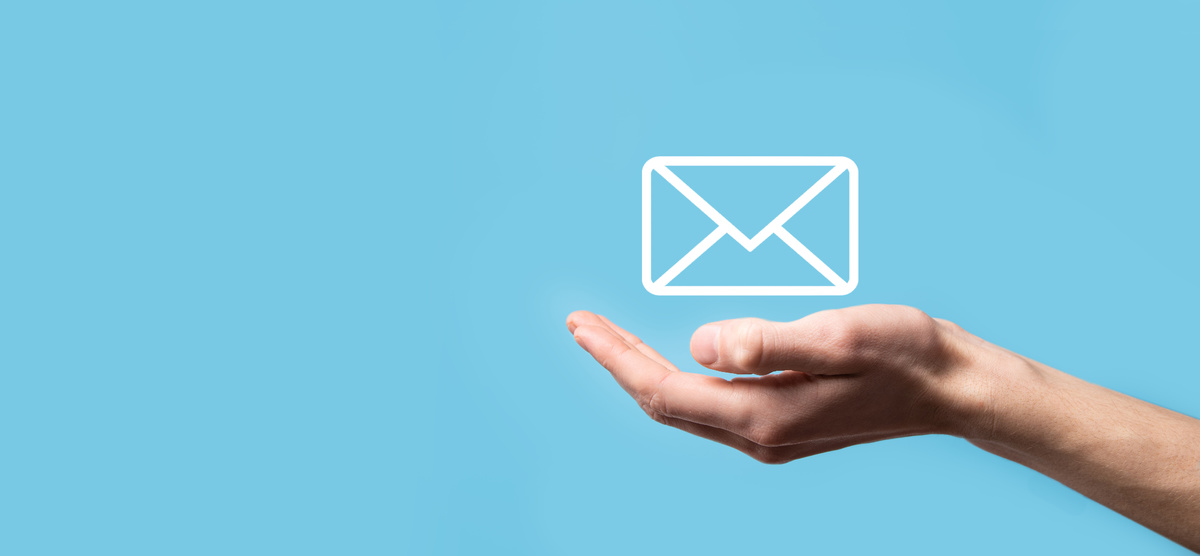 What is the Best Newsletter Design?
As with websites, there is no "best" design, but there are a few rules of thumb that will make your newsletter better:
Keep it simple. Your newsletter should have plenty of white space and formatting so people can easily scan the page, even on a small screen.
Bump up the font size. Using larger print and images will also work better on a smaller screen.
Make it super-scannable. A lead story or feature, a few substories, and maybe a CTA or offer. Make it easy to get the gist in 30 seconds or less.
A quick Google Images search will give you plenty of email newsletter examples, like this one from Apartment Therapy has engaging graphics, bold headlines that convey simple ideas, and plenty of links to encourage readers to click through to their site.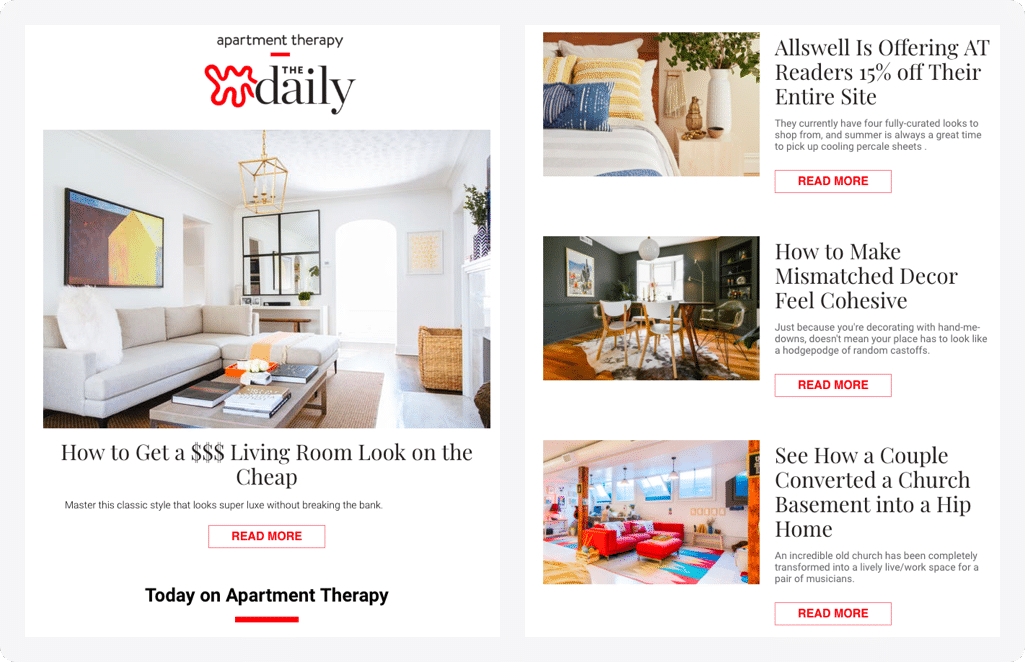 What Should I Name My Newsletter?
Assume your target customer gets a lot of email, maybe hundreds per day. If you want yours to be opened, you need a catchy title. Writtent advises that your newsletter title focus on your industry or product rather than your brand name. It should promise a benefit and incorporate action while avoiding the word "newsletter" in the title.
Here are a few catchy titles we found:
"Total Annarchy" by marketing guru Ann Handley
"Shelf Awareness" for a book aficionado site
"The Likeable Expert Gazette" by Blue Penguin Development
Your newsletter's subject line also needs to stand out from anything remotely normal (aka boring). This can be an encapsulation of your offer from above (like, "Download our latest State of the Industry Report") or a one-liner that says something unexpected (i.e., "The one thing we never expected a customer to say about our products").
Asking a question can be another great way to grab people (such as, "What was our biggest selling product of 2022?"). Many brands do A-B testing on their newsletter titles to see which ones get better open rates.
Personalization is also worth trying if you have the ability, as putting your customer's name in the subject could increase open rates by 26%, per LinkedIn.
What is a Good Call To Action (CTA)?
Figure out what you want your customers to do.
If you do get the open-and-skim treatment, you want to ideally direct them into your marketing funnel. Your primary call to action (CTA) should be bold and beautiful, telling readers what you want them to accomplish — whether it's making a purchase, giving feedback, or referring friends to your site.
Our rule of thumb is to pick one important CTA for each newsletter, and make that your focal point. Make it visually appealing, and mix it up frequently. Subscribe to our Media Shower Better Newsletter to see how we do it each week. It works.
How Often Should I Send?
As we covered in our How to Increase Newsletter Open Rates article, frequency is not as important as consistency.
Your newsletter should arrive like clockwork; the same time every week, or every month. This way, you are sending a powerful signal that your company or brand is not only still in business, but you're reliable and you're trustworthy.
Calling it a "monthly newsletter" is an implied promise that you'll send it monthly. So keep the promise. Send it monthly.
When Should I Send My Newsletter?
It doesn't matter, but weekdays are better than weekends. First thing Monday morning is probably best.
Campaign Monitor reports that open rates were slightly higher on Mondays (22%) compared to other weekdays (21.8%), but the difference is slight. Weekend open rates are also lower, but only slightly (20%).
Our experience is that more people are in "work mode" during the week, especially on Monday morning. If you're looking to get a contact, a referral, or a sale, it helps to send when they're in this mode. (For most people, weekends are for relaxing.)
We've written and deployed thousands of email newsletters for top global brands. If you'd like to learn more about how we can help supercharge your newsletter campaign, click here to get a free trial.