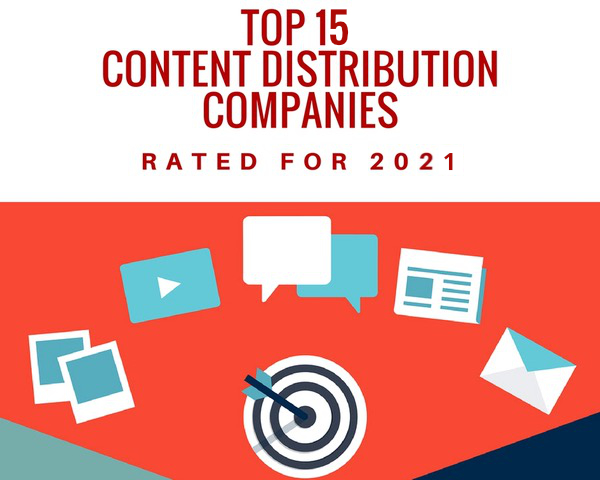 "If you write it, they will click."
It's a lovely thought, isn't it? Unfortunately, it's not quite rooted in reality.
No matter how sensational that video or blog post of your is, there's no guarantee anyone will see it.
Content distribution is how brands get their content to larger, more targeted audiences through methods such as press releases, influencer outreach, and social media advertising. If you want your content to get maximum exposure, you'll need to find a distribution system that works. Whether it's a traditional option or something more modern, you'll need to discover it before your competition beats you to the punch.
Below, you will find the top 15 content distribution companies broken down into six categories. You'll also learn why they're effective and which companies offer the best benefits for brands.
Blog Distribution Companies
| Name | Domain Authority | Alex Rank | Facebook Followers | Twitter Followers | # Linking Domains | Social Mention Strength | Score |
| --- | --- | --- | --- | --- | --- | --- | --- |
| Media Shower | 60 | 524,431 | 5175 | 44,342 | 2,599 | 12 | 5.0 |
| Copypress | 51 | 141,953 | 7,451 | 2,239 | 2,891 | 0 | 4.0 |
Press Release Companies
| Name | Domain Authority | Alex Rank | Facebook Followers | Twitter Followers | # Linking Domains | Social Mention Strength | Score |
| --- | --- | --- | --- | --- | --- | --- | --- |
| PRNewswire | 92 | 4,949 | 47503 | 3,404 | 312,134 | 5 | 4.5 |
| PR Web | 91 | 7,759 | 31370 | 70,312 | 190,345 | 2 | 4.5 |
| Businesswire | 92 | 6,597 | 47068 | 68,957 | 234,151 | 2 | 4.5 |
Brand Partnership Companies
| Name | Domain Authority | Alex Rank | Facebook Followers | Twitter Followers | # Linking Domains | Social Mention Strength | Score |
| --- | --- | --- | --- | --- | --- | --- | --- |
| Futurebrand | 65 | 260,665 | 25459 | 30362 | 3,443 | 0 | 4.5 |
| Powerlinx | 47 | 205,542 | 1250 | 953 | 1737 | 1 | 4.0 |
Social Media Ad Companies
| Name | Domain Authority | Alex Rank | Facebook Followers | Twitter Followers | # Linking Domains | Social Mention Strength | Score |
| --- | --- | --- | --- | --- | --- | --- | --- |
| Facebook | 100 | 6 | 1,690,000,000 | 13,333,282 | 31,596,409 | 54 | 5.0 |
| Twitter | 99 | 50 | 16,165,715 | 330,000,000 | 26,952,761 | 52 | 5.0 |
| Instagram | 99 | 25 | 62,229,125 | 34,999,697 | 18,658,440 | 51 | 5.0 |
Influencer Matching Companies
| Name | Domain Authority | Alex Rank | Facebook Followers | Twitter Followers | # Linking Domains | Social Mention Strength | Score |
| --- | --- | --- | --- | --- | --- | --- | --- |
| TapInfluence | 75 | 124,202 | 9,761 | 11,711 | 6,503 | 0 | 4.5 |
| Ready Pulse | 48 | 3,004,675 | 8,492 | 1,369 | 669 | 12 | 4.0 |
Content Syndication Companies
| Name | Domain Authority | Alex Rank | Facebook Followers | Twitter Followers | # Linking Domains | Social Mention Strength | Score |
| --- | --- | --- | --- | --- | --- | --- | --- |
| Outbrain | 86 | 464 | 119382 | 21830 | 34862 | 1 | 4.0 |
| Taboola | 85 | 252 | 58,826 | 9,774 | 26507 | 1 | 4.0 |
Press Releases

Learn how to submit your own press release to Newswire.
It's just about the oldest content distribution method in existence. You can probably see those three capitalized words that start every document of this sort: FOR IMMEDIATE RELEASE.
A press release turns a marketable situation or circumstance into a newsworthy event. However, if the topic isn't actually newsworthy, publications won't take notice.
For instance, let's say you're launching a new product. You might write a press release about how it will revolutionize some aspect of your industry.
This makes it newsworthy.
However, if the press release doesn't sound enticing or motivating, you won't receive much distribution.
A great strategy starts with a great company. If you don't work with a solid distribution agency, your press releases won't get much attention.
Top Press Release Companies
1. PR Newswire
Now owned by Cision, PR Newswire's history dates back more than 60 years. The company developed the original public relations strategies that PR professionals still use today. However, it has also evolved with the changing needs of the market, adapting slam-dunk digital strategies that reach more than 3,000 newsrooms, more than 200 industry-specific social media handles, and 170 countries.
2. PRWeb
Although it's not as old or as established as Newswire, PRWeb still claims to have over 30,000 media contacts to distribute your news. It works with a wide network of social media channels, news outlets, websites, and other publications. It's less expensive than Newswire, which might endear it to startups, but Newswire offers more packages.
3. BusinessWire
BusinessWire isn't as popular or as large as Newswire or PRWeb, but it offers significant advantages in terms of technology. It separates its services into four categories: PR, investor relations, distribution and analytics, and website services. Its proprietary technology puts it in our list of top three choices for press releases and related distribution.
Each of these companies not only distributes press releases and other content to online publications, but they also help you measure each press release's effectiveness. They also offer multimedia content creation and distribution services, which helps them rise above the competition.
Brand Partnerships
When you ally yourself with another brand, you can amplify one another's online signal. For instance, maybe you offer a carpet cleaning service. You could join forces with a flooring distributor and cross-market your products and services.
If you think it can't work, look in the rearview mirror for a minute. Brands like Apple and Hermes; Ford and Hearst; Burberry and LINE; and Ikea and Dreamworks have all struck gold with brand partnerships.
But how do you find a brand with which to partner? Several companies help unite companies that want to work together.
Top Brand Partnership Companies
1. Powerlinx
We're particularly impressed with Powerlinx because it partners each brand with a business consultant. He or she helps you create a game plan and execute it precisely. The company's proprietary algorithm helps match brands with one another so they can develop strategic partnerships.
2. FutureBrand
While FutureBrand lacks the refinement that Powerlinks exudes from every page of its website, it deserves the number two spot because of its market share. The company has worked with many major brands, from Cadillac to American Airlines. However, it's also a more expensive choice.
To make brand partnerships work, you must have shared interests. Sometimes you have to dig deep to find them, but you'll confuse your audience if you start cross-promoting with a brand that has nothing to do with your industry. Additionally, you don't want to alienate your existing customers by partnering with a brand they won't like. For instance, if you run a green furniture manufacturing company, you probably don't want to partner with an oil and gas firm.
Social Media Advertising
As of November 2020, Facebook has 2.6 billion active users. If you don't recognize the potential benefits of social media advertising, you might want to look closer.
Because social media connects consumers with brands on multiple platforms, there are endless ways to leverage it for your company. Whether you're trying to increase your brand awareness or attempting to increase your overall sales, you can use social media advertising to jumpstart the process.
There's just one question: Which company do you use?
Top Social Media Advertising Options
1. Facebook
Facebook has stood the test of time and remains the largest and most used social network in the world. It offers several ways to promote your content. Not only will your existing audience see your latest blog post, but it will also be broadcast to people who might never have heard of your company. You can choose to boost single posts, dedicated ads, or even just photos to gain eyes on your content.
2. Twitter
Although Twitter's user numbers can't match Facebook's, it targets a different type of audience. Twitter users enjoy fast-paced conversations and following multiple streams at once. It offers excellent targeting and retargeting options so you can design whatever campaign you like.
3. Instagram
Unlike Facebook and Twitter, Instagram focuses solely on imagery, but it offers similar programs. As long as you can reliably generate magnetic content and find evocative images or videos, you can easily reach your potential customers.
LinkedIn offers targeted outreach if your company is in the B2B sphere or if you are looking to grow your brand's influence and thought leadership. LinkedIn ads reach exactly the leads you need to convert and give your business a chance to stand out from the competition.
Influencer Outreach
An influencer is someone whose social reach allows them to influence their followers' purchasing decisions. Several years ago, bloggers served as the main influencers, but now these online celebrities work from social media platforms, as well. YouTube sensations and Instagram experts can vastly increase your online footprint through content distribution.
Some brands try to find influencers on their own, but you might have more luck with a company that specializes in partnering brands with influencers.
Top Influencer Matching Companies
1. TapInfluence
This company claims to boost its clients' ROI by as much as eleven times, and it's created an influencer marketplace that helps brands find the perfect partner. Of course, you'll have to pay for the company's services. Subscription plans start at $10,000 per month.
2. Ready Pulse
This is a similar service that has worked with major brands like HP, Lugz, and Olympic. The company doesn't advertise its prices, but you can always get a custom quote. It shows up in content marketing headlines frequently, so it's an excellent second choice if you don't connect with TapInfluence.
If you'd rather try influencer marketing on your own, you'll need to use more elbow grease. Start by monitoring social media activity that concerns your industry. Find out who has the loudest voice and the longest reach. You can then reach out to a few potential influencers to suggest potential partnerships.
Syndication
You're probably familiar with this word from your favorite old television shows. You can still catch episodes of "Bewitched" and "FRIENDS" because they remain in syndication. It simply means that another media entity has been given the rights to display the content for public consumption.
There's something to be said for an organic campaign. With the right SEO strategies and the proper use of social media and your own website, you can drastically improve your traffic and conversion rates. You don't need a third-party service for those processes, but you will need lots of time and energy.
Focus on ranking for long-tail keywords as well as for your competitor's name. Produce high-quality content that generates backlinks and sparks online discussions. You can promote your content manually on social media and other channels to give it even more opportunities to spread.
While you can syndicate your own content across multiple channels, you'll have to develop the contacts and perform the legwork. You might want to partner with a syndication company to speed up the process and gain access to the business's insight and experience.
Top Content Syndication Companies
1. Outbrain
This well-known agency has a media distribution platform that revolves around syndication. It's developed an impeccable reputation for its ability to help brands reach new audiences. Plus, it's worked with high-profile companies.
2. Taboola
You might also like this content syndication company, which offers custom content syndication campaigns for businesses and media companies. You might give your content a fresh wind if you use syndication to boost its signal. While Taboola used to be more affordable than Outbrain, it has gained momentum and market share, which has boosted its prices even higher than Outbrain's, with traffic to match.
Blogger Distribution
You need two main things for content distribution to work: great content and a great distribution channel.
No matter how much money you inject into an advertising campaign or influencer partnership, poor content will never perform. Likewise, if you don't have a distribution channel in place, even spectacular content might never find an audience.
If those sobering realities have left you in despair, there's hope on the horizon. Instead of buying articles from individual freelancers or content mills, consider working with a media agency that can help you design and execute a content marketing strategy.
The best companies in this field help with idea generation, assign articles to capable writers and professionally edit each piece. They also often help with publication and distribution.
You don't want to work with just any agency, though. That's why we've prepared a couple of recommendations.
Top Blogger Distribution Companies
1. Media Shower
For years, Media Shower has created personalized content strategies for its clients. You get a full editorial team as well as professionals who specialize in content distribution and optimization. Plus, you get reporting on your content's performance.
2. CopyPress
You might also like CopyPress, which we've chosen as our number-two option if you're looking for a full-scale blogger distribution opportunity. The company hand-picks its writers and editors, and each client is assigned a manager to oversee his or her campaign.
Content distribution isn't the easiest game to master, but it's essential if you want to compete in today's digital marketplace. Even if you're a small business now, you can easily grow in leaps and bounds if you master the arts of content creation and content distribution.
Ready to create some killer content? Let Media Shower create three free content ideas for you. We're passionate about helping brands grow through amazing content and distribution.