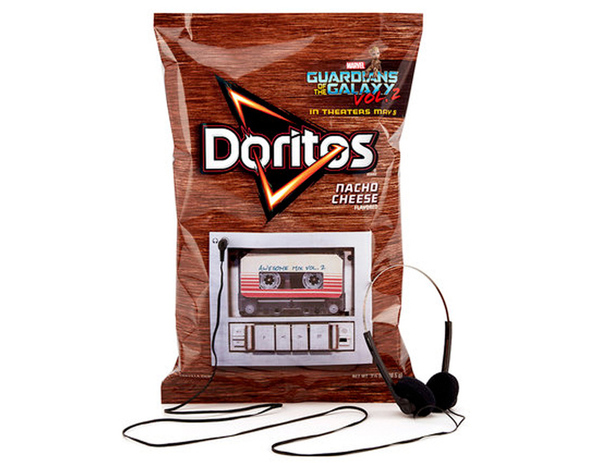 Grab your Rubik's cube, your floppy disks, and your trusty pager — Doritos is bringing it old school. The famous tortilla chip brand has partnered with the producers behind Guardians of the Galaxy 2 in an ingenious bit of marketing hype.
It's not your mother's Doritos bag. In fact, it's one of the most unique packaging innovations we've ever seen. The limited edition run of Doritos will contain a music player from which you can listen to the entire soundtrack to Guardians of the Galaxy 2. The campaign launched on April 28 in advance of today's release of the film.
Marketing Opportunities Everywhere You Look
What do Marvel superheroes and Doritos nacho cheese chips have in common? Absolutely nothing as far as we can tell.
That doesn't mean the two franchises can't band together and create a marketing sensation. Marketers have long used unique packaging to advertise television shows, movies, and other media. The benefits work both ways — more people get exposed to Doritos (and are attracted by the retro package), and more people get exposed to "Guardians." It's a win-win.
Think back to 2013, for instance, to the marketing stunt pulled by Cards for Humanity (a company that sells playing cards for what they call "a horrible game for horrible people"). Instead of dropping its prices on Black Friday, the company raised them by $5. The move became a media sensation, and the company actually improved their profits from the previous Black Friday weekend.
Applying the Lesson
What does the marketing partnership between Doritos and "Guardians" mean for today's marketers? Sometimes, partnerships can form in the most unlikely of circumstances. In fact, some experts even recommend partnering with the competition.
Consumers are used to the same old tactics. They know that, when they go to a movie theater, they'll spend 15 minutes watching trailers before they get to the feature film. When they turn on the television, they know they'll see a commercial for toilet tissue or contact lenses.
Doritos is known for its entertaining marketing stunts, and the company has proven over and over again that shock value can be worth just as much as product quality and brand awareness. Everyone knows what a Dorito is, after all, but marketing campaigns can result in increased sales.
If you're thinking about partnering with another company to boost sales, take Frito-Lays' lead. Just make sure any potential partner won't reflect poorly on your brand and that you're clear about the scope of your agreement beforehand.
Start Jamming
There's no word yet on how long the music player will last inside the Doritos bag, and we're not convinced that the sound quality will rival that of your car's speakers. However, I predict that at least a few of you will hit the supermarket in the next couple of days, hoping to snag your very own "Guardians"-themed Doritos bag.
While you're at it, dig your Walkman out of storage, watch a VHS, and take a few photos with a film camera. Nostalgia's good for the soul.
First, though, we invite you to supercharge your content marketing strategies. We always have our virtual fingers on the pulse of today's marketing trends, and we'd love to help you succeed. Get a free trial to learn why Media Shower offers the best content marketing in the industry.