There's a reason you can't help but take those quizzes in lifestyle magazines, like "Which Celebrity Are You" and "What's Your Love Language." We love to measure ourselves up to people, find connections with others, and test our knowledge on a given subject.
Guess what we love even more? We're dazzled when someone wants to know our opinions.
Drive Outreach and SEO With Customized Surveys
The golden combination between these two perfectly human traits can be summed up into one word: Survey.
Think about it. We live our lives around surveys. From Gallup Polls to the aforementioned lifestyle quizzes, we want to know what others think and we want to share our own opinions.
But what do those things have to do with content marketing?
Try an Alternative to Lengthy Roundups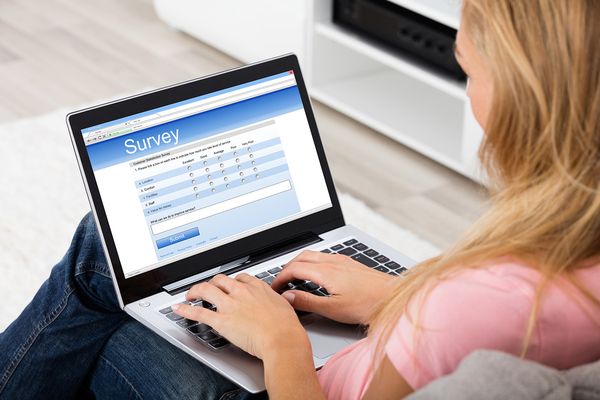 Try a different form of outreach.
In his weekly Whiteboard Friday talk, marketing guru Rand Fishkin makes an excellent case against roundups. He points out that they're overdone, nearly useless in terms of SEO juice, and difficult to get through.
His number-one alternative suggestion: surveys. Instead of asking a few dozen thought leaders about their opinions on one specific subject, create a series of simple questions.
This strategy offers two primary benefits:
Offer more actionable, useful content for the reader.
Publish fresh information using graphs and other visual representatives of the data.
According to Fishkin, surveys offer superior link-building potential compared to lengthy roundups, and you still get the outreach benefit for networking while creating more compelling, easy-to-digest content.
Other benefits could include earned (but free) media coverage, excellent lead generation potential, and reusable content. In fact, you could craft one blog post for every answer on your survey, breaking down the document into granular parts.
Writing for the Content Marketing Institute, content strategist Colleen Jones asserts that surveys offer the three R's: reach, reputation, and results. Although she talks about using surveys for internal data, you can easily translate her approach to an external article.
Tell a Story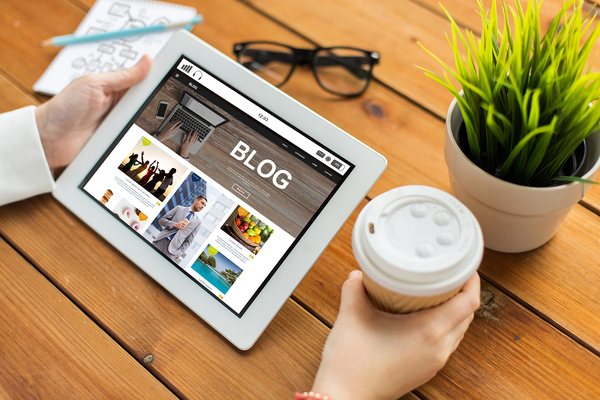 Use surveys as content marketing fodder for your blog and other web properties.
Compelling content isn't just about data points and charts. According to Aaron Taube of Contently, the best surveys for content marketing help support a narrative.
For instance, let's say you're asking survey respondents about their house cleaning habits to support the blog for your house cleaning service. You could weave a narrative around the chores of housekeeping and the amount of time your average consumer spends carrying around a dust rag.
As long as the data supports your conclusion, you could leverage that data to suggest hiring a maid service, arguing that the time you save by hiring a professional to clean your home combined with the improved performance of a professional could justify the cost.
You might not know the narrative before you send out your surveys. It's a good idea to develop a working hypothesis, but don't marry yourself to that idea. Instead, let the data speak for itself. What does it tell you about your customers and the public at large?
Tips for Generating Good Survey Results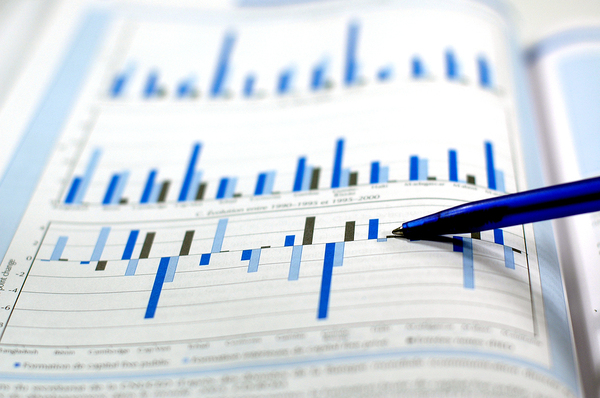 Some data is more relevant and insightful than others.
Collecting data for content based on survey questions doesn't have to prove difficult, but you don't want to take a relaxed approach. You'll generate better content — and more link-worthy copy — if you follow these tips for creating a brilliant survey:
Ask one question at a time for maximum accuracy.
Use yes/no questions to save time.
Avoid asking respondents to rank long lists of qualities from one to ten.
Offer an incentive to convince respondents to give the survey their full attention.
Try to tie the survey results into a newsworthy story.
Frame the survey results in the context of your brand, values, and core beliefs.
Additionally, remember that your hypothesis might change once you get the survey results. Perhaps you thought one thing, but your respondents reveal something else entirely.
Don't make the result fit your original hypothesis. Instead, change direction and let your content fit the data.
We love using hard data to create compelling content. If you're interested in taking advantage of this type of content, we're here to help you craft the perfect content marketing campaign. Get a free trial to find out what Media Shower's ideators, writers, and editors can do for your business.
Have you ever heard of the saying, "Throw everything against a wall and see what sticks?" It means to try everything, and whatever works, stick with that option.
Now, this may be valuable for coming up with birthday party games, but it doesn't work for content marketing. In fact, it's impossible. You can't even determine what works if you don't have any set goals.
Create a solid content marketing plan and put it into action today. It's not that difficult to start and only requires a little brain power and a willingness to go through the steps. Let's go over the essentials…
One of the biggest mistakes I see brands make with their content marketing strategy is a failure to create goals. Goal setting is one of those annoying activities that is seldom glamorous or fun, but it's essential to a successful content marketing campaign. Without goals, you have no roadmap, and without a map you won't know where you are going. And if you don't know where you are going, how will you know when you get there?
When creating your content marketing goals, focus on measurable results, goals you can quantify at the end of your process. The most common content marketing goals involve getting more traffic, leads (signups), sales, and customers, but any quantifiable result will do.
The important point here is to ensure you make the goals measurable. For example, avoid goals that are ambiguous such as…
Increase social media engagement on Facebook
Get more followers on Twitter
The goal should include a quantifiable data point as well as a date when you want the goal fulfilled. So, for example if you want more traffic to your blog, your goal may look something like this:
Get 30,000 unique visitors a month to my blog by January 2018.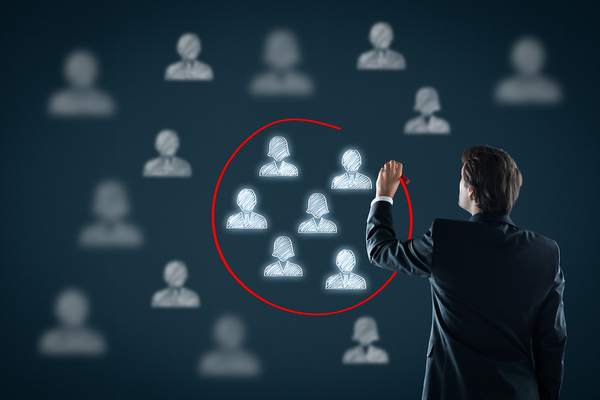 Whom are you targeting with your content? Get super clear on who you are targeting by creating customer personas.
Personas are fictional profiles you create that mimic your ideal customer. Use these personas when creating your content to ensure it is targeted to the right people and it is laser focused on your ideal customer.
The more detailed you get with these personas, the better. Include data such as name, marital status, career background, family size, location, gender, and age. Also, add where they spend time online and what activities they like to engage in. B2B brands should include more detailed information surrounding the companies they work at and their position and influence as well.
The next step in persona creation is to identify the problems your persona has that you can solve. What are their current challenges? Do they have any objections to solving these problems? How have they tried to solve them in the past and failed?
If you are just starting out, create 2-3 personas. As you grow, you may want to add more.
The next step of the content marketing plan is to determine what type of content you want to publish.
Below are examples of content pieces you can create.
Blog posts
Ebooks
Reports
Videos
Case studies
Whitepapers
Spreadsheets and templates
Webinars
Podcasts
Targeted ads
Guest posting
Newsletters
Though there are multiple types of content you can produce, create the types that will get you closest to your goals. Some content is primarily used for educational purposes and to drive traffic (blogs, videos, podcasts) while others are often used for lead generation (ebooks, reports, webinars) or sales (webinars, case studies).
Note that all content can be used for however you deem fit as it relates to your goals, but certain content fits well with specific goals.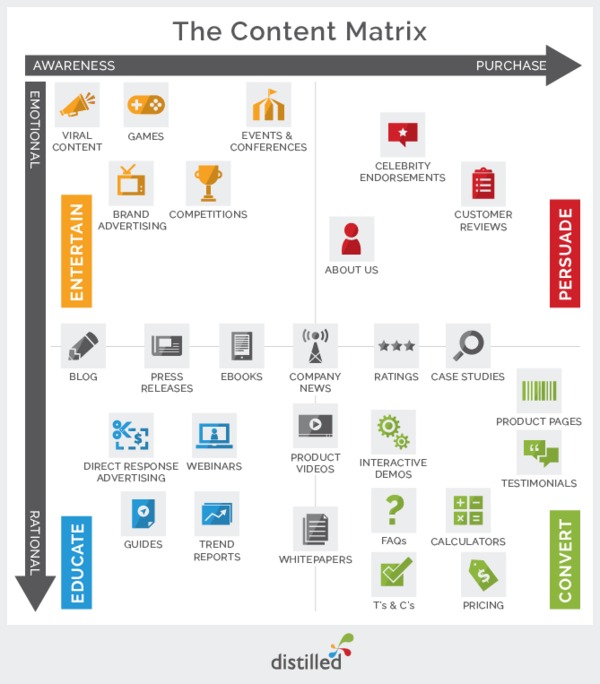 As you can see in this content matrix image above from Distilled, the content types change as the graph progresses towards persuasion or sales or any type of content that attempts to convert the user to take an action.
Here are some examples of content strategies attached to goals:
GOAL – Increase monthly blog traffic to 250K per month by 1/1/18
Increase blog posts to 3x a week
Share blog posts on all social media channels
Run Facebook ads to targeted list; gather blog visitors into custom Facebook audience by interest
Create newsletters linking to each blog post
Guest post on related industry blogs linking back to the blog
GOAL – Increase leads and email subscribers to 10,000 by 1/1/18
Create whitepaper; available with email optin
Write eBook; available with email optin
Create Email training series; available with email optin
Send targeted ads to eBook, whitepaper and email series landing pages targeting FB custom audiences by topic
Brainstorming and Topics
What will the focus of your content be? What topics will you cover? At this stage, you want to brainstorm content ideas and create a schedule for publishing.
To brainstorm content ideas, try using these tools:
Make sure your content…
Aligns with your goals and audience – Your topics should match your content persona's needs and speak directly to one or ideally a few of them.
Aligns with your strategy and customer journey stages – If you are not familiar with customer journeys, check out this article.
TIP: It's not uncommon for businesses to brainstorm content ideas by starting with goals. But, this is not an ideal strategy because it prevents you from focusing on your audience. Brainstorm some great ideas that fit your brand and meet the needs of your audience, then match them up to your goals.
Execution and Scheduling
Once you know some of the content pieces you want to create and the topics, determine the frequency of posting. For example, how many blog posts do you want to publish per week? How many lead magnets do you want to create? How many times will you send emails to your subscribers about a specific piece of content?
Don't get too overwhelmed with this step. If you are just starting out, keep it simple. You will learn what works and doesn't work as you go.
Once you create a blog posting and promotional schedule, add publish dates and other information to an editorial calendar to keep track. This will include a summary of when each piece will post and any other pertinent details.
Here is a screenshot of a blog editorial calendar template I set up for one of my clients. I took inspiration from  Hubspot's editorial calendar example.

The main focus of the editorial calendar is the content publish date which is located on the left-hand side. Other columns include the writer, lead magnet, blog category, and the keyword. There are also due dates, if applicable, for each stage of the content as it moves through editing and layout.
You can also download this sample editorial calendar in our content toolkit template below.
So you know your target audience, you created epic content, and you published it. Now what? Just because you built it, doesn't mean they will come. You must promote your content heavily to get people to see it and connect with your brand.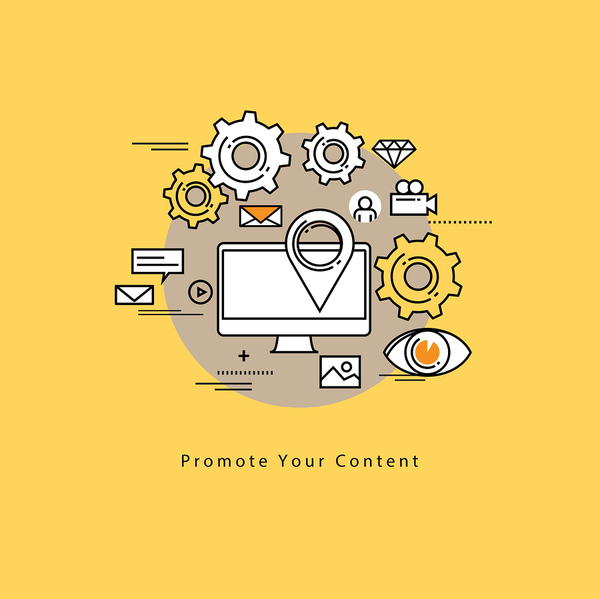 Here are some promotional strategies to help you get your content seen by a larger audience:
Share it on social media
Don't just post your content once on Facebook and Twitter and forget it. This is where most content marketers give up. Post your content several times over a 3-4 week period or more. Also, post snippets from your content on each social post to vary it up. Not everyone will see your post the first time you share it. Don't be afraid to share it multiple times.
Tip: Get smart with your targeting. Mention people in your posts who will love the article. Make sure to follow them before you mention them and say a kind word so it does not come off as spammy. If you know who shared your article, when you post it again, thank those people directly in your posts.
Bonus tip: Schedule your tweets and posts at "off times" like 8:27 or 3:05. Most people schedule posts at the hour or half-hour so those times are highly congested on the social sites. Get more exposure during the "lighter" times.
Send to your email list
If you have an email list, share your post to your subscribers. Send a short, compelling message that peeks their interest and include a call to action to link to the content. Also, if you have an autoresponder message series, consider adding these messages to that series.
Include a link in previous blog posts
If you have previous content related to this new post, interlink them. This is good for SEO purposes and it also helps people to stay on your blog and read more of your content.
Re-purpose 
Re-purpose the content into another medium to keep it going strong and introduce it to new audiences. Consider creating an infographic, video, or a podcast with several of your content pieces. For example, post the infographic on Pinterest, your video on YouTube and your podcast on Itunes and Stitcher.
Measure
As you publish content, it's vital to measure its effectiveness so you know how you are faring toward reaching your goals. For pointers on how to measure analytics, see this article, The Ultimate List of Content Marketing Analytics Tools.
To help you get started with planning and execution, we've compiled a totally free content planning toolkit template and sample editorial calendar. Only three simple fields stand between you and next-level marketing!
Download your free Content Planning Toolkit and Template here. (Note that the calendar and toolkit are located on the same spreadsheet but in different tabs.)
If you are feeling the least bit overwhelmed with all of this, have no fear. You are not alone. We understand the plight of many businesses who can't seem to get a content marketing plan together or they are not seeing any success with their current plans. If you want to learn how Media Shower can boost, grow and expand your bottom line with content marketing without any commitment on your part, take us up on our free trial. You will receive free content ideas, a free content piece you can use forever, a custom promotion plan and more.
You've got a lot of things to worry about in running your business, and content doesn't necessarily need to be one of those items on your stress list.
If you're getting overwhelmed with the idea of constantly coming up with engaging and well-written blog posts and other types of content, never fear. There's an easy solution to your woes: hiring a ghostwriter or content marketing agency.
Hiring a professional or firm can alleviate your worry that you're not doing everything you should be to connect with customers, and because they're the experts at content, you know you'll be in good hands.
But how can you be sure now's the best time to hand over your content to someone else? Here are the signs that you should.
1. Your Marketing Is Suffering Because You're Busy
So many entrepreneurs try to do everything themselves, and nearly always fail at doing everything well. If you've been focused on other areas of running your business, your marketing may have ground to a stop while your attentions have been elsewhere.
But here's the thing about marketing: you need it to keep moving, even if business is good or you're busy. Because today's marketing will bring in tomorrow's customers. If you don't have time to dedicate to content marketing, hire someone to do the job for you.
2. Writing's Not Your Thing
If you slept through English class in high school or simply would rather get a root canal than sit down and write, your business doesn't have to suffer as a result. There's no reason you yourself need to write the content for your company; a ghostwriter is perfectly capable of getting to know your business and writing to your audience. That gives you more time to focus on the aspects of running your business that you do enjoy.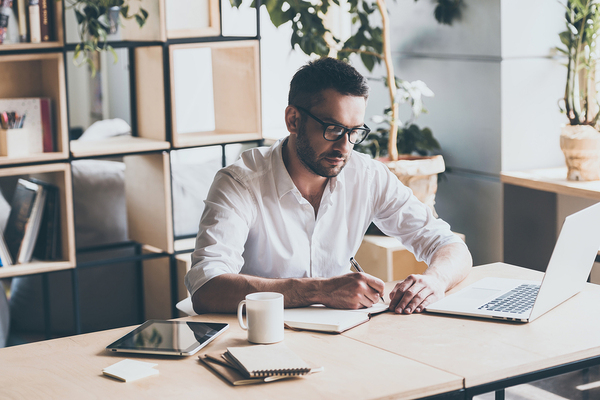 Do what you love.
You want the content your company puts out into the world to be polished and perfect, and if you're not up to the task, you've got to step aside and let a professional get the job done. After all, sometimes a piece of content is the first thing a potential customer experiences of your brand, and if it's riddled with grammatical errors, they might be so turned off that they go elsewhere to make a purchase.
3. You'd Rather Spend Money Than Time on Content
Time you may not have much of, but money you can allot for something as important as your marketing strategy. And hiring a content marketing agency or freelance writer is probably more affordable than you imagine: because you're only paying per project (or maybe a monthly flat fee for X number of articles written) and not a full-time employee's salary, you can tie the ROI of your investment directly to the finished product.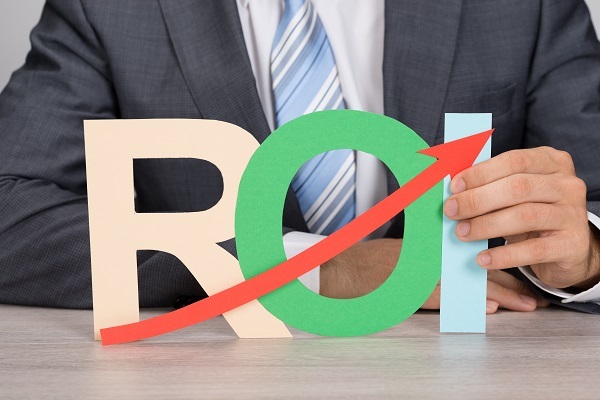 Three letters that are worth obsessing over.
Let's say you pay $100 per article, and one of your articles gets a ton of traffic. From that traffic, you make $500 in sales. You just got a 5x return on investment from a single blog post…and that's just now. Your content lives on in perpetuity online, so each article has infinite potential to keep bringing you new business.
It can be scary to let go enough to trust someone outside of your company to handle something as important as your content, but once you do, you'll attract more customers without having to take on more work yourself.
Ready to let the experts help you with content marketing? Get a free trial today!
You've probably heard that information is best retrieved directly from the horse's mouth. While it's a common cliche, it's also true — especially when it comes to content marketing.
When we market to customers, we're asking them to part with their money in exchange for our products and services. However, we're also soliciting their feedback.
If you know what your customers think after an interaction or transaction, you can apply that feedback to future encounters.
This is where interactive content marketing comes in.
What Is Interactive Content Marketing?

Map it out and get to work!
The idea behind interactive content marketing is to provide a more engaging, useful, and enjoyable experience for the customer. While articles and other static forms of content marketing remain useful, more brands have begun to experiment with interactive alternatives.
It can also take many forms:
Polls and surveys: Directly ask your customers what they think, want, or don't want.
Trivia: Let your customers test their knowledge on a specific topic.
Assessments: Take your customers through a series of questions to gauge their opinions, beliefs, or traits. Think of these as a standardized test — but, you know, fun.
Brackets: Take a leaf from the sports pages and set up brackets. Let your customers choose teams, pick items, or participate in R&D.
Maps: Guide your customers on a tour of your offices or some other interesting locale. Universities often use these form of interactive content marketing to great success.
Why Is Interactive Content Marketing a Game Changer?
Today's consumers often get bored with standard content. Some topics don't lend themselves to blog posts or articles; they're better communicated on an interactive platform.
More importantly, you humanize your brand when you open up content to others' input. People love it when you value their opinions and lived experiences, so leverage that desire with your next content marketing campaign.
Have you ever flipped open a lifestyle magazine while waiting at the doctor's office and felt compelled to take the quiz inside? We're a competitive species, and we love to test our knowledge.
Maybe you've taken those quizzes on Facebook, too. Which Hogwarts house do you belong in? What classic cartoon villain are you? How well do you know Broadway musicals?
These quizzes offer an almost irresistible magnet to consumers, and you can harness some of that power for yourself.
Who Uses Interactive Content Marketing?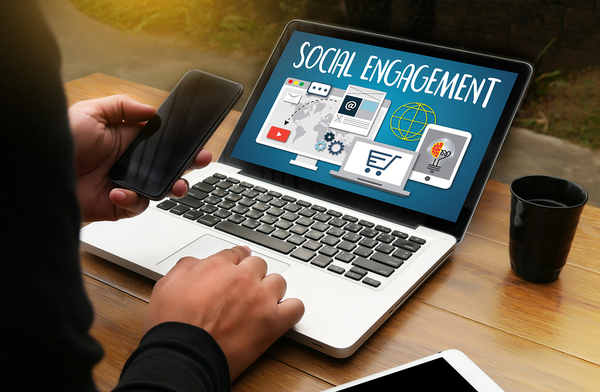 Let the conversation begin.
You might think that you need to land on the Fortune 500 list to make interactive content marketing part of your strategy. You'd be wrong.
While an Ion Interactive and Content Marketing Institute survey revealed that 63 percent of companies using interactive content fall in the enterprise category, small businesses make up a surprising 40 percent.
These days, interactive content is far less expensive than it was when it first debuted, and you can sometimes even set it up for free. Of course, working with an agency will result in a higher quality product, but you can dip your toes in the water by making your own quiz or designing your own poll.
How Far Can Interactive Content Go?
Believe it or not, you can design an entire website to consist of nothing but interactive content. For instance, visitors might land on your home or landing page and be asked a trivia question. You decide where the customer goes next based on his or her answer.
Did you ever read the "Choose Your Own Adventure" books as a kid? This is a similar concept.
You can also set up microsites for your interactive content marketing. These small websites stick to one theme or topic, and if you make them interactive, they'll likely get shared more on social media.
No matter what size business you run, interactive content marketing is the wave of the future. Either grab your surfboard or stand on the sand and watch your competition hang ten ahead of you. In the meantime, jumpstart your content marketing campaign by getting a free trial here at Media Shower.
For some brands, content marketing has turned into what could be construed as a campfire circle with everyone holding hands, banging lap drums, playing guitar, and singing "Kumbaya" while the fire blazes and hearts connect.
Lately, a number of notable companies have been capitalizing on the increasing societal division in an attempt to connect people together and ultimately connect more people to their brands.
But, is this a viable, smart marketing strategy? Or is it risky and alienating? Should you inject some "kumbaya" into your strategies?
Let's take a look at a few examples of brands that are "kumbaya-ing" their marketing campaigns and dive into this concept in a little more detail:
TV2 in Denmark Crushes Societal Divides
TV2 in Denmark shot this 3-minute video with 80 Danes to demonstrate that even though we all come from different walks of like, we can still find a point of connection. The premise of the campaign is that we, as a society, tend to judge and label others based on their background, looks and societal status. But, this video aimed to prove that underneath what we have striven to display on the outside, we can find similarities and use them to connect at a deeper level.
Whether or not the TV station received more brand awareness as a result of the campaign is yet to be identified (I know I shed a tear!). But, by looking at the video numbers, we can surmise it was a success. This video was released at the end of January and it has over 4.1 million views. Other videos the TV station released on its YouTube channel around the same time have an average of 10,000 – 110,000 views.
Heineken Breaks Down Barriers and Unites Would-Be Enemies
Heineken presented its "Worlds Apart" campaign (#OpenYourWorld) just last month to prove that "there's more that unites us than divides us." The brand partnered with Human Library, an organization that challenges stereotypes by running unique events where people can "loan" each other out for conversations to help break down label-inducing barriers and social prejudices.
The YouTube video has more than 12.2 million views and 4,300 comments. I'd say this was a massive success, for Heineken and society.
KIND's "Pop Your Bubble" Campaign
I talked about this campaign in a recent blog post here. The KIND foundation launched the "Pop Your Bubble" campaign to help people reach out and open their minds and heart to perspectives different than their own. The KIND foundation created a tool that will help Facebook users friend people who they may have not interacted with before due to opinion differences and bias.
Are These Humanity-Focused Campaigns a Wise Choice for Brands?
Brands know that establishing a connection with their audience and customers is paramount to business success. The ability to connect is at the core of great content and any way brands can do it will help their cause.
The more emotionally connected you are to something, the more you trust it. And the more you trust it, the more comfortable you will feel spending your valuable money and making a purchase.
When you watch those videos above, maybe your heartfelt connected, or maybe it didn't. But, one thing for sure is that your defenses most likely came down, even if slightly. When this happens, you are much more apt to take action, and brands are hoping that action results in increased connection with them.
Are Brands Taking Too Much Risk?
These three brands are taking a risk because their content uncovers some controversial societal topics, so there will be people who don't agree with it. Even though your content may differ, every time you publish content to the world, you are taking a risk also, as not everyone will like you nor unite with your messaging. Just look at what happened with Pepsi and its Kendall Jenner ad.
If you want to produce this type of content, but you are concerned about the risk, work within the current trends. After this divisive past election, the world had become even more divided, so the atmosphere was ripe for this type of content, one reason why I believe these campaigns were so widely accepted. Follow the pulse of humanity and ensure your content is within season and you will minimize a lot of risk.
Want to learn how to connect with your audience more? If you want more information on how to do this, we offer brands a free trial of our content marketing platform, no commitment required. With the free trial you will receive one custom piece of SEO-optimized, audience-connecting content, high-converting content ideas, a traffic-driving promotion plan and more. Sign up here for free now to get a look behind the scenes at how Media Shower can help your brand succeed. Oh, and kumbaya…for real.
A lot has been written about how humans now have shorter attention spans than — ooh! I just got an email! — a goldfish (who beats us at 9 seconds), and while that's a funny party time factoid, it's actually a serious issue for marketers trying to get consumers' attention. With so much content competing for even just a few milliseconds of attention, how can you make yours stand out?
Start by Providing Value. No, I Mean Real Value
It's easy to say that your content should be valuable to your reader, but what does that really mean? You start by understanding your audience. A quick look at Google Analytics isn't going to suffice here. You need to do a deep dive into market research and simply listen to really glom onto what your audience cares about.
Eavesdrop on social media to find out what your audience is talking about. Send surveys to customers to get insightful feedback. Talk to them face-to-face. Research your demographics to understand them, including where they live, how old they are, and what their online habits are. And yes, pay attention to those analytics to see what of your past content has been a hit with your audience.
Mix Up the Format
Marketing with only blog posts is so 2000late. Yes, they have their purpose, but the best way to engage people in content marketing is to surprise them with different types of content. Create a livestream on Instagram or Facebook. Test out Facebook's new Stories. Set up a slideshow. Whatever you do, just do it differently than the rest of your content, and stand out from what the competition is doing.
Also vary the length of content. Most people zone out after 10 seconds into a video, so maybe a 3-minute vid isn't the way to go. Long form content is having its heyday, but don't discount shorter posts for those who don't have the patience to read 3,000 words (myself included).
Tell a Story
There's a reason social media sites are latching onto the concept of "stories" with their "day in the life" features that allow users to share photos from 24 hours that disappear afterward. They illustrate someone's life, and brands can take note on that. Rather than lecturing people about why they should do something, illustrate that point with a story. Talk about one of your customers and her struggle to find a solution for her chronic pain. Then show how your brand helped her solve her problem and get back to her life.
Yes, your brand can be a character in the story, but don't always take the Knight in Shining Armor approach. Sometimes by stepping out of the story, you do a better job of making people want to be a part of what you're doing.
Staying relevant and capturing your audience's attention takes effort. You can't assume what turned their heads yesterday will work again today. Constantly assess, measure, and tweak your content marketing strategy to continually matter to your audience.
Need help with your content marketing strategy? Get a free trial of MediaShower today!
You might be eager to develop great content for your business. You might be anxious, wondering if the audience will connect with your words and lead to more clicks, shares, sign ups, and comments.
You also might be asking a common question: How do you write for the web?
Here are a few practical tips you can consider to write posts that charm your readers:
Achieve Clutter-Free Writing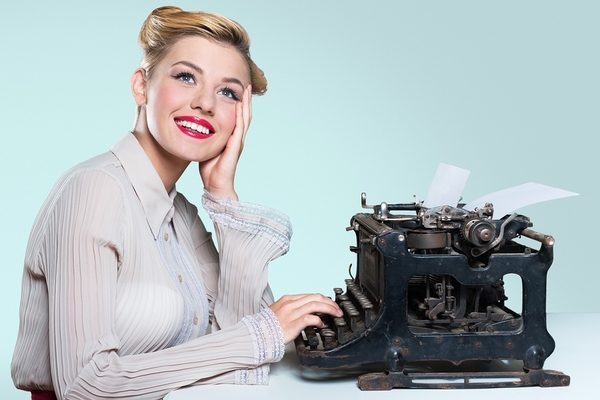 If you can't explain it to a seven-year-old, you don't understand it yourself.
Clutter is contagious. We're a society struggling with too many distractions and strangling in worthless words, senseless jargon, and pompous frills. No wonder it creeps into our writing.
But, if you can THINK CLEARLY, you can write clearly. Good writing can inform and enlighten your readers with its aliveness and hook them to your post. Here's the secret sauce:
Strip every word and sentence that serves no purpose
Get rid of long words, sentences, and paragraphs. Try using short ones as they are easy to read and quick to process (Eg: Assistance-help, Implement-do)
Cut back on passive construction that confuses the readers
Reduce the use of adjectives and adverbs
You need to prune these and other adulterants ruthlessly, as they can weaken your writing. Ensure every word and sentence you write is doing new work.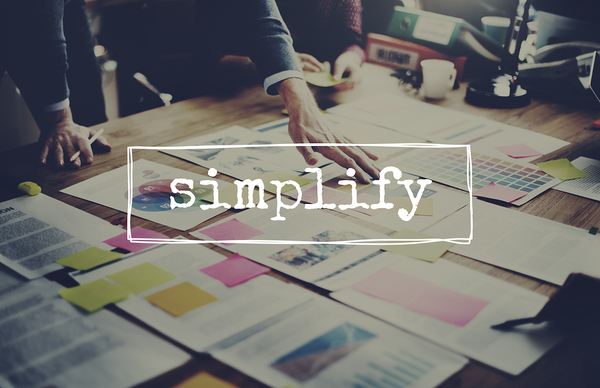 English can be weird. It can be mastered through tough thorough thought though.
Figure Out Your Audience
Who is your audience? It's a basic question, and it has a simple answer― you are writing for yourself! Remember, every reader is a unique person, so don't try to imagine the great mass audience. Write what you would want to read. Besides, readers have no idea what they want to read until they read it. The good news is they are always searching for something unfamiliar, current, and new.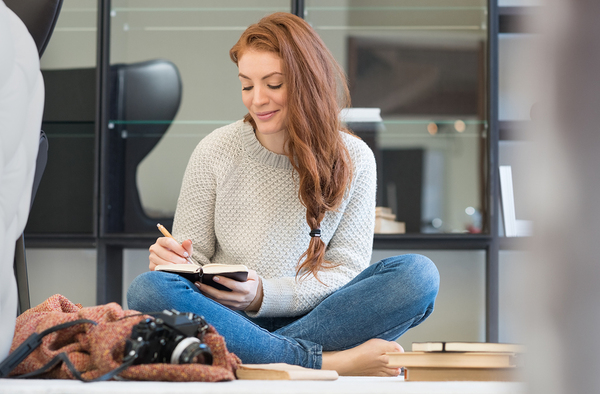 Writer: A person capable of changing caffeine into ideas.
Warm Up Your Style

The best athletes need to warm up before scoring game-winning touchdowns. The same is true with writing. Warming up with first drafts then editing can be what separates good writing from great writing. Here are some things to consider when writing and rewriting:
Try writing in the first person―use words like "I" and "we" and "me" and "us." It will warm up your impersonal style. However, if you are not allowed to use those words, then imagine or write the first draft in the first person. You can take the "I"s out before publishing.
Avoid overused synonyms (common currency) and aim for freshness in your writing.
Make use of contractions like "It's" and "I'll" and "can't" among others as it will help your writing to be warmer and truer to your personality. Although don't invent words like: "could've." They ruin your style.
4.Never be afraid to imitate another writer… as long as you aren't copying their words! It's part of the learning process. Thoreau and Dickens didn't spring full-blown as Thoreau and Dickens; they too needed inspiration and models. Discover, the best writers in your niche and read their creative work.
Your Best Resource Tool
In conclusion, don't squander your richest source: YOURSELF.
Remember, words are the best tools you've got. Strive to make good use of them with care and originality. Your content should leave the reader with at least one interesting thought that he/she didn't have before. Express yourself simply and clearly as somebody out there is listening.
Media Shower's Genesis Abel Akula is an experienced technology & internet marketing writer.

Most people associate LinkedIn with job searching and acquisition on the social media landscape, but McDonald's Australia has flipped a few tables and begun to accept job applications through Snapchat.
Good old Ronald has gotten hip to the information age and adopted Snapchat filters as a viable employment engagement strategy. Applicants must take a photo of themselves, use a special McDonald's filter, and record a 10-second elevator pitch to restaurant managers.
There's no word yet on the Snapchat strategy's success or failure, but we're intrigued by this new trend.
A Winning Smile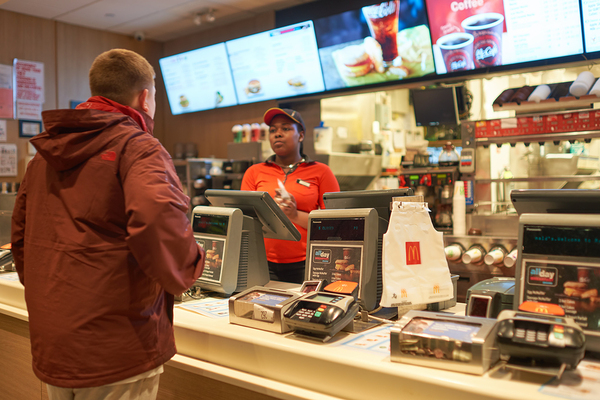 Can I take your order?
Imagery has become part of employment culture. Many experts now recommend including a photo with your resume as well as on your social media profiles.
Videos, graphic resumes, and other imagery have also become popular. Apparently, we're all judging books by their covers.
However, McDonald's Australia is using the Snapchat strategy because the recording lets applicants sell their winning personalities. McDonald's wants to hire bright, bubbly, customer service-oriented employees, and they want job candidates to exemplify those qualities while wearing a McDonald's hat via the Snapchat filter.
In other words, if you want to work at McDonald's Down Under, you'd better smile for the camera.
Social Media Fever
Who doesn't use social media these days? Companies employ these platforms to engage customers, share their content, find new clients, and build their brands.
Social media job applications were the next logical progression.
While we don't recommend hiring your next CEO via Snapchat, McDonald's Australia might have discovered a trendy new way to find top talent in an industry that sometimes turns off potential employees.
Starting Small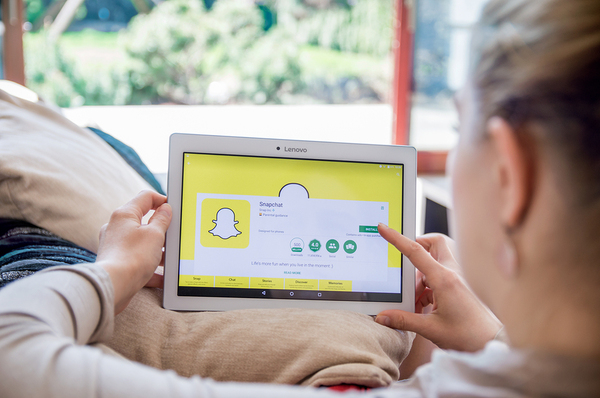 New jobs are just a "snap" away…
Obviously, the aptly-titled Snaplications won't serve as the entire interview process. Mickey D's plans to use the Snaps as a preliminary tool to find potentially solid employees.
According to Fortune magazine, McDonald's began this campaign to attract the younger generation of job seekers. Most of the Snap users are Millennials, which means that the social media platform can target McDonald's ideal employee audience.
Fortune reports that more than 100,000 people work for McDonald's in Australia alone. The company wants to expand its workforce, however, and keep up with the rapid turnover associated with fast food careers.
Should You Follow in Mickey D's Footsteps?
When you keep an eye on big brands like McDonald's, you get excellent ideas. While you might not want to follow this formula specifically, you could look for potential hires via social media.
Employment branding has become a hot topic in all industries. It's almost as important as commercial branding.
In other words, you need a way to attract the top talent in your industry. Social media allows you to develop a following and a brand aimed specifically at potential hires.
Creating a dedicated employment branding blog as well as employment branding social media accounts might put you ahead of your competition.
In fact, content marketing can work just as well for employment branding as it does for attracting customers. Get a free trial here at Media Shower and let us help you find the next member of your team.
Did you know that the Earth is really Sicilian-pizza-pie-shaped with pepperoni-shaped land masses wedged on top? It's true because it's on the internet. I read it on www.RealNewsForRealz.com.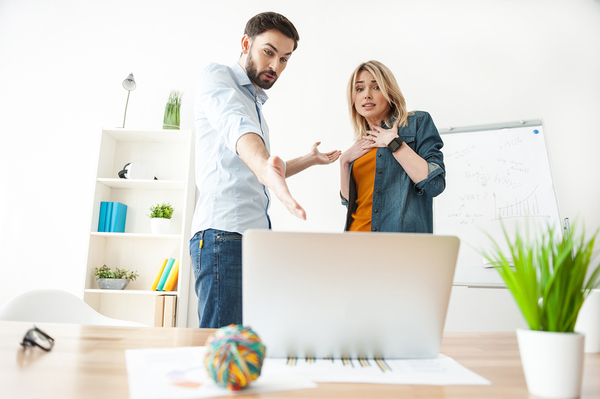 Look, it says it right there. The Earth is shaped like a Sicilian pizza pie.
Open any social media site, read any newspaper or rummage through online forums and you will most certainly find the concept of "fake news" circling the outlets. The popular phrase was made famous during the recent political campaign and it's no surprise that Google is jumping on the "fake news" bandwagon as well.
Ben Gomes, vice president of engineering for Google Search describes fake news as," content on the web that has contributed to the spread of blatantly misleading, low quality, offensive or downright false information." To combat the spread of this fake news and return higher quality search results to its users, Google announced a new search initiative called "Project Owl."
Project Owl involves a three-part approach:
New feedback form for Autocomplete search suggestions
New feedback form for "Featured Snippets" answers
Improvements in search quality for "authoritative content"
Let's take a look at each one in more detail:
Feedback form for autocomplete search suggestions
You will notice Google's Autocomplete feature when you type a query in the search box. Inside this box, Google offers several suggestions on what you may want to search for.

Since Google's autocomplete suggestions hail from popular searches, there may be times when autocomplete returns back offensive or misleading information. This is what Google is trying to fix with Project Owl.
To that end, Google implemented a form allowing users to offer feedback on which autocomplete predictions are inappropriate: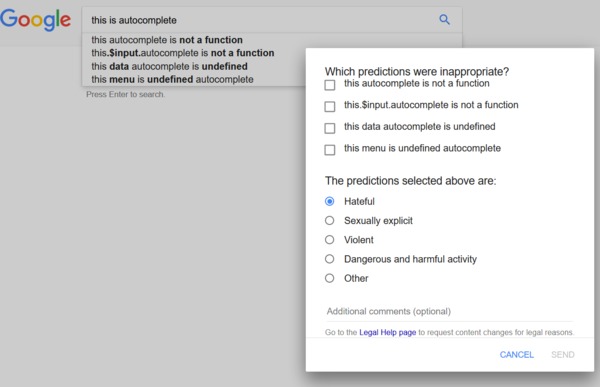 To see the form, simply click on the text "Report inappropriate predictions."
Google will gather this feedback and review the data to devise a solution. The search giant won't automatically remove the data from one suggestion, but if there is an overwhelming amount of feedback, it may pull a particular suggestion from the search results until it can get reviewed in more detail. The goal is to collect enough data so that it can improve search for its users over time.
New feedback form for Featured Snippets
Have you ever seen the answer boxes at the top of Google's search results? These are featured snippets. Featured snippets show up as an elevated search result and outlined in a box to show emphasis.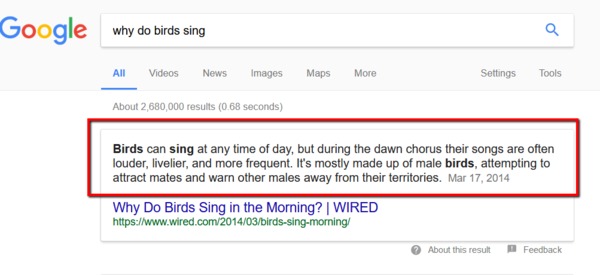 Google has come under scrutiny for publishing featured snippet answers that are problematic or incorrect. Guardian.com published an article about this problematic content and showed Google's snippet suggestion to the query "are women evil."
You will cringe just reading this: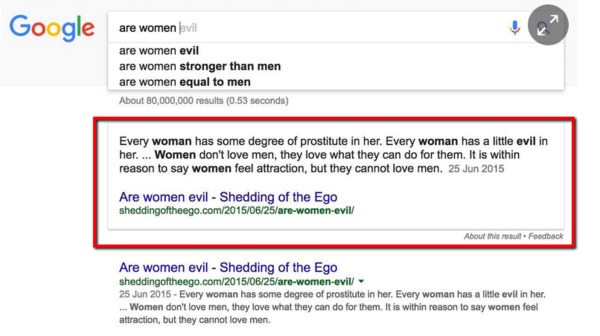 To prevent this type of content from ranking in the search results, Google is asking for specific feedback by updating its Featured Snippet form with new options: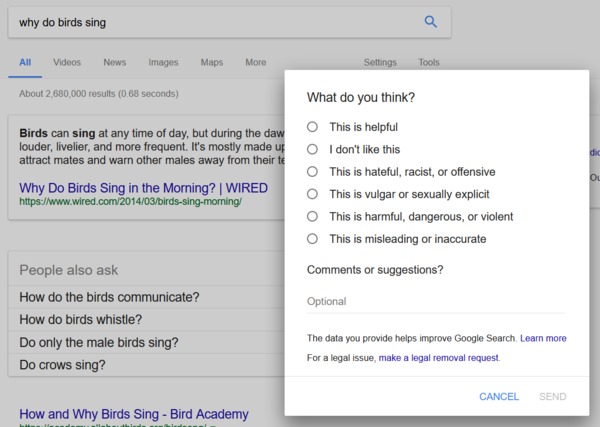 Similar to the autocomplete form, Google hopes to gather enough data so it can make more effective decisions on what content is problematic or inappropriate for its users.
Improvements in search quality for "authoritative content"
Google wants to place more emphasis on authoritative content for infrequent searches to further improve its suggestions and snippets. The search engine began this effort back in December and will continue by instructing its search quality raters to flag any offensive or inappropriate content. Google's goal is to rank high-quality authoritative content higher and prevent non-authoritative content from ranking. The process will take time but the search engine is dedicated to fixing the problem and improving its results.
What This Means For Content Marketers
For the people who churn out high quantities of low-quality, non-researched, content, their success may be short-lived. But, for value-driven content marketers, these improvements are a step in the right direction. It's no secret that publishing high-quality content is paramount to business success. But, now, Google will be working for us to ensure that this content is more readily available in the search results to the people who want to see it.
Are you producing the type of high-quality content Google will want to rank highly in its search results? If not, or you don't know how to, we can help. Try us out for free and get custom content ideas, one Google-loving content piece that is yours to use forever, a traffic-driving promotion program and more. No obligation or commitment required.
Grab your Rubik's cube, your floppy disks, and your trusty pager — Doritos is bringing it old school. The famous tortilla chip brand has partnered with the producers behind Guardians of the Galaxy 2 in an ingenious bit of marketing hype.
It's not your mother's Doritos bag. In fact, it's one of the most unique packaging innovations we've ever seen. The limited edition run of Doritos will contain a music player from which you can listen to the entire soundtrack to Guardians of the Galaxy 2. The campaign launched on April 28 in advance of today's release of the film.
Marketing Opportunities Everywhere You Look
What do Marvel superheroes and Doritos nacho cheese chips have in common? Absolutely nothing as far as we can tell.
That doesn't mean the two franchises can't band together and create a marketing sensation. Marketers have long used unique packaging to advertise television shows, movies, and other media. The benefits work both ways — more people get exposed to Doritos (and are attracted by the retro package), and more people get exposed to "Guardians." It's a win-win.
Think back to 2013, for instance, to the marketing stunt pulled by Cards for Humanity (a company that sells playing cards for what they call "a horrible game for horrible people"). Instead of dropping its prices on Black Friday, the company raised them by $5. The move became a media sensation, and the company actually improved their profits from the previous Black Friday weekend.
Applying the Lesson
What does the marketing partnership between Doritos and "Guardians" mean for today's marketers? Sometimes, partnerships can form in the most unlikely of circumstances. In fact, some experts even recommend partnering with the competition.
Consumers are used to the same old tactics. They know that, when they go to a movie theater, they'll spend 15 minutes watching trailers before they get to the feature film. When they turn on the television, they know they'll see a commercial for toilet tissue or contact lenses.
Doritos is known for its entertaining marketing stunts, and the company has proven over and over again that shock value can be worth just as much as product quality and brand awareness. Everyone knows what a Dorito is, after all, but marketing campaigns can result in increased sales.
If you're thinking about partnering with another company to boost sales, take Frito-Lays' lead. Just make sure any potential partner won't reflect poorly on your brand and that you're clear about the scope of your agreement beforehand.
Start Jamming
There's no word yet on how long the music player will last inside the Doritos bag, and we're not convinced that the sound quality will rival that of your car's speakers. However, I predict that at least a few of you will hit the supermarket in the next couple of days, hoping to snag your very own "Guardians"-themed Doritos bag.
While you're at it, dig your Walkman out of storage, watch a VHS, and take a few photos with a film camera. Nostalgia's good for the soul.
First, though, we invite you to supercharge your content marketing strategies. We always have our virtual fingers on the pulse of today's marketing trends, and we'd love to help you succeed. Get a free trial to learn why Media Shower offers the best content marketing in the industry.