Archive for December, 2016
Just as the staff at Staples probably sees a lot of staples, we see a lot of media around here. So much so, in fact, that we fancy ourselves experts on what makes for great content. We highlight these stellar examples on a monthly basis in our newsletter, but now it's time to cull the cream from the crop for our year-end list.
Of course, there's a ton of great written content to choose from, but we – much like society, in general – found ourselves gravitating towards video when seeking the best of the best. Four of the five on our list are videos, with the lone exception being an album… by Hamburger Helper. Yep!
These five examples rose above the rest over the past 365. They're attention-grabbing, sticky, and they easily sliced through the daily clutter of content to push each brand's message further into our consciousness.
1. McDonald's Lets Customers Make Music with Placemats
Lucky McDonald's customers in the Netherlands got to see more than a greasy sheet of paper under their Big Macs this year. The McTrax Placemat connected to your smartphone and let diners create fat beats and killer hooks while digesting their apple pies (caution, filling is hot). We're not sure if or when this kind of treat will come to the US, but we'll take it over the McRib any day.
2. Sumo Dude vs. Giant Roach Trap
Earth Chemical, a Japanese pest control company, came up with a brilliant concept for a video and executed it perfectly. To show how strong their new roach motel is, they arranged for a scientist, runner, and sumo wrestler to try and get across a massive sticky trap. The result was a serious case of can't-look-away-itis.
3. Hamburger Helper Hits Hip-Hop Home Run
The undisputed winner of April Fools' Day 2016 had to be Hamburger Helper. General Mills' cheesy pasta product was the source for – of all things – a rap album. Yes, multiple songs were released by "Lefty," HH's mascot, and more than a few people were impressed by the skills and level of devotion of this "prank." Take a listen above.
4. Budweiser Showers the Cubs with Love
When you go 108 years between championships, people notice. Immediately after the Chicago Cubs World Series win, Budweiser paid homage to the historic event with a nifty little video, featuring audio from broadcasting legend Harry Caray.
5. Chipotle Channels Pixar for 'A Love Story' Film
Pixar films almost always result in box office gold wrapped in critical praise… so why not mimic the animated film formula with your marketing? Chipotle did just that with 'A Love Story,' a 4-minute film that's both entertaining and on-message with the burrito maker's mantra of "cultivating a better world."
Wondering if your company has what it takes to crack our top 5 next year? Request a free content marketing assessment. We'll help you create content that delivers traffic, leads, and results.
Happy New Year!
Infographics have been and remain hot items in the worlds of online and social media marketing. They're visually appealing, informative, and they're a terrific, safe way to share information about your organization.
Moreover, they're fantastically shareable, and when people share your infographics they by definition are sharing information about your organization, whether that's specific company information, or broader information about what your organization cares about.
Here are our favorite infographics from 2016 and why we like them!
1. Democratic vs. Republican Professions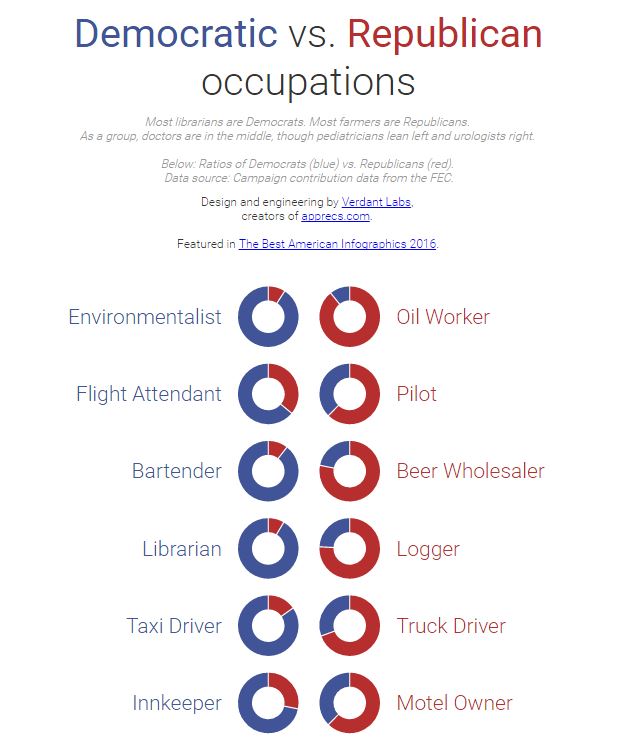 The presidential election felt as if it permeated every aspect of 2016, and although many of us are relieved to have a break of at least a couple of years before the next election extravaganza starts up, Verdant Labs created an infographic that offered fascinating insight into not the candidates, but the electorate. Using an intuitively informative series of "donut" graphics, they created an infographic showing how people in different occupations tend to vote. While some political leanings are to be expected, others offer some surprising insights.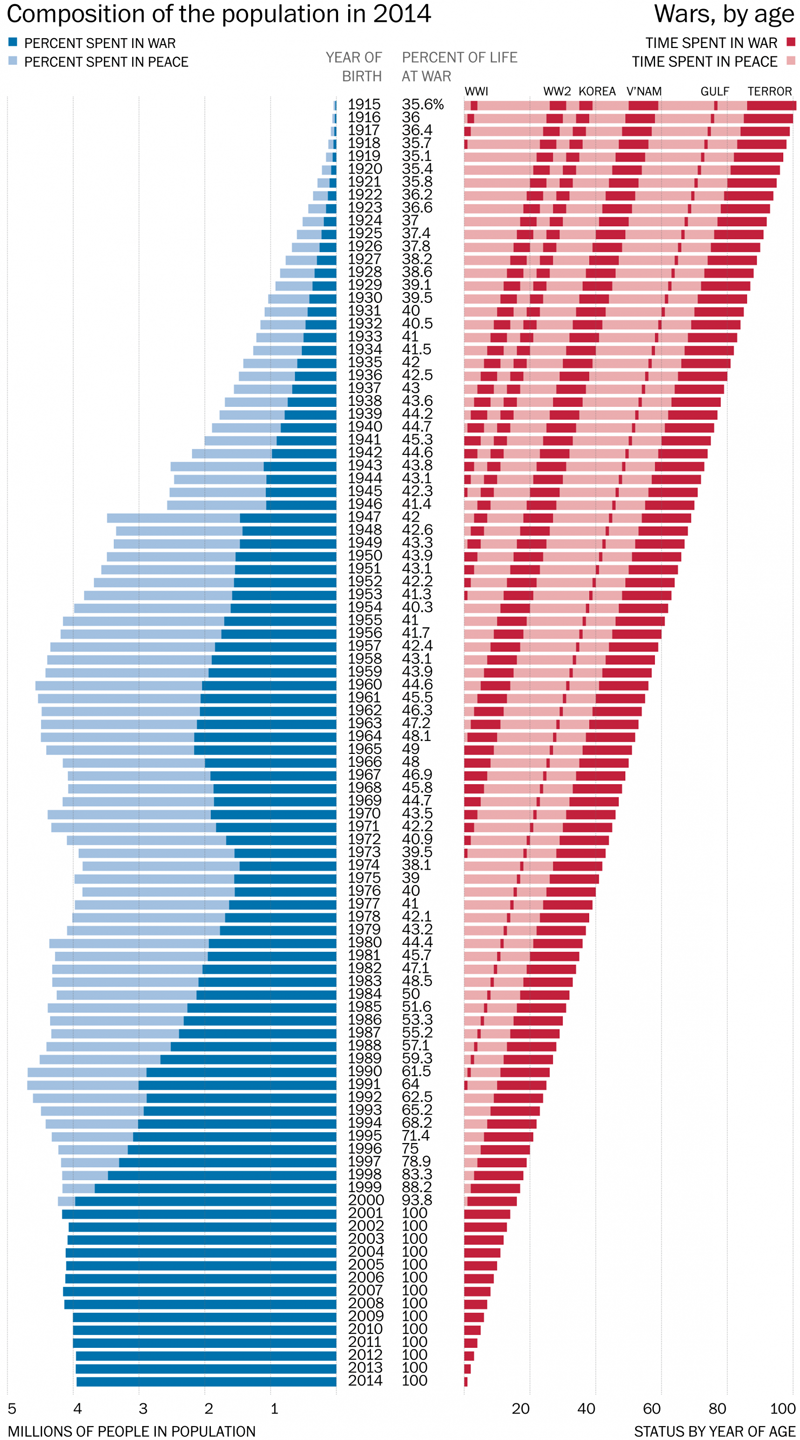 OK, technically this one was published in 2015, but the content it presents is important enough to bear repeating. Basically, the Washington Post created an infographic showing what percentage of an American's life has been spent with the country at war, based on their birth year. One interesting point this remarkable infographic makes is that although we tend to imagine a "war generation" centered around World War II, for the most part the younger an American is, the greater the proportion of his or her life has been lived when the United States was involved in a war.
3. Stories of Past and Future by XKCD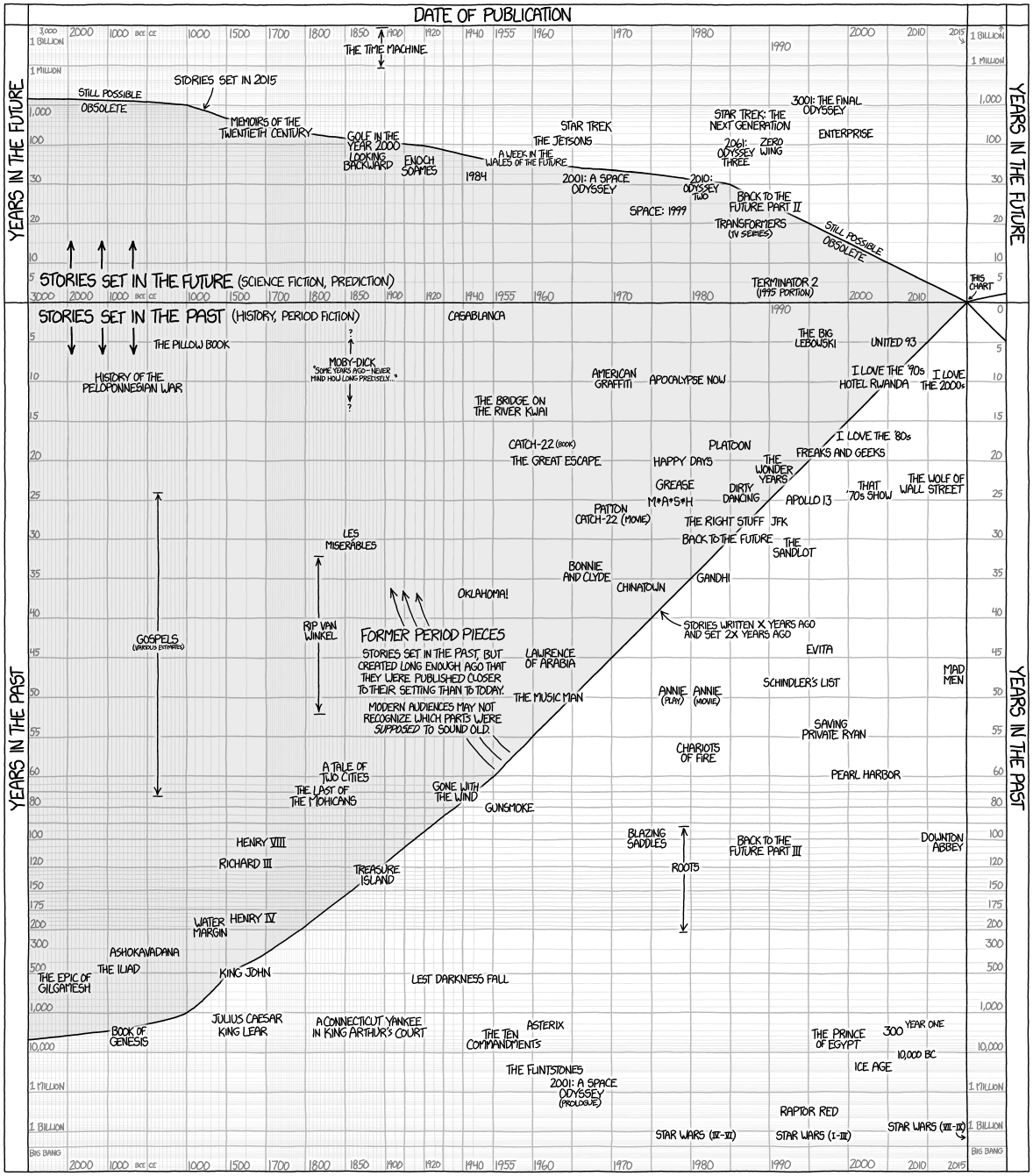 The webcomic XKCD, created by Randall Munroe, is about almost everything under the sun, and you have undoubtedly seen the iconic XKCD stick figures describe universal romantic situations, or discuss mathematical or linguistic concepts. The "Stories of Past and Future" infographic is a wonderfully informative reference for visualizing, over time, trends of authors setting stories in the past versus setting them in the future. It also indicates how far in the past or future stories were set. For the fiction fanatic, it's an outstanding encapsulation of fascinating literary data.
4. Words in Hit Song Titles by Decade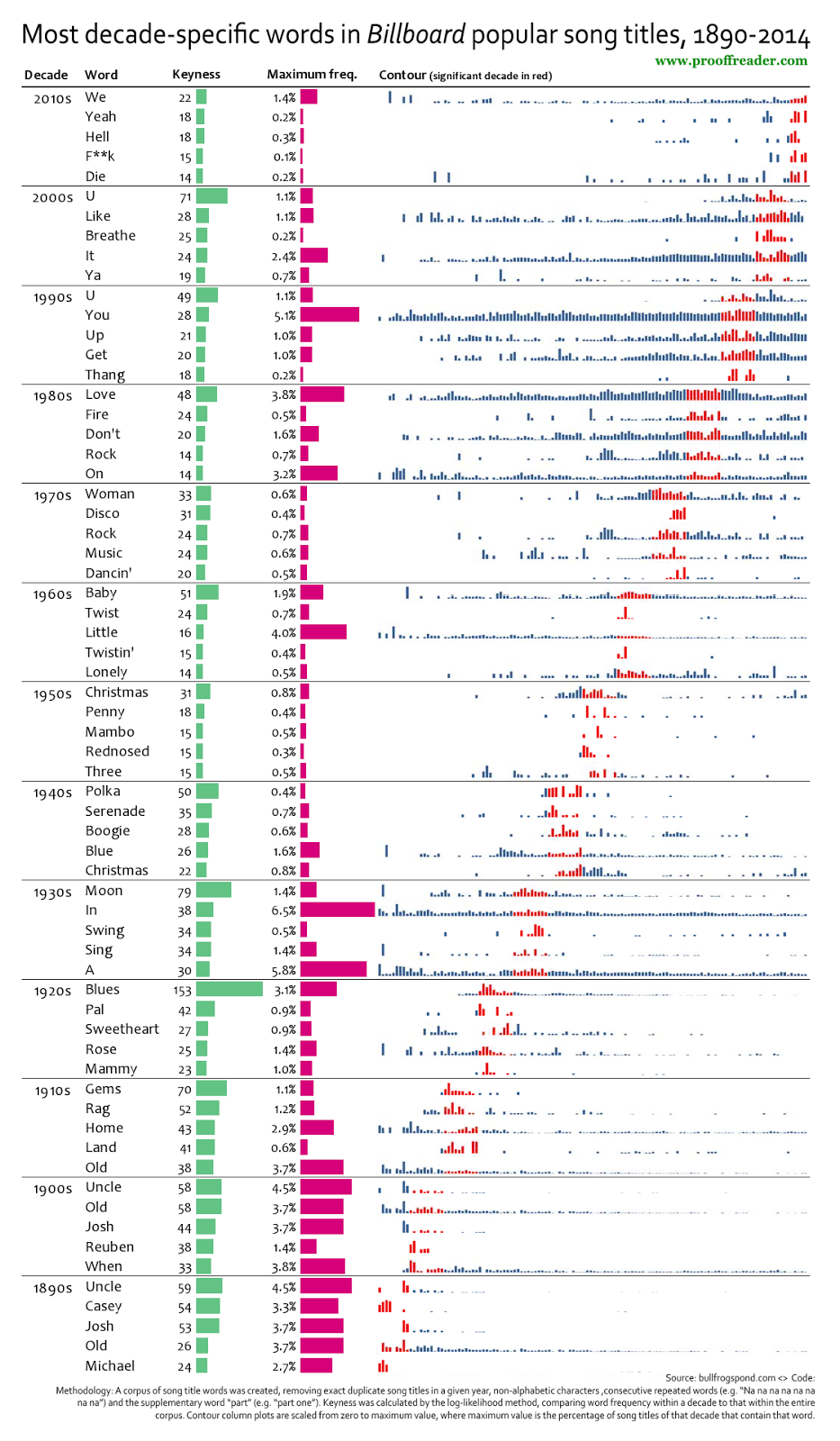 Here's a fun one. And yes, it's from a couple of years ago, but it just goes to show how infographics can gain and maintain traction over time, and the data contained in it are still relevant. Prooffreader.com created an infographic that shows the most popular words appearing in Billboard popular song titles by decades, starting back in the 1890s. You'll discover that Christmas songs made the biggest splash during the 1950s, and probably won't be surprised to find that song titles have become more vulgar since the turn of the 21st century.

The "How to Stop Worrying" infographic from happify.com is great anytime but particularly if you're in your New Year's Resolution mindset. It starts with some fascinating statistics. For example, did you know that the average person spends an hour and 50 minutes per day fretting about things? This infographic also briefly recaps the damaging effects of excessive worry, and then gives several practical tips for reducing the role worrying plays in your life, tips like exercising, keeping a regular sleep schedule, and learning to let go of harmful negative thoughts.
6. Why Website Redesign Doesn't Always Work

Let's wrap up with a practical, work-related infographic. Software A/B testing firm VWO created an infographic about why website redesigns fail and what you can do about it. This can be especially relevant for companies planning website makeovers in the new year. Generally speaking, website redesigns result in greater revenues, but that's not the entire story. This infographic shows how organizations invest their website redesign resources, and how they should be doing so to maximize return on investment. If your organization is considering a website upgrade in 2017, you definitely want to check out this infographic.
If you're interested in infographics, social media, or any other aspect of content marketing, we would love for you to request a free content marketing assessment. Media Shower has put in the time and the work to learn exactly what works today to help our clients gain traffic, leads, and best of all, customers and we would be delighted to share that with you.
You've probably heard of Textbroker. It's one of the oldest article writing services in the industry — at least on its scale — and many companies have used it to purchase single articles or batches of content.
If you're in the market for an article writing service, you might find yourself tempted to try Textbroker. Before you put down your credit card, however, read this in-depth review. We're covering the top 10 article writing services, so business owners and consumers can make educated choices.
Textbroker Pros

Textbroker makes it easy to place an order for an article.
If you want to buy articles through Textbroker, you can sign up for free as a client. Once you've created your account, you'll put an order into the system. You can specify details like article length, subject matter, keywords, and other details. However, you're limited to the form you fill out in your client dashboard.
When you need an article quickly, Textbroker might offer the best solution. You can choose each article's deadline, so this service works well for clients who need content at the last minute. Additionally, Textbroker has an excellent reputation for protecting clients from copyright infringement and other issues common with content writing.
Textbroker Cons

Learn how to compare Textbroker authors.
You can submit a direct order to a specific writer or create an open order, which means that any writer can pick it up and write it. Both choices carry certain risks.
With a direct order, you'll have to search for a writer and carefully evaluate each author's profile. Does he or she have sufficient experience? Has the writer ever worked in your industry?
Alternatively, if you choose an open order, you won't know what quality to expect. Since any writer can accept the assignment, you might find yourself with subpar content that you can't use.
Writing quality is generally hit-or-miss on Textbroker, and writers often refuse to write for clients who request revisions or reject work more than a few times. They don't want to risk wasting their time.
What Customers Say About Textbroker
Nearly 70 people have reviewed Textbroker on SiteJabber, with only 22 percent recommending the company. Nearly half of all reviewers have given this article writing service just one star out of five.
Most of the reviews are from writers who have worked for Textbroker. However, a few clients have chimed in. Josh M. gives the company three stars, stating that his experience boils down to "good articles but slow delivery." Meanwhile, Scott B. dishes out five stars and a glowing recommendation: "I've been using TextBroker.com for about a month and the service and support are amazing!"
Ray C., however, gives Textbroker just one star, saying, "I've found the quality average even for the top quality service level."
Clearly, clients have had varying levels of success with Textbroker. If you're looking for an article writing service that can deliver slam dunks every single time, request a free content marketing assessment. We're here to offer high-quality articles at reasonable rates.
In It's a Wonderful Life, George Bailey (Jimmy Stewart) is on the verge of giving up all hope. He's deemed himself a failure and a burden on his loved ones. It's not until he meets Clarence (Robert Carradine), his guardian angel, that he learns the true worth of his life and how much it affects those around him. What a great film.
Today, we're channeling the spirit of this holiday classic and wishing everyone, especially those who need it most, their own personal Clarence. May a lovable, somewhat frumpy, older gentleman in pajamas help steer your life's path toward peace and happiness.
And remember, "no man is a failure who has friends."
In the fifth grade, I experienced my most memorable moment as a writer.
A traveling children's play company visited my school. Students were allowed to submit stories which would be performed as plays for the entire student body. I submitted my effort, knowing that I wouldn't be picked, as my grade had a resident storyteller who was very popular among my peers. But when I read my story in front of the class, and they voted for me, it was my greatest success. At that moment I truly felt accepted by my fellow classmates. But how does a writer continue that type of winning formula?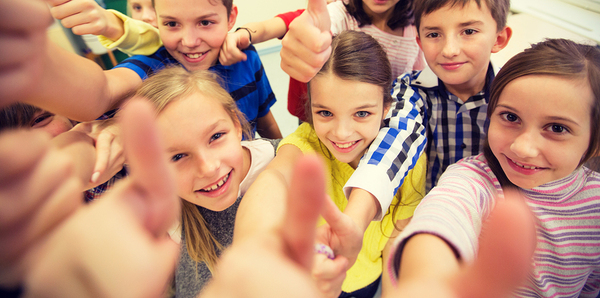 "They like me. They really like me!"
Write What You Know
"Write what you know" doesn't mean if you are a sanitation worker you have to write about picking up trash cans, or if you're a marine biologist you must stick to creatures of the sea. It means write about what you love; things you are passionate about. My fifth-grade story was about my two favorite things at the time: cats and mysteries. If you are passionate about your subject matter that will show through in your writing and inspire passion in your readers. If you don't care about your topic, why would anyone else?
Catch Their Interest
You may have gathered all the facts available about your beloved topic, but if you don't present them in an interesting and entertaining manner, no one will see them. My local Humane Society gave a scholarship for the best article encouraging spaying and neutering of pets. All the articles cited the same statistics on pet overpopulation. But the one they picked opened with a graphic example of what can happen to those unwanted pets if someone with bad intentions gets hold of them. The Humane Society made their choice based on what they thought would get someone to actually read the article, and perhaps be stirred enough emotionally to take up the cause.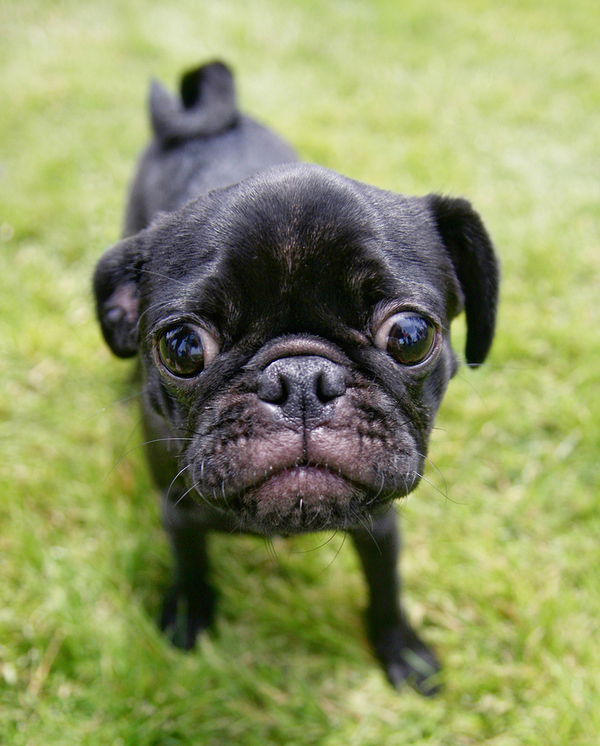 Keep Fido safe from bullies. Spay and neuter your pets.
Keep Writing
When the protagonist of my fifth-grade story - Fungila, the Cat Detective – solved that first missing persons case, it wasn't his last. I didn't have a market for more stories, but I kept writing them anyway. Because a writer writes. In those days, unless you gave copies of your works to relatives for Christmas, there wasn't much you could do to connect with an audience. But in the age of internet blogs, in a matter of minutes, you can have your story out there for millions of readers to visit. Your success comes in numbers of clicks rather than numbers of copies sold or class votes, but the feeling is the same. Watching the digits go up as people discover your material is just as thrilling as seeing the hands in the air. And the principle for publishing content on the web is the same. Write your passion, keep it entertaining and the people will come.
Interested in learning more about content marketing? Click here and we'll assess how your content is doing.
Media Shower writer Jill Kokemuller specializes in food, home improvement, and education.
When you need to hire a writer for a single article or a series of them, you probably don't want to scour the internet for a single freelancer. Instead, you might want to use an article writing service. These companies bring together customers and writers.
We're reviewing the top 10 article writing services, and today we're looking at WriterAccess, which is number four on our list. If you're in need of an article writing service, use this in-depth review to decide whether WriterAccess will fit your needs.
WriterAccess Pros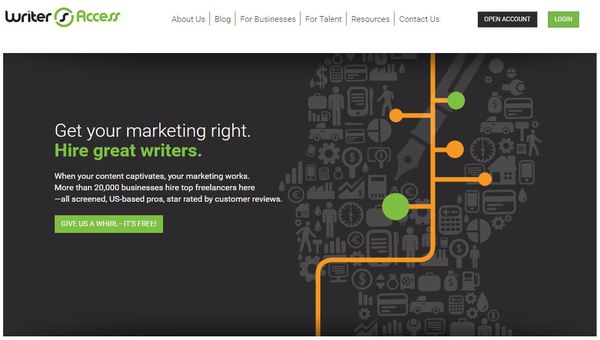 According to WriterAccess, over 20,000 businesses have used this article writing service.
Think of WriterAccess as a happy medium between a full-scale content marketing agency and a free-for-all like Upwork. The company screens its writers and gives each freelancer a star rating. The rating determines which projects the writer can accept and also influences his or her pay rate.
For instance, if you're hoping to hire a writer for the lowest possible price, you might open up an assignment after you sign up for WriterAccess and invite all writers to submit the work. A one-star writer might not produce the best copy, but you'll pay less.
Conversely, when you need top-notch work, you'll want to hire a five- or six-star writer. Several criteria contribute to star ratings, including the writer's history and his or her performance at WriterAccess.
Because of these facts, ordering articles from WriterAccess proves incredibly easy. Just sign up for an account as a customer and put in an order. You can make certain specifications, but you won't have an in-house liaison to help you through the process. Instead, you'll either choose a writer or open up the assignment to the talent pool.
WriterAccess Cons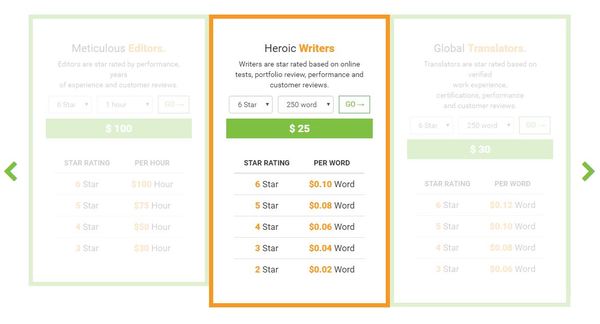 WriterAccess rate guide.
As you can see from the screenshot above, articles cost between $0.02 and $0.10 per word at WriterAccess. For a 500-word article, you would pay anywhere from $10 to $50, which represents an extremely wide range.
Some of the more sophisticated article writing services screen their writers far more closely and choose only the best available. That way, you get a straightforward price, and you know that you're hiring a consummate professional who can get the work done.
You have to pay extra if you want someone to work with you on your campaign. Additionally, even if the writer has a high star rating, you don't necessarily know his or her experience level unless you research the writer's background. This can take hours if you're considering several prospects. You might have better luck with an article writing service that handles the scouting for you.
What Customers Say About WriterAccess
Few independent reviews of WriterAccess exist outside of the company's testimonial page. Several clients have left glowing reviews of the article writing service. For instance, customer George B. says, "I have nothing but great things to say about WriterAccess. They have exceeded my expectations in every way. I have been more impressed with the clarity of their writing and the expeditious, but more professional manner they complete the task at hand."
Another customer, Soorena S., praises WriterAccess for its "prompt and transparent service."
While WriterAccess might offer reasonable rates and a large stable of writers, you'd benefit from a more hands-on approach. At Media Shower, you can trust us to generate ideas for articles, assign content to appropriate writers, and have your copy professionally edited before you ever see it. Get three free content ideas if you're interested in taking your content marketing to the next level.
If you admire a certain author, think about what compels you to return to the bookstore or library to get another great read by that particular person. Do this with some repetition, and you'll eventually figure out the secrets to outstanding writing. Apply these tips to not only penning the great American novel, but also to your content writing and marketing, and people will keep coming back for more.
Creating the Hook
One of my favorite authors is Debbie Macomber. She has a gift for pulling the reader immediately into the storyline, usually within the first two or three lines of the story. Imitate this skill by incorporating it into whatever you write, whether it is a novel or a blog. Grab the reader's attention by stating what the problem is quickly. Maybe the protagonist can't find a well-paying job, or the reader wants to figure out how to save money on his or her electric bills. Now that you have latched on to the reader's attention, keep it!
Exploring the Plot
Expand on the plot by exploring the different options available to solve the issue. Do this in an intellectual manner that encompasses not only the tried and true methods, but also those that are less well known. It's always best to be honest and write about things that you know. If you don't know the subject well, research the topic so that your words have authenticity and you can explain the topic in a straightforward manner.
Touch on some of the conflicts that the reader may encounter along the way and how to overcome them. Macomber does this well in her novels by reaching deep into the protagonist's heart and soul. She then expands on the problem-solving efforts by bringing other characters' thoughts into play. You can solve conflicts in content writing as well.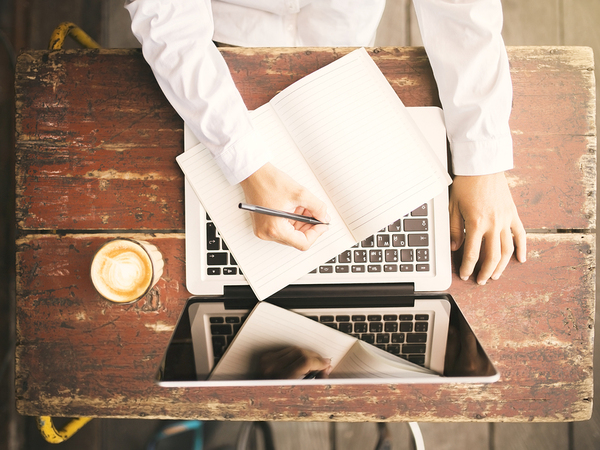 Keep the Setting Friendly
Macomber's books are set in friendly, cozy little towns filled with residents who are quirky, yet lovable. You can keep your setting comfortable in your blog by always writing in a positive fashion. No one wants to be depressed by reading that the resolution is only available through options that have little rates of success.
Refer Back to the Original Problem
The characters in Macomber's books dance around life throughout the story, but she always skillfully brings the readers' back to the original problem. You can do this by referring back to the topic of your blog – aka the keywords – a few times in the piece. Don't flood a post with the keywords, but use them efficiently in order to keep the reader focused on the problem and the task of finding a resolution.
Always Have a Conclusion
Macomber always winds up her stories with a conclusion. The plot may end with a surprising twist that is far from what the reader imagined, or she may end the story with a typical ending that is brought about in ways that are far from the norm. Do this in your blog writing as well. After all, the reader doesn't really need your writing abilities if he or she can tell you the resolution before she reaches the end of your blog.
Interested in improving your company's blog? Contact us today!
Media Shower writer Lori Baker is a freelance writer who has written articles on a variety of topics, including health, travel, culinary skills, business management, decorating, and finance.
Choosing an article writing services takes careful thought, especially if you want to compete in today's highly competitive content marketplace. An article writing service should deliver single, well-written pieces based on your specifications.
To help you find an article writing partner, we're reviewing the top 10 article writing services available today. Today we're looking at Article Bunny, a relative newcomer to the article writing industry. It places third on our list and offers several pros and cons.
Pros of Article Bunny


Think of Article Bunny as a spin-off of the highly successful Voice Bunny.
As the company's tagline says, Article Bunny "specializes in 'I need it done yesterday.'" The platform has built its brand around speed, which might attract companies and individuals who need last-minute articles written for their sites or email newsletters.
Writers at Article Bunny must pass a test and submit a sample article for evaluation. This ensures that any writer you hire will have basic copywriting skills. Additionally, the company screens submissions when writers fulfill assignments. The editors can either approve the piece, send it back to the writer for revision, or reject the piece and offer the assignment to a new writer. These quality controls can help keep clients satisfied.
Article Bunny launched in 2015, and it has continually improved its interface to suit writers and clients. You can submit three different types of projects for consideration: Speedy articles (open to any writer who wants to accept it and complete the article by the deadline); Contests (where writers submit brief proposals); and Bookings (where you choose the writer and automatically assign an article to him or her).
This variety can help clients decide how they want their article writing experience to go.
Cons of Article Bunny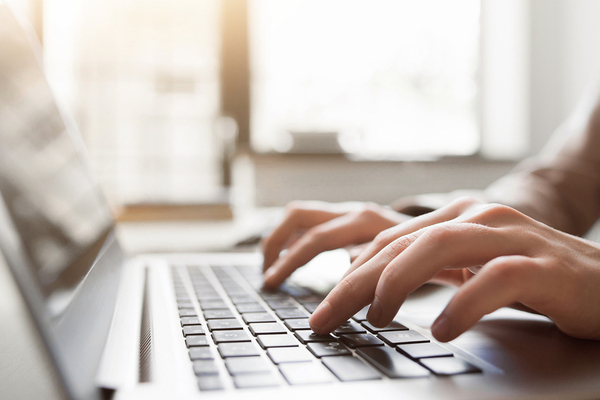 The lack of article writing track record at Article Bunny might give you pause.
Since the company only launched the Article Bunny brand in 2015, this article writing service hasn't yet developed an extensive track record. Additionally, the company has rebranded itself as Torre and launched several other projects, which might divide the principals' attention.
You also don't get end-to-end content services at Article Bunny. You simply define the parameters of the assignment. The team doesn't help with ideation, publishing, SEO, and other critical aspects of content marketing success.
Unfortunately, Article Bunny is too new to have generated much feedback from the online community. A few reviews by Article Bunny writers now exist, but the company hasn't inspired any feedback from clients who have used the service. While no news can indicate good news, it's impossible to know how past customers feel about their Bunny experience. The company continues to expand, however, which might suggest positive growth.
If you're an Article Bunny customer, feel free to let us know about your experience. Until then, you could try ordering an article through the service to determine whether it will meet your needs. Alternatively, contact us to learn about article writing and full-scale content marketing services from Media Shower. We'll confident you'll want to join our roster of satisfied clients.

When I started college, I thought I was a decent writer. My professors confirmed my belief and gave me high scores on papers and essay tests. I could write circles around many of my classmates, and I reveled in it. It took me a fourth of the time to write papers compared to my friends. Writing just came easily to me.
Law school was different. My flourished writing style was no longer acceptable. I had to change my ways. It was an extremely difficult and disheartening process. I thought I was a good writer, but my instructors informed me otherwise.
Struggling with Legal Writing
I had to retrain myself to write more concisely. For someone who was used to being praised for my writing, my legal writing class was a serious hit to my ego. I questioned whether I was ever a good writer.
Legal writing is unlike any other writing style I had ever written or even read. It isn't even like the legal cases you read. It is short and to the point. It has little personality, but may also need to be argumentative. Writing projects that took me an hour during my first four years of college were now taking me six hours, and I wasn't receiving the high marks that I was accustomed to seeing. It was devastating.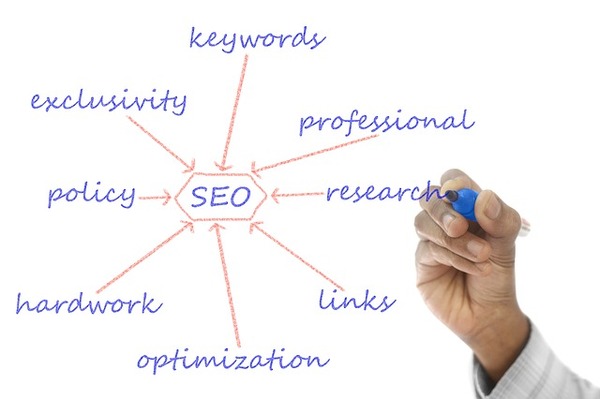 Content writing requires several in-depth elements.
Turning the Corner
I had to completely dismantle everything I thought I knew about writing. I had to teach myself again. It was a painful process.
During my third year in law school, I applied for an externship position with a federal judge in the local area. I received the position and worked with this bankruptcy judge for a full semester. I conducted legal research and wrote draft opinions. I was both honored and extremely intimidated by the responsibility of the position.
The judge helped me develop my writing. He told me that my writing was excellent, and gave me tips and tricks to make it even sharper. I poured my heart and soul into each piece I wrote for him. He acknowledged my efforts and took a keen interest in my development as a legal writer, and, eventually, as a lawyer.
The Tipping Point
The judge asked me to work for him in a clerkship position for a year after law school graduation. Positions with federal judges are coveted in the legal profession – only students with the best grades or the best connections received these positions. I had neither. The judge simply thought I was an excellent writer and wanted to continue working with me.
I was extremely humbled and honored. I felt like I was back; I had made a name for myself as a legal writer – not just a writer. My greatest writing success was making this huge change from "writer" to "legal writer."
Making the Content Writing Switch
I started developing my content writing abilities during law school. It was a good way to keep improving my writing and start making a dent in my massive student loan debt. This was another form of writing that I was hungry to master.
Content writing isn't so different from legal writing. Both types require you to say a lot with fewer words. You must take the readers' attention and explain why what you are saying matters. In both types of writing, you usually have to explain a concept or idea. Subtle persuasion also plays an important role.
Creating Great Content
Content writing is as much of an art form as literary writing. It takes time and skill to develop it. Most business owners do not have the time and energy it takes to create the amazing content their business needs to flourish. Instead, they use writers like me – those who have redefined their writing style for the content writing industry. Contact Media Shower to find a writer to develop great content for your business.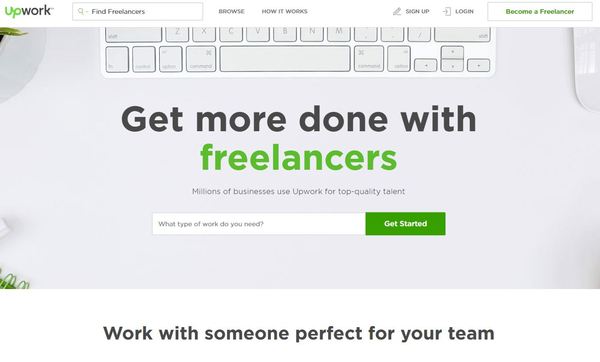 Upwork focuses on uniting customers with article writers.
An article writing service specializes in delivering individual articles to clients. Some of these services, such as Media Shower, vet their stables of writers and editors and individually assign articles based on the writer's skills. Others, like Upwork, take a different approach.
This article writing service uses a hands-off policy. Writers can sign up for the service and present their portfolios. Clients choose a writer based on his or her proposal for a given article, and the writer delivers the content.
We've given Upwork the number-two position on our list of top 10 article writing services. If you need individual articles for your blog, newsletter, or other publication, consider the following in-depth Upwork review.
Pros of Hiring Writers Through Upwork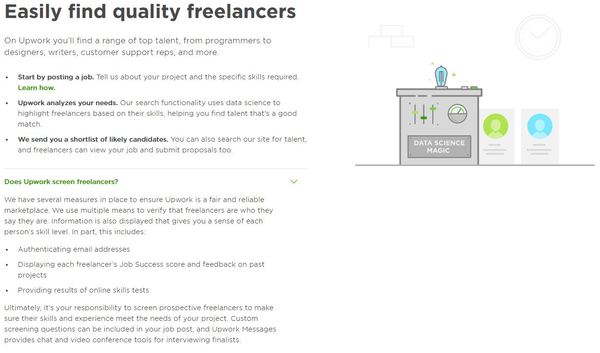 You'll enjoy an easy signup and selection process at Upwork.
Upwork offers several advantages for clients who need articles. You can sign up for free, browse the on-site talent, and request proposals. You'll choose a writer whose qualifications and proposal meet your needs. Alternatively, you can ask the company to send you a list of writers who might fit your criteria.
You set the budget for each article you need written. While you might feel tempted to use the lowest possible price, keep in mind that talented, experienced writers won't bid on jobs that fail to compensate them appropriately.
Some clients prefer article writing services like Upwork because they can browse candidates at leisure. You can also upgrade to Upwork Pro, which connects you with a company representative who can help you fulfill your project.
Cons of Upwork
You have to accept a balance of control and freedom with Upwork. While you can choose your writer at your leisure and set your own specifics, such as deadlines and prices, you also run a few risks.
For instance, a writer who doesn't have a long-term working relationship with Upwork might simply decide to neglect your project. Alternatively, the copy you receive could prove riddled with errors.
Additionally, Upwork doesn't work exclusively with article writers. The company connects clients with all different types of professionals, from coders and graphic designers to Android developers and network architects. The lack of focus could result in poorer quality performance on the article writing side.
Customers Respond to Upwork
You'll find mixed reviews from both clients and article writers on Upwork. Writing for SiteJabber.com, Robert M. feels that "Upwork simply doesn't have the client base to attract decent freelancers." However, John B. says, "Employers want to hire the best possible candidates for a job and the job seekers want the best possible price for their work. [Upwork] provides these two parties a platform to develop strong business relationships."
Some clients have reported issues with administrative failures. For instance, Julia B. says, "Upwork cheats people out of their money. Some freelancers worked for me, I was generally happy with the work and was ready to pay. Upwork suspended my account and the accounts of my freelancers and after 4 days, still have not told me why."
If you're looking for an article writing service, you might find an excellent literary partner at Upwork. However, if you want more protection against poor work and help with other tasks, such as ideation, Media Shower offers the best stable of writers, editors, and clients in the market. Get three free content ideas to start your working relationship with our article writers.