Why would one of the biggest and most popular sports-sneaker companies launch its own line of bacon? Is the sneaker market in a downturn, or could this be a creative form of content marketing?
This is Reebok, after all.
Cross Marketing at CrossFit
Reebok hosted this year's CrossFit Games and turned the event into a double marketing opportunity by launching their own line of bacon at the same time. To observers, it was an interesting and curious product choice for this major manufacturer of top-of-the-line athletic shoes and accessories.
As the games were underway in Carson, California, a truck donning the name "Reebok Bacon Box" arrived on the scene. Soon after, attendees were enjoying a host of bacon treats, from carne asada to bacon-wrapped artichokes and pork belly.
But Why?
Apparently, many CrossFitters talk about bacon quite a bit, and some even wear clothes that feature bacon.
With the help of Venables Bell & Partners, Reebok's goal was to respond to the craze that exists among CrossFit fans, who tend to follow a Paleo lifestyle. A Paleo diet focuses on unprocessed animal protein, fruits, vegetables and healthy fats.
Although bacon often contains harmful preservatives, it can be made naturally, as Reebok's brand is, without any nitrates, nitrites, MSG, sweeteners, other harmful additives or preservatives.
Will McGinness, executive creative director at Venables, helped formulate the promotion to engage that community in a fun, unforgettable way.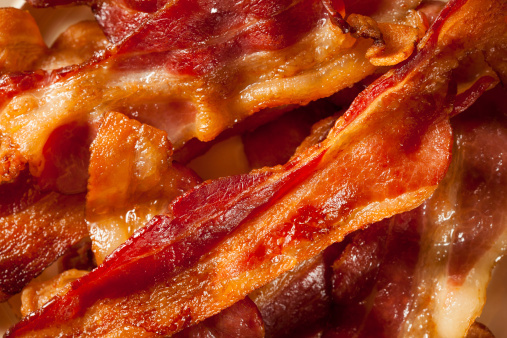 The Paleo diet discourages a number foods, but bacon is allowed!
More About Paleo
In addition to its focus on meats, poultry, fish, produce and good fats, the diet discourages sugar, gluten, legumes, dairy, starches and processed foods.
The Paleo diet has become popular among the general public, celebrities and athletes alike.
Tim McGraw has credited the combination of CrossFit and Paleo with his 40-puns loss. And Megan Fox also swears by Paleo, which helped her lose all her pregnancy weight in just five months.
Science also stands behind Paleo. A two-year study published in the European Journal of Clinical Nutrition found that women on a very-low carb diet lost twice as much as those on a low-fat plan. Those on the Paleo-like regime also lost more around their midlines and had better blood sugar control.
Unfortunately for those not at the game, Reebok has said it won't be releasing its self-branded bacon to the public. Who knows though, maybe they will change their mind?
What do your clients or customers love most, and how can you reel them in with creative content marketing? Find out how Media Shower can help.