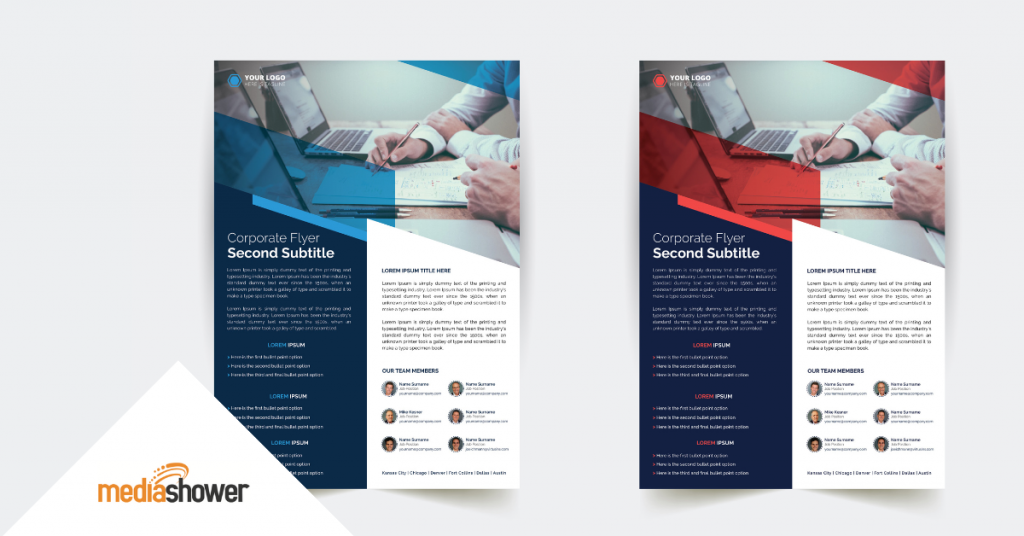 TL;DR: A one-pager is an effective tool that can make a strong impression on potential clients. It's a concise document that provides key information about your business, product, or service in a visually appealing and engaging way. It quickly summarizes essential facts and figures and is frequently used in sales nurturing or as a "leave-behind." 
So What? The one-pager is a powerful sales-enablement tool for communicating your service, product, or business and helping convert your prospects from "leads" into "sales." 
One-pagers have many possible uses, including product overviews, use cases, or customer success stories. A high-quality one-pager should have visuals that draw the reader in, a clear call to action, and important business information. You can distribute one-pagers through email, newsletters, landing pages, or social media platforms. Here are our best practices.
---
One-Pager Generator
If you're ready to get started, just answer a few questions, and we'll generate a complete sales or marketing one-pager, ready to send to your design team — instantly and free.
Examples of AI-Generated One Pagers
Example: NexaPoint Tech
Secure Your Network with NexaPoint Tech
Your Trusted Partner in Network Security
Outline:
At NexaPoint Tech, we understand the importance of network security in today's digital landscape. With cyber threats becoming more sophisticated, it's crucial for organizations to have a comprehensive solution that provides real-time insights and expert support.
Our Network Security SaaS Solution
Our platform offers a robust network security SaaS solution that empowers you to:
Analytics and Insights: Gain valuable insights into your network, including usage information, compliance metrics, and potential security vulnerabilities.

Single Dashboard: Access all your network information and compliance insights in one convenient dashboard, saving you time and effort.

Expert Support: Our team of security experts is always available to provide white glove service, helping you solve software-related issues and address potential security threats.
Your Single-Source Solution
With NexaPoint Tech, you have a trusted partner that offers a comprehensive network security solution. By working with us, you can:
Streamline Your Security: Simplify your network security management by having all the information and tools you need in one place.

Stay Ahead of Threats: Receive real-time insights and expert support to proactively identify and mitigate potential security risks.

Ensure Compliance: Meet regulatory requirements and maintain the highest standards of data security.
Take Control of Your Network Security
Ready to secure your network with NexaPoint Tech? Click the button below to schedule a consultation with our sales team.
Schedule a Demo
Additional Notes
Less is more… we like sparse content with impactful language and a clear message.
What is a Sales or Marketing One-Pager?
A sales or marketing one-pager is short-form content (usually in a PDF) designed to capture the attention of potential customers and move them to action. Think of it as a one-two punch that's visually appealing and contains highly relevant information your audience needs.
Here are a few examples of what one-pagers may look like:
Organizational Overview and Trust-Building from Product Marketing Alliance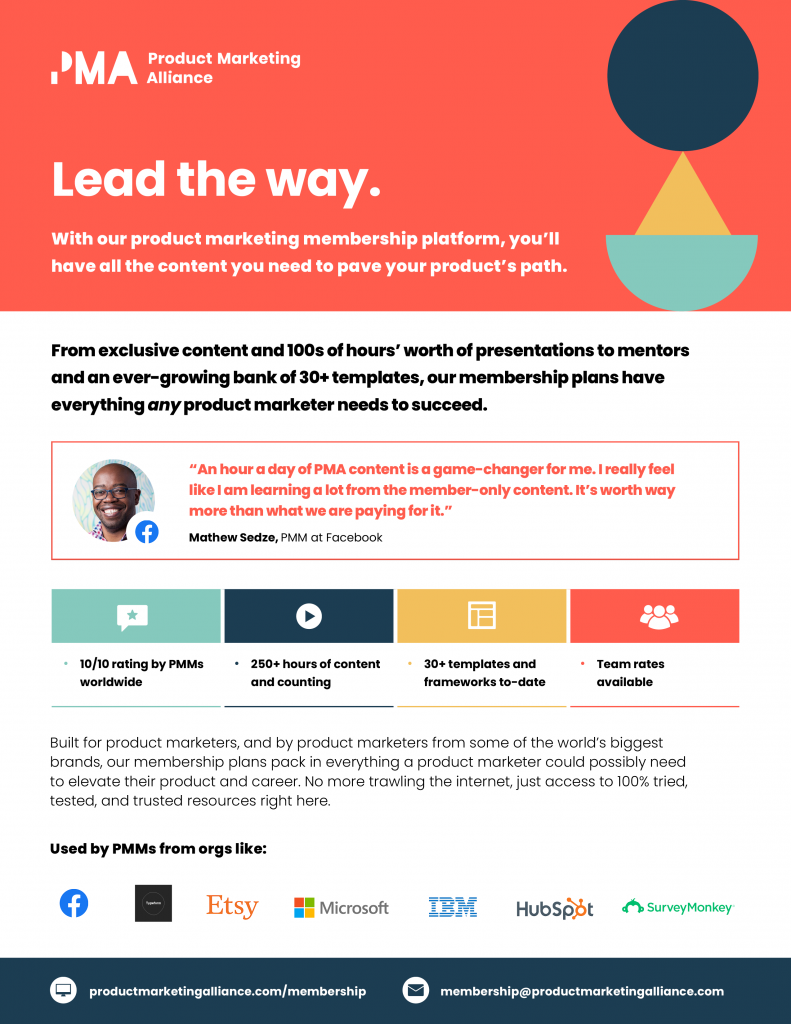 Image Source: Product Marketing Alliance
This one-pager from the Product Marketing Alliance gives a clear overview of the organization, highlights relevant features, and builds trust with recognizable logos at the bottom. It instantly conveys the purpose and identity of the brand, assuring stakeholders of its reliability and encouraging further engagement.
Destination Appeal with Travel Spana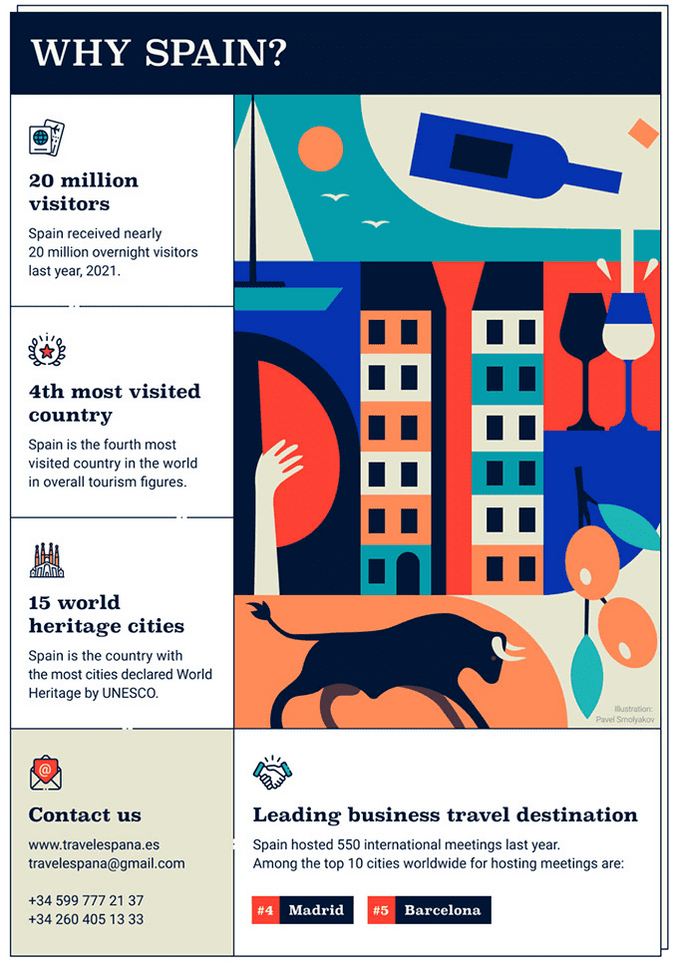 Image Source: appsumo.com
One-pagers can also work in a B2C context, as in this colorful overview of Spain created by a travel agency. One-pagers are versatile and shareable, making them a reliable and cost-effective tool for communicating with customers across various marketing channels.
Effective Design Principles for One-Pagers with Shopify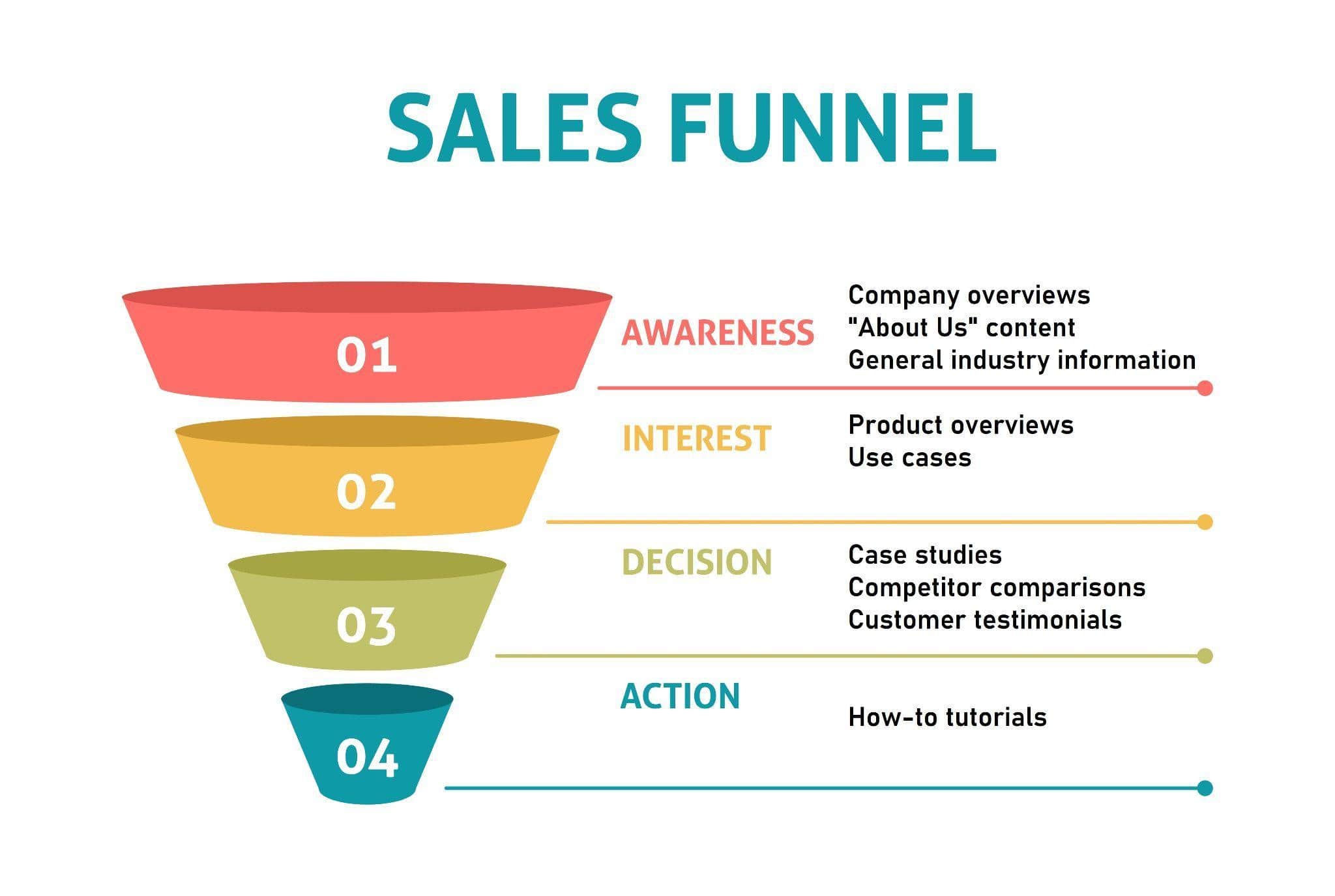 Image Source: Faye Digital
Good one-pagers should use plenty of color. Using a coherent palette can make a page seem much more inviting to the reader. Lay out your one-pager to draw the reader's eye to key pieces of content while providing concise, vital information about your company.
How Do Company One-Pagers Nurture Sales?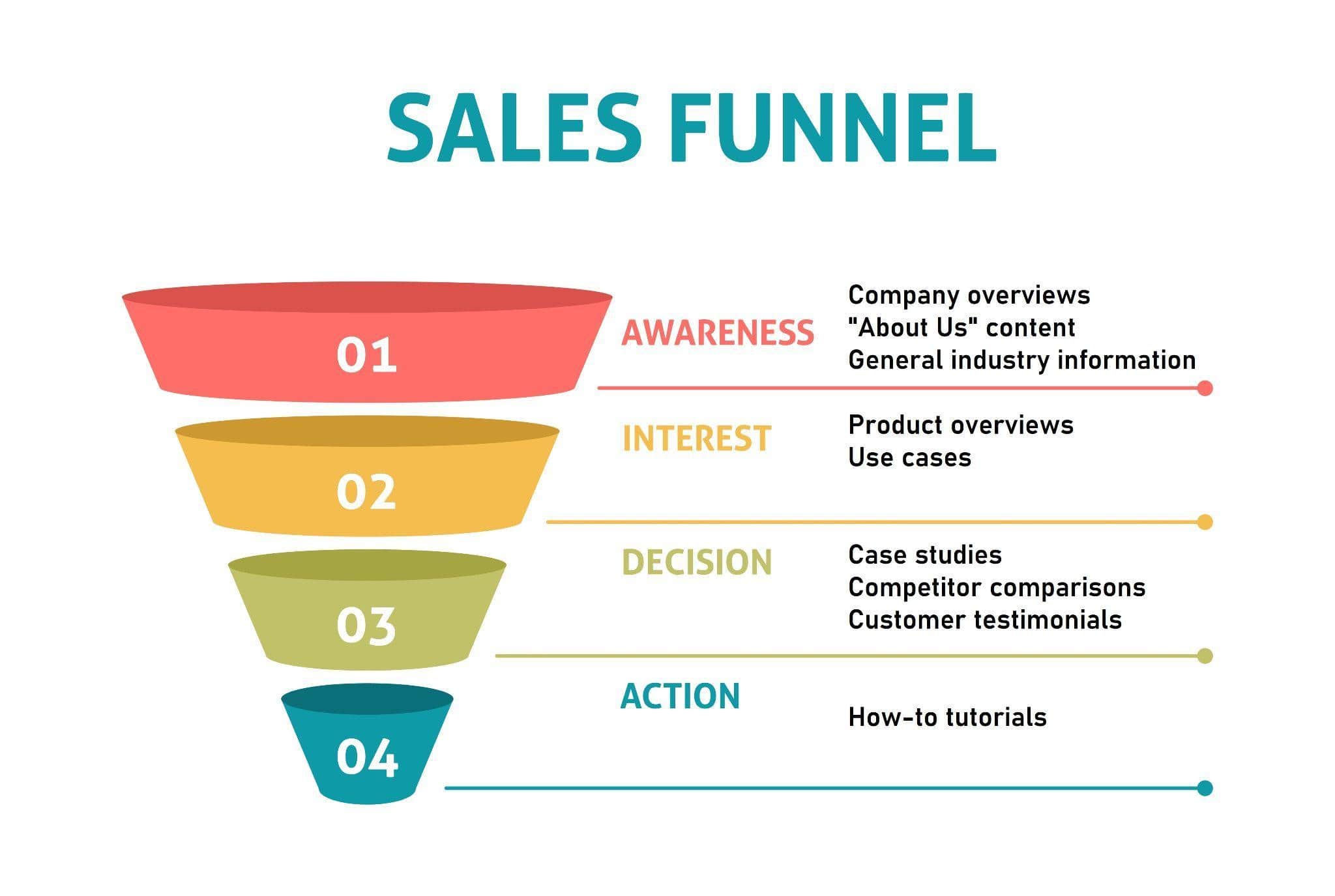 Include company one-pagers when creating your content marketing plan to engage customers and share relevant information about your company. You can use them at every sales funnel stage, from awareness to customer action. 
You can distribute one-pagers through:
Email

: Sales reps can use one-pagers to follow up on sales calls or to send a gentle reminder or "push" to prospective customers.

LinkedIn

: Marketing or sales team members can share one-pagers with potential customers through direct messages or post them publicly to drive awareness of the company or product.

Trade shows

: One-pagers are a great way to capture the attention of potential customers, partners, or investors. They can help you describe your company, present services and products, provide contact information, showcase customer testimonials, and more.
"65% of businesses said that in-person trade shows were an invaluable part of their marketing strategy." – DisplayWizard
Landing pages: Use one-pagers on gated landing pages to generate leads. You can drive traffic to these landing pages through email, PPC ads, or social media. Landing pages have an

average conversion rate of 26%

per Email Vendor Selection.

Social media platforms: Leverage one-pagers across your other social media platforms to drive awareness, generate interest, and even recruit new employees.

Newsletter: Provide links in newsletters for your opt-in customers to understand better how the business might help them solve common problems or consider new use cases for your service.
What Types of One-Pagers Should You Have in Your Sales Enablement Toolkit?
By having different types of one-pagers ready to go, you can ensure your sales team has access to a library of content to send to sales prospects with different needs. Here are some common types of one-pagers that we create at Media Shower:
Product overviews/product sheets/features

Use cases

Case studies

Success stories

Investor updates

Strategic plans

Annual reports

Employee orientations

Proposals

Customer service outlines (explaining to customers how services work)
Best Practices for a Marketing One-Pager
Your goal with marketing one-pagers is to convey the right messages to the right people at the right time. That's why creating an effective one-pager requires careful planning. Adhering to the following best practices helps ensure your one-pagers will accomplish what you want them to do:
Make It Eye-Catching:

Use high-quality images, create an aesthetically pleasing layout, and optimize for mobile devices to craft effective designs that leave lasting impressions.

Keep It Simple:

Use simple language. Make sure your message is clear. Avoid industry-specific jargon unless it's truly necessary.

Highlight Key Benefits:

Focus succinctly on the key benefits of your product or service to make a real impact and ensure your message stands out from the competition and resonates with people.

Provide a Clear Call to Action (CTA):

Include a clear call-to-action (CTA) at the end to help convert viewers into customers. Prominently feature your contact information so customers can easily ask questions about your product or service.
What Should You Include In Your Marketing One-Pagers?
Your marketing one-pager should highlight your product, service, or campaign. Ensure to include visual elements, a compelling headline, key benefits, and a clear call to action. It should be informative, visually appealing, and aim to communicate value.
Concise and Persuasive Content
Image Source: SlideTeam
Your audience have a limited attention span so you should aim to get straight to the point and convey your message quickly and effectively. Conciseness enables your potential customers to grasp the unique selling points and benefits you want to communicate to them in a simple way.
Consistent Branding and Messaging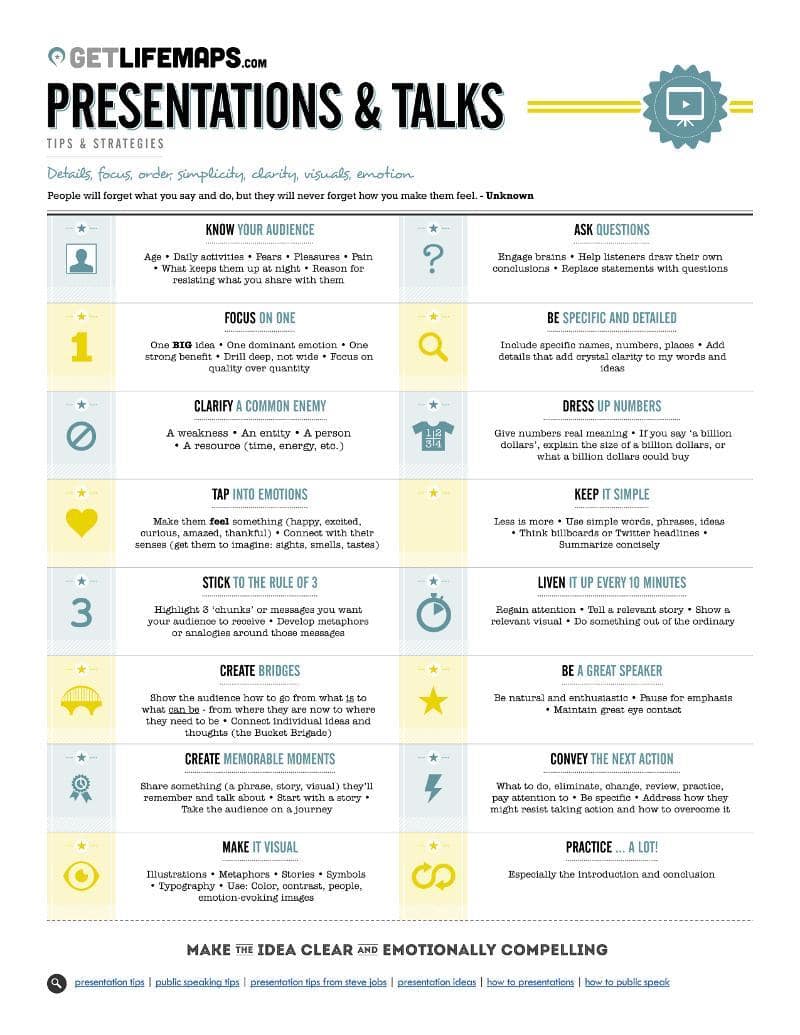 Image Source: Brandongaille
Consistent branding and messaging promote clarity, professionalism, and brand trust. You want to maintain a cohesive verbal and visual identity so your audience can easily associate your message with your brand. Doing so will build a stronger connection with your current and potential customers.
Media Shower's Recommendations for One-Pagers
A one-pager is an effective way to communicate your product, service, or brand concisely and engagingly. Here are our best recommendations to help you create the perfect one-pager for your business:
Start with a template.

Use eye-catching colors, visuals, and fonts.

Keep your language simple.

Outline key points about your business, product, or service.

Provide a clear CTA.

Include your business contact information.
Want some help with crafting the perfect one-pager? Media Shower's team of experienced content creators can work with you to craft a compelling one-pager that's sure to get results. Click here to try our award-winning content platform for free.