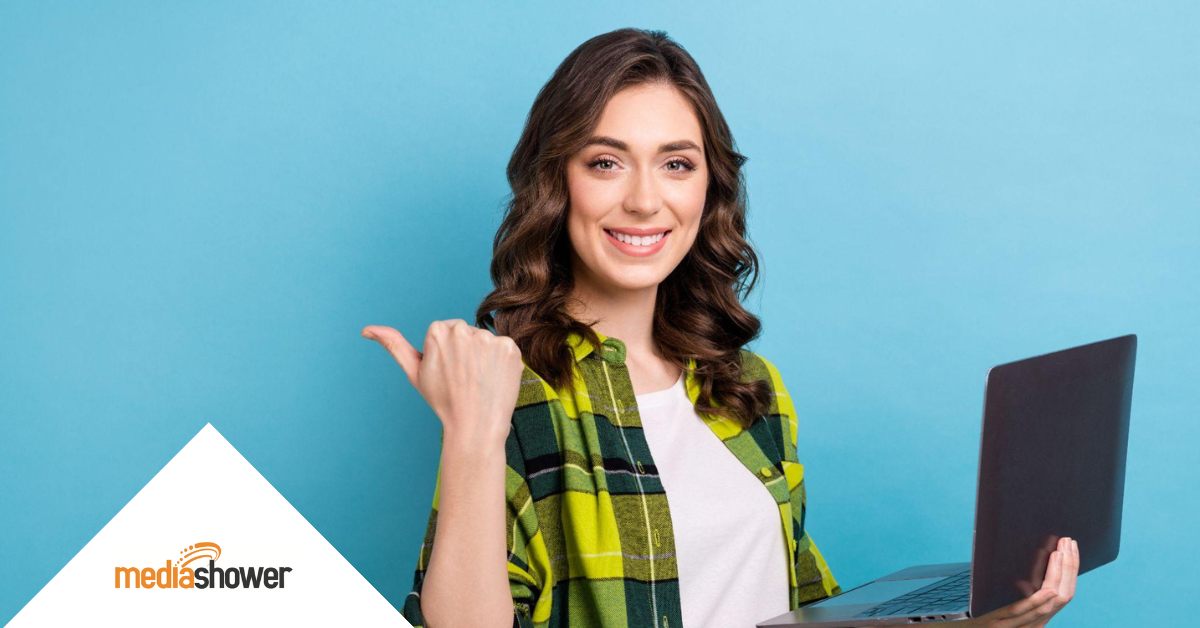 For the busy marketer looking for a way to map out their content campaigns, this pieces covers our best practices for planning and implementing a content calendar, including:
What components are essential for any good content calendar.

How starting with clear goals can lead to clearer strategies, workflows, and progress tracking.

Why consistent content delivery, workflow flexibility, and use of good software are crucial in keeping up a steady flow of content. 

What tools can help you manage your content, from static calendars such as Excel and Google Sheets, to fully outfitted project-management software, such as Asana and Trello.
From our experience creating content calendars for 500+ clients, you'll find all this, plus real-life examples in this article.

What Is a Content Calendar?
A content calendar guides your content or campaign deployment, showing you when, where, how, and by whom a particular asset will launch. It can be a Google Sheet, Excel spreadsheet, or a dedicated project management tool like Asana or Trello. 
A good content calendar should contain the following information (think columns in your spreadsheet):

Core Assets:

What content are you planning to publish? Depending on the calendar, these categories can include primary formats (blog, ebooks, social, etc.) or more granular types (reviews, listicles, parts of ongoing series, etc.). 

Scheduling:

The calendar can show not only when assets go to market but also when different stages (core assets, social, retargeting) launch. 

Launch Channels:

The calendar will reflect the content channel mix you have decided on. B2B firms might look more to LinkedIn, direct email, and thought leadership calendars, while B2C might lean heavily into social media on Instagram and TikTok, driving to high-performing landing pages. 

Status:

For dynamic calendars, you'll most likely update asset statuses as you go. This will help you get a top-down view of how your content is progressing and, if necessary, deal with any snags.



Ownership

: Accountability is a huge part of ensuring that a calendar stays on track, and the best way to at least set the foundation for accountability is to make sure that each step of the process has an owner responsible for it. 
Marketer's Takeaway: Your content calendar should have a standard template that you can expand as needed. This template should include the basics of your campaign, including information like:
Asset Assigning Date

Completion Date

Owner (Writer/Designer/Accounts)

Status

Asset Name

Asset Type

Links to Asset Resources (Source Files, Revisions, etc.).
How to Plan a Content Calendar
Crafting your content calendar means considering the big picture of a campaign or series. It's not just the "when" of the content but how the pieces fit into your overall marketing plan.  
Start with Strategy. There is no calendar without a strategy. This will vary from organization to organization or campaign to campaign:
– Large-scale B2B campaigns might involve a deeper investment into customer persona research and industry trends feeding into big-pillar assets like ebooks or videos.
– Social campaigns

may include more granular planning of posts, A/B tests, and channel mix in conjunction with breaking down goals (

conversion, awareness, or retargeting

).

Develop a content and channel mix.

What kind of content will you publish? Articles? Ads? Videos? Or maybe a bit of each? Do

some research

into how your audience prefers to consume content. Offer the right content mix based on the results of that research.



Mix timely and evergreen content.

Evergreen content has a long shelf life, while topical and timely content is of the moment. With the right mix, your content calendar can provide foundational information to the audience while presenting it in a fresh way.



Assign duties.

If you're creating your calendar with a larger marketing team, divide up the tasks among members – and remember to set (realistic) deadlines for each job. Due dates will help ensure that your content runs on schedule.
Marketer's Takeaway: There isn't a one-size-fits-all type of calendar. Make it work for you.
Content Calendar Examples and Templates
Here are some simple templates to get you started on creating your own content calendar. For these examples, we use the fictional company "EcoWear" as they plan to launch a campaign for a new type of running shoe. 
Content Planner
This content planner doesn't look like a calendar. Still, it does have the advantage of leveraging the strengths of a spreadsheet to pack a lot of information into a small space. 
In this Google Sheet, we list eight assets, with each row representing a single asset. There are several data fields tied to each row, including:
The date the asset was assigned

The date it is due

The owner of the asset (who is responsible for it)

The status of production

The title of the asset

The asset type

A cell to link resources or the final product

Notes to keep track of the project's progress.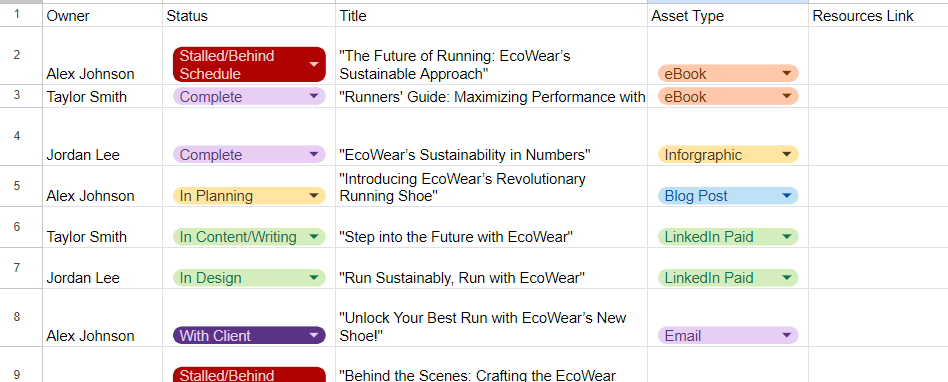 You'll notice that the Status and Asset Type columns are drop-down menus. This allows you to standardize the asset type and status so that you can sort and search based on those columns if the planner scales significantly. The color coding also makes it quite easy to search. 
On the downside, it doesn't look much like a calendar, and as such, it makes it harder to visualize what the overall calendar looks like from month to month. 
The Standard Content Calendar
If you want to visualize a literal calendar, this template is for you. It includes a monthly breakdown of each asset, including the type and the owner.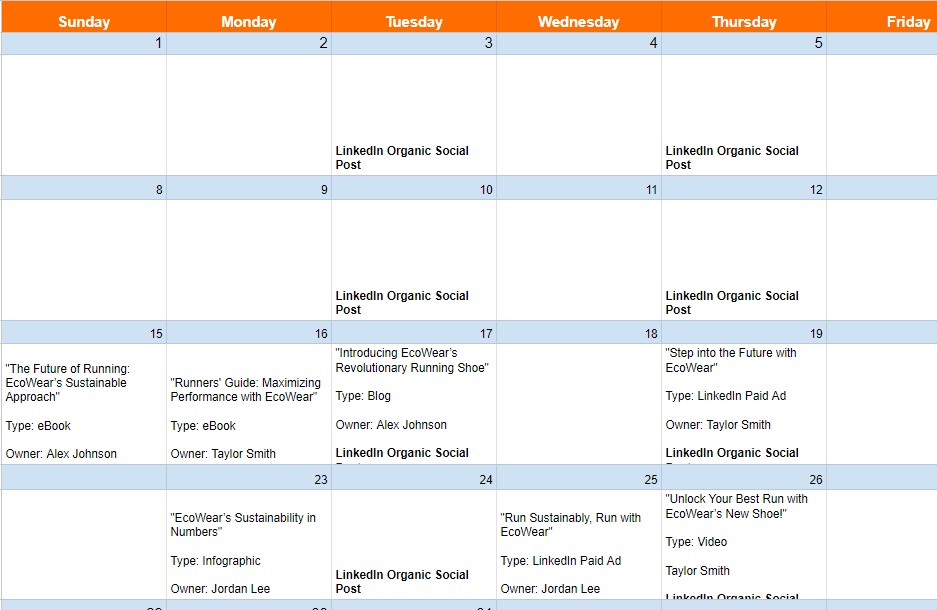 Because this looks like a calendar, it makes it easier to visualize several pieces of content (for example, an ebook and its social amplification) over time. Additionally, it better supports multitasking. In this example, you can see a regular schedule of LinkedIn organic posting that overlaps with the primary campaign, showing how they reinforce each other. 
The major drawback is maintenance. Because a cell in a spreadsheet can only contain one data type, each day in this calendar is essentially text–no drop-downs or colors. While you can add links and other information to these cells, you'll quickly run out of space to see this text. 
Additionally, due dates frequently change. So you'll need to move everything out when they do. 
Content Calendar Tools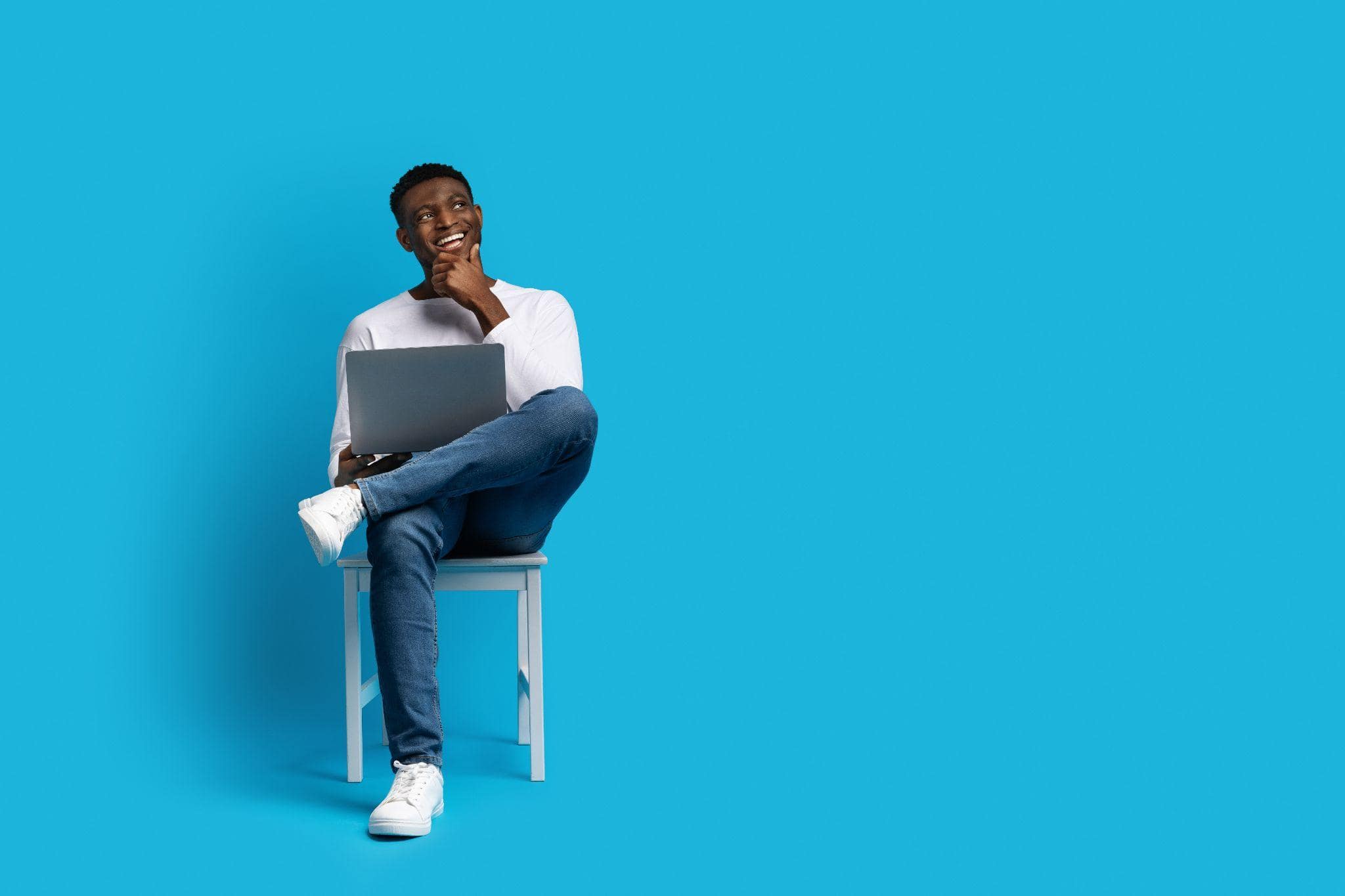 Here are some of our top choices for calendar tools.
Spreadsheets:

You don't really need anything fancy, as long as you're extra diligent and aren't expecting customized levels of user access, multiple display options, easy event sharing, and more. So, if you prefer a simpler setup, give Excel or Google Sheets a try. (Advantage: You probably already use them.)



Project Management Software:

If you want something with more support and collaboration, look to project management software such as

Asana

and

Trello

. Among other time-saving features, the former lets you assign calendar tasks to individual team members and automates workflows, and the latter lets you assign checklists, users and labels to your calendar items – and syncs up with Apple and Google calendars.

Editorial Calendars:

Content marketers looking for calendar support more tailored to their needs might want to choose an editorial calendar option, such as

CoSchedule

. In addition to helping you keep track of your planned events, the platform lets you write, schedule and publish social media posts directly from its interface. (It can also help you start a podcast.)

Sprout Social

is another excellent multi-channel post scheduler and publisher.
If you're not ready to handle your own calendar, or you want to integrate other functionality (CRM tools, dynamic date management) into your content calendar, then there are several platforms available:
Calendar providers like Google or Microsoft

allow you to offload calendar management to the cloud and, if you're already integrated with those respective ecosystems, leverage a suite of office and data management tools. These will typically require more manual setup than dedicated platforms, however.



Project management tools like Asana, ClickUp, Monday.com, or Trello

include built-in calendars that you can use to connect dates and writing projects across your team. These are robust solutions and, depending on your team size, affordable. The drawback is many of them have a learning curve which can lock you into using the platform if you get too comfortable.



CRM platforms like HubSpot or Salesforce

also include calendar tools. In most cases (particularly Hubspot), you can integrate a content calendar with an entire website, blog, email marketing, and social media publishing machine–if you're willing to migrate some or all of your content and web presence to the platform.



Marketer's Takeaway: Your calendar-platform options are many. Choose one that makes the most sense based on your brand, budget, and visual preferences. The better you and your team like using your calendar tool, the more likely you are to use it. Keep things simple, and feel free to use our sample templates to start on your own content calendar.
Content Calendar Best Practices
No matter the solution, approach, or technology, you'll want to follow some basic best practices to keep your calendar focused, functional, and on track:
Stay consistent.

Work hard to maintain a regular drumbeat of content. This will ensure that your brand's name is out there consistently, driving consumers to your site and channels.



Be ready to pivot.

The ability to respond smoothly to changing environments is critical to successful marketing. Make certain to underscore the need to stay flexible with dates, times, and platforms in your calendar and its planning in difficult circumstances.



Design with integration in mind.

Consider aligning your content with your company's other ongoing campaigns and activities. For example, how can you piggyback a new blog post on an already planned product launch?



Make use of software.

Don't do it all yourself. Consider using

Slack

,

Sprout Social

,

Monday

, or other popular scheduling tools to help you keep your calendar organized and editable in real time.



Assess success.

Regular, frequent check-ins with your content marketing team are critical to getting the most out of your content launches. You can adjust activities as needed by getting team feedback on a consistent schedule so no time is lost.



Plan ahead and be ready.

As you get more familiar with content-calendar planning, you'll get more adept at this: planning your content ahead but being able to change, kill, and redo it if and when needed – sometimes on very short notice. 
Marketer's Takeaway: For the most part, there isn't a "best time" to publish any given piece of content–but there are good times to promote it. Work on building a calendar around schedules that your team can maintain while keeping quality high. Following that, you can stick to some basic content release practices:
Conclusion
Consistent delivery of content, flexibility and willingness to adapt to change, and use of good software are crucial in keeping up a steady flow of content. While we love a good tech solution to help organize content marketing, we also know that it isn't the only piece of the puzzle. 
With these best practices, we want marketers to understand that the calendar reflects strategy, it doesn't drive it. With a great idea, attention to detail, and a vision for a campaign or social media presence, you'll be better oriented to create an amazing calendar that works for you. 
Are you looking for customized content-creation support? Take Media Shower for a test drive.