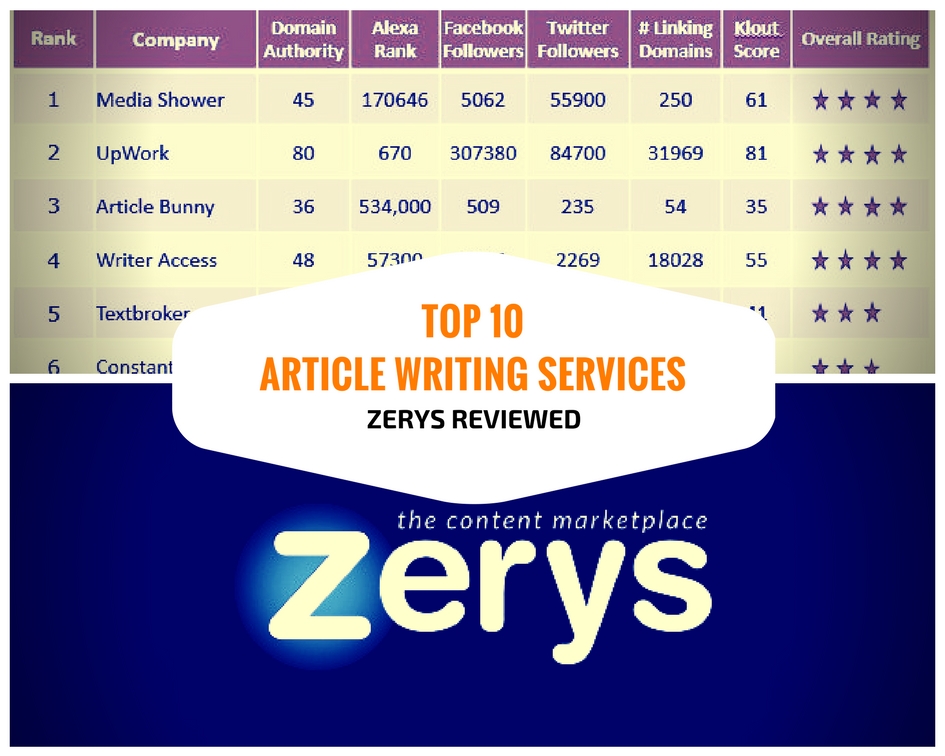 Article writers provide you with content for your blog, website, or other publication, but you might not want to sift through the thousands of individual writers who market their services online. That's why we've ranked the top 10 article writing services. Now we're providing an in-depth review of each, and today we're zeroing in on Zerys, our pick for 7th best article writing service.
Pros of Zerys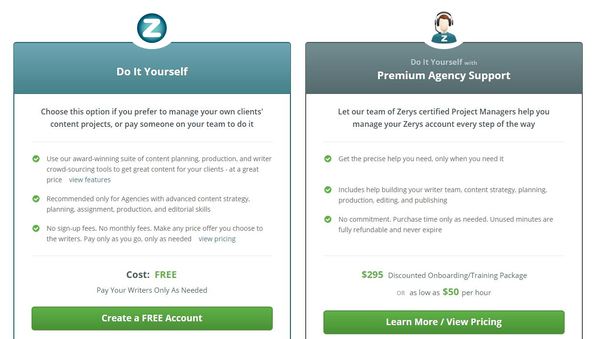 You'll like Zerys' easy-to-use system.
Each writer on the Zerys platform receives a star rating between one and five. The more stars a writer has, the better his or her work quality. Of course, your definition of quality and someone else's may vary, so you might have to work with multiple writers before you find one who fits your needs.
HubSpot recommends using Zerys' SmartPost system to offer your first few assignments on the platform's job board. That way, you get to know multiple writers and better understand how the system works.
While work quality can vary, Zerys doesn't demand payment unless clients express satisfaction with the work. If you receive an article that doesn't meet your standards, you can reject it outright and offer it to another writer.
Additionally, rates are typically low at Zerys. Writers command between $0.01 and $0.50 per word, though choosing a writer whose rates fall at the lower end of the spectrum can result in poor deliverables. You're better off paying more for high-quality articles.
Cons of Zerys


Want edited content? Expect to pay extra.
Zerys is the very definition of an article writing service. It connects writers with potential customers and allows them to communicate via the platform's messaging software. You don't get any extras unless you pay extra for them.
If you want your article edited by a professional, for instance, Zerys will charge an additional fee. The company will also offer other services, such as posting and distribution, but those services aren't built into the article price. If you want full-service content marketing, you'll want to inquire about White Glove service.
What Customers Say About Zerys
The internet is littered with mixed reviews on Zerys. Matthew Bivens of 98ToGo says that his company uses Zerys often, but notes that "Searching for new writers can be a tedious process. Because there are so many writers with so many different areas of expertise, finding the perfect writer can take some time." However, he praises this article writing service's "new Z3 platform" and its "superb" customer service. He also likes the company's "editorial calendar feature."
Meanwhile, Pandia gives Zerys four stars out of five, criticizing its "[e]xpensive special writers," but commenting favorably on its "Strict deadlines for timely delivery, free content planning tools, interactive planner, variety of contents, pricing as per writer's quality, marketing and SEO consulting for free, auto publishing to CMS, decline without a pay, pro team building, agency and SEO platform, revision request, [and] 24×7 support.
If you're looking for an article writing service that combines other services into the article price, such as editing and distribution, we're happy to talk with you about Media Shower's services. We also hand-pick our writers for each project to ensure the best possible quality. Get three free content ideas to see just how seriously we take our customers' satisfaction.