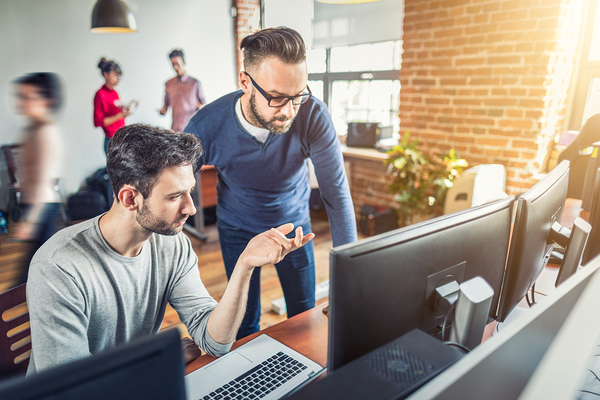 | Source | Rating | Review |
| --- | --- | --- |
| Discussion boards (Reddit, Gitter, Bitcoin Talk Forum, etc.) | | Where blockchain developers hang out online |
| Events and meetups | | Not all areas have these; require in-person contact, expertise |
| Corporate platforms (IBM, etc.) | | Expensive; can be last resort when no other source is found |
| Job sites (Indeed, Monster, etc) | | Most blockchain developer jobs not posted here; stiff competition |
| Traditional programmers | | Need retraining, may not be able to adapt to blockchain development |
| Platforms like Fiverr, Upwork | | Low quality common; never sure what you're getting |
It can be difficult to find quality talent to develop blockchain projects for your startup or to expand the scope and influence of your existing blockchain company. The newness of blockchain development relative to other types of software development and programming has led to a severe talent shortage even as the number of blockchain companies needing development has exploded.
By some estimates, jobs for blockchain developers have increased by over 200 percent in just one year, from 2016 to 2017. In contrast, there were only about 5,000 expert blockchain developers in the world, with another 20,000 who had dabbled in blockchain development. Since then, blockchain has continued to grow, but the number of jobs for blockchain developers still far exceeds the talent pool by all accounts. It is downright hard to find a good blockchain developer when you need one.
Some sources for blockchain developers
Traditional programmers
Given that the programming languages used in most blockchain development are common to other software development and programming, including C++, Java, Python, and Ruby among others, it is conceivable that some programmers proficient in the language(s) needed could transfer their skills over to blockchain development without too much effort or trouble.
In addition to being able to program in these languages, though, a thorough understanding of how blockchain works is also needed to create applications using the blockchain system of ledger transactions and verifications that make blockchain one of the most secure types of applications in existence today.
An adept programmer who has experience with self-teaching may be able to pick up the needed skills, but that's not a guarantee that any programmer without specific blockchain knowledge and skills is a good fit for your project.
Another option could be agreeing to send adept programmers to training on how to adapt their skills to blockchain. Some blockchain development courses only last for several weeks and will give a programmer the needed skills for this lucrative field.
It's important to know what skills you need from a blockchain developer before you conduct your search. As with any recruiting effort, you will never be able to get what you need if you haven't taken the time to figure out what that is.
Traditional Job Sites
Job posting sites like LinkedIn, Indeed, and Monster will not be a good source of blockchain development talent because of the shortage of qualified personnel in this area. A deeper search may yield better results and help you to find what you're looking for, however.
Freelance Platforms
Some basic freelance platforms like Upwork and Fivver list blockchain developers as part of what they offer, but these sites make it nearly impossible to tell what you're actually getting before you purchase services and generally offer low-quality services that won't give you what you need. Looking a little deeper will yield the kind of talent you need for a well-done project and can give you peace of mind as you move forward in the field.
Discussion Boards
Discussion boards devoted to blockchain development are one place where developers hang out and discuss the finer points of the craft with other developers. These boards are places to get help when stuck on a problem or to share discoveries for how to improve on existing projects, and they are also a good place to scope out talent that might be willing to take on another project, if the price is right and they can get the benefits and flexibility they want.
If your project is different and presents a unique challenge to a creative developer, this could also be an enticement that could get them to say yes to your project instead of no. A creative challenge could help a developer add to a resume or keep things interesting for themselves instead of doing similar projects again and again.
Some common sites that have discussion boards for blockchain development include Reddit, Gitter, and Bitcoin Talk forum. Specific projects may have Telegram or Slack/Discord communities that you could join or observe in order to see what their developers and others that may belong to the group may be able to do.
Several specialized marketplace sites are targeted to those with blockchain skills and experience and offer a better caliber of talent than other, more general sites.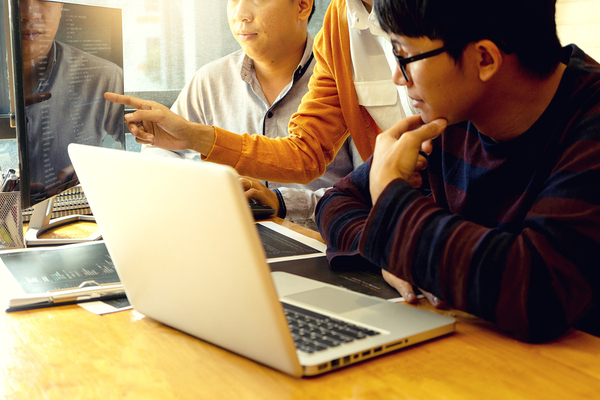 Events and Meetups
Attending a blockchain or cryptocurrency event is a great source of networking and can help you connect with qualified developers that may have availability to take on your project as they finish another or in addition to their existing workload. Cryptocurrency conferences are becoming very common in local areas and worldwide, so it should be fairly simple to find a conference in your specific area of need.
Hackathons are another type of event that may be attended by developers, although a hackathon may be more difficult to attend if you don't have any development skills yourself. The idea behind a hackathon is that teams build projects just for fun and to share their skills with others. Some of the projects built do become salable or have commercial applications that warrant a profit, however.
When you do find a developer that is a good candidate for your project, it's important to test their skills if you can do so before making a hiring decision. A hackathon or forum posts may be a good vehicle for demonstrating skills, while meeting at an event or in a crypto community may not be enough to show skills without more information or testing.
Corporate Resources
If these methods don't yield any developers and you need to move your project forward, there are now companies like IBM that provide blockchain development services to other companies. While these companies undoubtedly have the skills you need, they typically come at a higher cost than freelance developers, but they can be a good option if no others are found.
Thinking creatively about where developers may be will help you find the talent you need at a price you can afford. Contact us for more information about blockchain development and marketing for blockchain entrepreneurs and startups.