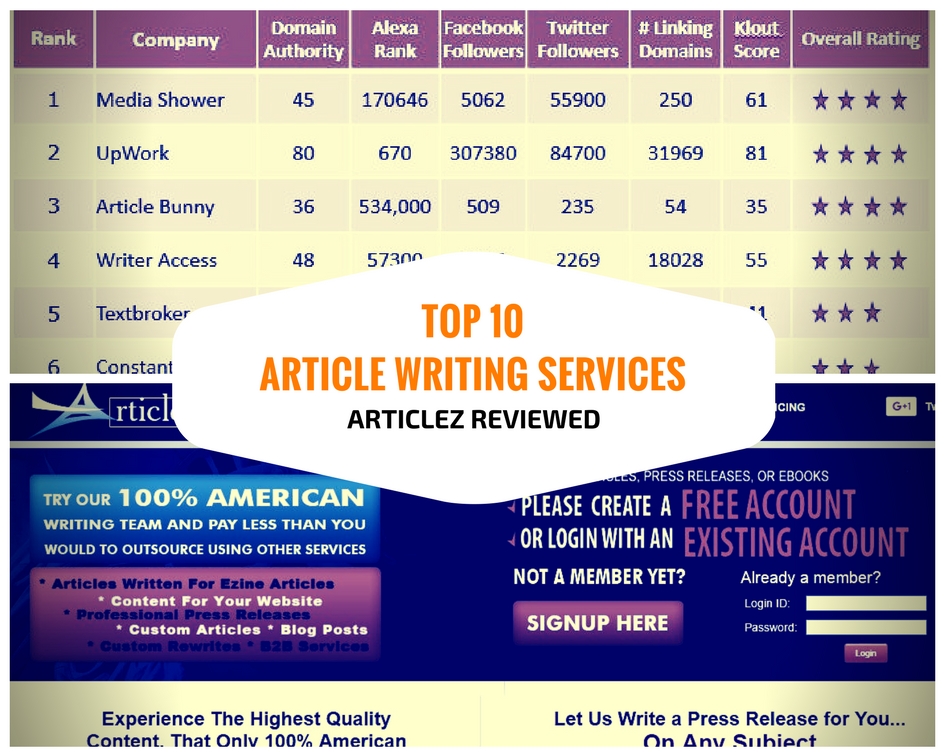 Content marketing has become the single easiest way to generate brand awareness, improve website traffic, and boost sales. However, the process itself isn't easy at all.
Millions of pieces of content exist on the web, which means you have stiff competition. If you want to enjoy the benefits described above, you need a top-notch article writing service to help you generate quality content.
We've ranked the top 10 article writing services available today. Now we're putting each company under careful scrutiny so you better understand your options.
Today, let's dig deep into our number-10 pick: Articlez.
Articlez Pros
For standard articles, Articlez offers some of the lowest rates around. The company charges minimum rates for articles of all lengths. A credit translates into $1, so you'll spend $11 on a 350-word article.
Very few, if any, article writing services offer such low prices. If you're looking for content on a budget, and you're just dipping your toes into the content marketing pool, Articlez might be a good solution.
Articlez Cons
After you set up an account with Articlez, you'll see a list of product offerings and their prices in credits instead of dollars. Elite content costs significantly more, but the company doesn't reveal what metrics it uses to determine elite content.
For instance, does the company reserve its most talented writers for elite assignments? If so, you might get better quality work by taking this approach. However, poor reviews on article quality from around the internet suggest that you might find yourself disappointed no matter what you pay.
What Customers Say About Articlez
Very few coherent reviews exist on the internet about Articlez. On the Warrior Forum, user yuyuan says, "I have posted 5 jobs on Articlez ($6 an article) and I must say that their work rate is very fast. The quality of the articles is not bad, with proper sentences and grammar. Another good thing about it is that the articles are unique and submit them to article directories right away." While it's not a glowing review, it suggests that Articlez writers can at least write proper sentence structure.
Meanwhile, at FatStacksblog.com, contributor Jon writes that "It's been a while since I used Articlez.com so I can't comment much about the service. The content was decent and it was written by native English writers, but I don't recall it being extraordinary. It was fairly formulaic, but it did the job."
Another reviewer paints a slightly more dismal picture, saying, "Many customers turn to Articlez when they need extremely inexpensive copy for their blogs and other online properties. However, writer quality will vary significantly. This is the cheapest article option. I think it's important to remember that content truly is king."
If you're looking for an article writing service and you don't mind having to fix some errors, insert links, create your own ideas, and manage every other aspect of your content marketing strategy, Articlez might work for you. However, you're better off with a full-scale article writing service like Media Shower. We carefully screen our writers and editors, and we help you develop a plan for your content.