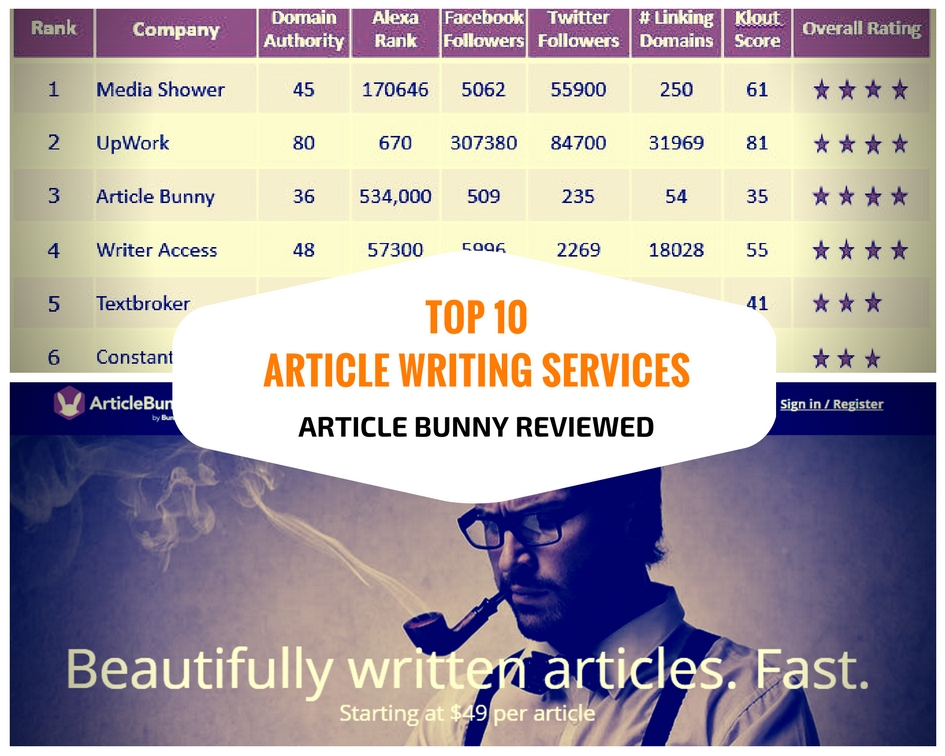 Choosing an article writing services takes careful thought, especially if you want to compete in today's highly competitive content marketplace. An article writing service should deliver single, well-written pieces based on your specifications.
To help you find an article writing partner, we're reviewing the top 10 article writing services available today. Today we're looking at Article Bunny, a relative newcomer to the article writing industry. It places third on our list and offers several pros and cons.
Pros of Article Bunny
As the company's tagline says, Article Bunny "specializes in 'I need it done yesterday.'" The platform has built its brand around speed, which might attract companies and individuals who need last-minute articles written for their sites or email newsletters.
Writers at Article Bunny must pass a test and submit a sample article for evaluation. This ensures that any writer you hire will have basic copywriting skills. Additionally, the company screens submissions when writers fulfill assignments. The editors can either approve the piece, send it back to the writer for revision, or reject the piece and offer the assignment to a new writer. These quality controls can help keep clients satisfied.
Article Bunny launched in 2015, and it has continually improved its interface to suit writers and clients. You can submit three different types of projects for consideration: Speedy articles (open to any writer who wants to accept it and complete the article by the deadline); Contests (where writers submit brief proposals); and Bookings (where you choose the writer and automatically assign an article to him or her).
This variety can help clients decide how they want their article writing experience to go.
Cons of Article Bunny
Since the company only launched the Article Bunny brand in 2015, this article writing service hasn't yet developed an extensive track record. Additionally, the company has rebranded itself as Torre and launched several other projects, which might divide the principals' attention.
You also don't get end-to-end content services at Article Bunny. You simply define the parameters of the assignment. The team doesn't help with ideation, publishing, SEO, and other critical aspects of content marketing success.
Unfortunately, Article Bunny is too new to have generated much feedback from the online community. A few reviews by Article Bunny writers now exist, but the company hasn't inspired any feedback from clients who have used the service. While no news can indicate good news, it's impossible to know how past customers feel about their Bunny experience. The company continues to expand, however, which might suggest positive growth.
If you're an Article Bunny customer, feel free to let us know about your experience. Until then, you could try ordering an article through the service to determine whether it will meet your needs. Alternatively, contact us to learn about article writing and full-scale content marketing services from Media Shower. We'll confident you'll want to join our roster of satisfied clients.