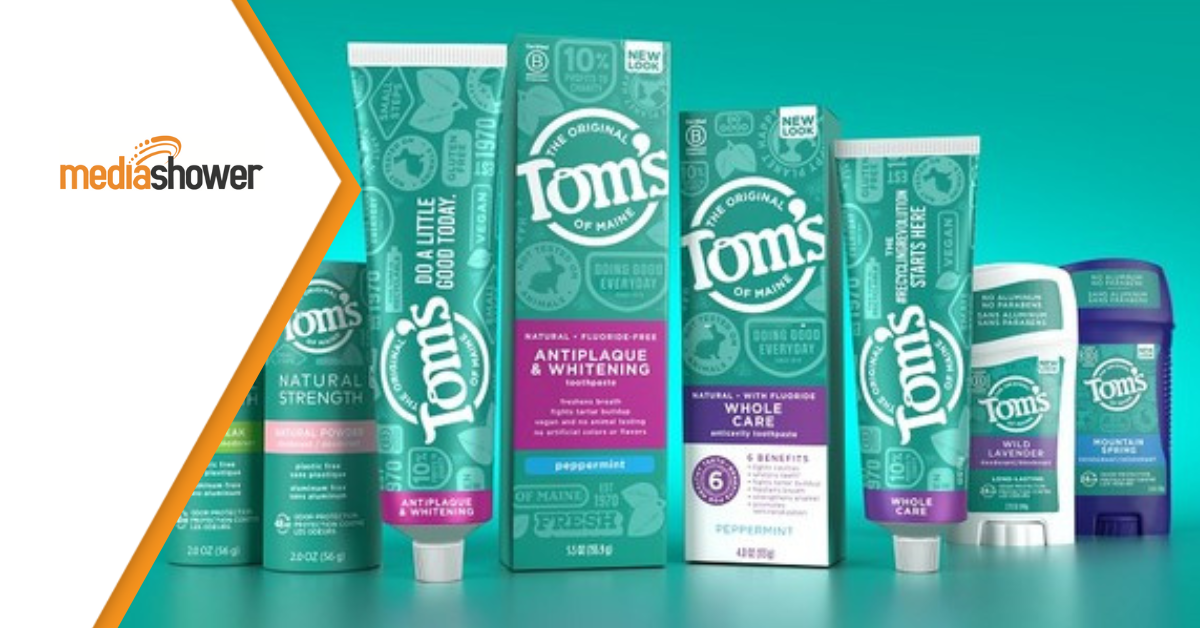 TLDR: How does a little indie toothpaste company go up against Crest and Colgate? For over 50 years, Tom's of Maine has used an all-natural ingredients policy to great effect, marketing itself as a safe and healthy choice for consumers. This strategy has helped it become one of the most trusted brands in the natural care space.
So What? Given its founding date (1970), Tom's of Maine is one of the elder statesmen in the natural care category. The company has stayed relevant by using a smart marketing strategy that emphasizes its all-natural ingredients. This gives us a great example of how a company can use its core values to guide its marketing efforts for the long term.
---
The OG All-Natural Brand
While all-natural ingredients weren't always the gold standard in personal care, Tom's of Maine has long been a champion of using only natural ingredients in its products. Today, as this strikes a chord with more consumers, the company is seeing its efforts pay off.
While the products are the core of Tom's of Maine, the company's marketing strategy has given it a boost in recent years. It's a perfect example of how a company can use its values to drive marketing efforts. In this case, it focuses on the all-natural ingredients that are at the heart of everything it does. Here's a close look at the marketing strategy that has helped Tom's of Maine become one of the most successful natural care brands.
Let Your Micro-Influencers Do the Marketing
Rather than walking the standard celebrity/influencer path, Tom's of Maine has found great success by working with what it calls "micro-influencers." These are superfans of the brand who are extremely active on social media and other online channels.
These fans are much more effective at spreading the word about the brand than traditional celebrities or influencers. That's because they're seen as more relatable and authentic. As a result, their endorsements carry more weight.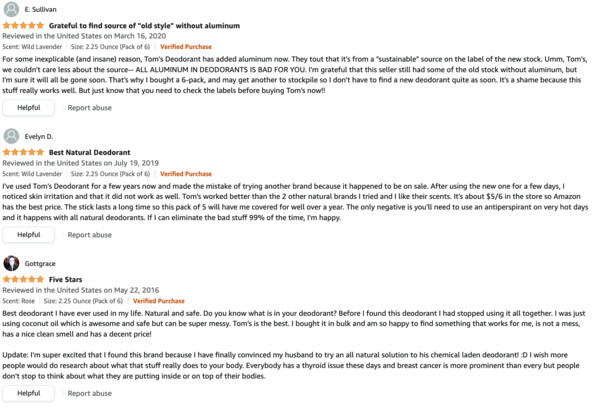 Real Amazon customer reviews (see more here).
Tom's of Maine's micro-influencers took its ratings and review volume to new heights, generating 400+ product reviews and a more than 30% average sales lift across product lines, because reviews are among the most important factors influencing consumers' purchasing decisions.
When you're thinking about your own marketing strategy, consider how you can tap into the potential of your superfans. These people are already passionate about your brand and what you stand for, so they're more likely to be effective ambassadors than people who are simply being paid to endorse your products.
Make an Emotional Connection
While Tom's of Maine's products are the primary focus, the company has also been successful in making an emotional connection with consumers. This is evident in its advertising and social media campaigns, which often focus on topics like family, community, and environmental responsibility.
The videos and posts are usually human-centric stories that focus on relatable topics like teaching children how to brush their teeth, the importance of using deodorant, how to set up a morning routine using the products, and more. As such, they serve to build an emotional connection with viewers rather than simply selling the products.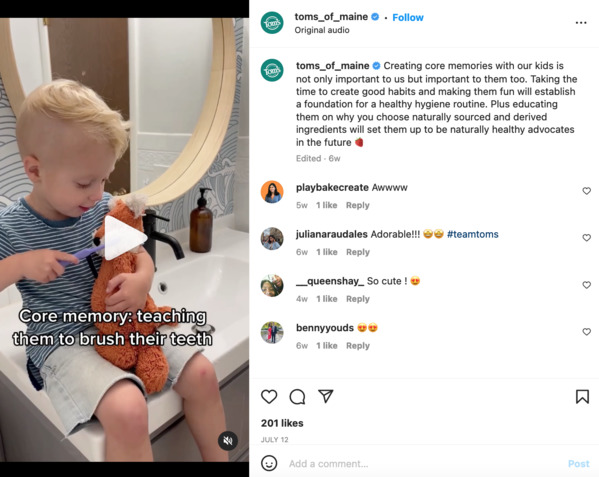 This focus on emotion has helped Tom's of Maine stand out in a crowded market. It's a great reminder that, even if you're selling a physical product, your marketing should be about more than just that product. Instead, it should be about connecting with your target audience on a deeper level.
Make It Easy for Customers to Give Back
Countless companies talk about giving back, but Tom's of Maine has made it a key part of its business model. The company donates 10% of its profits to charitable causes under its Giving for Goodness mission, and even gives employees paid time off to volunteer for causes they care about.
What really stands out is how Tom's of Maine demonstrates its impact by sharing stories about the causes it supports. For instance, its Instagram feed is full of posts about the various organizations it's donated to, activities it's participated in, and exactly how its contribution has made a difference.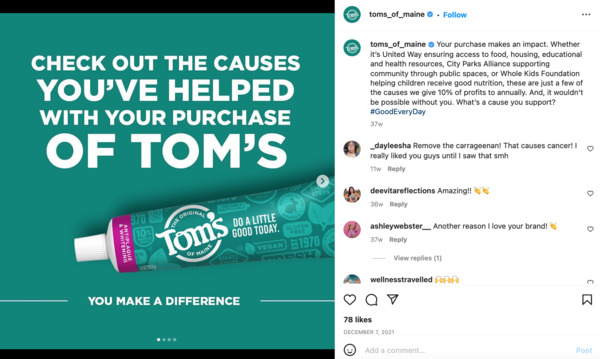 This level of transparency not only makes Tom's of Maine seem like a trustworthy and authentic brand, but it also makes it easy for customers to see the impact they're having when they purchase products. As a result, they're more likely to continue supporting the brand in the future.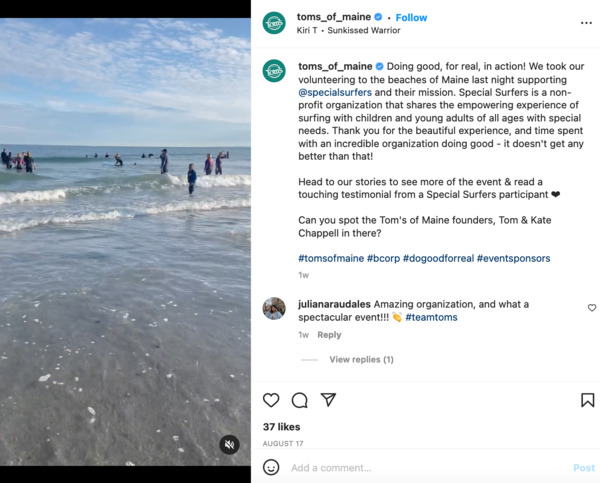 If you're looking to make a difference with your business, consider how you can integrate giving back into your operations. Not only will it make you feel good, but it could also help you attract and retain more customers.
Create a Community Around Your Brand
Apart from its focus on micro-influencers, Tom's of Maine has also been successful in building a community around its brand. The company does this by hosting events, sponsoring activities, and partnering with like-minded organizations.
The company is a regular sponsor of the Natural Living Expo, an annual event that brings together more than 200 exhibitors and 20,000 attendees who are interested in topics like health, wellness, and sustainability.
By aligning itself with this event, for example, Tom's of Maine is able to reach a wider audience and connect with people who share its values. The brand has thus solidified itself as a leader in the natural living space.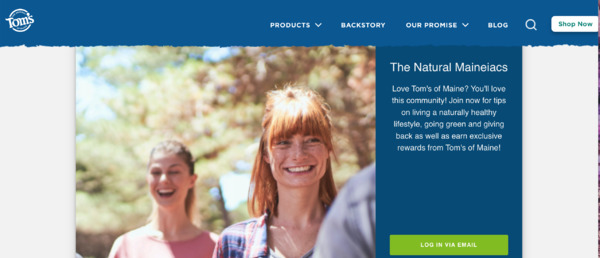 Even on a micro-level, its newsletter The Natural Maineiacs helps create a sense of community by featuring tips from Tom's of Maine employees and customers and providing rewards to loyal fans.
If you want to build a strong community around your brand, look for opportunities to connect with your target audience both online and offline.
Build Your Brand on the Right Pillars
Tom's of Maine is a perfect example of a company that's built its brand on the pillars of authenticity, transparency, and social responsibility. Through this, it's been able to connect with its target audience on a deeper level and establish itself as a primary player in the natural care industry.
If you're looking to build a strong brand, consider following Tom's of Maine's lead by focusing on the pillars that will make your marketing "natural" (no phoniness required).
At Media Shower, we help businesses identify those pillars and ensure their integration into every aspect of their marketing.  Contact us to learn more!