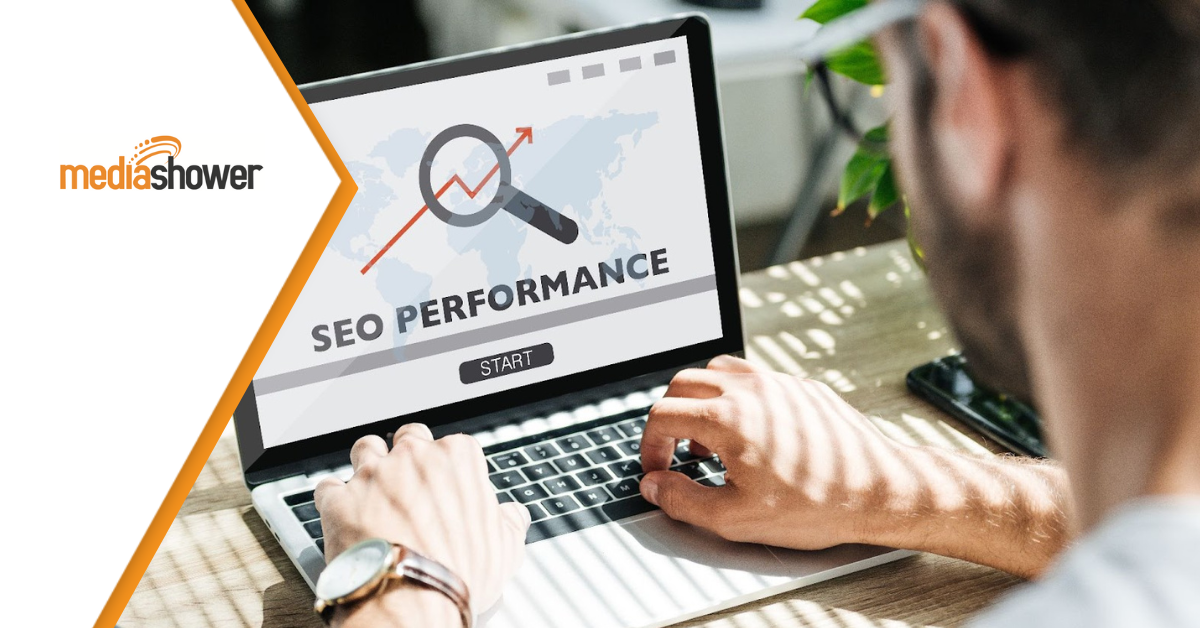 TLDR: At Media Shower, we invented SEO. (Read the story here.) From our 25 years of doing SEO across hundreds of clients, here are the 5 key metrics that will truly drive your business: Organic traffic, keyword rankings, top pages, top keywords, and referring domains.
SO WHAT: We'll show you the best bang-for-the-buck tools to measure these 5 critical metrics, where to find them, and how to measure your performance on each.
---
"The best place to hide a dead body is page two of Google."
– Anonymous
SEO Performance Metrics: What They Are and Why They Matter
SEO tracking metrics are data points used to evaluate the effectiveness of a website's performance in search engines (usually Google).
They assist website owners and marketers in measuring their website's performance in search engine results pages (SERPs), identifying areas for improvement, and making informed decisions to increase the visibility and traffic of their website.
Examples of SEO tracking metrics include keyword rankings, backlinks, organic search traffic, and even on-page metrics like GA4's "Engagement rate."
By monitoring and improving these SEO metrics monthly, marketers can optimize their websites to rank better in search results, attract more visitors, and drive more leads and sales.
SEO Reporting Tools: Best Bang for the Buck
To track SEO metrics, there are many websites that provide both free and paid solutions for obtaining user and traffic data from various sources. We've worked with them all, and here is our ranking of "best bang for the buck":
5 SEO Key Metrics to Monitor
 "Over 50% of marketers say keyword rankings and organic traffic are the top ways they measure the success of their SEO strategies." (HubSpot State of Marketing Report)
1)  Organic Traffic
Organic traffic refers to the number of website visitors who come to your site through search engine results pages without clicking on ads. In other words, it's the traffic your website naturally generates via search engines.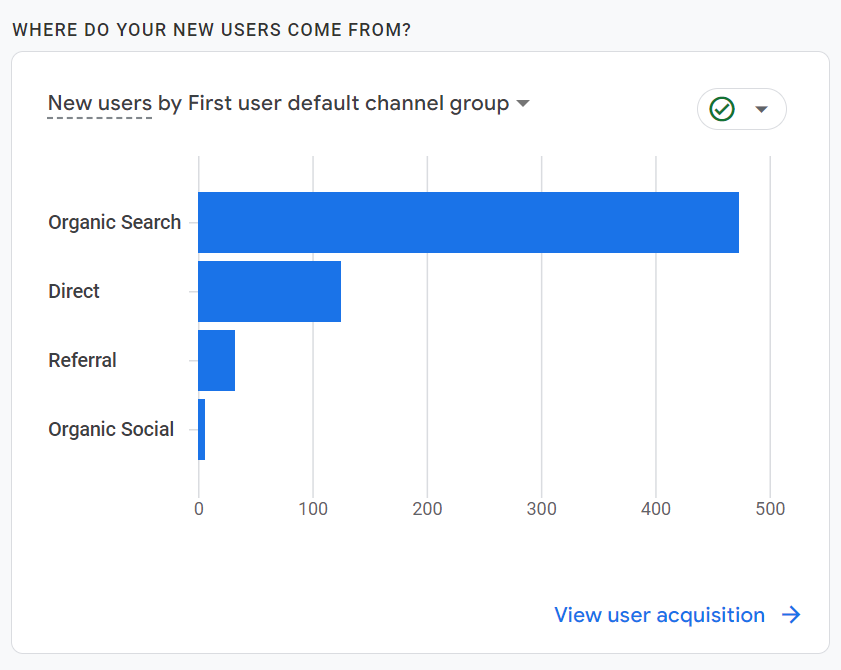 Image Source: GA4
While organic traffic can be estimated by outside tools like Ahrefs, the best source of organic traffic is definitely GA4, where you can find it under Reports > Acquisition > User Acquisition.
Why We Care: Organic traffic numbers don't lie: they're a key performance indicator (KPI) to show the effectiveness of your SEO strategy. Organic traffic will also help you understand which keywords and pages on your website are receiving the most traffic. This can be used to optimize content on your site and boost its search engine rating. (See our video on content optimization here.)
---
2)  Keyword Rankings
Next to organic traffic, keyword rankings are the most important metric (in our experience, Ahrefs is an excellent tool for this). There are two data points you want to collect:
       

Overall Organic Keywords

: This metric shows how well a website is ranking across all keywords (typically in the first 100 Google results).

       

Number of Page One Keywords:

This metric measures the total number of keywords that are ranking on the first page of Google.

Overall ranking growth, with Page 1 rankings on bottom two lines (image source: Ahrefs).
Why We Care: We're often asked, "So how many keyword rankings are good?" It's difficult to provide average benchmarks, because it depends on the authority of the site. What you want to see is steady growth.
For brand new sites, just try to get on the board: even a handful of relevant ranking keywords can be considered a win. In our experience, getting your first 100 keywords is much harder than growing from 100 to 1,000.
For established sites, a reasonable goal would be to get to 1,000 ranking keywords, with additional milestones at 2,000, 5,000, and 10,000 keywords. As the number grows, your site will command so much authority in Google that rankings will naturally begin to snowball.
For enterprise sites, we've seen overall keyword rankings of 100,000 keywords or more. (And Media Shower can help you get there.)
Rule of thumb: Page 1 keywords will generally be about 10% of overall ranking keywords. Obviously, Page 1 is where the real traffic comes from, so be sure to report these separately.
---
3) Top Pages
Think of your top organic pages like little "traffic magnets" that each bring in valuable customers. You want to monitor the keywords that are driving to these pages, to be sure the audience is relevant. (Ahrefs is great for this.)
For example, in our report below, "content" related pages are extremely targeted to our business, while "home depot marketing," not so much. 

Image source: Ahrefs
Why we care: This list of top pages gives us a priority list of what to optimize and improve. The report above also shows us our top-ranking keyword for each, and its position in Google, which brings us to…
---
4)  Top Keywords
You want to drill down into individual keywords where your site is ranking, to be sure they're relevant and helpful.
Every website will rank on some "silly keywords." These are random phrases in a blog post or product page that aren't related to your core business. Don't sweat it. Just patiently focus on your "golden keywords."
Ahrefs or SEMRush are great tools for finding individual keywords (much better than GA4):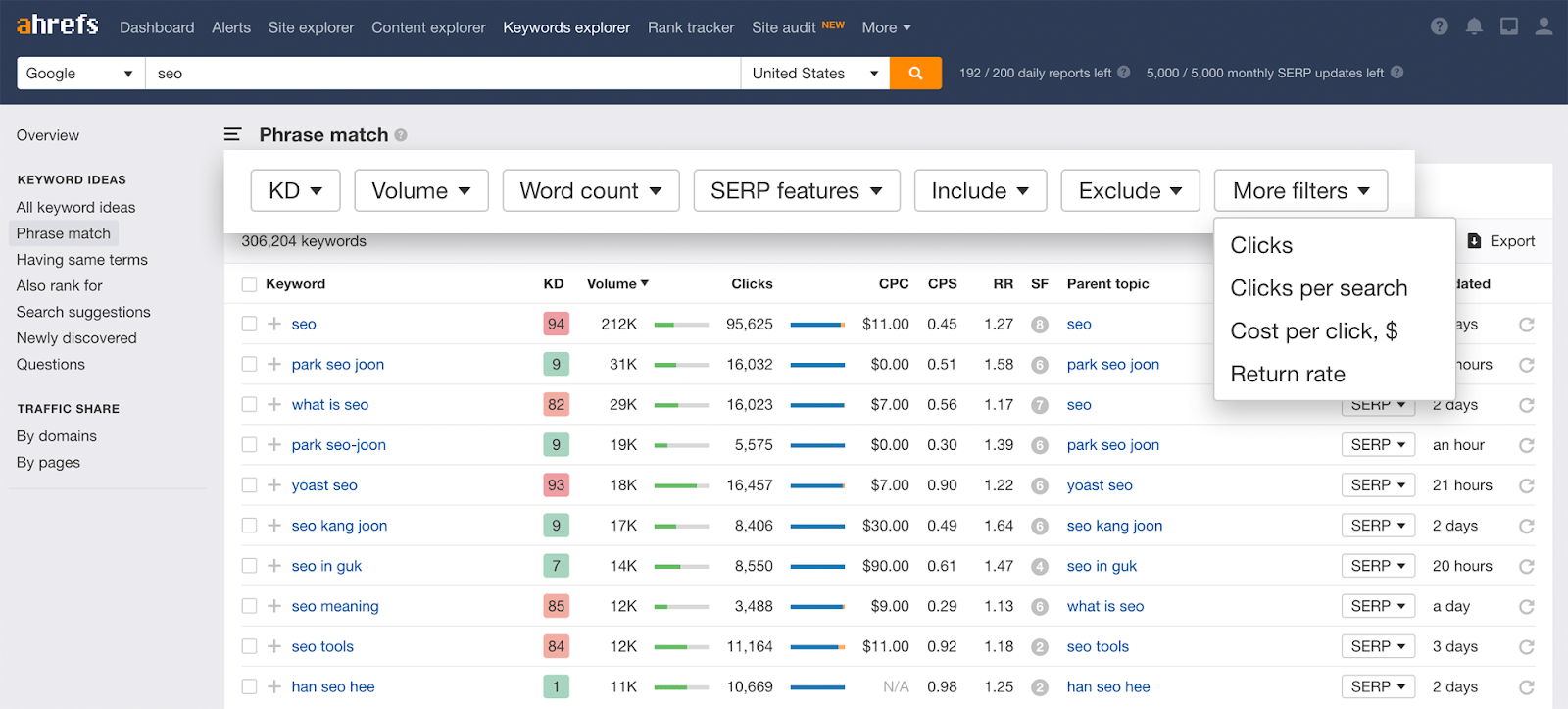 Image source: Ahrefs
Why We Care: Looking at individual keywords will let you:
Boost ranking of valuable keywords: If you're page 3 on a golden keyword, creating more content (or optimizing your ranking page) to push it to page 1.

Get on the board: Find keyword opportunities where you have no ranking at all, and create new content to publish and promote.

Cross-link: If you have related pages that are ranking well, consider cross-linking between the sites to drive traffic to both of them, which will help both your users and your rankings.
---
5)  Referring Domains
The Google algorithm was originally built on backlinks (also known as referring domains): the idea was that the more people linking to a site, the more valuable and trustworthy.
Today, of course, the Google algorithm is far more sophisticated. Still, referring domains remain key SEO metrics in determining your website's reputation and authority. Ahrefs is a good tool for measuring this.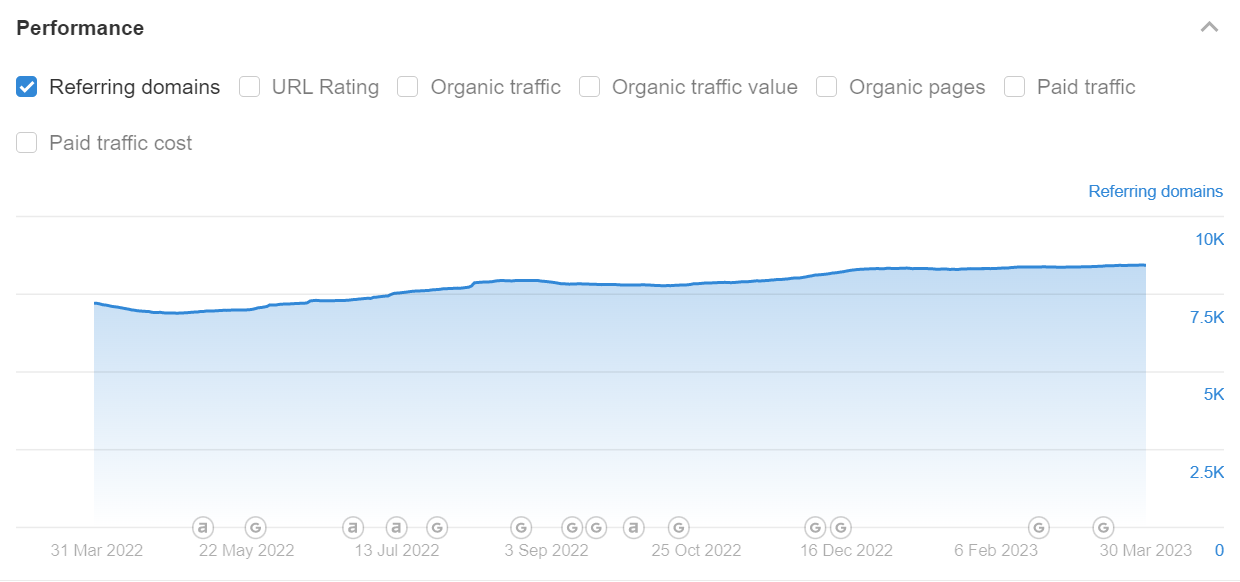 Image Source: Ahrefs
Why We Care: We think of referring domains as being a "leading indicator" for future organic results: generally an increase in backlinks precedes an increase in search terms, with a lag of several months.
As long as you're not engaging in spammy linkbuilding, it's not that important where the links are coming from: just let it happen naturally. What is important is steady growth over time.
In a study by Ahrefs, pages that have no backlinks don't get seen. As many as "66.31% of pages don't have even a single backlink, and 26.29% have links from three websites or less… Most pages get no search traffic, and most pages have no backlinks." As shown in the chart below: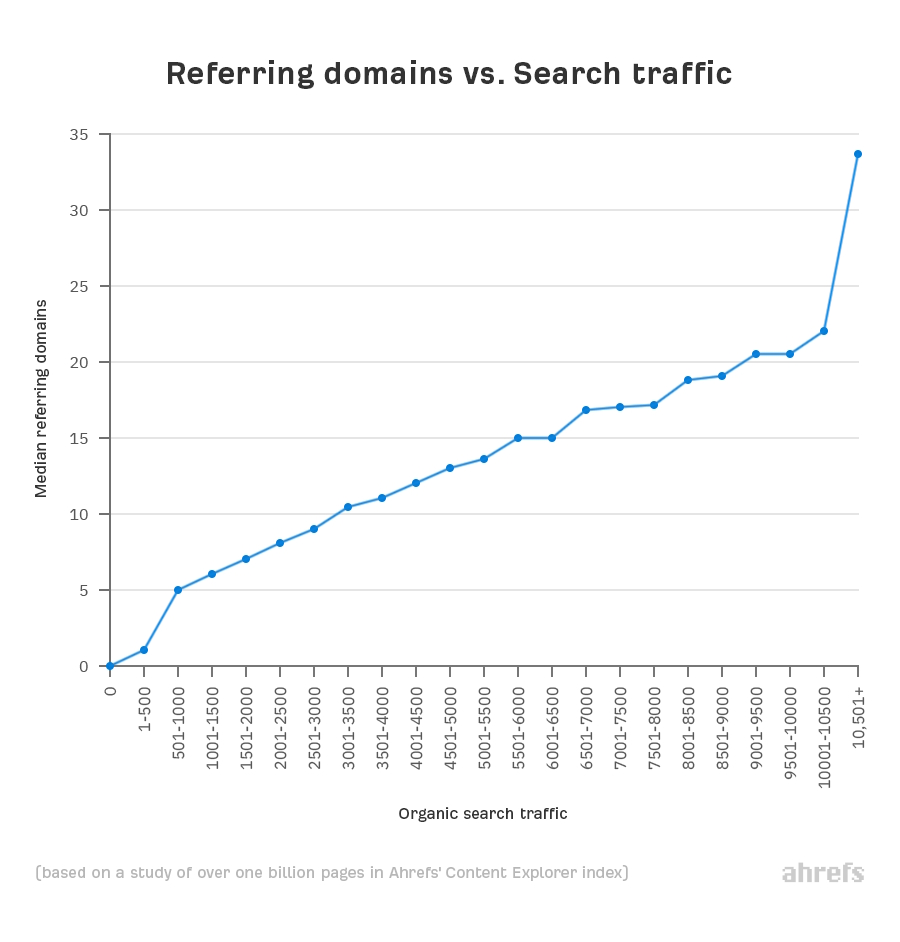 Image Source: Ahrefs
Media Shower's Recommendations for SEO Metrics
Tracking key indicators is essential for any business looking to improve its SEO performance metrics and online visibility. By monitoring SEO metrics, businesses can gain valuable insights into their websites' performances and identify areas for improvement.
Some key takeaways include:
Organic traffic, keyword rankings, top pages, top keywords, and referring domains are the 5 important metrics to track in SEO.

Google Analytics is the best source for organic traffic; while Ahrefs provides the best "bang for the buck" for the rest.

While it's difficult to provide industry benchmarks, it's more important to benchmark

yourself,

measuring where you are and monitoring your progress monthly.
Businesses that prioritize the monitoring and analysis of key metrics are more likely to succeed in SEO and achieve their online marketing objectives.
At Media Shower, we invented SEO. (Click here to read the story.) Then download our Content Marketing Keyword Planning Template, which is the template we use to find "golden keywords" for our clients.