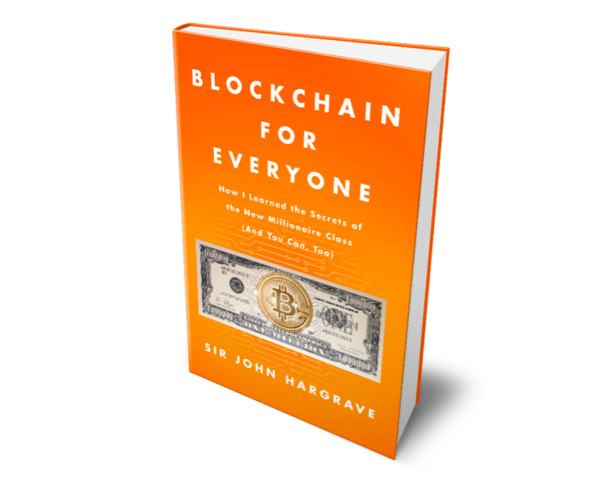 "Wouldn't it be cool to bundle a book with bitcoin?"
It seemed like a simple idea. Little did we know the idea was radical: so radical, in fact, that the author's publisher and many bookstores wouldn't touch it. But we knew that our target audience – early adopters of new technologies – would love the idea. They'd tell two friends, and they'd tell two friends, and so on.
How we got cryptocurrency bundled with our book for a promotion at our local bookseller is a case study in modern-day marketing. Here's how Media Shower transformed Blockchain for Everyone from a niche nerd novel into a bestselling beach book.
The Big Idea: Bundle Bitcoin with Books
You've probably heard of bitcoin, the most well-loved cryptocurrency. It's a kind of digital money that can be sent as easily as sending an email. Over the last decade, the popularity (and profitability) of bitcoin has launched a new industry of digital currencies. There are now thousands of these so-called cryptocurrencies, each a bit different – but all are built around a new technology called blockchain.
Blockchain for Everyone is a user-friendly guide to these digital currencies, wrapped in an entertaining story about one man's journey into this Bizarro World of money: he bets it all, loses it all, then wins it all back (and more). The book is both educational and entertaining, which is why Simon & Schuster's Gallery Books was eager to publish this "bible of blockchain investing."
To help promote Blockchain for Everyone, the Media Shower team had a simple idea: what if copies of the book were bundled with a little bit of bitcoin?
This was a crazy, audacious idea. The price of bitcoin fluctuates wildly – it can increase by 10x in the space of just a few months – so this promotion could reignite the publishing industry, rocketing independent bookstores past Amazon, and fueling publishers with new power. Here's why.
Let's say the book came bundled with $10 in bitcoin when it was shipped to a bookstore. By the time that book hit the shelves, it could be worth $100, i.e. more than the price of the book.
We pictured stacks of books flying off the shelves at bookstores around the world. You wouldn't be able to keep them in stock! We had fantasies of bookstores hiring security to protect the Blockchain for Everyone displays, like Fort Knox. But even more valuable than the bitcoin would be the knowledge inside.
Our publisher felt confident in the strength of the content and was not in the business of distributing cryptocurrency.  So they opted to publish the book without any bitcoin. But we, Media Shower, soldiered on ourselves, and created a special promotional bundle – pairing a unit of the book with cryptocurrency – that would be was sold at a local bookstore. But there were challenges in doing so.
One Problem: Physical vs. Digital
Turns out, bundling bitcoin is more difficult than it seems. And if special promotional copies of the book were to contain bitcoin, units would be shrink-wrapped. There was the question of how a bookstore would handle returns.
In a nutshell, books are physical objects. Bitcoin is a digital currency. How could you combine the two?
Media Shower reached out to Coinbase, one of the biggest companies in the digital currency industry, to help us solve these problems. They connected us with the team from MakerDAO, which has one of the most successful digital assets, a stablecoin called Dai.
Dai is a digital currency like bitcoin, except it's designed to be stable – meaning it's always worth just about a dollar. Our Blockchain for Everyone book promotion was a perfect use case for Dai: we needed to give away a "coupon" for cryptocurrency, and be sure this "crypto coupon" held its value, no matter when it was redeemed.
But how would those who received the coupon from the promotion redeem the Dai? You couldn't print multiple copies of the same coupon, since every coupon needed its own code (like a gift card). How could you get a unique code bundled into a book?
Coinbase next put us in touch with the team from Linkdrop.io, who helped us create a QR code that would automatically open a Coinbase account pre-loaded with $10.00 in Dai. We could create thousands of these codes at scale, with MakerDAO generously investing a small fortune in Dai cryptocurrency toward the promotion.
This created a "win/win/win" situation, where everyone's incentives were aligned.
"This is all great," said one of our Media Shower team members on a planning call. "But why bundle $10.00 with the book? Why not $25.00?"
The reasoning was simple: the book retailed for about $25.00. For those purchasing the promotional copies that were bundled with the coupon, by getting $25.00 in digital currency when they bought the book, readers would effectively be getting the book for free.
The plan was coming together. There was just one remaining hurdle: distribution.
Independent Bookstores to the Rescue
Because of the challenges mentioned above –– we thought the best way to execute the promotion was to partner with a local bookseller who could work with us to securely package and distribute these blockchain-bundled books.
We were fortunate to have Wellesley Books in our own backyard: one of the country's premier independent bookstores, with online ordering and global shipping. Wellesley Books ordered case after case of the books, which we bundled with bookmarks in the break room.
Readers could use the Wellesley Books site to order their copy of Blockchain for Everyone. They'd receive the book in the mail a few days later, then tear open the shrink-wrap to find an autographed book bundled with a beautiful, full-color bookmark. On the bookmark, they'd find a QR code, which they could scan on their smartphone to automatically open a Coinbase wallet and redeem their $25.00 in Dai.
Blockchain blogs were eager to write about this new promotion at Wellesley Books: it was the first time cryptocurrency was bundled with a trade book.
Once we got a few smaller publications to take notice, we traded up the chain to bigger blogs and media outlets, accelerating the buzz with press releases, marketing support for the book itself from the publisher, and a massive social media campaign.
The books at Wellesley Books flew off the shelves. And even at outlets that did not contain the promotional coupons, the book gained traction. At Barnes & Noble, for example, Blockchain For Everyone ended up sharing shelf space with classic business books like Good to Great and Principles.
At the Hudson News airport book chain, Blockchain for Everyone was a tremendous hit with business travelers, making the Top 10 bestseller list:
As word of mouth spread, the book climbed the digital charts as well, eventually hitting #1 in the New Release category list on both Amazon and Audible.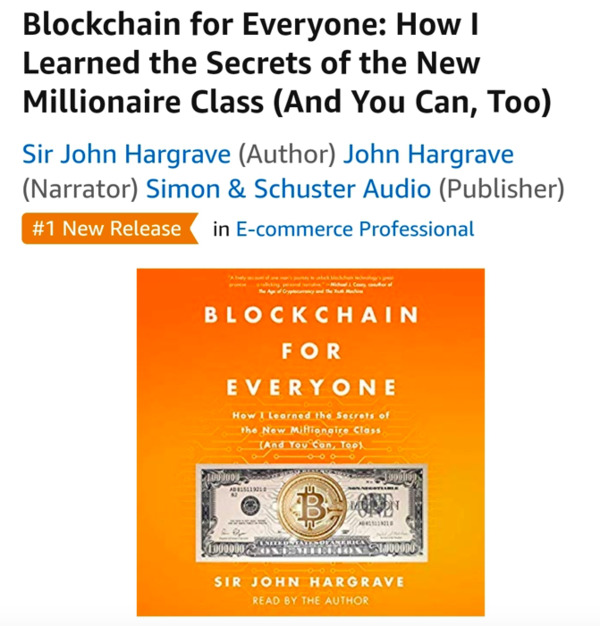 Media Shower managed the innovative media campaign for the Wellesley Books promotion, from coordinating the ecosystem of players (Coinbase, MakerDAO, and LinkDrop.io) to launching an online ad blast across Facebook, Twitter, and LinkedIn.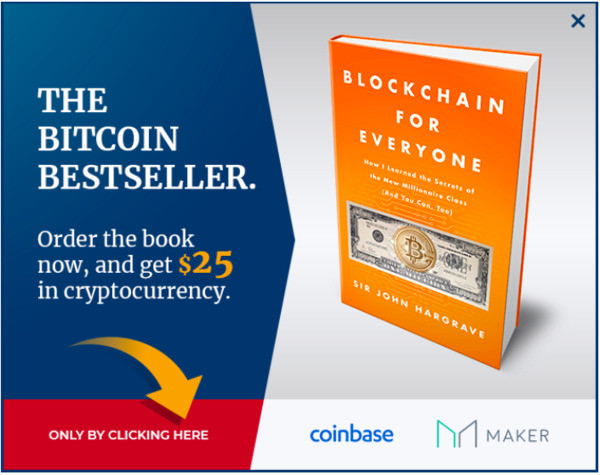 The idea started with "bundling a book with bitcoin" and evolved into an industry-innovating "crypto coupon": the first time a physical book was enriched with digital currency. It was a pioneering promotion, paving the way for millions of books to be similarly sold and marketed in the future.
In the end, it wasn't just about selling more books to read on more beaches: it was also about getting digital currency into the hands of more people, more easily. Every new reader who purchased one of the specially bundled promotional units was a new investor; every buyer became richer.
Our marketing mission, quite literally, was Blockchain for Everyone.
Next Steps: At Media Shower, we're building a better media company. Read the manifesto, or get a free trial.