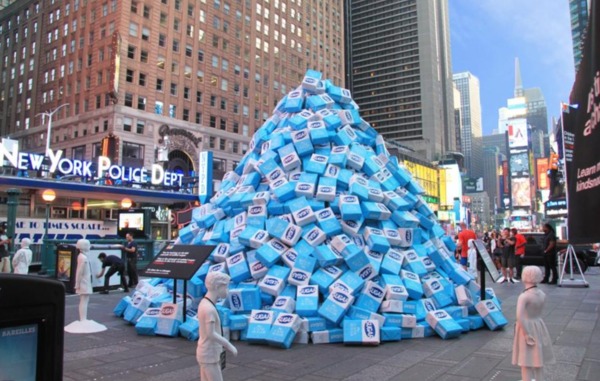 How many times in your life can you say you were taking a leisurely neighborhood stroll through your city and you happened upon 50,000 pounds of sugar peacefully resting on your sidewalk?
If you were in Times Square in New York City recently, that's exactly what you saw—along with zombie-looking statues of children made out of—you guessed it—more sugar.
The snack brand KIND is at it again. After its out-of-the-norm, socially-conscious bubble-popping campaign, it has now moved from mouth-blowing to jaw-dropping with its enormous sugar-ified marketing display, smack dab in the middle of one of the busiest places in the world.
The sugar mound is three stories high and 24 feet wide. Surrounding it are white-powdery statues of children and signage detailing facts about the health dangers of sugar. Messages like these circled the display:
"Children in the US are eating 4.7 billion pounds of added sugar every year. That would cover 1,740 football fields."
"Children in the US are eating 13.1 million pounds of added sugar every day. That would fill 273 yellow school buses."
KIND's purpose with this marketing stunt was to first raise awareness of the dangers of ingesting added sugars. The 45,485-pound hill of sugar depicts the amount of added sugar children in the U.S. eat every five minutes.
Here is one of the signs: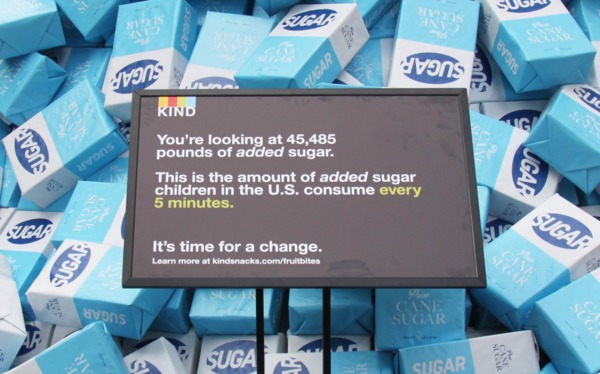 Source
But, the real purpose behind the stunt was to advertise its KIND fruit bites, which you can imagine has zero added sugar. As patrons walked around the display shooting pics and sugar-mound selfies for their Instagram profiles, KIND employees walked around handing free samples of the new snacks to bystanders.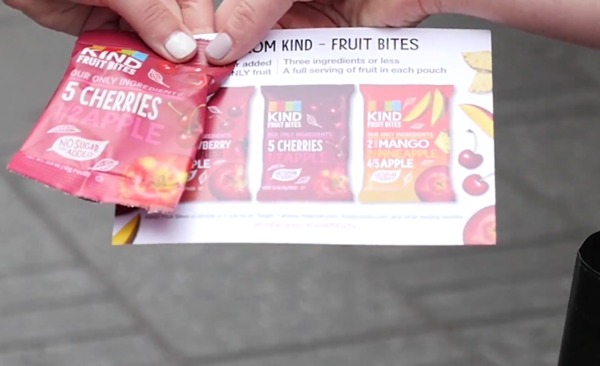 Source
Although I know this display brings awareness to an important topic, I can't help but think of how clever the marketing team at KIND was to erect it. So here are some content marketing takeaways you can learn from KIND's campaign:
Know your problem and provide a solution – What industry problems are you solving? The deeper you understand what issues you are providing solutions for, the more successful your marketing will be. KIND knows that its audience is looking for healthy alternatives to sugary snack foods. So it magnified the problem and showed how ugly it was (visually!) while providing a solution right there on the spot—its added-sugar free tasty snack alternative.
Create an emotional connection – Are you evoking an emotion from your targets with your content? With this marketing display, KIND's main target was parents. And it skillfully tugged on parent's heartstrings by visually displaying how much sugar their children can consume in one year—if they continue on the same junk-food-laden diet track. The brand knew how to emotionally connect with parents by evoking the emotions of the love and care they have for their children.
Go BIG or go home – Okay, not every content campaign you run will be Times-Square worthy, but the point is to get a little creative with your campaigns. Don't be afraid to push your boundaries a little to test out some new creative. You don't have to create Times Square statues to do it, but think outside of the box a little and see what you come up with.
Here at Media Shower, we don't erect Times Square statues… yet. But, we do think outside of the box and create content marketing campaigns that get results—without requiring city permits. If you want to take a try and see how sweet we can really be (yes, I went there), let us give you a free "taste" of what we have to offer. Get a free trial of our platform here and receive a free content analysis, content ideas, one optimized custom piece of content that is yours to keep, and a promotion plan. Yup, all free. We will see you on the inside.