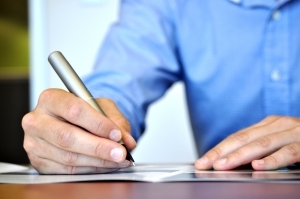 Maintaining a blog is more work than many people realize. Success in search engines and with the traffic they produce requires that you consistently publish relevant, original, high quality content on your blog. It's all too easy to be enthusiastic about blogging at first, then gradually start to see your blog as a dreaded chore rather than the exciting brand-builder you had envisioned.
A blog, however, can be a solid foundation for your website's social media strategy. It gives your site visitors a reason to return, and posting links to blog posts on social media sites creates a steady drumbeat of consistency for your site's fans and followers.
Faced with the task of providing consistent high quality content for a blog, many individuals and companies choose to hire a freelance blog writer. If you're smart in your approach, this can be a winning strategy.
Popular Places to Find Freelance Blog Writers
Many people hire freelancers off general freelancing sites like oDesk.com and Freelancer.com. On these sites, you'll be inundated with eager freelancers promising really low rates. Sounds great, right? But while these sites have tools to help you evaluate writers (like certifications and feedback ratings), you will have to dig through a huge number of bids when you advertise an ongoing job like blog writing. And if you get a writer who isn't up to scratch, you've wasted time and (hopefully not a lot of) money.
Other sites, like Media Bistro and Contently, are more high-end and selective. Here you'll find vetted writers that know what they're doing. You'll also pay a premium for using these sites. For example, advertising a job on Media Bistro starts at $239 per listing and goes up to $578 for a coveted "Job of the Day" designation.
Getting the Most from Your Freelance Blogger
Creating an editorial calendar (for which there are several online software options) keeps you from duplicating topics, and helps ensure content is varied and relevant enough to make people bookmark your blog. Study your blog's analytics and see which topics get more hits, and which are duds. A great editorial calendar lets you envision where your blog is going for the foreseeable future.
Sending your freelance blog writer a list of topics, titles, and keywords regularly is the easy part. You also have to brainstorm for ideas regularly, make provisions for getting content edited and formatted correctly, and publish them to the blog at your preferred intervals.
Choosing the Best Freelancer for the Job
Be as specific as possible in your listing for a freelancer. Specify things like whether you want content written in American English, UK English, or Australian English. If you want someone with experience in a particular field – like a former nurse to write for your healthcare blog – say so up front and follow up to ensure applicants really have the qualifications they claim. If you hire through a freelancing site, you may have to put part of your freelancer's pay into an escrow account, or make "milestone" payments at intervals throughout the project.
After finding a good freelancer on a freelancing website, you'll eventually want to establish a relationship outside the freelancing site, so you can pay him or her directly and avoid the fees that these sites charge. At that point you'll need to work out a satisfactory payment method, like PayPal, direct deposit, or mailing a physical check.
You Get What You Pay For
When hiring freelancers, you get what you pay for. Sure, the big freelancing sites are mobbed with freelance writers of every caliber, but finding the good ones is a needle-in-a-haystack proposition. Furthermore, choosing someone who writes for rock-bottom rates tends to get you low quality and less-than-total commitment. After all, if a writer finds he can make more money asking people if they want fries with that, he's not going to prioritize pumping out 500 words for you for a couple of bucks.
Your Best Bet
Your smartest choice when you need to hire a freelance writer is using a media provider dedicated to exactly that. Media Shower takes care of all the legwork for you. From idea generation to writing, editing, formatting, and publishing your blog, Media Shower has your back. We have experienced writers who are thoroughly vetted and proven to be up to the challenge of professional blogging. Our writers are also available to write content for static pages, including how-tos and landing pages.
Here's what you won't get with Media Shower: You won't get the uncertainty of wondering whether your freelancer is fluent in English. You won't get the upheaval of freelancers disappearing halfway through an assignment. You won't have the hassle of scrambling to find a backup writer when the one you hired gets sick. And most importantly, you won't have to worry about whether your blog has a steady stream of engaging, relevant high quality content, because that's what we do, and we love doing it.
Let Media Shower show you the best way to hire a freelancer for your blog by clicking here to see our pricing options and get started.
Photo Credits: Phaitoon / freedigitalphotos.net, imagerymajestic / freedigitalphotos.net, moomsabuy / freedigitalphotos.net