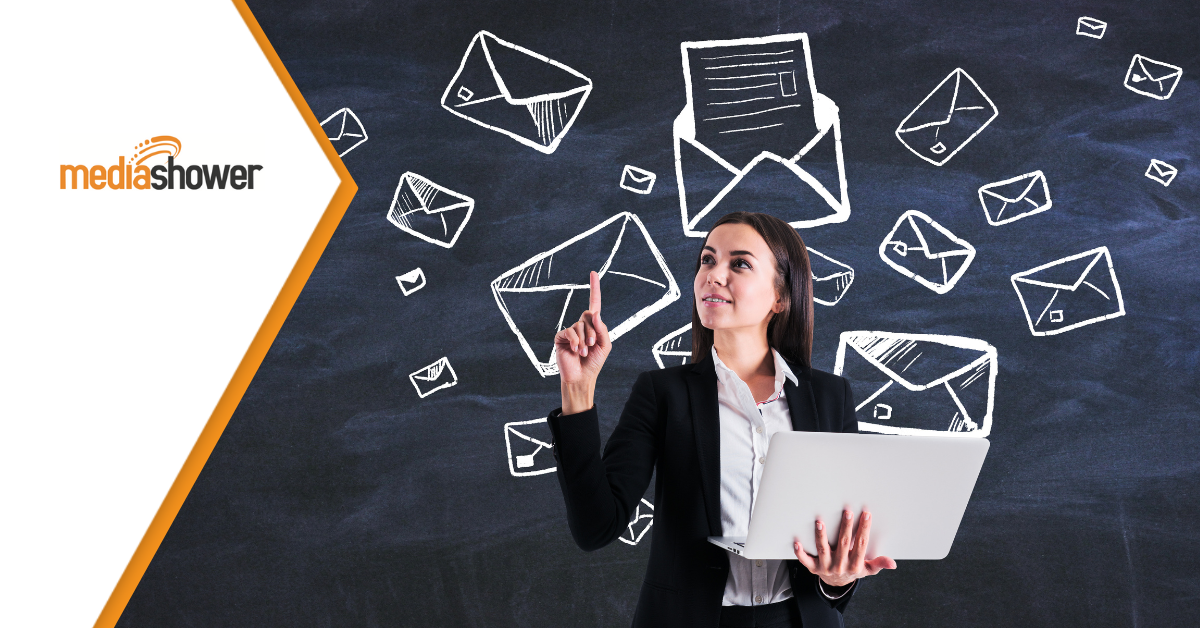 TLDR: 61% of your customers want to hear from you at least once a week, per Campaign Monitor. Media Shower research shows the best frequency is at least once per month, but no more than two times per week.
So What: By understanding email marketing frequency, you can ensure your email newsletters are sent out at the right times and in the right amounts to maximize customer engagement. (Hint: try midweek at midday.)
---
Email marketing is still the most used marketing strategy in the world, with 4.3 billion users in 2022 and forecasted to grow to 4.6 billion by 2025. That's half the planet's population!

Newsletter Frequencies Compared
In a study by MarketingSherpa, 86% of subscribers said they would like to receive promotional emails from their preferred brands monthly. This indicates customers are open to more email communication from their favorite businesses, which can be used to drive sales and loyalty.
According to research by Campaign Monitor, newsletters should be "no more than twice a week and at least once a month." It also shows us there isn't much difference in the open rates between any days of the week with the exception of a slight dip on the weekends, as you can see from their graph below: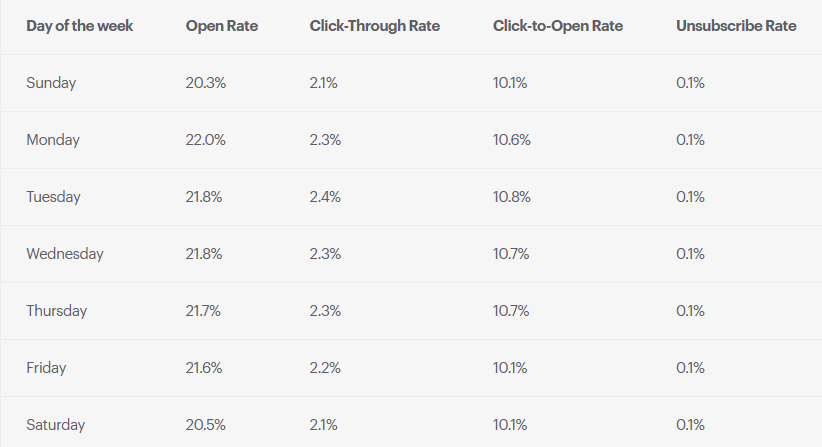 Weekly

: This email frequency might be appropriate for companies that want to increase the frequency of their communications with subscribers or for brands that have limited resources and need to focus content efforts on a few select campaigns per month.

Biweekly

: This email frequency is best suited for companies who want to send out two emails per month: one from the prior month's event or campaign, and one specifically designed for this upcoming month's audience.

Bimonthly

: This email frequency might be best suited for companies who want to send one newsletter per month with news from the prior month's events or campaigns, as well as new content designed specifically for this upcoming month's audience.

Monthly

: This email frequency might be appropriate for brands that want to engage subscribers with more timely communications or that have large budgets and want to send more frequent updates.

Quarterly

: This email frequency is best suited for companies that want to send out one newsletter per quarter that includes all events, campaigns, or marketing promotions from the past three months.
Factors to Consider in Newsletter Frequency 
So, which frequency is best for your business? There are a few key factors to consider:
Newsletter purpose and goals.

What are you trying to achieve? For example, if you're in the education industry, you might create a weekly newsletter that focuses on learning resources and tips to help teachers and students. (Monthly might not be enough.)
If you're in the tourism industry, you might opt to create a quarterly email focused on upcoming events related to the region where your company is located. (Daily might be too much.)
Your target audience.

If you're in the education industry, the target audience might be parents who read your newsletter after the workday is finished, so a weekly delivery on the weekend might be perfect.





The target audience for a tourism-related quarterly email might be business owners and travelers who receive it on their smartphones or computers during lunchtime at work.
Your open rates and churn

. By tracking open rates and churn (

read our post on tracking best practices

), you can see what's working for your customers. By watching what your customers

do

, not just what they

say

, you can adjust the send frequency and topics of your email newsletter to get better results and improve customer engagement.
Again: you want negative churn (i.e., a positively growing email list, where new subscribers outnumber unsubscribes), and an open rate of about 20%.
What's the Optimal Time to Send Newsletters?
Conventional wisdom says mid-week at mid-day (Eastern time). It's a great place to begin, but to find your optimal time, it makes sense to test.
Is your audience made up of techies? Techies tend to be night owls, so that will override conventional wisdom. Are they bankers or insurance underwriters, who are much more likely to be on a traditional work schedule? Or are they stay-at-home moms juggling kids, schedules, and their online jobs? 
And where in the world are they located, in which time zones?
Here are some tips to help you find the best send time for your newsletters:
Split test

: Split testing is a great way to determine the best send time for your newsletters. You can send out two versions of your newsletter at different times and compare the results. A good rule of thumb is about 12 data points (i.e., three months for a weekly newsletter) to draw conclusions.

Analyze subscribers' locations and time zones

: This can be done using tools like

 

Mailchimp's Geo tool

.

Consider the type of content you're sending

: If your newsletter is focused on a consumer product, for example, think about when your consumers will likely purchase (or think about purchasing) the product.

Consider subscriber goals

: Are you trying to increase conversion rates or reduce churn?

Consider the season

: Emails are less likely to get read between Christmas and New Years, along with other major holidays like the 4th of July or Labor Day in the U.S. Best to take a week off.
TLDR Summary:
The right newsletter cadence is somewhere between twice a week and monthly. 

Monday through Friday work hours are great for your newsletter, but check your metrics to find what works for your demographics. 

Shoot for negative churn (a growing subscriber base), and an open rate between 15 and 25%. (Note that

open rates vary between industries

, as well as the size and quality of your list.)

Test and learn.
Media Shower has produced thousands of successful email campaigns for clients. Learn how we can help you create an effective email newsletter to increase customer engagement and expand your reach. Click here to take our award-winning content platform for a test drive.