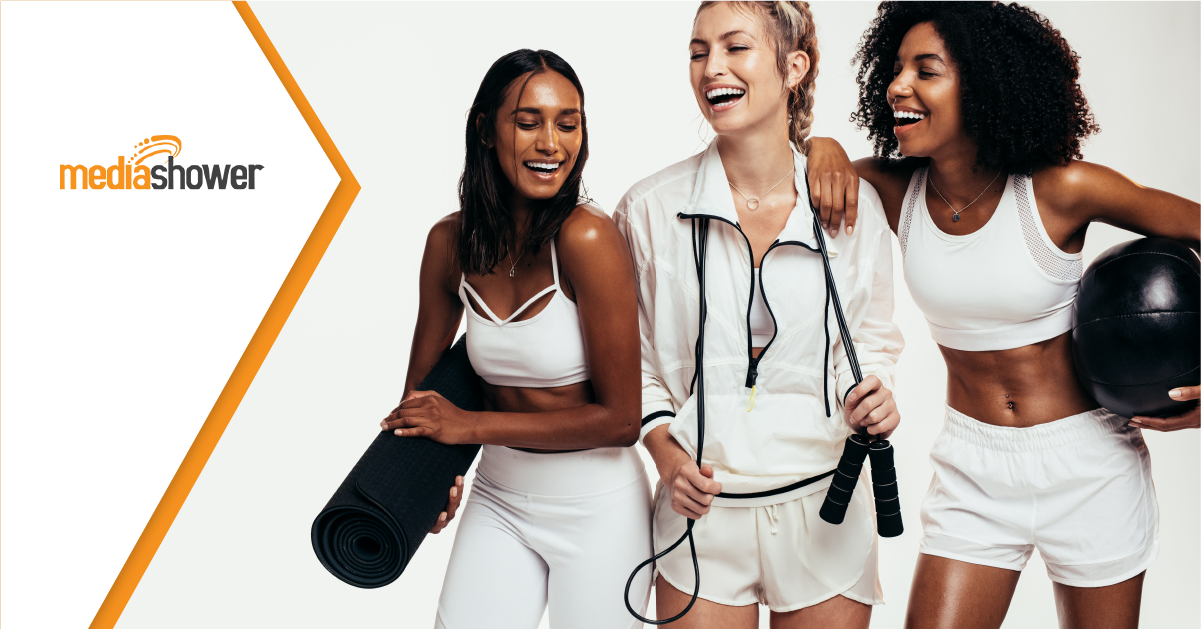 TLDR:  Gymshark is a popular workout apparel and gear brand that has successfully managed to get its customers engaged with its products. Its secret? Creating a strong emotional connection with its customers through effective marketing.
So What?  Gymshark's story provides some great insight into how you can successfully market your business and eventually get your customers engaged and invested in what you're offering.
---
Introduction:
Gymshark was founded in 2012 by Ben Francis and Lewis Morgan in the UK. The company started out as an ambitious project to design and sell high-quality fitness apparel and has since exploded in popularity. Millions of customers all over the world are now wearing its gear.
Apart from great products, the company's success is also due to its effective marketing strategy, which is based on building connections and community rather than simply selling products.
Understanding how Gymshark has marketed itself can help you apply similar tactics to your own business to create connections with your customers. Here's a look at some of the things they do:
Carefully Choose Influencers to Work With
Gymshark carefully selects the fitness influencers they work with. Not just anyone can be a Gymshark ambassador.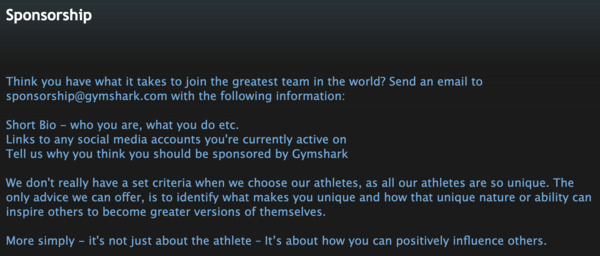 They look for people who are passionate about fitness and that have large, engaged, and active followings that care about the same things. Some of these ambassadors include Lex Griffin and Chris Lavado, among others. They aren't just models; they're real people with interesting stories, making them more relatable to Gymshark's customers.

Instead of just using influencers as a way to reach more people, Gymshark focuses on building relationships with them. You should also focus on building relationships with influencers you work with rather than just seeing them as a means to an end.
Be Where Your Customers Are
Gymshark knows the importance of being where its customers are. One of the places it's active is TikTok. The company's videos are creative and engaging, and they often feature their ambassadors and fitness influencers to boost the reach of their videos.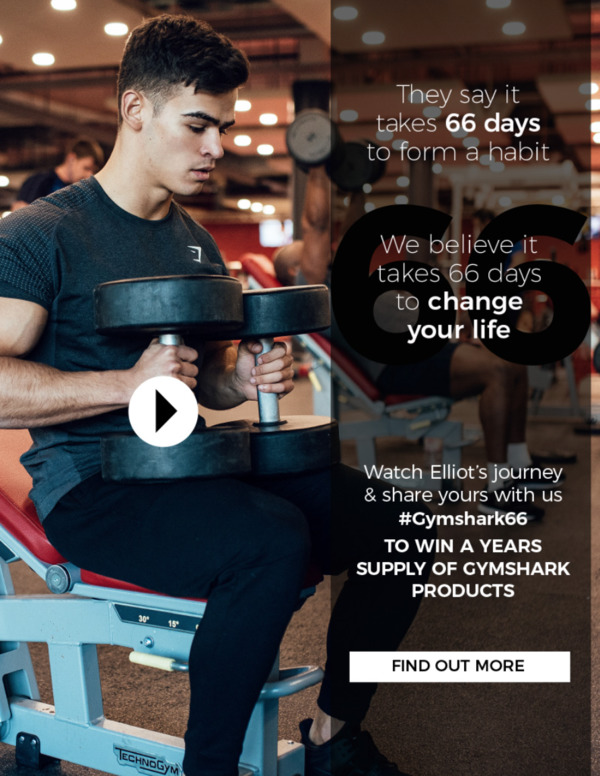 They also launch challenges to get their customers involved and engaged with their brand. For example, the 66 Days | Change Your Life challenge was all about helping people get fit and healthy by uploading an initial photo of themselves, setting a goal they'd work towards over the next 66 days, and then posting an updated photo at the end to show their progress for a chance to win a year's worth of supplies from Gymshark.
This type of challenge not only gets people interacting with the brand, but also helps create a sense of community and belonging.
The bottom line is that you need to be where your customers are and meet them where they're at. If you're not sure where they are, try using social media listening tools.
Have Specialized Social Accounts for Different Purposes
Gymshark has three different Instagram accounts: one for their main feed, one for women, and about fitness inspiration.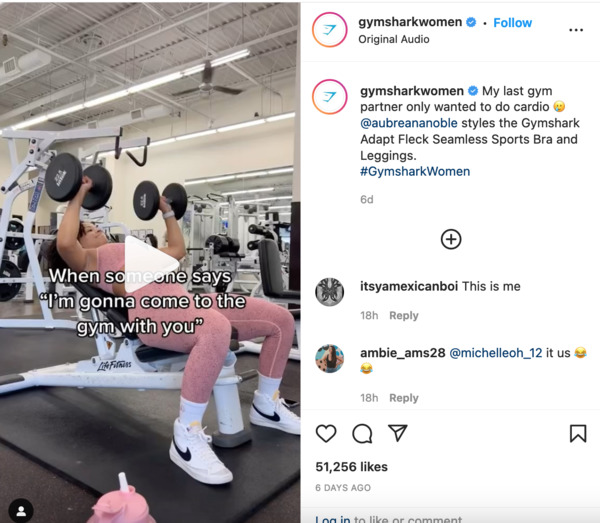 The main feed is where they post pictures and videos of their products. They also use it to show how real people are using those products, publish news, and announce promotions. The second is devoted to content for women, while the last one is about fitness inspiration, focusing on inspirational videos and training tips.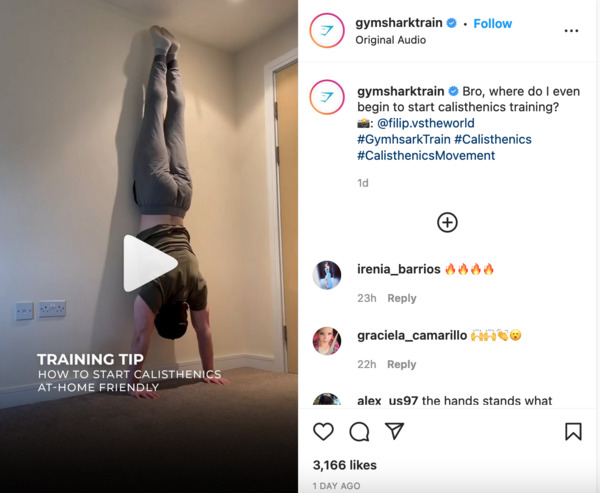 This type of segmentation allows Gymshark to focus on their different customer groups, give them the content they're looking for, and show different sides of the brand. It also helps them build deeper relationships with their customers.
Think about the different purposes of your social media accounts and how you can segment them to better reach and serve your customers.
Share Your Highs and Lows
Gymshark is open about its successes, but it's also open about its failures. For example, on Black Friday of 2015, the website completely crashed for eight hours straight, but the company didn't try to hide it.

Instead, they used it as an opportunity to show their customers they're human, too, and that even though they're a big brand, they still make mistakes. The founder even handwrote 2,500 apology letters to customers that had been affected.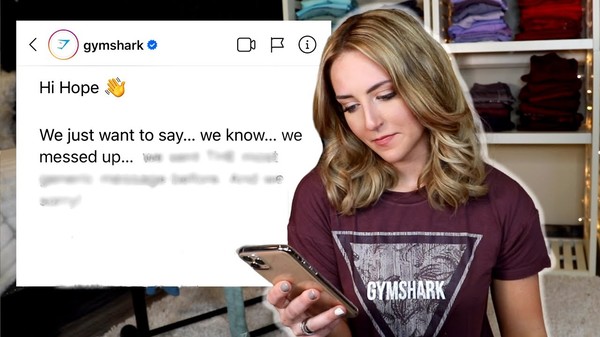 The takeaway here is that you shouldn't try to hide your failures. Use them to show your customers that you're transparent and willing to own up to them.
This isn't the only way Gymshark has been open and transparent with its customers. They've also been open about their journey as a brand, sharing the highs and lows through their different social media channels in the form of videos, images, and written content.
This is something not many brands do, but it's something that can help you connect with your customers on a deeper level. It allows them to see the real people behind the brand and understand your story.
Put a Face to Your Brand
Gymshark is focused on putting a face to its brand. That's why Francis, the founder, has a dedicated YouTube channel where he talks about the journey of building the brand, answers questions, and gives customers behind-the-scenes looks at what goes on at Gymshark.
The result is that customers feel like they know Francis and that they have a connection to the brand. This is important, especially for younger customers looking for brands they can really connect with.
Make sure you're putting a face to your brand and giving customers a chance to get to know the people behind it. You can do this through social media, videos, blog posts, or podcasts.
Emulate Their Success!
Gymshark has seen a lot of success in a short period. If you're looking to take your brand to the next level, consider using the same marketing tactics that have worked for them.
Media Shower specializes in helping clients create great content that allows them to achieve goals. To get started, try our award-winning marketing platform for free.