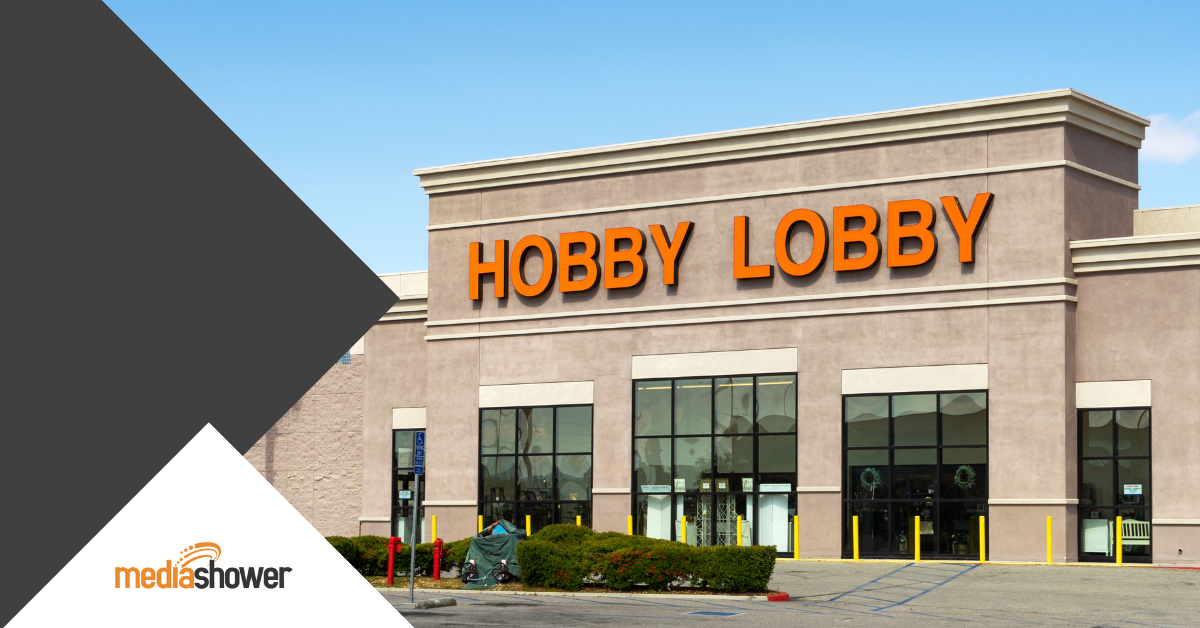 TLDR: Hobby Lobby started from humble beginnings. The company was founded in a basement on a $600 loan and has since grown into a massive chain for arts, crafts, and all kinds of holiday decorum with locations across the United States.
So What? Since it's not every day that a company experiences such astronomical growth, it's important to take a closer look at how Hobby Lobby went from point A (a basement startup) to point B (a holiday shopper's haven). Hint: marketing played a big role.
---
Introduction:
Hobby Lobby has been making headlines lately, and not just because of its impressive holiday decorations that fill up its stores in October and November. The company has been in the news for its founder's decision to give away the company, claiming he has chosen God over further business success.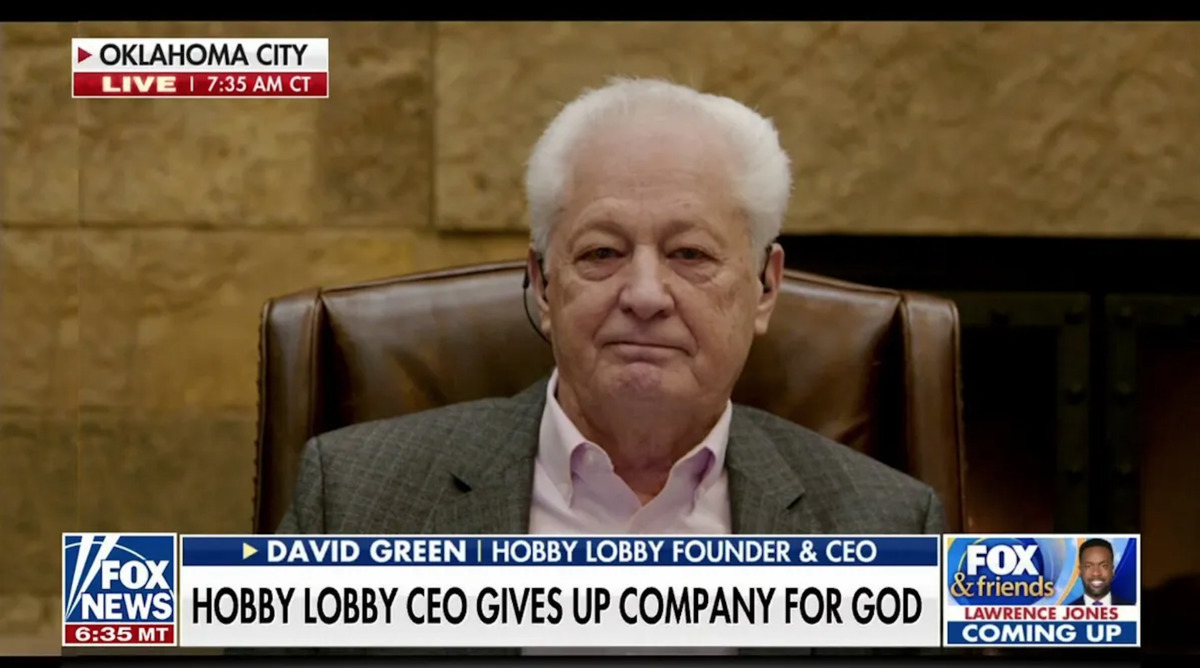 While it remains to be seen what will happen with Hobby Lobby in the future, one thing is for sure: the company's journey from a basement startup to a booming business is impressive. The company's success can be attributed in large part to its marketing efforts.
Let's take a close look at how Hobby Lobby utilized marketing strategies to become a go-to destination for holiday shoppers. From its clever TV commercials to its social media presence, Hobby Lobby has masterfully promoted itself as the one-stop shop for all your holiday needs.
Leverage Time-Sensitive Mobile Advertising
Two facts that we know to be true: consumers are now using their mobile devices more than ever to surf the web, and FOMO (fear of missing out) is a powerful driver. Hobby Lobby has capitalized on both with its time-sensitive mobile advertising.
The company runs ads within the mobile sites of news organizations like The Associated Press and The Denver Post that feature 40% off coupons. The coupons are only good for one week, thus encouraging users to take action quickly.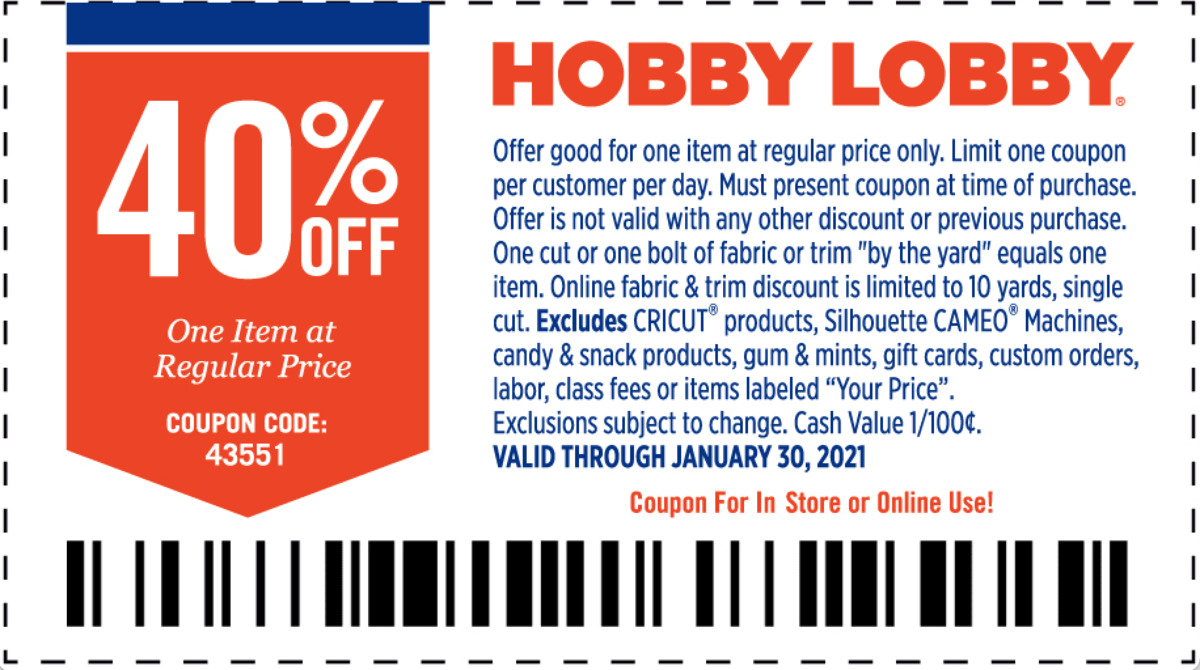 This type of mobile advertising isn't only effective in terms of reach (since it puts the ad in front of people who are already engaged in reading the news), but it's also effective in terms of conversion. The time-sensitive nature of the offer encourages users to click through and redeem the coupon, which they might not have done if they had seen the ad at a later date.
By leveraging time-sensitive mobile advertising, Hobby Lobby has reached target audiences with offers that are impossible to resist. If you're looking to reach mobile users with your own time-sensitive offer, consider running ads on news sites or other high-traffic mobile destinations.
Launch an Affiliate Marketing Program
The arts and crafts niche houses plenty of blogs and websites that focus on DIY projects, many of which have large followings. That calls for lots of traffic, something Hobby Lobby was quick to realize.
To tap into this engaged audience, the company launched an affiliate marketing program through bloggers and website owners that could place links to Hobby Lobby products on their sites. If a user clicks through one of these links and makes a purchase, the affiliate earns commission.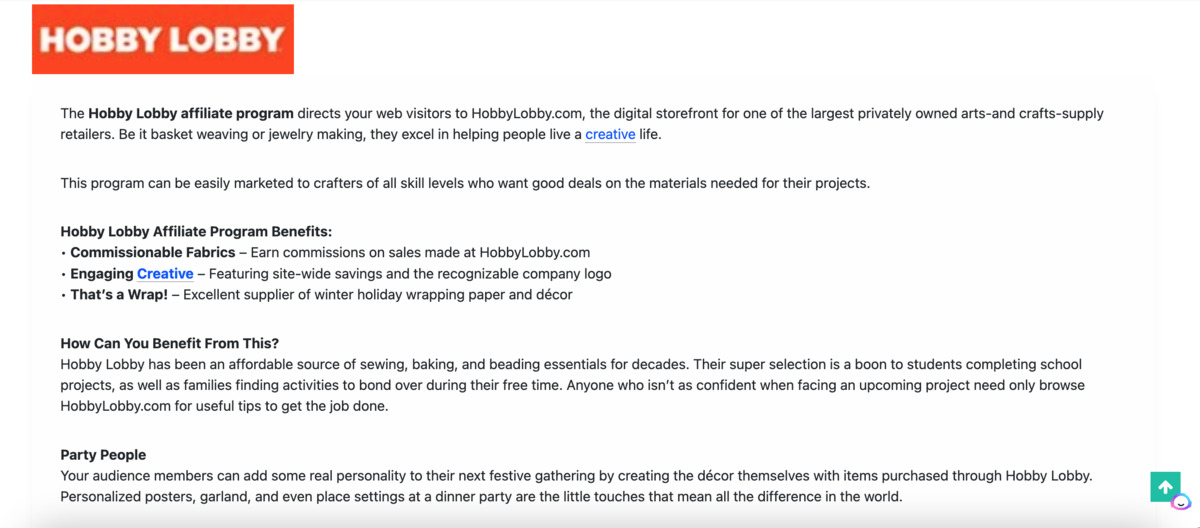 This type of marketing allows Hobby Lobby to tap into an engaged audience that's already interested in arts and crafts. Rather than trying to reach these users with generic ads, the company can target them with links to products they're likely to be interested in.
Think about how you can utilize affiliate marketing to reach your own target audience. If your niche lends itself to product reviews or recommendations, an affiliate program could be a great way to reach out to influencers and generate sales.
Develop a Strong Social Media Presence
Social media is a powerful marketing tool, and Hobby Lobby has utilized it masterfully. The company has an active presence on all major platforms including YouTube, Facebook, Twitter, and Instagram.
Hobby Lobby posts a mix of content on each platform including images, videos, blog posts, and links. This variety keeps users engaged and helps the company promote its different products and services.
On YouTube for example, Hobby Lobby has a channel featuring videos of customers using its products to create DIY projects, tips and tricks videos, and commercials. This mix of content not only promotes the company's products but also provides value to users, which helps build trust and loyalty.
If you're looking to beef up your social media presence, take a page from Hobby Lobby's playbook and post a mix of promotional, helpful, or informative pieces.
Be Traditional Sometimes
Finally, TV commercials are still an effective marketing tool, even in the age of digital media, which is why Hobby Lobby still runs ads on TV stations across the country.
One thing that makes these commercials effective is they focus on specific products or promotions. Rather than trying to promote everything at once, each ad has a single focus, making it easy for viewers to understand and remember.
A prime example of this is its recent Christmas commercial. It's short, sweet, and to the point, and it does a great job of promoting the company's holiday products which are now 60% off.
While digital media is important, don't discount the power of traditional marketing channels like television. If you have the budget, TV commercials can be a great way to reach wide audiences and promote your products or services. Just make sure they focus on single products or ideas. Promoting too many things at once will only confuse viewers and cause them to tune out.
The Takeaway
Hobby Lobby is a marketing master, and there's a lot that you can learn from the company. Whether you utilize affiliate marketing, beef up your social media presence, or run TV commercials, taking some cues from Hobby Lobby is a great way to heighten your branding game.
It's not just about the products you sell. It's also about how you market them. At Media Shower, we use this same philosophy to help businesses hit their marketing goals. Contact us today to learn how we can help you.