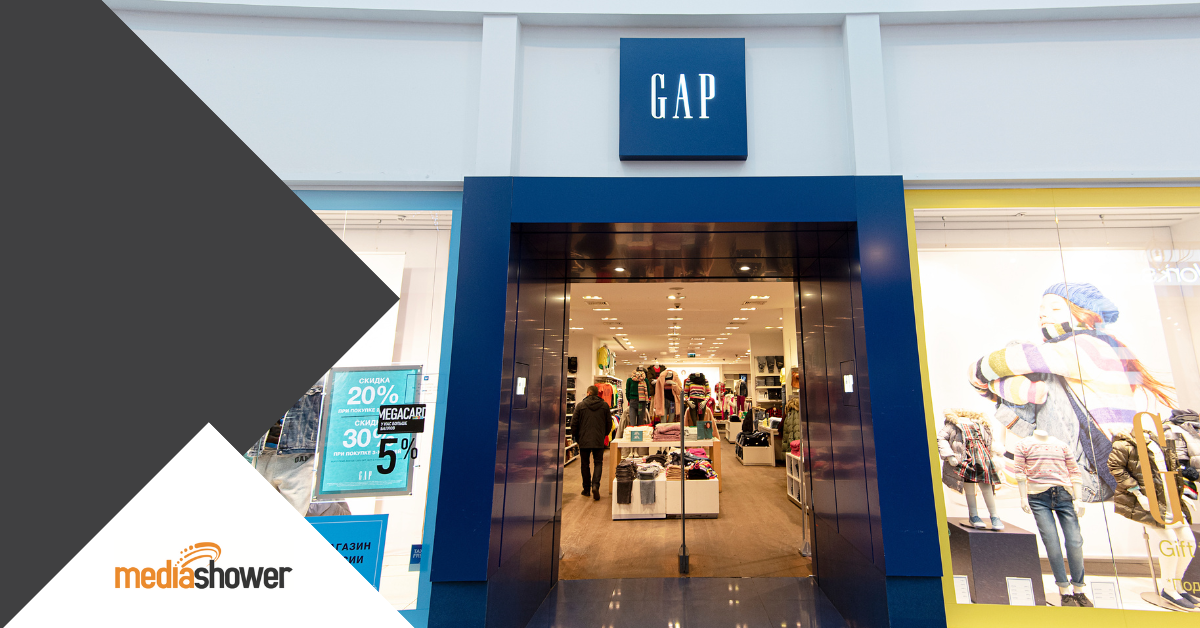 TLDR: Although not as old as some of its competitors, Gap Inc. has been a mainstay in the American clothing market since 1969. In recent years, Gap has struggled to keep up with other brands; here's how it's giving its marketing strategy a wardrobe makeover for 2023.
So What? If your marketing strategy is growing stale, the new year is a great time to regroup. Here's what brand managers can take away for their own teams.
---
Gap Inc. isn't the oldest name in the American clothing market, but it's one of the most recognized brands worldwide. Starting in 1969, Gap has had a long and successful run as a key player in the apparel industry. Recently, it's been having trouble staying at the top of its game.
Reflecting on the company's initial success, it was its savvy marketing efforts that really drove its success and kept it ahead of competitors. That's why Gap's executives are revamping its marketing strategy to return the company to its former glory.
Tap Into Influencer Marketing
Gap's classic logo hoodie has been one of the company's most popular items for years. It gained new life in 2020 when Instagram and TikTok influencers began posting photos and videos of themselves wearing it.
YouTube star Emma Chamberlain posted a series of photos on Instagram wearing Gap's navy logo hoodie and bikini bottoms. The post garnered over 2.4 million likes. Shortly after, influencers from other countries, like Barbara Kristoffersen and Lucy Page, began incorporating the hoodie into their outfits, giving Gap Inc. a much-needed boost.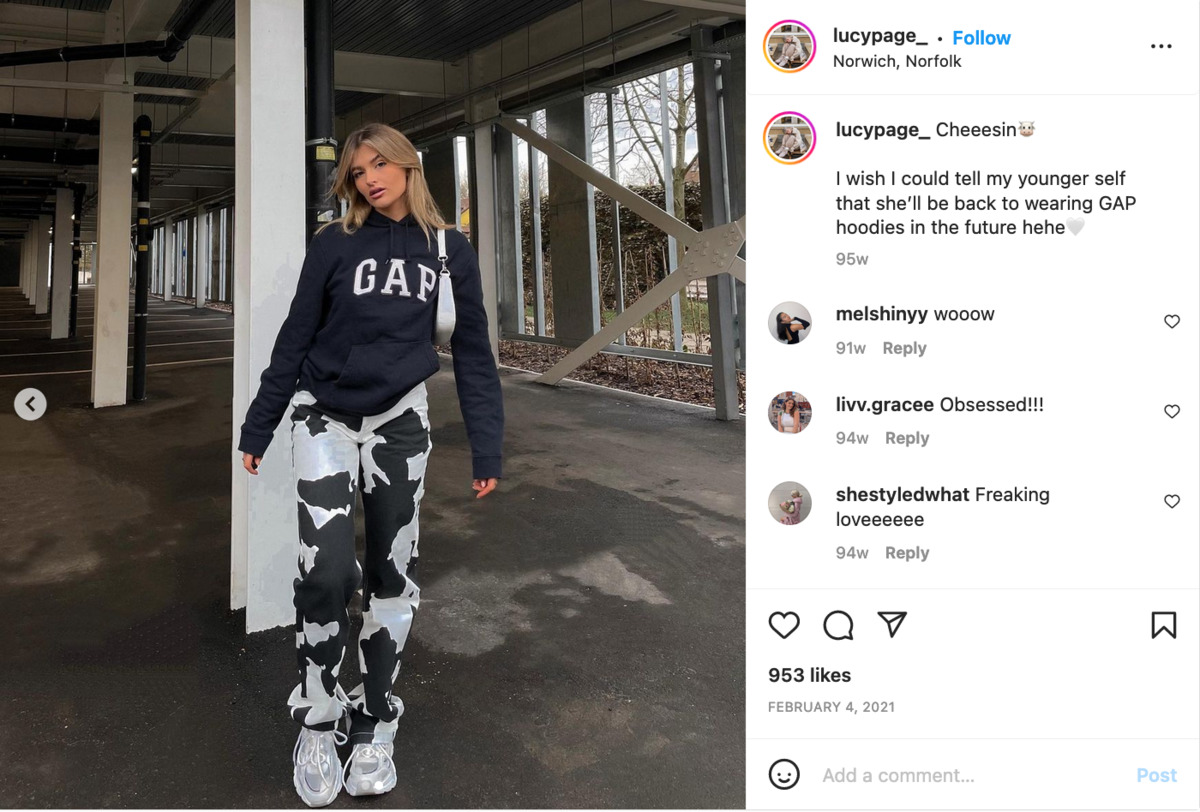 The company quickly got on board with this trend and started collaborating with influencers to promote its products further. The company also released a limited-edition version of the brown logo hoodie and asked TikTok users to vote for the next color.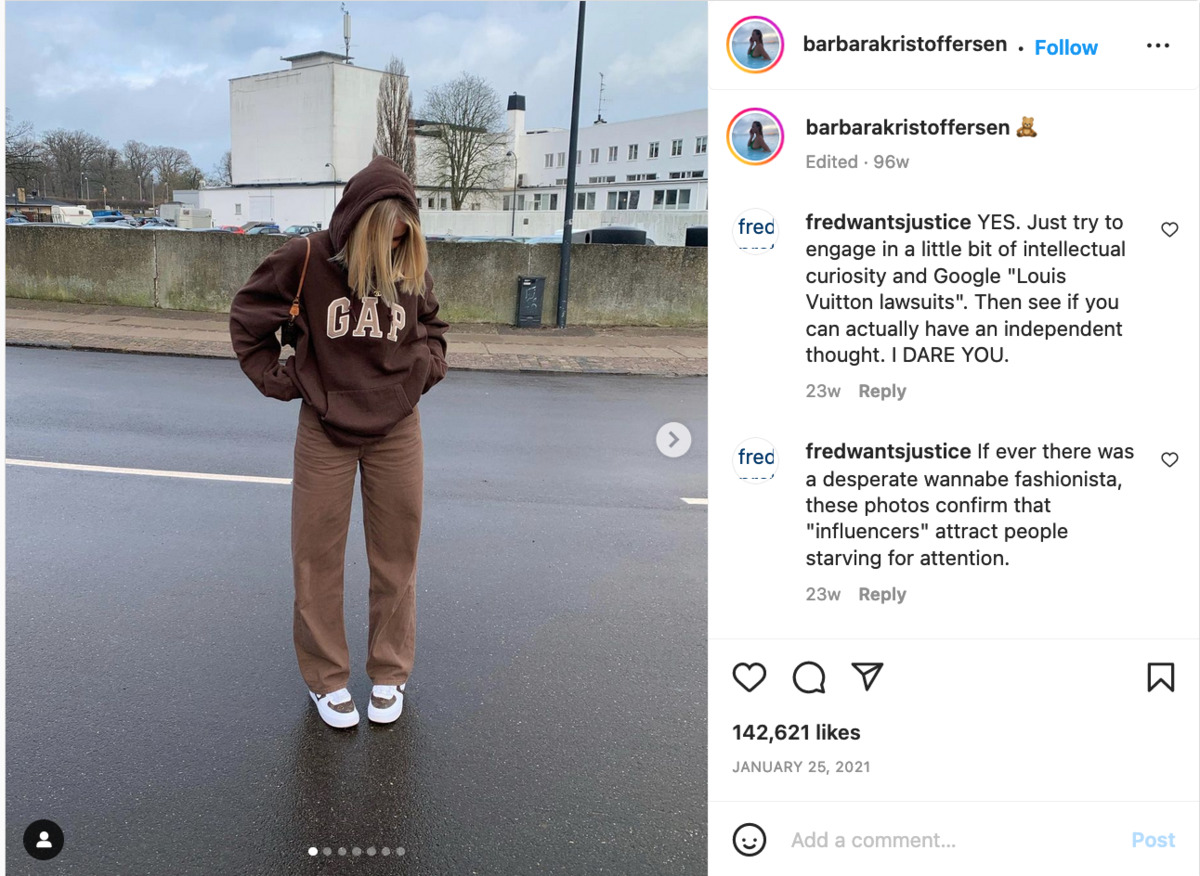 If your venture is suffering, tapping into influencer marketing is a great way to get more attention and promote your brand. Sometimes, that's all it takes to get your company back on track.
Make the Right Collaborations
Gap didn't only seek influencers to revive its hoodie. It also landed a ten-year collaboration with Yeezy, the fashion brand owned by artist Ye (a.k.a. Kanye West). This was a time when Ye was making (positive) headlines, and Gap was looking to reach out to younger audiences.
This collaboration proves picking the right partner can make all the difference. This helped Gap connect with a new demographic and gain exposure. Sales went up 12% in North America and the new hoodies were huge hits, giving Gap yet another boost.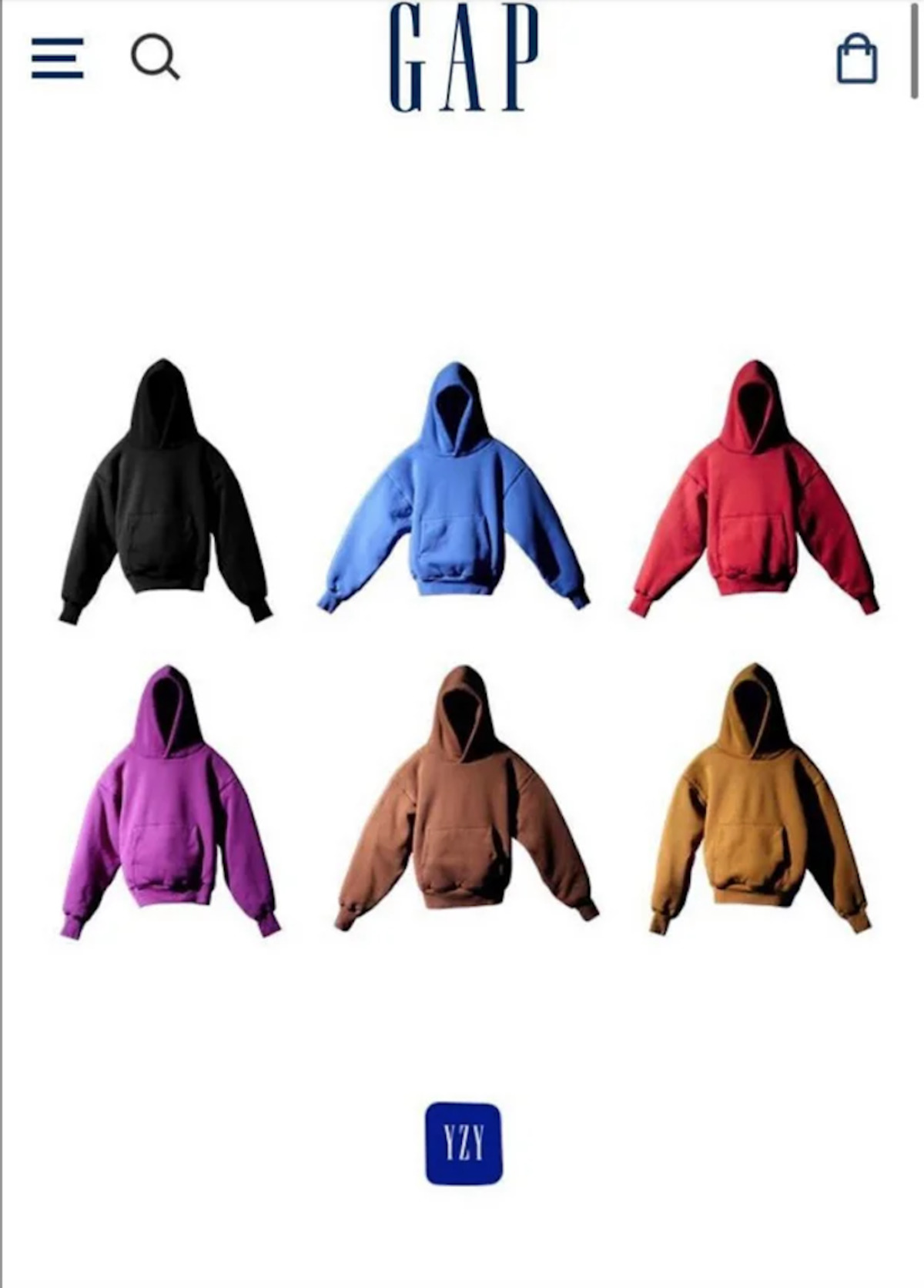 If you want to make the same kind of impact on your own business, research potential partners and see which collaborations could bring the most success. Factor in the other company's target audience, track records, and goals before making any decisions.
Head Toward Personalization
While it's easy for many companies to blast out ads, Gap Inc. has taken a more personal approach to its marketing strategy. Leveraging its proprietary customer data platform (CDP), Gap Inc. creates a unified view of the customer that's then used for marketing purposes.
That means Gap Inc. can personalize ads and messages for each audience segment based on the data it collects. This makes customers feel seen and heard and leads to better conversions as they're more likely to engage with content that's been personalized specifically to them.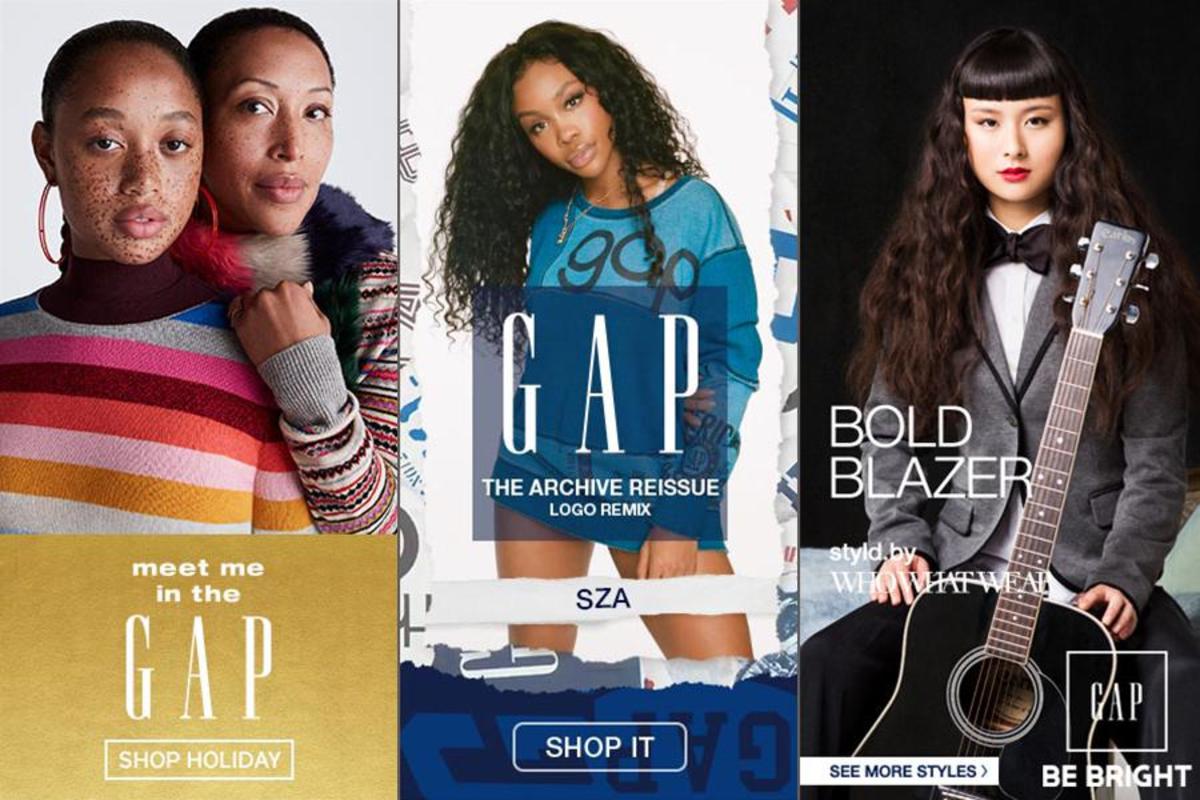 If you want your own venture to succeed, going down the same path is smart. You can begin by collecting data on your customers (i.e., their preferences and past purchases) to build accurate profiles and customize the content you create for them. This will make all the difference when it comes to capturing their interest.
Tell a Purpose-Led Story Through Your Ads
Earlier this year, Gap Inc. released a new ad campaign with fashion designer Dapper Dan to celebrate individuality and self-expression. The 30-second spot featured several champions of positive change for social justice, environmentalism, and women's rights all set to an upbeat soundtrack.
The ad was not only visually stunning, but also conveyed Gap's message of championing individuality and self-expression, emphasizing how everyone should be able to express themselves freely. This isn't Gap hopping on a trend; this is them telling their own story, tracing back to their philosophy of "modern American optimism."
This is only one of several ad campaigns Gap Inc. has put out in recent years, all of which serve to promote inclusivity and a sense of community.
Your advertising efforts should be just as thoughtful and should aim to illustrate your brand's story rather than just sell products. If you can create a compelling narrative that connects with the right audience and reflects your company's values, you'll have no problem engaging potential customers.
Step Back, Reflect, and Adapt
Gap Inc. has been around for decades, and it looks like the company is here to stay. That doesn't mean, however, it's not facing challenges. The company continues to experience stiff competition from other retailers and ongoing shifts in consumer behavior.
Gap Inc. has stayed ahead of the curve by continuously analyzing its performance and adapting to changing customer needs. By taking a step back and reflecting on where it stands within its industry, Gap Inc. pivoted quickly and stayed ahead of the competition.
You should do the same in your own business strategy. Regularly assess how your campaigns are performing, what customers say about you, and which trends are affecting your industry so you can keep up with the times. This way, you can make informed decisions that will help your business grow and succeed over time.
If you need help getting started, contact us. Our team of creative marketers can work with you to create custom campaigns that put your brand's story in the spotlight. Together, we'll ensure your venture stands out from the crowd and reaches its full potential. Click below to download our sample Content Marketing Plan.