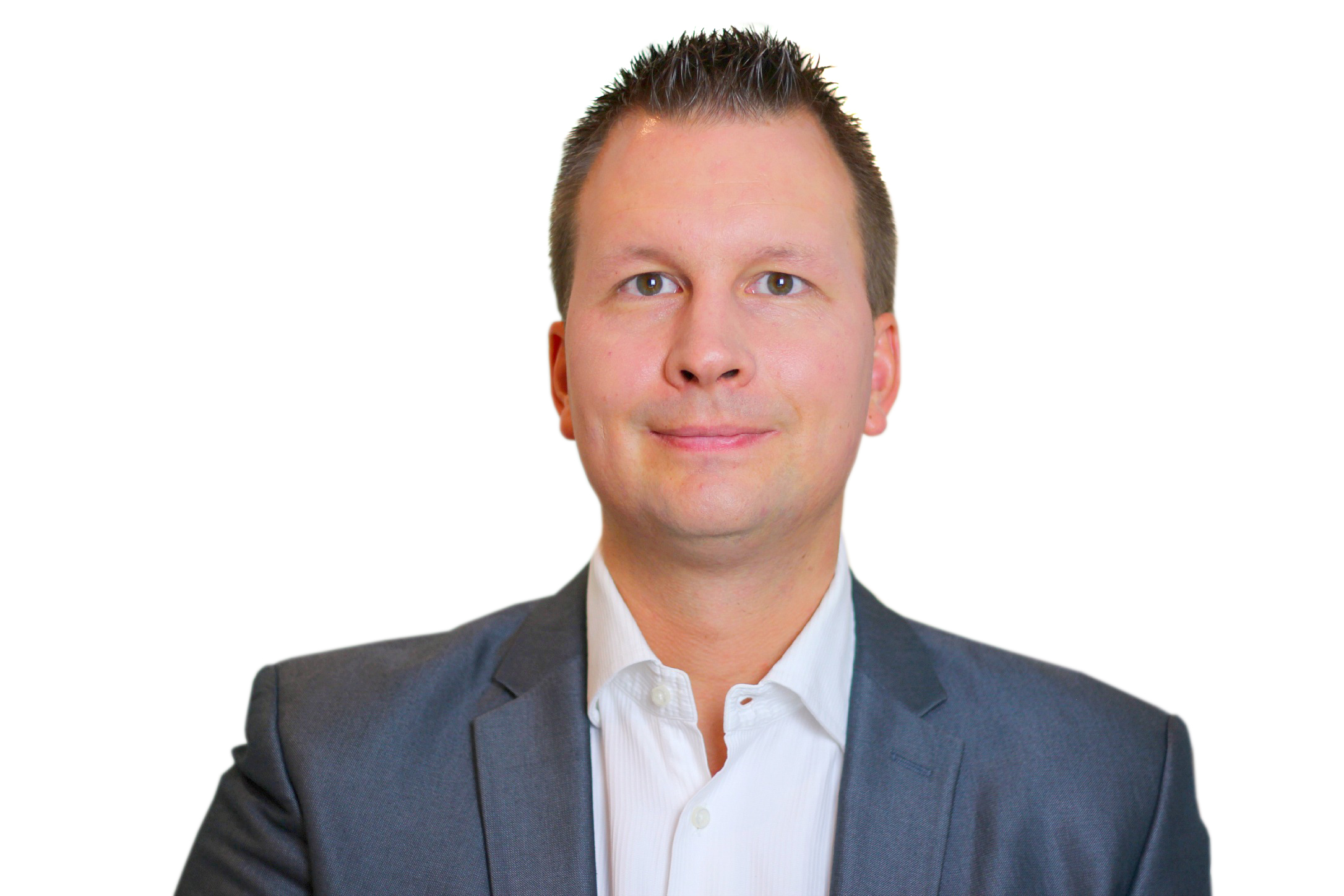 The right time for a business owner to start a video marketing strategy is before they even start the business, says Lasse Rouhiainen, an international authority on video marketing and social media.
Today's consumers are pickier, and they have more choices than ever before, he says. Creating five to seven videos about your business and products before launching can help those authenticity-seeking customers get to know you and your brand better.
"Video marketing offers a perfect way for business owners to show they are authentic and that they stand behind their products and services," Lasse adds.
We recently checked in with the author of Amazon best-selling books 101 Video Marketing Tips and Strategies for Small Businesses and Smart Social Media – Your Guide To Becoming A Highly Paid Social Media Manager to pick his brain about how small businesses can leverage social media and video to build awareness and connect with their audience. 
What's your professional background?
All my life I have been interested in how to use the Internet to communicate more effectively and to help spread marketing messages. Twelve years ago, I worked as a summer intern for a small online travel company, and my responsibility was to generate more traffic to their website. That is how I started studying search engine optimization, website optimization, and other related topics.
In 2007, I started to give small online workshops to entrepreneurs on how they could promote their business using Web 2.0 (there was no such word as social media back then) and video marketing. From that point forward, I began to conduct workshops and to give seminars in different countries.
Today, I present to seminars, business schools, and universities on how to maximize exposure on YouTube, Facebook, and how to implement social media marketing strategies. Some of the countries where I have presented seminars include: United States, Spain, Dubai, Bahrain, Finland, Colombia, Estonia, and Lithuania.
I enjoy discovering and teaching new business and social media trends to businesses worldwide.
What excites you about social media marketing?
This is a great question. Basically, social media has changed everything, and now anyone who knows how to use it can communication his or her message faster, cheaper, and better than ever before.
There are a great number of benefits including more transparency, more trust, less hierarchy, etc., and while it's a huge opportunity for companies today, it also presents real opportunities for any kind of organization and even governments.
To give you one example, in the case of an emergency, Twitter and Facebook play a huge role. In the summer of 2013, there was a bad train crash in Spain (in Santiago de Compostela). A huge number of people were injured, and there was a significant need for blood donors in hospitals. Immediately, Spanish people started to share helpful messages on Twitter and Facebook, and within one hour there was a line of 200 people ready to donate their blood outside of the main hospital. So, in other words, social media can help save lives.
Social media also offers a significant opportunity for all kinds of companies; however, most of them don't invest the time and money to learn the proper strategies as to how to leverage the power of social media.
In addition, social media is in constant flux and is very dynamic. Therefore, there is a great need for creativity and innovation, which makes working with social media an even more enriching experience.
Where does a small business start when setting out to create a social media marketing strategy?
In order to provide you with an all-encompassing answer, I would like to share my four-step framework to create a simple social media strategy. This is perfect for small businesses since it's easy to understand and implement, yet it's extremely powerful when you apply it correctly.
Here is a picture of this framework, which will help you to understand it: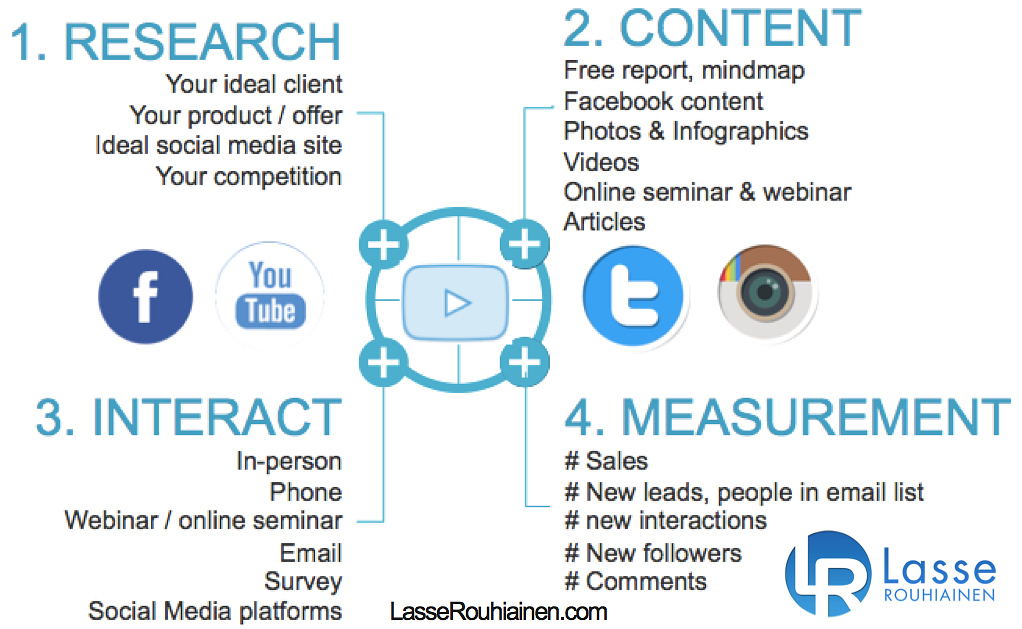 Step 1. Research: The first step is to familiarize yourself a bit with the topic and to identify: Who is your ideal client? What is the product you want to promote, or which campaign do you want to create?
After that, you will identify which social media sites would be more effective for your business. For most small businesses, those are Facebook and YouTube. Instagram is great when your ideal buyer is a woman or when you promote food-related products.
Also, spend some time researching your competition and discover which social media sites they are using.
Step 2. Content: Today's consumers have more product offers than ever before, and they have less confidence in big brands. Therefore, smart companies are creative and generate interesting and relevant content in different forms like mindmaps, infographics, flowcharts, videos, articles, photos, free reports, webinars, etc.
The more content you produce, the closer the potential customer will move towards you.
Step 3. Interact: Interaction and engagement are crucial parts of the buying process. The more we can engage and interact with them, the better, and in response customers will align more closely towards a brand.
Interaction and engagement also help companies to learn more about their ideal buyers' needs and wants and to obtain ideas for generating relevant content for them.
Step 4. Measurement: Make sure to spend enough time analyzing the results and measuring to see whether your campaign objectives have been met or not.
What are the most common mistakes you see companies making with their social media marketing?
Some of the most common ones are:
Starting social media activities without proper education and training.
Not creating a proper social media plan.
Not understanding how to calculate return on investment on social media.
Not understanding the importance of interaction and engagement.
Not understanding how to generate interesting and useful content for your ideal buyers.
Not understanding how to leverage and optimize your performance correctly for each social media platform.
In summary, I would like to add that most successful companies are the ones that adapt to new Internet and technological changes and always follow consumer behavior trends.
For instance, consumers today have a very short attention span, and they prefer interesting content that they can consume with their mobile device.
What brands do you think have the most follow-worthy social media presence right now? What can we learn from them?
Here is a quick list of some of my favorites:
YouTube marketing – SalesForceWhat we can learn: The way they have built their YouTube channel and how they categorize their content.
Twitter – StarbucksWhat we can learn: How they use pictures and interesting content on Twitter.
Across all different social media sites: Samsung MobileWhat we can learn: They conduct excellent campaigns in different parts of the world, and they know how to adapt their campaign to a local culture, which is not an easy job.
How do we measure the success of our social media campaigns? What numbers should we be looking at? What numbers don't matter as much?
There exist several different ways to measure the success of a social media campaign. Let's start with a simple example.
Let's say a local restaurant wants to acquire new customers through Facebook marketing. One of the most effective ways is to create special coupons that Facebook users can print and redeem when visiting the restaurant. Typically a good bonus would be a free dessert or a small discount. In this kind of campaign, the restaurant owner can measure the effectiveness by calculating the number of coupons that were redeemed.
That is a simple way to measure the effectiveness of your campaigns and is suitable for local companies.
On the other hand, when a big corporation starts a social media campaign, it needs to identify the main objectives. For example, it could be to increase the number of followers on Facebook or Twitter, or have a certain number of views or subscribers on YouTube.
Some crucial numbers you need to know include:
What's your cost-per-lead (CPL)
What's your conversion rate (CR)
What's your customer acquisition cost (CAC)
What are your current favorite social media platforms and why? Which ones do you think are overused? Which are underused?
At this moment, Facebook advertising, and especially Facebook remarketing, is extremely effective as well as YouTube advertising.
Most companies are not using Facebook or YouTube advertising, let alone remarketing. Therefore, it's still a bit underpriced, and my estimation is that the advertising cost on both of these platforms will double in price in the next 18 months.
I personally like LinkedIn, particularly because of all the new features they have.
It's a bit hard to say which one is overused, but I see the user numbers of Twitter and Pinterest declining in the next few months. Instagram and SnapChat are platforms that many young consumers actively use, especially in the USA, and these numbers are projected to keep growing.
Most companies and marketers have no idea of the power of instant mobile messaging applications and how they are affecting the way we communicate in the future. Some of the biggest companies in this space include WhatsApp, WeChat, Line, and Viber. The main reason why there is less activity on Twitter and Pinterest is that people's attention is increasingly on their mobile phone, and they don't have time for traditional social media platforms.
Interestingly, Google, Pinterest, and Twitter are all at this moment developing their own instant messaging application in order to compete with WhatsApp and others.
In Latin America and Europe, many small businesses have been able to increase their sales by communicating and receiving orders via WhatsApp.
In the future, most communication will move to these kinds of applications where the communication is much more intimate and there is a higher frequency of messages.
What are some best practices for video marketing?
Typically, I recommend implementing a three-step strategy:

1. Planning:
Who will record your videos?
What device will you use to record the video?
What is your video marketing budget?
Which are the first five videos you will create?
2. Recording:
Make sure you have enough lighting.
Make sure you have a proper audio quality.
Make sure you are not too far away or too close to the camera.
Use a proper background that is related to the topic of your video.
Keep the video short and to the point (under one minute when you start).
3. Promoting:
Create a YouTube channel and upload all of your videos there and optimize them by using keywords in the titles of the videos.
Upload your best videos to Facebook.
Upload your best videos to your website.
Consider testing Facebook video advertising and YouTube advertising.
Measure the effectiveness of your videos by using YouTube insights; this service will indicate which videos are most popular and whether people normally watch your videos to the end.
Furthermore, make sure you learn how to record videos with your smartphone. For example, the new iPhone 6 records videos of excellent quality and allows you to share your videos on social media platforms immediately.
What excites you about the future for how business owners connect with their customer base? What trends or innovations are you most looking forward to?
The communication between customers and business will continue to grow in speed and quality. This is a big opportunity for companies, as there will be several ways to connect with their customers using innovative new strategies.
Right now, I consider instant mobile messaging as the biggest opportunity, as it allows you to communicate directly to customers' mobile phones and to send personalized voice and video messages. In addition, this is an untapped marketing strategy at the moment, and it offers huge possibilities for the companies who are first to apply it.
As to the trends and innovations, wearable computing will create disruption in many industries and offer tremendous opportunities for companies who understand how to leverage it.
Connect with Lasse on Twitter.