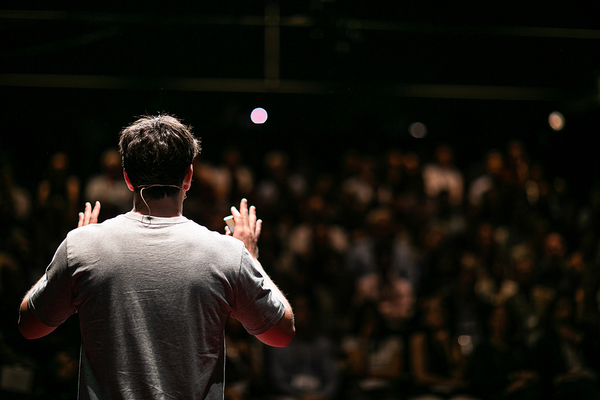 During 2020, opportunities to conference together in person with other professionals were mostly shuttered due to COVID-19. Now plans are in the works for at least some content marketing conferences to be held in person in 2021. It's hard to beat the energy and creative flow of attending an in-person conference. However, with some still hesitant to gather in large groups or travel, there are also virtual options available in many cases. Here are all the details about some of the top content marketing conferences of 2021 and how you can get in on one of these awesome learning and growth opportunities.
Name
Year Founded
Top Speakers
Price
Exp. Attendance
Top Sponsors
Score
Content Marketing World
2011
Luvvie Ajayi Jones
W. Kamau Bell
Christine Carter
Andrew Davis
Pam Didner
Matthew Rayback
Joe Pullizzi
Robert Rose
Virtual Pass $649
Main Conference $1099
All Access $1999
Rates go up after March 26
4,000+
Welcome (NewsCred)
SiteCore
SEMRush
Adobe
Intrado
MarketMuse
vidyard
sprinklr
vyond
Skyword
Netline
Content Marketing Conference
2014
Andrew Tarvin
Karen X Cheng
Nancy Harhut
AJ Wilcox
Lee Odden
Pamela Muldoon
Michael Barber
Tamsen Webster
All virtual, starting at $199
15000
SiteCore
WriterAccess
SpyFu
Digital Current
Catalyst
vidyard
Infuse Media
ceralytics
Inbound
2006
Not announced for 2021, but in 2020:
Jim McKelvey
Christopher O'Donnell
John Legend
Alicia Garza
Scott Belsky
Van Jones
Bob Iger
Starter Pass free
Powerhouse Pass $49
In person, no price given yet
70000
Porshe
LinkedIn
AWS
Slack
Snapchat
Gong
Hungry
Atlassian
The Chopping Block
MozCon
2011
Not announced for 2021, but in 2020:
Sarah Bird
Andy Crestodina
Shannon McGuirk
Robin Lord
Brian Dean
Wil Reynolds
129
2000
97th Floor
Base Search Marketing
CallRail
Crowd Content
Duda
GatherUp
Pages!
B2B Marketing Exchange, Content2Conversion track
2012
Ted Kohnen
Heidi Bullock
Jeanne Hopkins
Ardath Albee
Cara Hogan
Allie Bhutani
Michael Ruby
Standard Pass $495
All-Access Pass $695
500
PFL
Terminus
Drift
Grubhub
SalesForce
UberFlip
Dun & Bradstreet
SurveyMonkey
ConFab
2011
Maggie Anderson
Vidhika Bansal
Anita Cheng
Jeff Eaton
Keri Maijala
Jonathan McFadden
Anna McHugh
Shannon Murphy
Jose Vejarano
$995 through March 26
$1095 after March 26
500
Mailchimp
Atlassian
LinkedIn
Twitter
Shopify
airbnb
PayPal
Adobe
Contenttech Summit (CMI)
2009
Jeff Coyle
Shafqat Islam
Joe Lauzauskas
Wendy Richardson
Robert Rose
Meg Walsh
Alan Zweibel
799
Unknown
NewsCred
mintent
Knovio
MarketMuse
SkyWord
HighSpot
SemRush
Brainrider
1. Content Marketing World, September 28-October 1, Cleveland, Ohio and virtual
The Content Marketing Institute's main conference is in its tenth year and boasts an expected attendance of 4,000+ people. Also, it is not being held until the end of September in Cleveland, Ohio, and there is a virtual option for those who are still skittish about being in a group that large. Furthermore, you will join content marketers from companies like Tyson, Discover, Nestle, Volvo, and even Microsoft and Walmart, making for an exciting learning opportunity. Rating: 5.0
2. Content Marketing Conference, April 27-29, virtual only
This conference launching at the end of April will be entirely virtual but is reasonably priced and includes online access to conference content after it is over. Although it includes keynotes and speakers like any conference would, it is also set up like an online course with certifications for those that complete the content. Rating: 5.0
3. Inbound, October 12-14, Boston, Mass. and virtual
This conference is sponsored by HubSpot and seems to draw a good number of high profile speakers like John Legend and Disney CEO Bob Iger. Organizers are hopeful for an in-person experience by the October date scheduled but are currently only offering virtual tickets online. The free Starter Pass is a way for anyone to participate online but offers limited access. Rating: 4.5
4. MozCon, July 12-14, virtual only
Mozcon is mainly focused on SEO and includes speakers, Q&A, and virtual networking for around 2,000 participants. Several Moz executives are typically speakers, along with other SEO experts. The moderate price of $129 includes access to video content after the conference. Rating: 4.5
5. B2B Marketing Exchange, Content2Conversion, February 22-24, virtual only
The Content2Conversion track of this conference is part of the larger B2B Marketing Exchange conference. It draws about 500 attendees that want to focus on Content Marketing. All aspects of content marketing are covered, along with Lunch and Learn sessions and certification for completing the track successfully. Of course, with the pandemic still raging around the country, this event is virtual this year. Rating: 4.5
6. Confab, May 5-7, virtual only
Confab is focused on content strategy: planning, designing, building, or managing content. Engagement is encouraged through small group watch parties and a Slack workspace that allows conversations to develop. The conference is on the pricy side but is meant for mid to large-sized companies with positions for content providers and strategists. Rating: 4.5
7. ContentTech Summit, June 8-10, virtual only
This conference is also put on by Content Marketing Institute but focuses on the technology side of content. Its stated purpose is "to deliver value to you – the professionals who want to understand the best practices of how to create, manage, deliver, and scale the approach of intelligent content in your business." Rating: 4
Media Shower is committed to providing top notch content marketing services to its customers. For more information on content marketing, download The Content Marketing Calculator. Instantly calculate your Return on Investment.