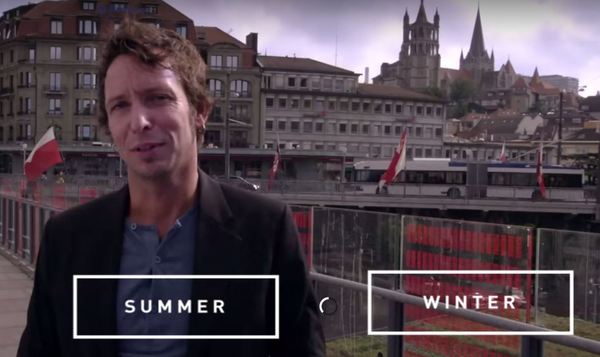 Who doesn't want to make a snow angel in Switzerland?
Interactive media was nearly impossible just a decade ago or so, but now it's taking the internet by storm. Consider an interactive marketing video created for Lausanne, Switzerland. It's part educational, part promotional, and part hilarious.
How Guides Can Engage Customers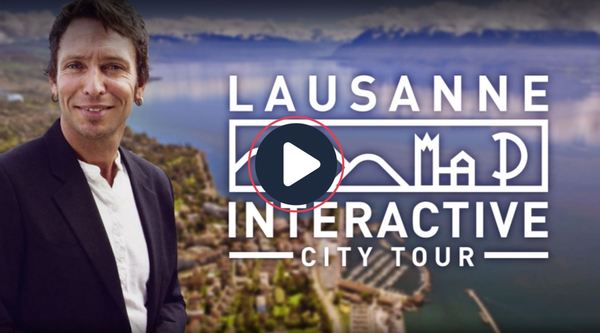 Whether you're promoting a city, a business, a non-profit, or a blog, guides can help viewers feel as though they're part of the action. There's a feeling of inclusivity that results from such guides, especially if they provide insider information that the average person doesn't know.
In years past, we've seen content marketers create guides in all industries, whether they're teaching customers how to work a new product or giving customers tours of their facilities. However, static content isn't nearly as engaging and powerful as interactive content.
Guides and tours allow viewers to experience something they might not get to see otherwise. You can't fly your customers to your manufacturing plant in Boulder Flats, Wyoming, for instance, but you can give an inside tour through the power of video and the internet. Ratchet up the engagement factor with interactive components.
How Interactivity Works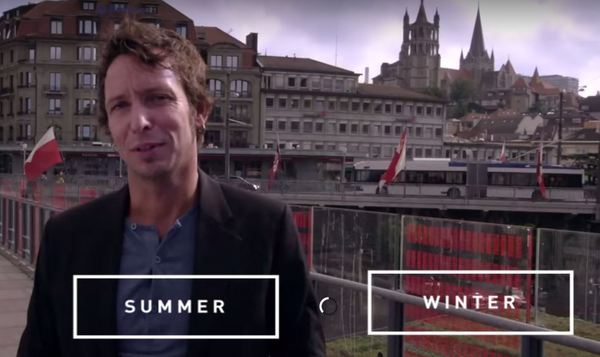 The video begins just like most videos you might watch on YouTube or your favorite blogger's posts. There's an introduction featuring a colorful character who lets you know what you can expect to find in the video and adds a bit of excitement about the subject matter — in this case, a tourist destination.
There's a difference though. At various times throughout the video, the viewer can make a decision. The first one is whether you want information about visiting in the winter or summer. Instead of sitting through information that doesn't interest you, jump directly to the season during which you plan to visit.
Other interactive options appear based on your choice. For instance, after selecting "winter," you get some great video footage with voiceover narration, and then you're asked to choose between indoor and outdoor activities.
The options might seem to pass too quickly, depending on your internet speed, but you'll see two icons at the bottom of your screen that let you go back to the previous decision or move forward to the next. It's a completely customizable experience for the viewer.
How Comedy Can Make Interactive Video Even More Compelling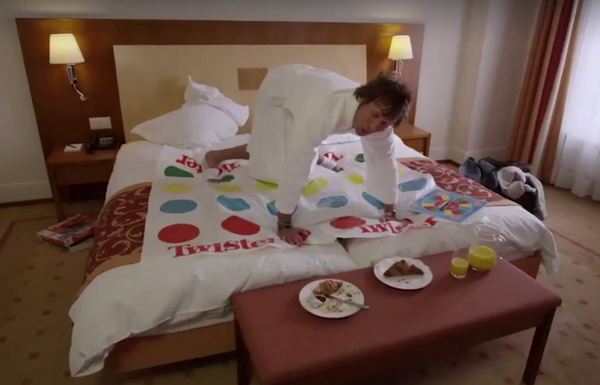 Solo Twister in a hotel room? Why not?
Even the most beautifully shot video won't get many views (or shares) if it's filled with dull content. The makers of the Lausanne video seemed to know this going in, so they made sure to capture plenty of hilarity for the final cut.
Each funny moment compels the viewer to keep watching through various decisions. It's a Choose-Your-Own-Adventure novel for marketing, but with far less harrowing results.
The video's main star is also self-aware, not taking himself seriously even while beautifully illustrating everything Lausanne has to offer.
How You Can Replicate This Method
If you want to bring more visitors to your website, expose your brand to a larger audience, or even get a piece of content to go viral, you might consider developing an interactive video.
What do you need?
A star of the show: Someone should assume the role of actor and guide the user through the experience.
The right tech: You'll need a high-quality video camera to capture stunning images in both live mode and stills.
A development team: It takes serious programming chops to make an interactive video, so this isn't something you should expect to throw together over the weekend.
A brilliant script: The interactivity novelty is already fading, so you need a great script to keep your audience's attention.
We're all about trying new content marketing strategies. What are you waiting for? Get a free trial today and take your own content marketing strategy to the next level.