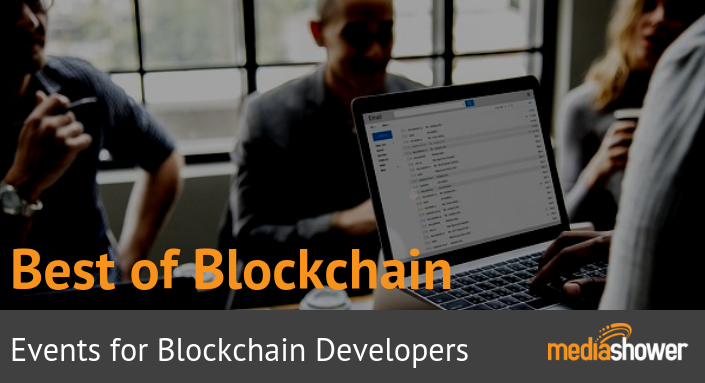 Blockchain conferences, meetups, workshops, and hackathons are great places to learn, network and meet like-minded developers. Whether you are looking to contribute to an open-source project, find co-founders for your own project, or simply want to find out about the latest trends in the industry, there are events for everyone.
We have compiled a list of the best events for blockchain developers to help you find the most interesting blockchain events in the cities closest to you.
Name
Description
Date
Price
Expected Attendees
Twitter Followers
Developer Focus
Score
Consensus 2019 – New York, US
Hosted in New York, Consensus is the biggest annual conference for cryptocurrency and blockchain technology. Since 2015, Consensus has attracted blockchain startups, corporations, banks, developers, academics, and investors to engage in discussions about the future of the blockchain industry.
May 13-15, 2019
$699 to $1,599
10,000
784,000
3
4
Dutchchain Hackathon – Groningen, NL
Hosted in Groningen, the Dutchchain Hackathon will see 700 pioneers from across the globe to "hack away" on new blockchain solutions to win a prize worth €100,000. The hackathon is supported by the Dutch government and regulators and serves as a breeding ground for innovative new blockchain solutions.
April 11-15, 2019
Free
700
1,789
4
4
Crypto Valley Conference on Blockchain Technology – Zug, CH
Hosted in Zug, the Crypto Valley Conference is one of Switzerland's biggest blockchain conferences that will see leading scholars, researchers, developers, CEOs, CTOs, lawyers and government officials discuss topics such as technology, economics and finance, to law and regulations. The event will also include workshops and tutorials that are particularly interesting for developers.
June 24-26, 2019
$400
1,200
7,556
4
3.5
Magical Crypto Conference – New York, US
Hosted in New York, the Magical Crypto Conference features two days, two stages and 40+ speakers from all across the globe. With the "who's who" of Bitcoin in the speakers line up, including Adam Back, Peter Todd, and Charlie Lee, attendees will walk away having learned something new about bitcoin and the future of the decentralized economy.
May 11-12, 2019
$330 to $520
1,000
19,200
3
3.5
Decentralized 2019 – Athens, GR
Hosted in Athens, the third edition of the annual Decentralized conference presented by the University of Nicosia will see over 1,500 attendees listen to talks and discussions about all things crypto and blockchain from the likes of blockchain investor Tim Draper, Abra's Bill Barhydt, and crypto trader Tone Vays.
30 Oct – 1 Nov, 2019
$160 to $330
1,500
1,474
3
3.5
Scaling Bitcoin – Tel Aviv, IL
Hosted in Tel Aviv, Scaling Bitcoin is one of the most popular bitcoin conferences in the world. The event is a workshop for members of the engineering and academic community who want to contribute to the scaling of the Bitcoin network. For a developer interesting in coding on the Bitcoin protocol, this event is a must-attend.
September 11-12. 2019
tbc
?
7,770
5
3.5
Vegas Blockchain Week – Las Vegas, US
Hosted in Las Vegas, the Vegas Blockchain Week 2019 will entail thousands of digital currency and blockchain technology enthusiasts coming together to discuss opportunities, innovation, growth in this emerging technological field. This massive event can be an excellent opportunity to learn about the most pressing issues in the industry and to meet like-minded developers.
October 25-31, 2019
$1,797
7,000
6,843
3
3.5
Breaking Bitcoin – Amsterdam, NL
Hosted in Amsterdam, Breaking Bitcoin is a conference "for the technical community focusing on the security of Bitcoin and everything around it." Talks and presentations will be highly technical and will focus on vulnerabilities and potential attacks on the Bitcoin protocol.
June 8-9, 2019
$55 to $550
?
3,162
5
3.5
CryptoCon Vol2 – Hash Talk + Hackathon – Berlin, GER
Hosted in Berlin, CryptoCon Vol.2 is a series of events designed to spark discussion about blockchain technology and the decentralized economy. The event will entail talks, discussions, and a two-day hackathon where developers will work together to built blockchains applications.
May 17-19, 2019
$45
200
1,851
5
3.5
ETHCapeTown – Cape Town, SA
Hosted in Cape Town, ETHCapeTown is Africa's first ETHGlobal hackathon that will see local and international developers "hack away" on Ethereum-based blockchain solutions for three days.
April 19-21, 2019
Free
200
539
5
3.5
Blockchain London Summit – London, UK
Hosted in London, the Blockchain Summit is one of the largest blockchain conferences in the world with over 5,000 expected attendees. This event is more targeted at the corporate crowd but could be interesting for developers who want to build B2B solutions based on blockchain technology as the conference will make it clear what businesses are looking for from the blockchain revolution.
June 26-27, 2019
$400 to $550
5,000
1,028
3
3
Bitcoin 2019 – San Francisco, US
"Hosted in San Francisco, Bitcoin 2019 is one of the large Bitcoin conferences in the world. Speakers will include the likes of Blockstream's Andrew Poelstra, Bitcoin Magazine's Aaron
van Wirdum, and Morgan Creek's Anthony Pompliano. The conference will also entail a number of workshops and a hackathon. "
June 25-26, 2019
$100 to $299
?
1,043
4
3
HackPrague – Prague, CZ
Hosted in Prague, the HackPrague hackathon will provide a platform for blockchain developers to code innovative new distributed ledger technology-based solutions. There are a number of cash prizes available for the best solutions that will be built.
May 4-5, 2019
Free
?
n.a.
5
3
International Cryptographic Module Conference – Vancouver, CA
Hosted in Vancouver, the International Cryptographic Module Conference is the leading annual event for commercial cryptography. At ICMC19 in Vancouver, over 500 attendees will come together to address the challenges faced by those who develop, produce, test, specify, and use cryptographic modules.
May 14-17, 2019
$920 to $1,150
500
601
5
3
BitBlockBoom – Addison, US
Hosted in Addison, the BitBlockBoom conference is an event for Bitcoin maximalists who want to learn more about the latest events, trends, and developments surrounding the Bitcoin protocol. Speakers will include notable figures in the bitcoin community, including Jimmz Song, Saifedean Ammous, and Tone Vays.
August 17-18, 2019
$99 to $750
125
n.a.
3
2.5
Rebuild 2019: Genesis – Toronto, CA
Hosted in Toronto, the Rebuild 2019 conference will address one of the most important issues of our time – technology and its effects on society. International thought leaders, leading investors, journalist, authors and academia will discuss topics centered around the internet, the problems it creates, and new advances in blockchain technology aimed at solving these issues.
April 23-24, 2019
$34 to $237/td>
?
122
3
2.5
Unchain – Berlin, GER
Hosted in Berlin, the UNCHAIN convention is a two-day event featuring a number of leading blockchain entrepreneurs and developers. The conference's goal is to connect expert with industry players from across to globe to explore the potential of the decentralized economy of tomorrow.
June 14-15, 2019
$675
500
239
3
2.5
Nextrope Lab London: BLOCKCHAIN IN PRACTISE – London, UK
Hosted in London, the Nextrope Lab event will deliver a two-day blockchain development crash course with a focus on the Ethereum network. This workshop is excellent for developers who want to learn how to build Dapps on the Ethereum blockchain.
May 25-26, 2019
$1,650
20
31
5
2
If you are looking to market your blockchain venture online, contact us for more information on how Media Shower can help you with your blockchain marketing campaign.