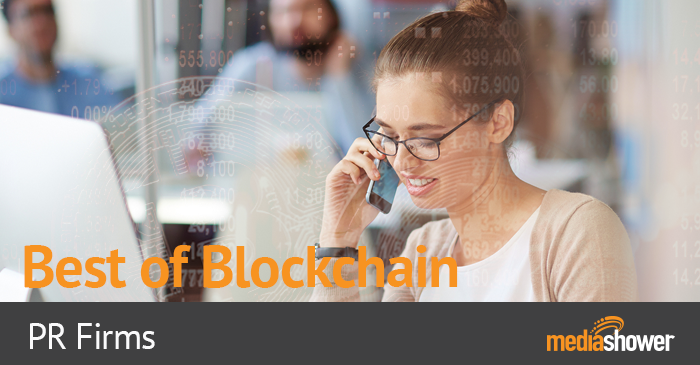 Finding the best blockchain public relations agency for your project is hard work, but we've done the research for you. We've researched and curated a complete list of the best blockchain PR agencies around the world to help you find the best fit. Our custom scoring system ranks PR firms on a 0 to 5 point scale based on a number of categories that indicate trust, transparency, and experience in the blockchain industry.
Name
Description
Year Established
Notable Clients
Key Services
Number of Employees
Social Following
Score
Melrose PR
Melrose PR was established in 2012 and is a blockchain and cryptocurrency-focused marketing and PR firm located in Silicon Beach, California. The company focuses on long-term strategy, leveraging industry relationships to raise client visibility to media magnates and blockchain enthusiasts. They define their job as getting the right people to talk to their clients.
2012
Bancor, Blockdaemon, Open Finance Network, Cypherium, Blackmoon Crypto, Plouton Mining
Public relations
Social media marketing
Copywriting
Content marketing
Community management
Communications strategy
9
LinkedIn: 395
Facebook: 3,222
Twitter: 3,389
3.5
Red Lorry Yellow Lorry
We're an ambitious global agency delivering b2b tech PR, marketing and customer communications. A top 15 PR Week tech PR agency with 20% year-on-year growth. We're successful because we focus top talent into knowledgeable, industry-specialist teams. We deliver quality work – creating one brand story and experience, in one tone of voice. And because of this, our people and our clients stay with us long term.
2000
ArcServe, ConsenSys, LogMeln, Falcon.io
Public Relations
Media Relations
Customer Experience
PPC Advertising
Social Advertising
Digital Marketing Strategy
Internal Communications
Content Marketing
35
LinkedIn: 1,604
Twitter: 1,629
3.5
Spark
Spark PR has been around since 1999 and has worked with startups to Fortune 1,000 companies. Spark PR specializes in helping tech-focused and innovation-oriented companies transform their brands by bringing their unique brand stories to life. The company offers a full range of public relations and integrated marketing programs to clients.
1999
Veniam, Endless, Zebit, RightMesh, Simple Token, Civic, Blumberg Capital
Public relations
Marketing strategy
Measurement & analytics
Paid media
Influencer marketing
64
LinkedIn: 5,703
Facebook: 2,398
Twitter: 4,198
4
Wachsman
Founded in 2015, Wachsman provides the most innovative blockchain and cryptocurrency organizations with public relations strategies that help them engage global audiences. The company helps established clients better understand the emerging cryptocurrency landscape and how they can put the transformative power of blockchain to work for them.
2015
Blockstack, etoro, Cardano, Dash, Chainlink, Coindesk, Bitcoin Suisse AG, Crypto Vallet, Steemit, Lisk, aelf
Media relations
Consulting
Crisis communications
Event production
59
LinkedIn: 10,688
Facebook: 20
Twitter: 3,305
4.5
pmbc group
The PMBC Group is based in Los Angeles and serves clients throughout the world. The company acts as an extension of client teams, helping develop and execute results-driven PR campaigns with the goal of elevating business profiles, attracting investment, establishing credibility, and increasing brand awareness. Financial technology, blockchain, and cryptocurrency are particular areas of expertise.
2012
BitcoinIRA, Dash, Sagewise, Minkasu, simplehuman, Minkonet, ibotta
Analyst relations
Competitive market analysis
Event management
Measurement & analytics
Media training
Crisis communications
Copywriting
Social media marketing
Awards & speaking programs
Speech writing
Trade show support

9
LinkedIn: 874
Facebook: 1,509
Twitter: 8,208

3.5
5W PR
5W PR was founded in 2003 and has produced award-winning recognition for clients, earning awards including PR Agency of the Year, Digital / Social Media Campaign of the Year, Product Launch of the Year, and B2B Program of the Year. Trade magazines in the PR industry consistently rank 5W as one of the 15 top independent PR firms in the US.
2003
CareerBuilder
CommerceHub
eMoney
Epicor
SEMRush
Mint Mobile
Topps
L'Oreal
Public relations
Integrated marketing
Strategic planning
Event management
Reputation management
Celebrity & influencer marketing
Social media marketing
299
LinkedIn: 34,101
Facebook: 4,280
Twitter: 13,750
4
Affect
Established in 2002, Affect specializes in technology, healthcare, and professional services. The company combines a top team with cutting-edge thinking, creative ideas, and hard work, with the goal of providing exceptional services and measurable results for clients. With offices in New York City and Boston, Affect tailors services to meet PR needs for businesses of all sizes.
2002
ADP
Balihoo
Coinback
Outbrain
Quest Diagnostics
College Board

Public Relations
Social Media Marketing
21
LinkedIn: 5,039
Facebook: 1,445
Twitter: 2,460
2.5
Ditto PR
Ditto PR is a communications company focusing on strategy, execution, and impact. The company provides a 360-degree approach to communications including digital, media influencer engagement, and local engagement to solve client problems. Ditto PR, which was established in 2012, has offices in Brooklyn and San Francisco and specializes in education, technology, and financial communications.
2012
Coinlist
Monero
Omega One
current
TrustToken
Chronicled
SynapseAI
Urbit
True Coin

Public relations
Influencer marketing
Local marketing
22
Linkedin: 404
Facebook: 1,057
Twitter: 1,106
3
Inbound Junction
Inbound Junction has been around since 2014 and is an internet marketing company specializing in content marketing, branding, and public relations. The company strives to promote client brands and businesses and connect with customers and potential customers through greater brand awareness. The company's team consists of former journalists, editors, content strategists, PPC specialists, and CMOs.
2014
Ceek
Cool Cousin
Decentraland
Fusion
Gladius
NEO
Qtum
Public relations
SEO
Link Building
Reputation management
Influencer marketing
Blog management
26
Linkedin: 408
Facebook: 125
Twitter: 1,502
3
Market Across
Since 2013, Market Across has specialized in digital marketing for blockchain and financial technology clients. Market Across builds brand marketing solutions to help clients attract worldwide attention. One of few performance-based ICO marketing firms in the world, the company is only paid when they reach KPIs and secure media coverage for their clients.
2013
Bancor
RSK
Consensys
BitTorrent
aelf
etoto
Crypto.com
Tron
Public relations
SEO
Reputation management
Blog management
15
Linkedin: 257
Facebook: 49
Twitter: 284
2.5
Uproar PR
Uproar PR believes in cultivating creativity to deliver results. The Uproar PR team consists of young professional trend spotters, social media addicts, and media gurus. Each team member brings a unique perspective to the table and is ready to provide custom client services. Uproar PR has offices in Toronto, Orlando, Chicago, and New York.
2011
Jasco
HNM Global Logistics
HyperIce
Monticello Vineyards
Media relations
Social media marketing
Thought leadership
Digital marketing
47
Linkedin: 2,940
Facebook: 2,448
Twitter: 1,513
3
KCD PR
KCD Public Relations Inc. is California's top-ranked financial PR firm. Since 2009 the company has provided public relations, marketing communications, and social media strategy consultation to clients in the financial, financial technology, cybersecurity, high-tech, and professional services industries. KCD PR is located in San Diego and is passionate about results, innovation, and creativity.
2009
Cobinhood
Noble Gold
Noble Bitcoin
Public relations
Integrated marketing
Crisis communications
Media Relations
Content marketing
Video marketing
Media training
8
Linkedin: 2,328
Facebook: 559
Twitter: 1,433
2.5
Transform Group
Transform Group LLC is a premiere blockchain and ICO PR and advisory firm and has served over 150 different blockchain accounts since its founding in 2013. The company serves clients from all over the world and has strong domain expertise in high tech, financial technology, media / entertainment, consumer electronics, gaming, and consumer goods.
2013
Dash
Ethereum
Augur
Jaxx
Qtum
Neo
Ripple
Public relations
Consulting
12
Linkedin: 527
Facebook: 128
Twitter: 17,251
2.5
Belkin Marketing
Belkin Marketing is a global digital marketing agency that has been in business since 2007. The company provides market, search, and media strategy services, SMM and experience marketing, as well as content marketing and lead generation. Located in San Diego, Belkin Marketing currently has three offices: in San Diego, Moscow, and Hong Kong.
2007
Etherecash
Healthureum
Humaniq
Auditchain
Neurogress
Public relations
Website creation
Whitepaper development
Link building
Community management
Media relations
4
Linkedin: 84

2
Blazon PR
Since 2015, Blazon PR has been a premium digital crowdfunding agency for hardware, product, and ICO launches. The company believes in open, honest, and transparent business and communications and specializes in crowdfunding campaigns, ICOs, robotics, blockchain technology and equity crowdfunding campaigns. Clients have raised tens to hundreds of millions in aggregate in crowdfunding.
2015
Fiinu Bank

Public relations
Digital advertising
Copywriting
Influencer marketing
9
LinkedIn: 192
Facebook: 1,610
Twitter: 2,704
2
Chatsworth Communications
Founded in 2005, Chatsworth Communications has built a reputation on its public relations and strategic communications services in the financial services and financial technology sectors. The company's mission is to build the reputation of its clients and its own together. Chatsworth Communications was founded by a former executive at Barclays and Huntsworth.
2005
R3
LiquidityEdge
limeglass
Innovate Finance
Swift
Public relations
Reputation management
17
LinkedIn: 940
Facebook: 13
2.5
Stature PR
Stature PR's Corporate and Financial division specializes in public, media, and investor relations for private and publicly listed firms. Since 2012, the company has used its expertise in financial markets, regulatory framework, and blockchain to design and deliver media and communications strategies for companies both stateside and around the world.
2012
Playkey
Bitcoin Live
Block Bid
Monese
International public relations
Influencer marketing
Event management
Social media marketing
Crisis communications
Market research
11
LinkedIn: 592
Facebook: 662
Twitter: 1,197
2.5
Cryptoland PR
Cryptoland PR, established in 2016, actively formulates ongoing strategies and skills necessary to capitalize on changes in user media consumption and creating new partnerships to prepare the content and distribution to engage them. With clients including Blockchain, Bitpay, and Brickcoin, Cryptoland PR embraces the decentralization that goes with blockchain technology.
2016
Shapeshift
BABB
Brickcoin
Patientory
ShoCard
Street Diligence
Public relations
Messaging development
Community management
Influencer marketing
6
LinkedIn: 179
Facebook: 158
Twitter: 823
2
Key Difference Media
Key Difference Media was started in 2008 and states its purpose as serving companies by helping them gain more visibility so they can provide their services and products to the maximum number of people who need them. They offer a 360-degree approach to ICO marketing and have been featured in publications like Bitcoin.com, The Times of India, and The Economic Times.
2008
Eterecash
Healthureum
Polyswarm
QuickX
Trustlogics
Public relations
Consulting
Content marketing
Influencer marketing
Media buying
Conversion optimization
88
LinkedIn: 375
Facebook: 959
2.5
Digital Finance Agency
Digital Finance Agency was established in 2017 and supports ICOs with PR and marketing services in financial technology. The company helps clients create strong media relations, integrate into the digital community, attract new investors, and communicate with users and potential users about new products and services.
2017
Waves
PayOnline
ZrCoin
Starta
Fondy
Wirex
Public relations
Media buying
Bounty programs
3
LinkedIn: 14 Facebook: 989

2
TokenSuite
TokenSuite helps startups in the blockchain technology world build their community and shape their marketing with innovative strategies. The company, established in 2017, has helped startups collect over $200 million and has helped some clients gain more than 1000% in value. Located in Ankara, Turkey, TokenSuite offers a range of services including web design, social media, and press coverage.
2017
Betex
Debitum Network
Galaxy eSolutions
Morpheus Infrastructure
Saifu
Sapien
Pulbic relations
Community management
Influencer marketing
Bounty programs
Design
14
LInkedIn: 211
Twitter: 120
2
Searched
Searched is a digital growth agency started by entrepreneurs who want to build and create. The company, which has been around since 2017, helps a select group of clients pursue and achieve online success. They specialize in blockchain markets, working with ICOs, pre- and post-raise, and ensuring successful growth both short term and long term.
2017
Decentraland
Blockfi
Airswap
Cobowallet
Coin Launcher
Play2live
Blockbid
Bitcoin Live
Public relations
SEO
Branding
Design
Influencer marketing
5
LinkedIn: 57
Facebook: 29
Twitter: 307
2
Fusion PR
Fusion Public Relations has been in business since 2017 and helps clients build and feature in bigger stories in top-tier media, including broadcast and tech blogs. The firm's Token Boost program combines technology, smart contract development, strategy, marketing, communications, and content services to maximize the success of client ICOs.
2017
Dragon & Dragon Global
Chips
Blocksafe
Myntum
Hashchain
Paxful
Maccabee Coin
Public relations
Content marketing
Influencer marketing
Social media marketing
24
LinkedIn: 1,083
Facebook: 286
Twitter: 469
2.5
CoinPoint
CoinPoint is a knowledge and services agency focused on catering the blockchain, fintech, and cryptocurrency markets around the world. Established in 2013, the company has built a global network of partners, suppliers and clients in multiple sectors to provide all needed services in the market.
2013
Augmentors
BetterBetting
CalvinAyre.com
Crypto Tickets
Cubits
Dreamland Casino.com
Eroscoin
Happistar
Pluscoin
SoftSwiss Casino Software

Consulting
Content Marketing
PR
Cyber Security
Digital advertising
Email marketing
Inbound marketing
3
LinkedIn: 595
Facebook: 568
Twitter: 463
2

To request an update to your listing or a review of your firm for inclusion, please contact us.