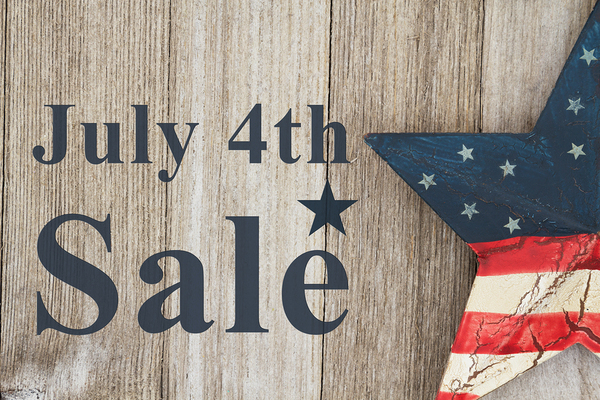 From red, white, and blue-themed product promotions to YouTube videos that celebrate American values, companies from all industries have let loose their patriotic spirits this 4th of July season. Perhaps we can all learn from their content marketing efforts.
1. "Like a Roomba For Your Barbecue"
Some of the best 4th of July marketing is subtle. It captures a moment that reminds us of Independence Day, such as lighting sparklers with the kids, or it hits on a pain point, like the arduous task of cleaning a grill after slaving over 400 hamburgers at the neighborhood block party.
The above video from TechInsider offers a subtle advertisement for the Grillbot, which the video claims is "like a Roomba for your barbecue." The animated gadget is fun to watch, and TechInsider used 4th of July hashtags to promote the video on social media.
If your product or service can solve a problem related to Independence Day festivities, consider creating some content that highlights those benefits. You never know what will catch on.
2. "4th of July By the Numbers"
This year, WalletHub decided to celebrate the 4th of July the good old fashioned way: With solid content marketing. the website created a gorgeous infographic that dumps heaps of information in the viewer's lap, from the number of Americans who own an American flag (65 percent of them) to the number of hot dogs consumed each Independence Day weekend (an impressive 150 million).
You don't have to create a detailed infographic or an elaborate video to take advantage of 4th of July marketing. At this time of year, people are searching for information about our Founding Fathers and other data related to our nation's independence.
They're curious about local fireworks displays and other events, so consider delivering this information so that it's discoverable. Don't forget to add a CTA at the end of the content to tie it to whatever product or service you're promoting.
3. "Red, White & July"
Aki-Home.com, a lifestyle retail website, created a unique 4th of July commercial called "Red, White & July," and used a custom hashtag (#MyAkiStyle) to promote its rewards program. The voiceover urges customers to hurry to the store before summer fades into fall and ends in an explosion of fireworks.
Most importantly, the commercial advertises considerable savings for #MyAkiStyle reward members. This creates a feeling of inclusion for consumers while using Independence Day to fuel sales and to advertise huge discounts.
4. "Spinning in Confusion"
You can always count on Sears to add a dose of humor to its holiday promotions. In this 4th of July commercial, Sears uses a creepy but comical voiceover to speak to Theresa, whose washing machine has just spun its last cycle.
If you can make your readers or viewers laugh, you'll know you've hit a content marketing home run. People love to laugh, especially during holiday celebrations, and the giddiness that summer often brings makes quirky content particularly on-theme.
Did you create special content for this 4th of July? Will you use some of these strategies next year? If you want to create content for all seasons, we're here to help. Our writers are experts at building on themes and bringing content to life through the lens of holiday cheer, no matter the season. Get a free trial to see the magic happen right before your eyes.
Oh, and if you're setting off fireworks this year, don't forget your safety gear. Happy 4th of July from Media Shower!