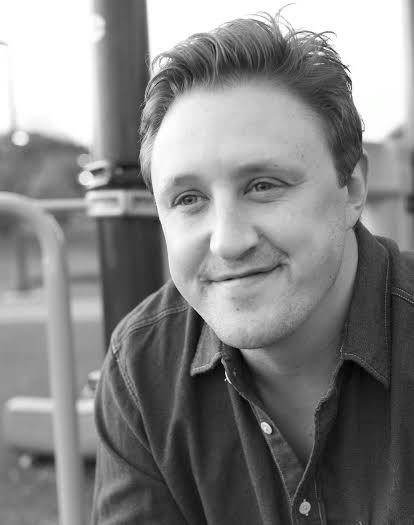 When it comes to creating web content that people will not only read, but also share with their friends, Adrian Kulp stay-at-home dad and blogger says being genuine and mindful of people's attention span will get you far.
"Aside from being relatable, honest and occasionally provocative, you need to find that sweet-spot in length," he says. "If writing is your medium, remember that people don't want to read pages and pages of text, keep it under 1,000 words and don't be afraid to use pictures to get your point across or put emphasis on something you wrote."
Adrian is the voice behind Dad or Alive, a blog on which he documents all the trials, tribulations, calamity and hilarity that surround life at home with his three young children.
Here, he discusses his transition from a successful career in comedy to being the primary care provider for his kids and offers insight on how to grow your audience.
Hi, Adrian! Can you tell us the story behind your site Dad or Alive? When and why did you start it?
I started Dad or Alive back in the summer of 2010.
For nearly 12 years, I worked in different facets of the comedy world in Los Angeles. In the beginning of my career, I landed a job as an assistant at a talent & literary agency and quickly became a junior booking agent, putting comics in different colleges, comedy clubs and corporate settings around the country.
I later went on to work for Adam Sandler's Happy Madison Productions and after almost eight years with him, left as a VP of TV Development. While there, I concurrently booked all the comedians on "The Late Late Show with Craig Ferguson" on CBS for almost two years.
My last official executive position was serving as VP of TV Development for Chelsea Handler's Borderline Amazing Productions until my contract expired in early 2010.
I found myself transitioning from the fast lane to the WAY slow lane … staying at home with daughter, Ava, while she was only 10 weeks old.
At first, I started my blog, Dad or Alive, solely as a creative outlet. It was a way for me to combine comedy and real-life parenting experiences into something that might generate a laugh.
To my surprise, I found much more. I found that I wasn't alone. There was an extremely large contingent of working and stay-at-home parents who found solace and laughter in trading uplifting moments and epic nightmares.
A little over four years later, I'm still a full-time stay-at-home dad, however, we've increased in numbers. Ava is 4½, Charlie is 2½ and Mason is 10 weeks old.
Who should be reading it?
Over the years many people have told me that my content is the perfect form of birth control for those who might be on the fence about having kids … wink, wink! But seriously, any expectant parents would find a mix of truth, advice and humor in my personal stories. I also feel like anyone who is a mom or dad can certainly commiserate with our day-to-day adventures.
What's your sanity level these days? Any new tales of child-induced calamity you can to share?
I like to think that I'm a roller coaster of emotions throughout any given day. Sounds appealing, right?
With two toddlers, life has been unpredictable for some time. Now that we've added a third to the mix a few weeks ago, I fear for any shred of sanity I might've been holding on to.
Most recently, I shared with my readers how our newborn, Mason, came to be, in"Of Course You Can't Get Pregnant Standing Up," which was also picked up and published on the front page of Parenting.com.
What's been the most difficult part of your transition from working dad to stay-at-home dad?
I had an extremely difficult time making the transition.
I don't regret any decisions that my wife and I have made together as parents and I certainly don't regret having the opportunity to be with my kids as much as I am, but in the beginning, I was a bit depressed.
My pride, self-esteem and self-confidence all took a hit.
In creating Dad or Alive and being persistent with my honest appraisals of everyday life, I began to build an audience and a handful of them have even become great online friends.
Based on my blogs, I was able to secure an agent, as well as a publishing deal with Penguin and my first book, "Dad or Alive: Confessions of An Unexpected Stay-at-Home Dad" was recently released this past year.
I also managed to begin writing for The Huffington Post and last summer, produced "Modern Dad's" for A&E, a reality TV series based on four SAHD's in Austin, Texas.
In addition, my blog has a TV/Film option with Sony Pictures TV and Happy Madison Productions, I recently spoke at Dad Summit 2.0 in New Orleans and continue to work on several sponsored campaigns with major retailers across the country, including Target, where I serve as one of their "Inner Circle" members.
Somehow I've managed to not only spend every day with my kids, but also build a business and brand in the interim … and get back to work.
My biggest struggle now, is finding time to sleep.
What's surprised you the most about staying at home with the kids?
Without knowing it, my kids have helped me work on myself. They've taught me how to have more patience and slow down to enjoy life. They put a smile on my face every single day.
So what do you to set your site apart from other mommy … errr … daddy blogs?
I don't know that I've ever intentionally done anything to set myself apart from any other parenting blogs.
From the beginning, I've always been 99 percent honest about almost everything in my life as it happens. I think people like that. Some days are like dancing through the meadow with the wind in your hair and a smile on your face, while others feel like my train has derailed and I'm stumbling around on fire, screaming for someone, ANYONE, to pour water on me.
I think that's what people want to hear.
You believe that the majority of your audience isn't other dads, but rather moms – why do you think moms are drawn to your site?
I don't want to get all 'Google Analytical' on you, but I would go as far as saying that almost 70 percent of my audience is female.
I'm not sure why that is. I mean, I have a theory, but that's all it is.
I think that while the amount of "work-at-home dads" and "stay-at-home dads" is on the rise, the "majority" of stay-at-home parents are moms. I think they truly enjoy hearing a dad's perspective on assuming the primary caregiver role.
I think they like to see me squirm every now and again, but also share in the smiles that are around every corner.
What have you done to grow the audience on Dad or Alive?
I've really made my best effort to take advantage of every opportunity. Maintaining a presence on social channels like Facebook, Twitter, Instagram,Pinterest, Google+, LinkedIn and YouTube is important, as is interacting with others on those platforms.
I also weigh the benefits of writing guest pieces for sites that might have a larger following than me, especially if they cross genres – it's exposure to a whole new audience.
Finally, I've taken on quite a bit of branded content in the last six months. If you can find a way to integrate companies into your normal storytelling, you stand to benefit both financially and hopefully tap into consumers that are loyal to those brands.