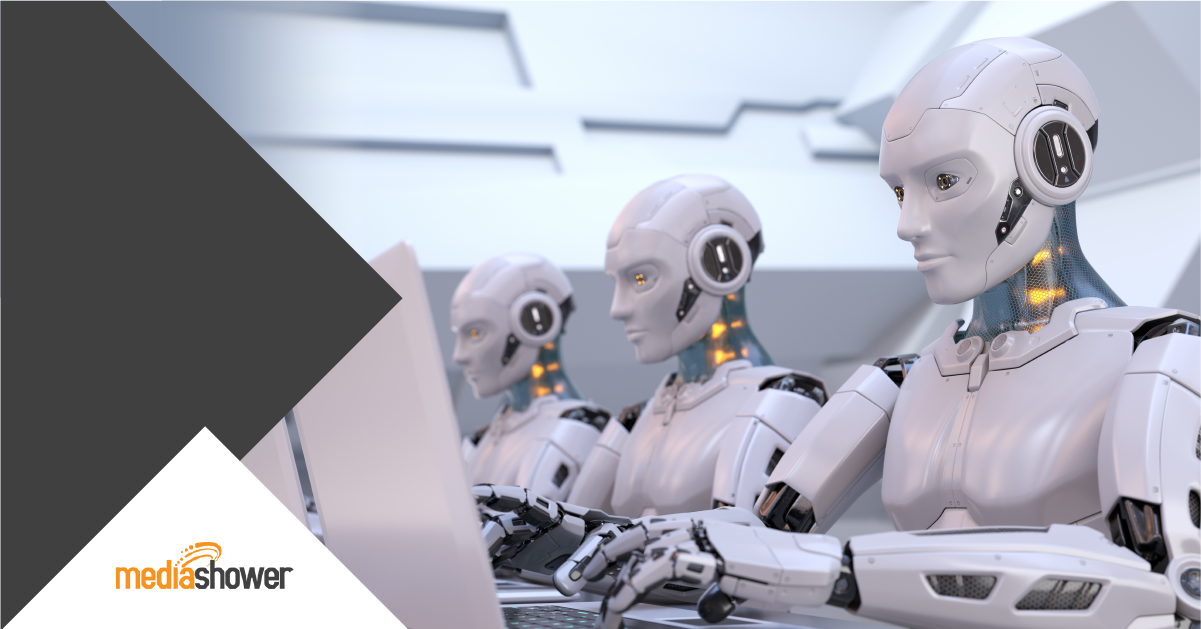 The advent of artificial intelligence (AI) in content writing is something many scholars and academics never thought could happen. How is it possible that a computer could write like a human? As machine learning has developed over time, however, it has become possible for computers to "learn" how humans write and to replicate that without any actual human input beyond previously written source material.
Using AI content writing services, it is possible to feed a tool some introductory information and receive a full blog post, whitepaper, or other form of content to use in your business. Here are some of the top AI content writing services available today, rated and reviewed for your consideration.
| Name | Domain Authority (from AHREFs) | Ranking Keywords (from AHREFs) | LinkedIn Followers | Twitter Followers | # Linking Domains (from AHREFs) | Online Customer Reviews | Score |
| --- | --- | --- | --- | --- | --- | --- | --- |
| Media Shower | 60 | 242,999 | 5,175 | 44,342 | 8,900 | 12 | 150.0 |
| Copy.ai | 73 | 57,903 | 5,932 | 22,878 | 3,600 | 5 | 150.0 |
| Automated Insights | 72 | 76,157 | 3,842 | 4,581 | 4,900 | 5 | 145.0 |
| Writesonic | 65 | 172,628 | 6,637 | 1,804 | 2,100 | 5 | 135.0 |
| Jasper | 76 | 31,315 | 217 | 29 | 4,900 | 5 | 125.0 |
| Rytr | 71 | 83,053 | 597 | 697 | 2,600 | 5 | 122.5 |
| Article Forge | 71 | 95,938 | 0 | 481 | 2,700 | 4 | 105.0 |
| Copysmith | 58 | 306,400 | 2,140 | 807 | 1,400 | 4 | 105.0 |
| Kafkai | 37 | 2,054,181 | 0 | 0 | 391 | 4 | 70.0 |
| HyperWrite | 35 | 2,415,848 | 0 | 166 | 473 | 3 | 70.0 |
Media Shower is a different kind of AI content writing company: while it's managed by humans, it uses AI technologies to find the best-performing keywords, topics, and Calls to Action for your customers. Well-ranked by AHREFs and well-represented on social media, Media Shower is also top-rated by its clients and users as a quality source of content that will help drive traffic to your site and generate sales.
Pricing: Custom pricing based on industry, target audience, and length.
Customer Reviews: 
"The team at Media Shower generates ideas for us AND does the keyword research for them, which makes my life as an editor really easy!"
"Definitely great value for the money… We have been using Media Shower for guest blog posting services, and the quality is what you'd expect to find from companies charging 2-3x as much. Highly recommended."
Copy.ai claims more than one million users have generated content with its platform including Microsoft, eBay and Nestle. The service asks users to provide keywords and a few sentences to focus content generation. The content is targeted to email marketers, social media managers, and bloggers.
Copy.ai has a robust social media presence and is ranked well on AHREFs for its domain authority, rankings, and referral links.
Pricing: A free option gives users up to 2,000 words per month. Upgrading to Pro gives users a sliding scale of fees starting at $49 per month for 40,000 words and five user "seats," with custom pricing kicking in above 300,000 words per month.
Customer Reviews:
"Writing isn't a chore anymore. It's so helpful to have so many writing frameworks to leverage. Copy.ai helps our team with all kinds of copywriting and sales/copy including product descriptions, ad copy, website copy, blogs, and emails."   –Bernard, entrepreneur
"Writing great marketing copy has never been this easy. Since I started using Copy.ai, I spend only a few minutes to whip myself a good piece, whether it's for our blog, social media posts or while creating online ads. Now, marketers like me have no excuse."   –Patrick, marketer
Automated Insights says it uses natural language generation to create content for clients like Yahoo, Cisco, and the Orlando Magic. This platform specializes in incorporating data into the content. It has also created thousands of articles for Yahoo Sports and the Associated Press, as well as analyst reports for Allstate.
Not quite as well-known on LinkedIn and Twitter as some AI competitors, Automated Insights is well-regarded by those who are familiar with the company. It ranks well on AHREFs for domain referrals and authority.  A demo is available upon request at the site for users who want to see how it works.
Pricing: There is a free trial of the product available, but pricing after the trial is only available upon request.
Customer Reviews:
"This tool is extremely helpful for non-technical, non-analytical marketers. My overall experience has been great. Wordsmith provides informative insights based upon translated data into valuable stories." –A communications industry employee via Gartner
"The company I work for needed the ability to manage our data in multiple ways. We needed to create reports and voice scripts, but also needed them in different languages. We honestly weren't even aware of this software until we looked. But we are glad we did and now use it to help us try to break into different parts of the world with our business." –Data and analytics staffer in the service industry via Gartner
Writesonic has a user-friendly process where users answer questions that allow it to generate their content. It says it is for writers, e-commerce stores, marketing teams, and entrepreneurs. It has different tracks for each of these needs. Those who require content outside these tracks may have difficulty using the platform.
However, many firms don't offer that kind of specificity, which is highly useful for those with specific needs. The website also has a long list of what Writesonic can produce including social media ads, real estate and product descriptions, company bios, and responses to online reviews. Writesonic has a healthy social media presence but fewer referred domains than other players in the space.
Pricing: Writesonic has a free trial for up to 6,250 words and one user. Paid plans start at 30,000 words for $10 monthly. They go into the millions of words at hundreds of dollars a month. Discounts are offered for annual billing.
Customer Reviews:
"It offers excellent and compelling content, and it is user-friendly."  –Adam, marketing consultant via G2
"I've been using Writesonic for a few weeks now, and I'm really impressed with how it has helped me improve my writing. Not only does it suggest better ways to phrase things, but it also helps me brainstorm ideas and come up with new topics to write about." –Bedatree K, social media manager via G2
Jasper offers several different levels of writing help, from getting started to completing projects using its AI features. The AI algorithms are tied directly to SEO to get your content ranked better by Google.
Jasper also writes in more than 25 languages for those that need content outside the U.S. or that target international markets. Short and long-form content is available. Jasper may be hurt by its lagging social media presence, but customers give it good ratings and its domain rankings are solid.
Pricing:  Plans start at $24 per month for 20,000 words. There are also plans for over 700,000 words that are customized to meet user's needs.
Customer Reviews: 
"It writes surprisingly humanlike copy for an AI. I've tested a bunch of these generators and Jasper seems to be the most accurate in writing what I want it to. When multiple generations need to be done, though, they all come out of your plan and cost you money." –Lawrence G., digital marketer via Capterra
"The tool is useful for nearly everything involved in business collaboration or content construction. It is very easy to use, and Jasper does an excellent job at providing interesting and informative learning content to maximize Jaspers's efficiency. One drawback is occasional repetition, but I'm told that's more of a user problem than one with Jasper."  –Matthew B., non-profit CEO via Capterra
Rytr bills itself as being 10 times faster than regular writing. It mentions such diverse writing types as interview questions, landing pages, and Facebook ads. The site claims 1.5 million writers from companies like Ford, Ikea, and Pfizer have used its platform and saved 7.5 million hours and more than $150 million.
The service is geared towards marketers, academics, copywriters, entrepreneurs, and professionals. Its process is to choose your use case, give input for context, and let the software "magically" go to work. Once the content is generated, it can go through the plagiarism checker. The premium plan also has an account manager to help make sure everything goes well.
Pricing: There is a free, non-trial option for 5,000 characters per month. The premium plan is $29 per month for unlimited characters and priority support.
Customer Reviews:
"Great value and so easy to use and saves me so much time! I was shocked by how much time and brain energy it saved me. Simple & easy…gotta love that."  –Karrie Brazaski via Appsumo
"I have PAID professional copywriters for MUCH worse. I highly recommend this SaaS." –Sergio Vazquez II via TrustPilot
Article Forge says it creates articles with the "same quality as a human for a fraction of the cost." Since Google uses AI to determine how to rank sites online, it reasons using AI to generate content will be more successful in getting your material ranked higher on Google.
Article Forge says it only needs a keyword, the article length, and optional customizations to generate your 1,500-word article in 60 seconds. However, the site does not appear to have a presence on LinkedIn, and its ratings were a bit lower than some of its competitors.
Pricing: After a free trial, options range from containing 25,000 words per month with automatic posting to blogs ($13 a month) to an unlimited word plan for $57 per month.
Copysmith is targeted to e-commerce teams and agencies, which often spend a great deal of time creating product descriptions. One unique feature of Copysmith is its team and collaboration features, which streamline the communication and approvals processes.
The platform also has a campaign builder it says can create an entire sales campaign in "a few clicks." While the site looks great and professional, a more robust social media presence might help drive more traffic and referral domains to its pages. However, customers seem mostly satisfied with the offering.
Pricing: After a free trial, $19 a month gets you up to 40,000 words and 20 plagiarism checks, while enterprise-level accounts are priced on a custom basis.
Customer Reviews:
"The overall content is of decent quality as compared to other AI tools. It can help you generate blogs, ads and some branding options. But if you want to use this tool for writing product reviews, it would be better to try some other tool. You have to spend time editing the long-form content."  –Verified reviewer via Capterra
"I like the content it spits out at warp speed. It gives me good starting points to expand and grow the content we use on our website, email marketing and ads. Sometimes it spits out some off-the-wall things that make no sense. I have tried using the blog writer and it doesn't give the best content, but it gives me a good starting point to get an article written faster than if I was doing it from scratch on my own." –Stephanie S., office manager via Capterra
Kafkai says it is the first AI content generator focused on SEO and marketers, but it seems rather basic compared to other offerings on this list. With only a niche, Kafkai says it can write a random article that resembles what a "cheap article writer" would produce, which with a bit of editing, can be published quickly.
With some "seeding" of keywords and specific terms, Kafkai says it can write better articles that aren't as random. It has a list of niches to choose from, and says it works best for articles 500 to 900 words long. It has a campaign builder and a Chrome extension, with other integrations possible. Kafkai does not have a page on LinkedIn or Twitter, thus limiting its reach. Customer reviews are about average.
Pricing: After a 3-day free trial, plans for 250 articles a month start at $49. A plan that offers 2,500 articles a month costs $199, making Kafkai one of the pricier options in this area.
Customer Reviews:
"Kafkai outshines a lot of actual writing gigs by humans. I used to go to different third-party writing sites. When you find a tool like that, you really want to hold on to it." –C.J. Rooney, hipcraft.co
"At first I was a little skeptical. I have tried things like this before and they really spit out garbage. Now, I am very happy to tell you that sometimes you might get 1 or 2 bad articles but for the most part, what you're going to be getting from this tool is high quality articles coming out to you. " –Preston Martelly, javalogix.ca
Hyperwrite bills itself as a way to "autocomplete your thoughts." It has a Chrome extension that can give you suggestions from across the web or write entire paragraphs for you.
There is no mention of writing entire articles or posts, however. Instead, it is more of a "personal writing assistant" to help you overcome writer's block and improve your existing writing skills. A tool like this could be valuable to writers who don't want all of their content autogenerated, but instead need help or new ideas.
Pricing: Free for up to 1,000 sentences per month. Unlimited sentences are $9.99 a month.
Customer Reviews:
"HyperWrite just finished a sentence for me in such a fresh and original way. I would not have finished the sentence in a better way myself."  –Lauren, copywriter
"I used to spend so much time trying to formulate the perfect email. Now I can get through my inbox faster and with even better results thanks to HyperWrite."  –Ben, startup founder
If you are looking for the speed of AI with the quality of human editors, take a look at Media Shower: the award-winning content platform.