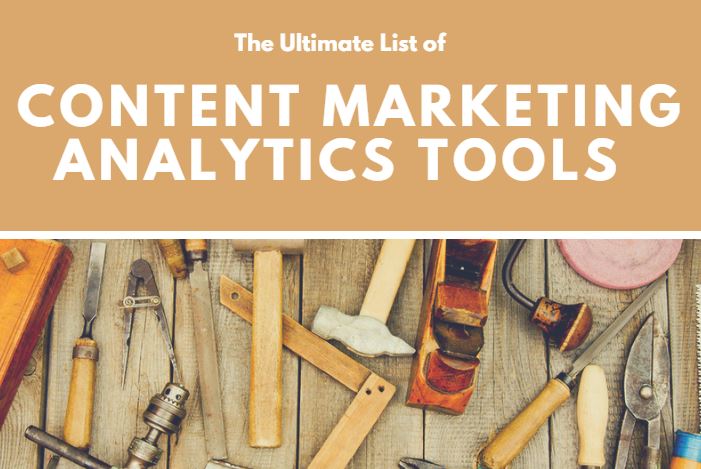 If content is "king" then content analytics must be the "all-knowing ruler of the universe."
Without analytics, you cannot effectively scale your content marketing efforts nor increase your ROI. You are shooting at a target without a bullseye. According to an econsultancy report, 60% of companies say they "change and adapt marketing strategy based on customer insight." And 55% "use data effectively to build their understanding of customers."
Unfortunately, keeping solid analytics is time-consuming, confusing and laborious. Did I say confusing? So to help smart marketers, software creators have introduced content marketing analytics solutions designed to monitor, measure and calculate the effectiveness of web content. And to help you make your selection, we listed 50 of these solutions below.
Note: We categorized the solutions for easier scanning; however, some may fall into more than one category. Also, some solutions are not primarily analytics platforms, yet they offer analytics capabilities.
Social Media Tools and Analytics
1. Followerwonk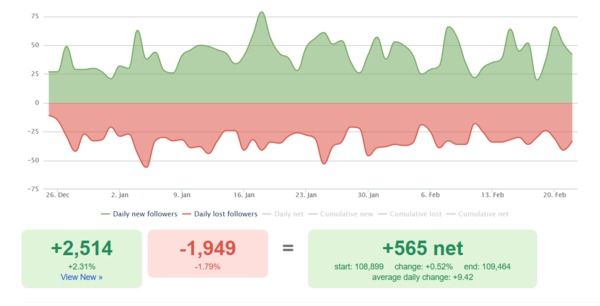 One of the Moz suite of tools, Followerwonk helps you explore your Twitter influence and dig deep into Twitter analytics. Find people and influencers to connect with, analyze and categorize your followers, and optimize your profiles to work smarter.
Pricing: Free for 1 profile. 3+ profiles starts at $29 / month
2. Curalate
Curalate is a visually-driven platform that helps commerce brands find, publish, measure and monetize their own content as well as user-generated content. The platform also promotes easy micro-influencer search and management.
Pricing: Available upon request
3. Quintly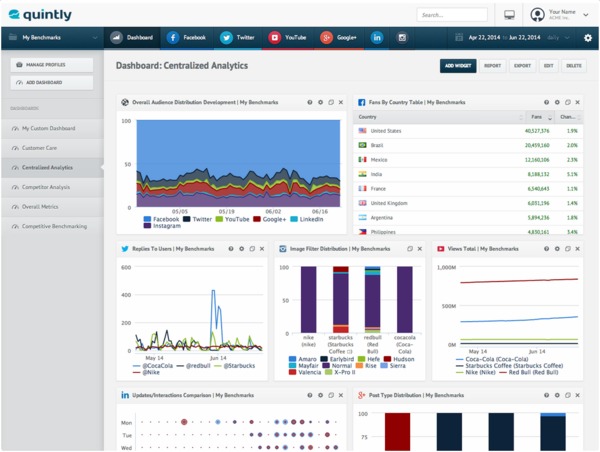 Quintly is an online social media analytics tool for brands, agencies or media publishers. Analyze, track and benchmark your data while also bringing together all of your profiles under one platform (Facebook, Twitter, Google+, LinkedIn, Instagram, YouTube).
Pricing: Starts at $129 / month

4. Hootsuite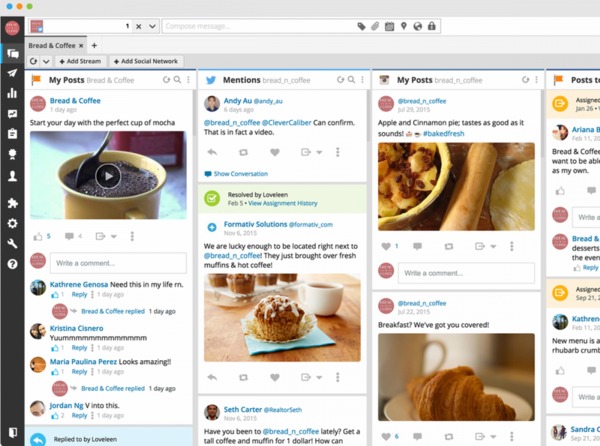 Hootsuite is a social media management platform that makes publishing and tracking easier. It offers real-time analytics on your social performance as well as trend spotting.
Pricing: Free plan available; premium plans start at $9.99 / month
We've got more business-boosting tools to show you, plus a FREE benchmark report that details what kind of conversion optimization goals you need to set for your business. Sign up now for instant access to both!
5. SproutSocial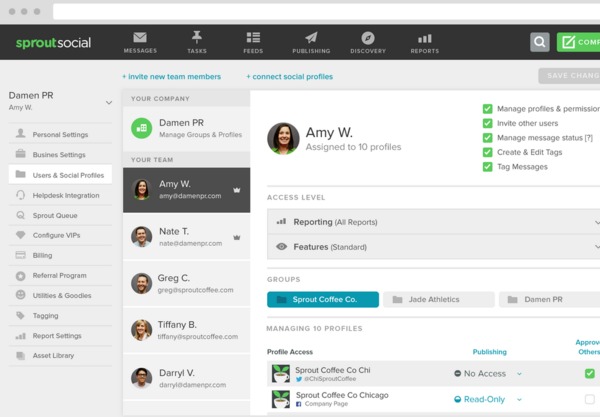 Sproutsocial is a social media management tool that allows marketers to find opportunities to join social conversations, publish social content, and measure performance.
Pricing: Starts at $59 / month and includes a free 30-day trial.
6. RivalIQ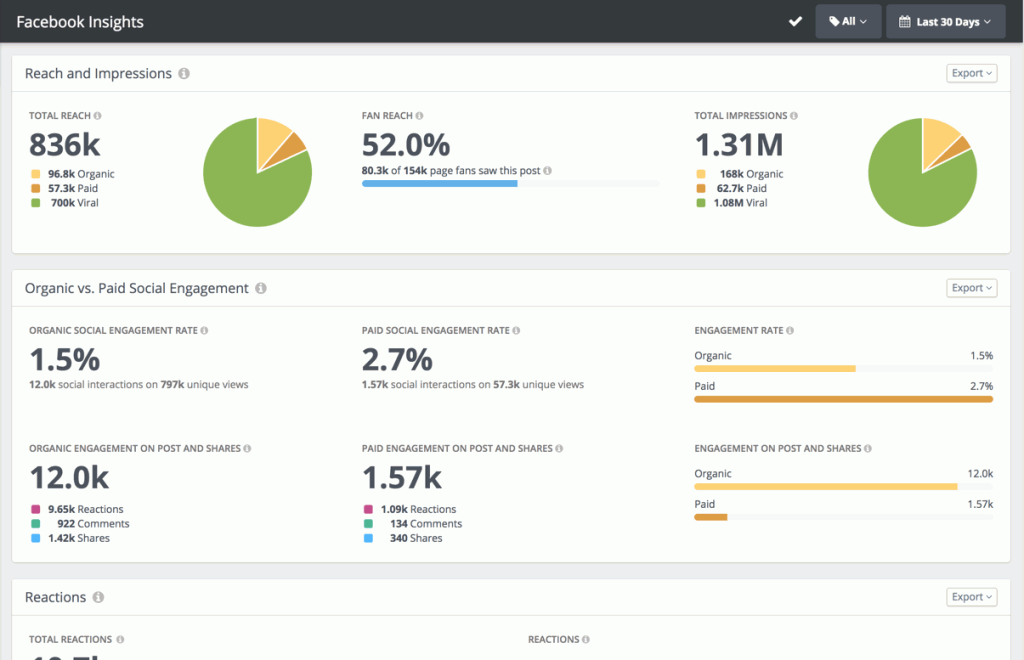 RivalIQ is a competitive analysis tool that provides social media analytics, top social content and search engine rankings for competing, partner, or influencer social profiles. Profile monitoring includes Facebook, Instagram, Twitter, Pinterest, YouTube and Google+.
Pricing: Individual plans start at $79 / month. Business plans start at $299 / month.
With Twitter Counter, track your tweet engagement, uncover trends in your follower growth, and monitor competitors. Brand-focused packages are also available.
Pricing: Plans start at $8 / month
8. Viralwoot
Viralwoot is a Pinterest-specific platform that provides publishing, ad creation, competition analysis and influencer reach and engagement. It also offers analytics, revealing virality and reach metrics.
Pricing: Starts at $10 / month
9. SumAll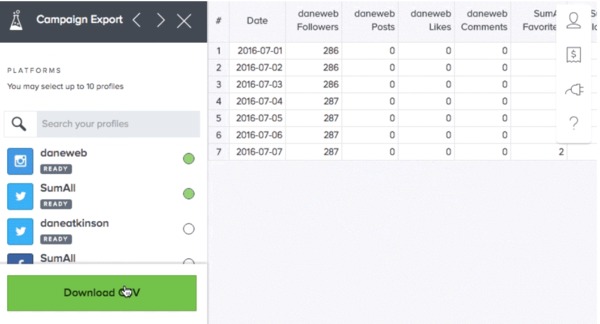 Perfect for agencies, SumAll tracks the activity of clients' social channels in one interface. It also provides features such as performance graphs, goal tracking and white labeling and reporting.
Pricing: Starts at $99 / month with free trial
10. Socialbakers
Socialbakers is a social media management and analytics tool that measures and monitors keywords, hashtags and more, across multiple social channels and locations. Additional features include reporting and competitive analysis.
Pricing: Starts at $120 / month for its analytics package with a 14-day free trial. Advanced package pricing is available upon request.
11. ViralTag
ViralTag is an all-in-one interface that allows social content marketers to manage multiple social networks, publish and interact with content, collaborate with team members and measure content performance.
Pricing: Starts at $24 / month with a 14-day free trial
12. Minter.io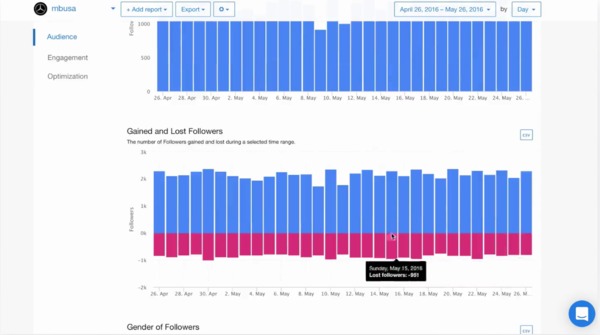 Minter.io is a streamlined Instagram analytics tool. It provides Instagram traffic tracking, brand hashtag monitoring, audience growth and demographics, sentiment measurement, data exports and content effectiveness.
Pricing: Starts at $20 / month with a 14-day free trial.
13. Tailwind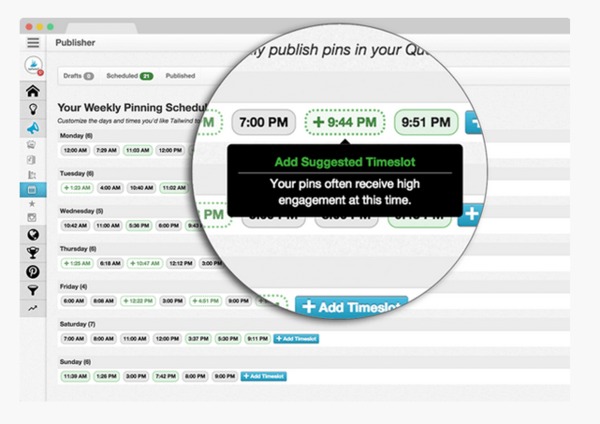 Created for Instagram and Pinterest tracking, Tailwind is an all-in-one tool that offers content publishing, scheduling, and deep analytics. Tailwind also provides agency and enterprise solutions which include more robust features and reporting.
Pricing: Starts at $9.99 / month for bloggers and small businesses. Business packages start at $799.99 / month.
14. Brand24
Brand24 is a social media monitoring tool that measures social mentions and discussion volume which helps brands identify problematic and/or positive buzz quickly. Dive deeper into the data with sentiment analysis, discussion volume and authority influence scores.
Pricing: Starts at $49 / month with a free 14-day trial.
15. Iconosquare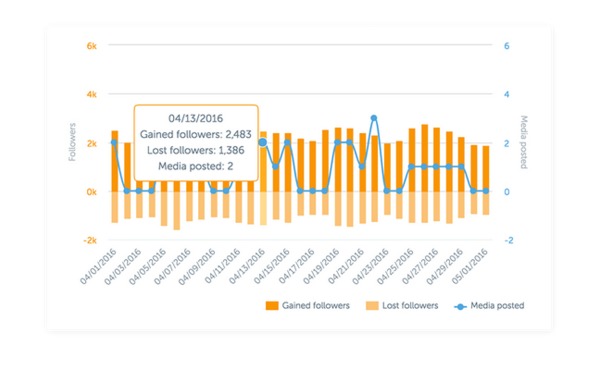 A more specialized platform dedicated to only Instagram, Iconosquare helps Instagram markets post content, analyze and measure their followers' growth, optimize audience engagement, find influencers and more.
Pricing: Starts at $9 / month ($54 / year) per IG account.
16. Oktopost
A B2B social media platform that allows you to schedule and post content, Oktopost also offers social conversion tracking, data segmenting and audience and content analytics.
Pricing: Custom solutions; pricing available upon request
17. Cyfe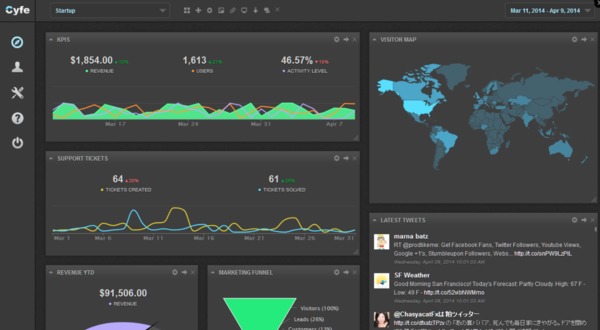 Cyfe is an all-in-one business dashboard app that helps you monitor and track business data. We listed it in the social media category here, but Cyfe's reach extends beyond social media measuring. Create dashboards for social media, web analytics, project management, sales, finance, IT and marketing, and monitor website rankings directly in the dashboard.
Pricing: Free account available. Premium accounts start at $19 / month or $14 / month, paid annually.
18. Google Alerts
Google alerts is a valuable tool for monitoring brand mentions. The tool will send email alerts whenever your brand or keyword is mentioned on the web.
Pricing: Free
19. Buzzsumo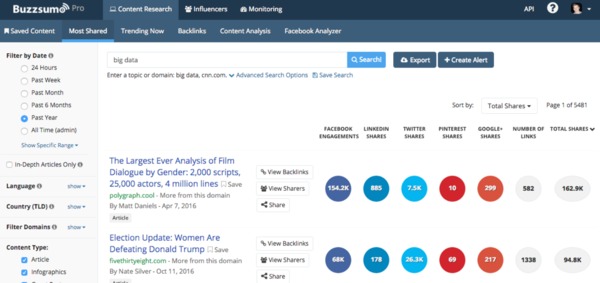 Buzzsumo filters content according to social analytics (individual social platform shares, links and total shares). Brands use this tool to find the most popular content, dig deeper into the curated data and discover key industry influencers. Set up alerts for your searches as well.
Pricing: Free account available with limited data. Premium accounts start at $99 / month with a 14-day free trial. Save 20% with yearly plans.

20. Keyhole
Keyhole is a social media tool that tracks and monitors hashtags, keywords, retweets likes and impressions. Brands can also discover potential influencers and receive detailed analytics for their campaigns. Advanced features include demographic and sentiment analysis.
Pricing: Starts at $165 / month with a 3-day free trial. Yearly packages discounted at 20% off.
21. Narrow.io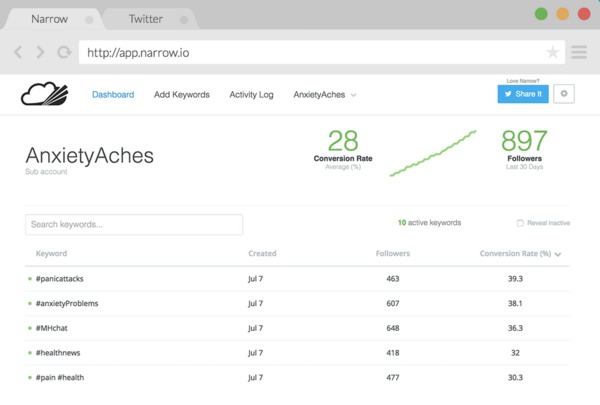 Narrow.io is a Twitter-based tool that allows you to research, identify and understand your target audience using keywords, location and hashtags. Its analytics provides keyword performance tracking.
Pricing: Starts at $19 / month.
22. Agorapulse
Agorapulse is an all-in-one social media management tool that also provides detailed monitoring and analytics. Additional features include "inbox zero," PowerPoint reporting and automatic audience categorization.
Pricing: Starts at $49 / month; Yearly subscriptions discounted up to 35%.
Link Management and Tracking
23. Bitly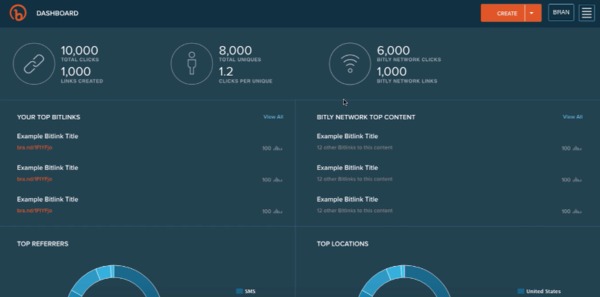 One of the most popular link management platforms, Bitly, allows users to create shortened custom links and track clicks. Enterprise customers can create branded shortened domains and tap into deeper link analytics such as link click time, day, social channel, device and operating system. Enterprise customers can also direct users to optimized content depending on the device used.
Pricing: Free account available; Enterprise pricing available upon request.
24. Budurl
Budurl is a link shortening tool that also provides advanced real-time analytics allowing you to display top-performing links by user, channel and location. Budurl also offers landing page templates and unique QR codes for each link.
Pricing: Starts at $99 / month.
Marketing Automation and Analytics
25. Hubspot
Hubspot's automated marketing platform allows marketers to build content and drive traffic, while converting and tracking leads. Track how each marketing campaign directly affects your bottom line and contributes to sales.
Pricing: Starts at $200 / month.
26. Real Magnet
Real Magnet offers marketing automation software that allows you to track customers throughout their lifecycle. From generating content to managing and measuring its impact, Real Magnet focuses on ease and automation of complex tasks.
Pricing: Starts at $200 / month.
27. Kapost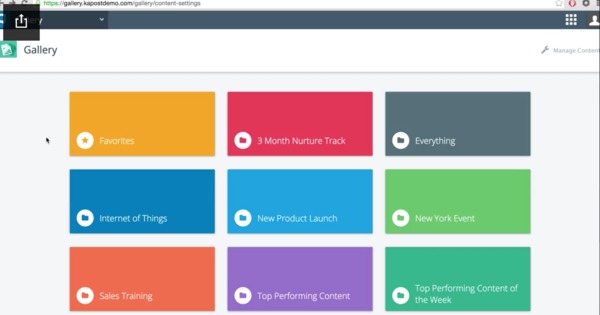 Kapost covers all facets of funnel content from analysis, alignment and distribution to execution and analytics. With its content insights, rank and score your content and calculate external and internal reach to discover what is most valuable to your buyers and prevent content waste.
Pricing: Starts at $3,500 / month.
28. Marketo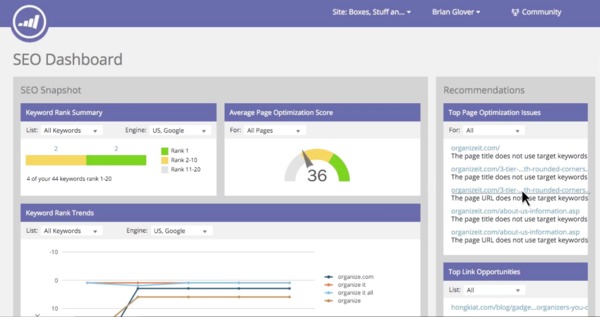 Another all-in-one marketing automation platform, Marketo allows marketers to create, build, scale and measure full-scale marketing campaigns all from one platform. Its analytics provides insights into your customer's journey and the sales impact at each stage.
Pricing: Custom solutions; Pricing available upon request.
Behavioral Analytics Tools
29. Clicky
Clicky provides real-time data and a high-level of detail on website visitor segments. Clicky tracks every visitor's action and reviews their full history. Heatmaps and on-site analytics are also included.
Pricing: Free version available. Premium plans start at $9.99 / month for 1,000,000 monthly page views.
30. Trendemon
Trendemon offers insights into visitors' behavior as they proceed through a conversion journey. The tool provides a measure of the content's ability to lead a visitor towards a custom defined goal. Features also include real-time content recommendations, calls to action and A/B testing.
Pricing: Starts at $600 / month.
31. Woopra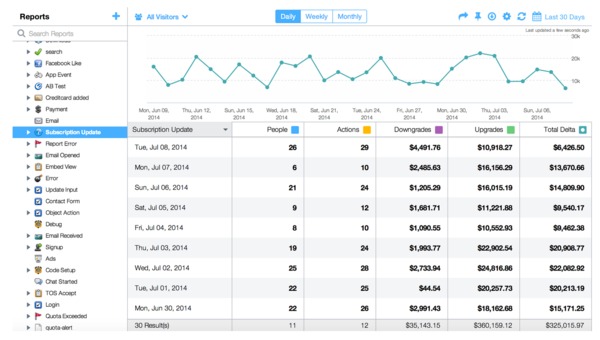 A real-time analytics solution, Woopra is customizable, allowing users to leverage the data to fit your organization. Create customer profiles, build customer segments, measure user retention while integrating with your 3rd-party marketing industry tools.
Pricing: Free up to 30,000 actions / month. Premium pricing starts at $79.95 / month for 30,000+ actions / month.
32. Docalytics
Docalytics provides analytics around how website visitors interact with downloadable content. From heat maps to document engagement, Docalytics allows marketers to gauge, at a granular level, a prospect's interest in all forms of downloadable content.
Pricing: Available upon request.
33. Gosquared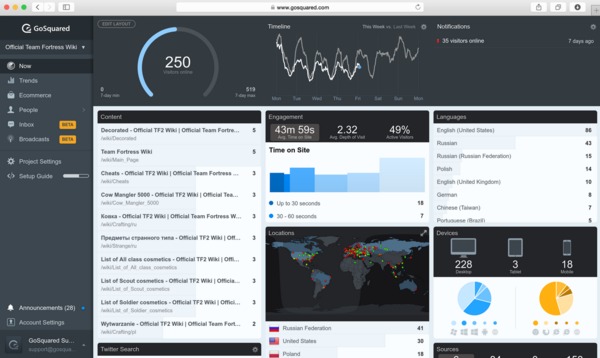 Gosquared monitors real-time activity on your website and how they got there. Measure time on site, session length, and bounce rates based on a visitor's engaged time and receive instant notifications on important metrics. Live chat is also available.
Pricing: Free package available for 100 live chat profiles and 1,000 monthly datapoints. Premium packages for 1,000 live chat profiles start at $49 / month + 100,000 monthly datapoints starting at $29 / month. Live chat premium is free while it is in beta testing.
34. Chartbeat
Chartbeat offers a real-time analytics and video dashboard so you can review your visitors' actions instantly, filter the data and track engagement. Chartbeat also provides a historical dashboard and a Heads Up display that provides performance metrics directly on your website in real time.
Pricing: Available upon request; Trial accounts permitted.
35. Webtrends
Webtrends provides real-time, multi-channel analytics across web, social and mobile and offers ad hoc data exploration, segmentation, and sophisticated reporting.
Pricing: Available upon request.
36. Google Analytics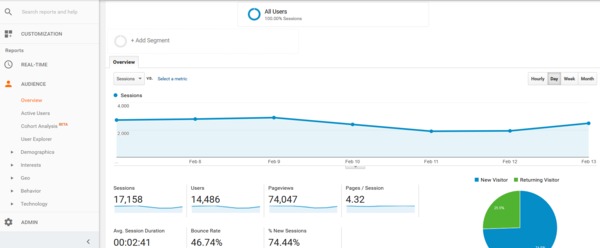 Google Analytics provides audience demographic data, referring websites and comprehensive website performance data, including demographics. It also allows you to create conversion goals to track sales and leads and perform split tests for your landing pages. Enterprise solutions provide advanced reporting, unlimited data, access to raw data and more.
Pricing: Free. Enterprise pricing available upon request.
37. TrialFire
Trialfire tracks website visitor behavior without the need to add custom tracking code or tags. Features include the ability to create segments and detailed customer profiles and track customers' behavior throughout their lifecycle.
Pricing: Starts at $299 / month.
38. Hotjar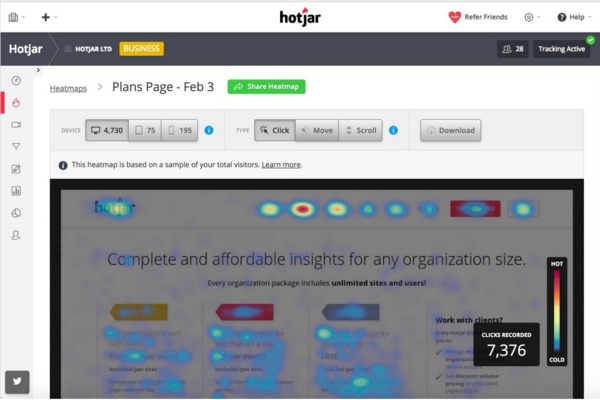 Hotjar provides user behavior analysis including heatmaps, funnel dropoff and form abandonment. It also provides real-time website visitor recordings, feedback polls, and surveys.
Pricing: Personal plans are free up to 2,000 pageviews per day and premium plans start at $29 / month. Business plans start at $89 / month for 20,000 pageviews / day.
39. Clicktale
Clicktale captures visitor behavior by offering heatmaps, session replays (watch your visitors actions on your site), form analytics and funnel drop-offs. Advanced features also include site health, Javascript errors and bounce ratios.
Pricing: Available upon request.
40. Parse.ly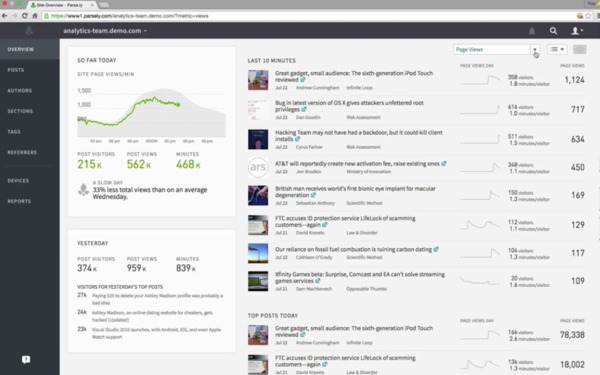 Parse.ly provides analytics to empower publishers to optimize their customer's experience on their site. It tracks the success of your content (referrals, time on page, social reactions) and over time, gathers comparative data.
Pricing: 14-day free trial; Pricing available upon request.

Event-based Analytics
41. Kissmetrics
Kissmetrics is a user-focused platform that tracks individual and group visit behavior from first visit all the way to conversion, measuring churn, customer lifetime value and more. It provides a 360 view of your visitor's activity and creates multiple reports including revenue calculations so you can measure ROI.
Pricing: Starts at $220 / month.
42. Content Analytics by Branch
Content Analytics measures engagement with specific content and allows brands to identify the content that drives the most downloads/app installs. The tool works for mobile web to app, email and ad campaigns and content sharing.
Pricing: Dependent on the solution. Free options available. See pricing page for more information.
43. Mixpanel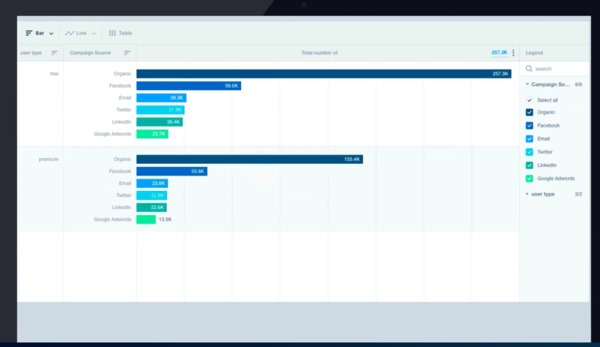 Mixpanel is an advanced mobile & web platform that provides visitor behavior and actions, funnel dropoff data, retention, and more. Mixpanel also provides A/B testing and customer notifications.
Pricing: Free packages available. Premium package starting at $99 / month. Pricing is also available per profiles. 1,000 profiles = free; 50,000+ profiles starts at $150 / month.
44. Indicative
Indicative provides detailed behavioral analysis of how customers engage with sales funnels including engagement and conversion analysis. It also integrates with multiple 3rd party tools allowing for a more comprehensive picture of consumer behavior across all touchpoints.
Pricing: Available upon request.
45. Heap
Heap, via web or iOS, captures user actions such as clicks, taps, gestures, form submissions and page views. It also allows marketers to chart user changes, review funnel dropoff, calculate retention and define analytics events by performing them directly on your site.
Pricing: Free plan available for up to 5,000 sessions per month. Premium plan includes 14-day free trial; contact for custom quote
46. Amplitude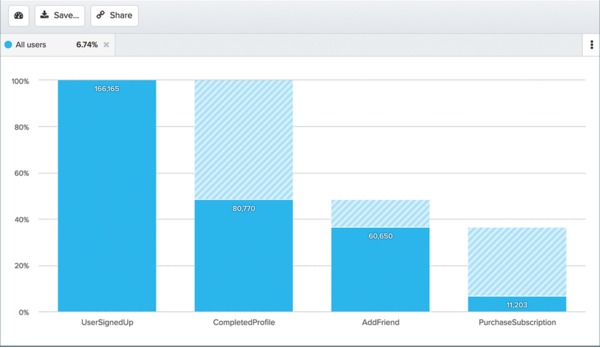 Amplitude captures users' behavior across multiple platforms to examine how they flow through them. Track multiple complex events at the same time without sacrificing performance.
Pricing: Starter package is free; $2,000 / month and up for elite and enterprise packages.
47. Piwik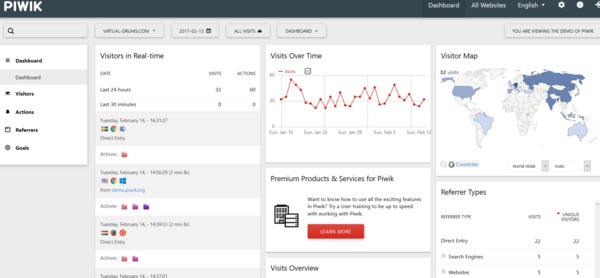 Piwik is an open-sourced analytics platform that provides performance metrics such as visits, goal conversion rates, downloads, keywords and more. Piwik integrates with eCommerce software so websites can track conversion rates, average order values and more. Enterprise features also include A/B testing, media analytics, white labeling, and funnel dropoff.
Pricing: Free; Enterprise premium features are ala carte and start at $49 / year.
Advertising Analytics
48. Simplereach
Simplereach provides real-time performance of content and native ads on your website as well as third-party publishers. Amplify your content and optimize your ad campaigns by understanding what content performs the best on which platform.
Pricing: Available upon request.
49. Cake
Cake tracks ad performance allowing brands to optimize ROI on ad spend in real-time. Cake offers solutions for brands, networks or for lead distribution.
Pricing: Available upon request.
Analytics Reporting
50. Megalytic
Megalytic is a tool that offers customizable reports for agencies, marketers, and business owners. It integrates with Google Analytics, Adwords, Search Console and Facebook Insights and Ads.
Pricing: 14-day free trial; price not listed.
Now that you have the tools, you're going to need to know how to measure your success. Our free benchmark report will show you what kind of conversion optimization goals you need to set for your business and what others are seeing across various industries. Click here to download the report.


And if you need help creating great content for your business? Let Media Shower lead the way. Start your free trial today!