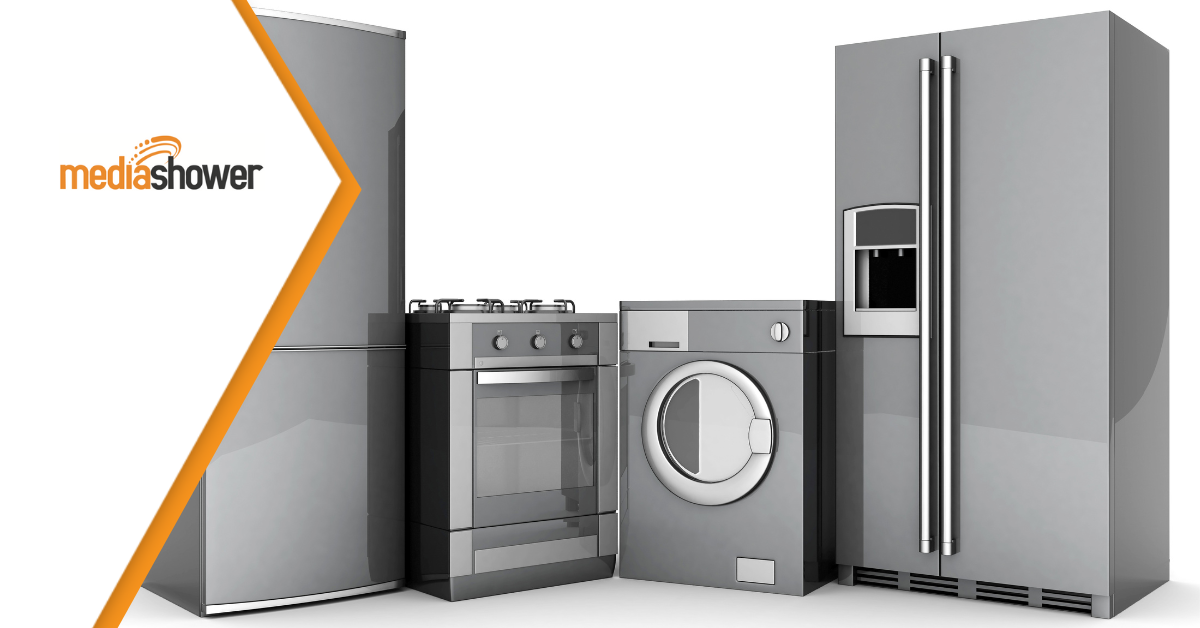 TLDR: Those of a certain age will remember the "Lonely Maytag Repairman": because Maytag appliances were so dependable, he was the loneliest guy in town. But did you know he's been updated for the modern age? (Scroll down to see him now.)
So What? For over 130 years, Maytag has continually updated its marketing mix, maintaining its leadership in the home appliance market. Apart from its innovative product designs, what sets Maytag apart from the competition is a marketing strategy that's continually evolving. Here's how they do it.
---
Introduction:
If you've ever been in the market for a new washer, dryer, or refrigerator, you've likely considered Maytag. With over 130 years of experience in producing quality home appliances, this U.S.-based company has become synonymous with reliability and innovation.
While many remember the Lonely Maytag Repairman TV commercials, Maytag has utilized a series of ingenious long-term marketing strategies to ensure its success. Here's what you can learn from a long-term leader in consumer marketing.
Embrace Mobile Visualization
Increasingly, customers view web pages and content on their mobile devices, so Maytag has built an e-commerce strategy around mobile. In 2015, the company created a mobile tool called "Bring Maytag Home" that allows customers to visually plan out their ideal kitchen in terms of appliance size and color.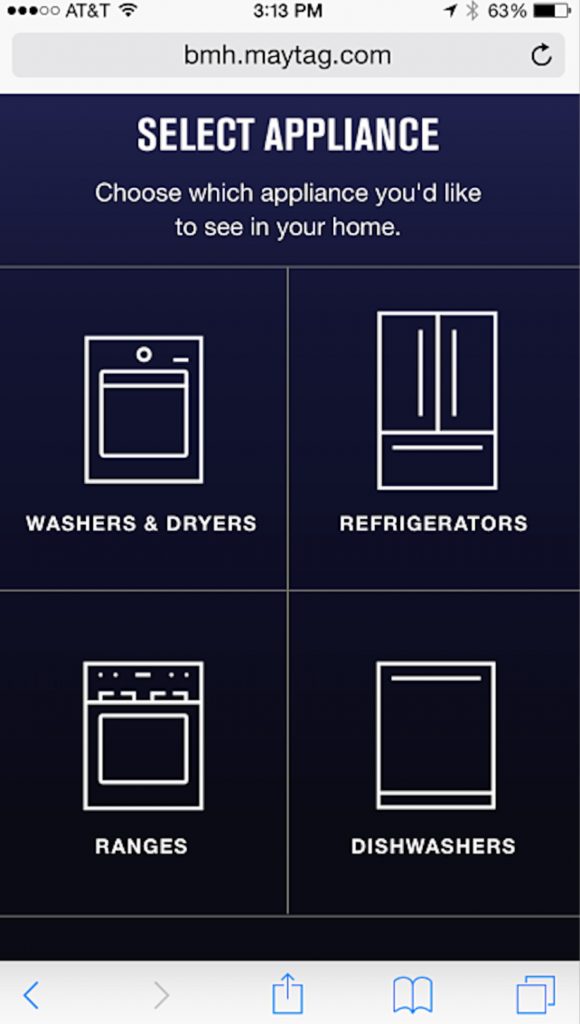 All they had to do was take a picture of their current kitchen or laundry room, then follow a few steps to select the models and sizes they wanted to see. This enabled customers to get tangible, visual representations of what their appliance selections would look like in their real-life living space. The tool was a hit with customers and allowed them to visualize their dream kitchens before purchasing anything.
Put a Face to the Brand
One of the things that clicks with customers is when you associate a brand with a face. It's even better when that face depicts all the qualities you want your brand to be associated with. Maytag has done this for years with its "Maytag Man."
This character embodied all the values customers would associate with the brand: dependability, quality, and service. He spoke directly to customers, telling them why they should choose Maytag as their source for home appliances.
More than anything, he's known for his iconic phrase from commercials, "I'm the Maytag repairman. Nobody ever calls me." This shows audiences that Maytag products are so reliable, their repairmen are bored.
Like the "Maytag Man," you can create a character or mascot that speaks to your audience and boosts the popularity of your brand. The more boring the product, the better a mascot works (just think of the Geico gecko, or the LiMu emu).
Get Creative with Your Marketing Campaigns
One campaign that struck chords with customers was the "No Smear" campaign. Maytag created a Chrome plug-in that would help people filter out political smears they saw online during election season.
It was an ingenious idea that resonated with the public and showed them that not only was Maytag producing quality home appliances, but it was also keeping up with current trends (including politics). The company had done its research and knew smears were hot topics during election season, so it created something that would directly benefit customers.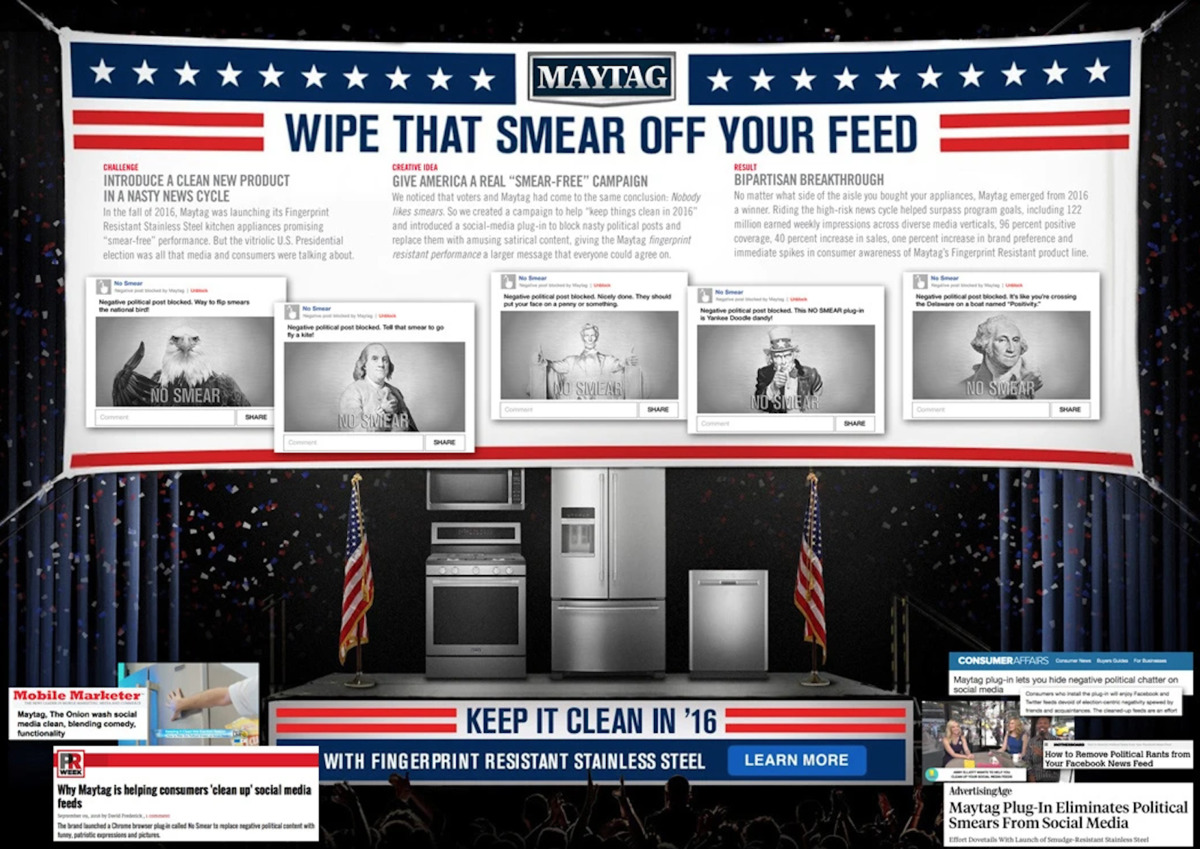 What's the link to home appliances? Maytag was also promoting its newest suite of fingerprint-resistant, stainless-steel appliances. This showed customers that not only were their products reliable, but the company had their best interests in mind when it came to keeping homes clean and pristine.
By getting creative with your marketing campaigns, you can make lasting impressions on customers that go far beyond the products and services you offer. Make note of the latest trends, then use them to your advantage when coming up with campaigns.
Focus on Content Marketing
Aside from its clever campaigns, Maytag has focused on content marketing to get its message into the minds of consumers.
"The Maytag Appliance Blog" contains appliance-related topics ranging from buying advice to maintenance tips. It's regularly updated with new content to help customers get the most out of their products. It also provides valuable information that can be used to make informed decisions about future purchases.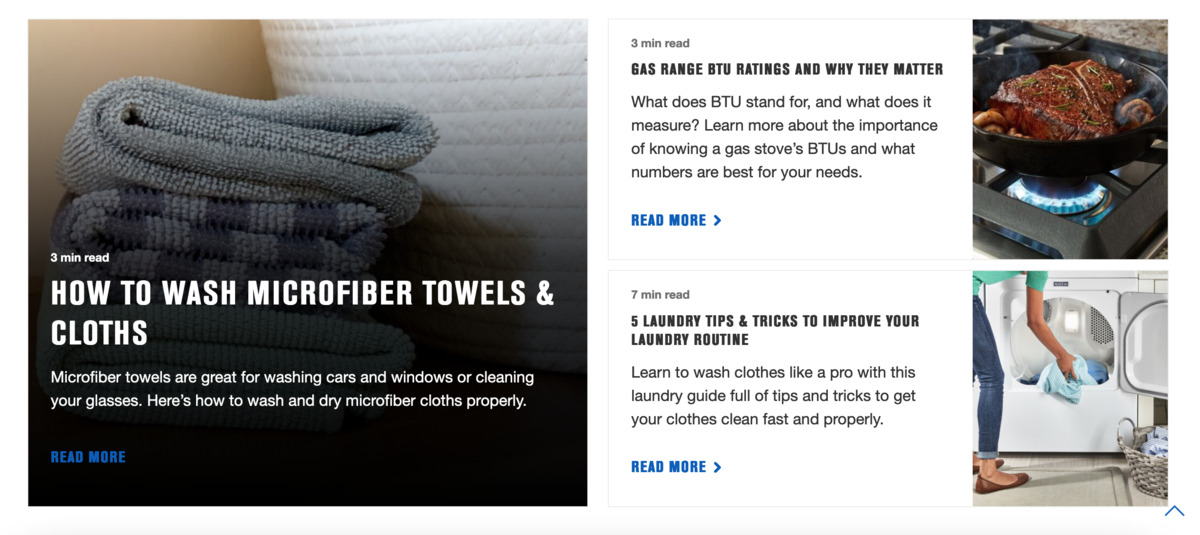 Content marketing can be an effective way to build trust with your customers and keep them coming back for more. Crafting helpful, informative content that people want to read will not only keep them engaged with your brand; it will also help you establish yourself as a leader in the industry.
Think Out of the (Appliance) Box
Maytag is ahead of the curve when it comes to marketing. Just like appliances, Maytag thinks "out of the box." The company has regularly proven it knows how to capture the attention of its target market.
Whether you choose to focus on innovative product marketing, creative campaigns, or content marketing, think outside the (appliance) box when it comes to promoting your brand. Your customers will thank you for it.
At Media Shower, we help brands develop and promote powerful content marketing campaigns. To learn more about how we can help, contact us.