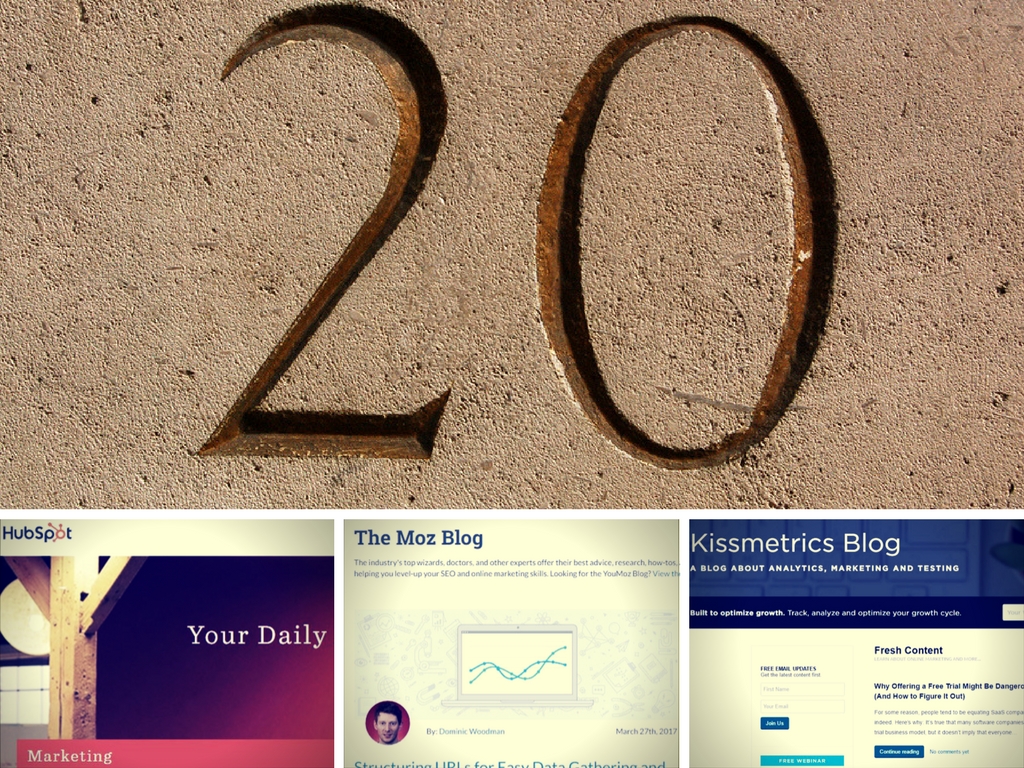 Marketers are always looking for more great content. Whether you're hoping to improve your conversion rates, master landing pages, or write your first press releases, content marketing blogs offer endless resources — and for free!
We've collected the top 20 content marketing blog, based on purely on their traffic numbers, so you'll never lack inspiration or knowledge.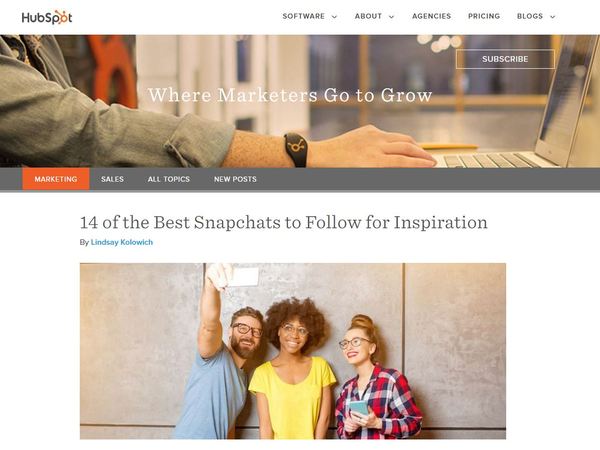 There's no disputing HubSpot's claim on the content marketing world. In addition to its award-winning software, the company also publishes lengthy, thought-provoking posts on everything from lead generation to branding tips. The experts also create infographics and other mixed media to help convey data.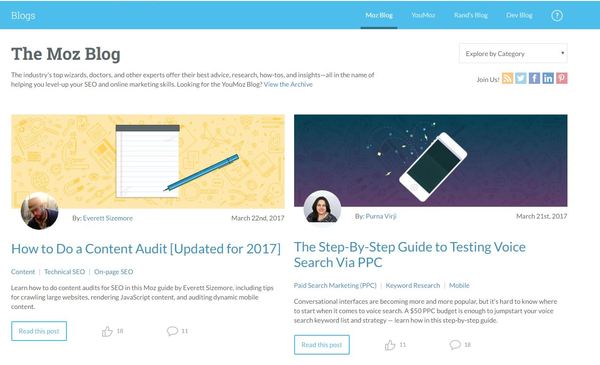 Moz (formerly SEOMoz) brings together numerous content marketing experts on its well-designed blog. The administrators often run series that cover a single subject in significant depth, and you won't want to miss the insights gleaned from Whiteboard Friday at the end of your week.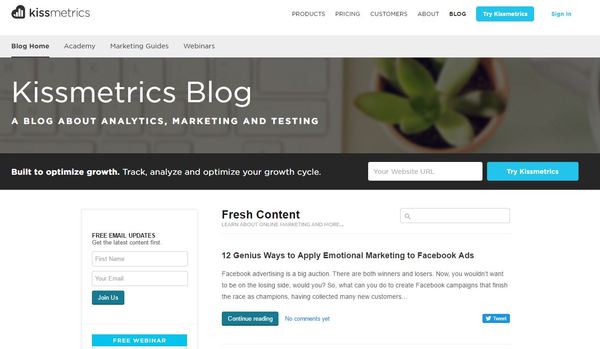 This content marketing blog's name might suggest that its content deals exclusively with numbers, but don't let that assumption deter you. Kissmetrics covers all aspects of content marketing, often helping marketers and business owners better understand the metrics they collect from their own content. There's a special focus on content generated for social media.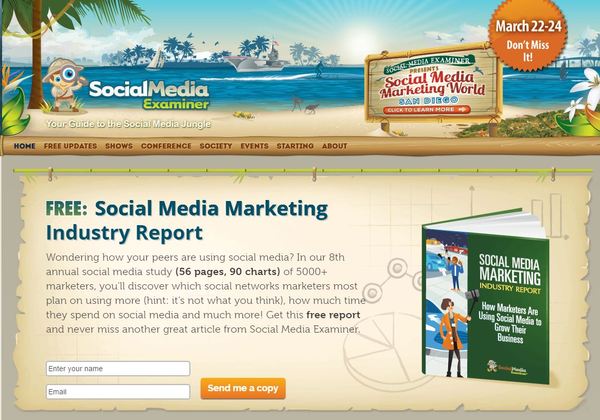 Speaking of social media, let's not forget Social Media Examiner. Like Kissmetrics, its name is a little misleading, because founder Andrew Pickering and his team of authors cover subjects that can help you improve every aspect of your content marketing game. With that said, it's most useful when you're active in social media networking and advertising.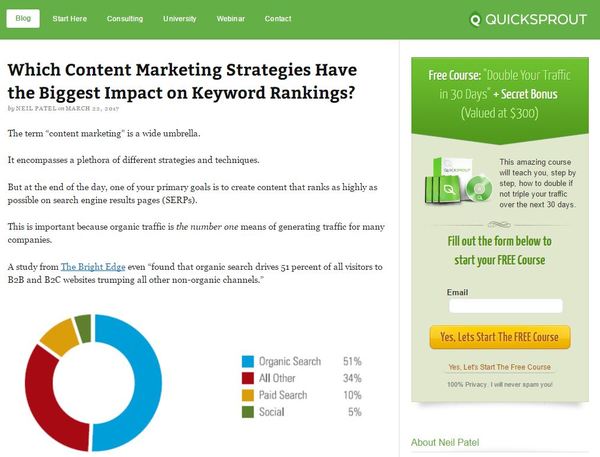 If nothing else, Neil Patel never fails to plant a seed of an idea in his readers' minds. Patel delivers consistently readable and insightful articles that dig deep into not only the genesis of an idea, but why that idea works in practice. He uses real numbers to back up his claims, which can help marketers feel more secure when trying out his ideas.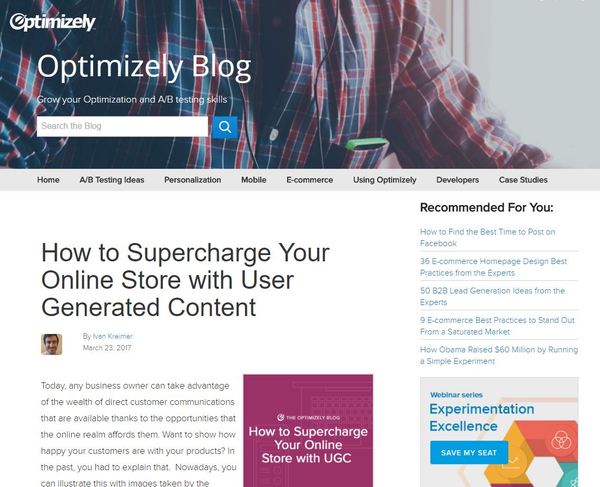 If you're looking for content marketing tips from some of the most well-known names in the industry, look no further than the Optimizely blog. Its writers do a great job of conveying information in entertaining ways while still managing to serve up a delicious feast of actionable tips.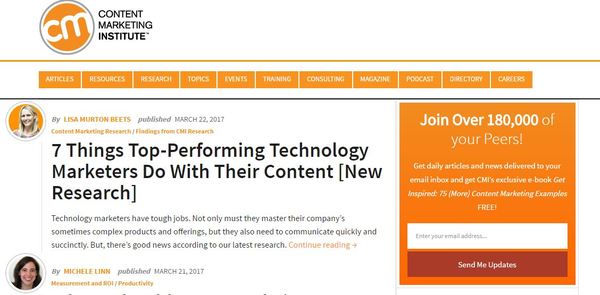 Yes, there's an institute for that. Content marketing has created its own subculture on the internet, and the Content Marketing Institute sits at its helm. This organization's blog covers news in the industry as well as emerging strategies and technologies. Check in with this blog when you want to catch up on the latest advancements.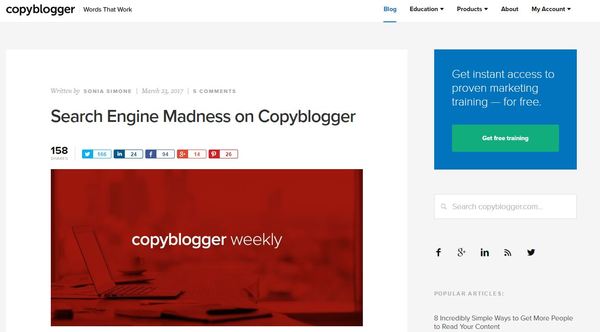 It's been around since 2006, which makes Copyblogger practically prehistoric in content marketing terms. Don't worry — you won't encounter any dinosaurs when you delve into the archives. Instead, you'll unearth consistent content marketing gems. Even the oldest posts on the website can still offer valuable insight and ideas.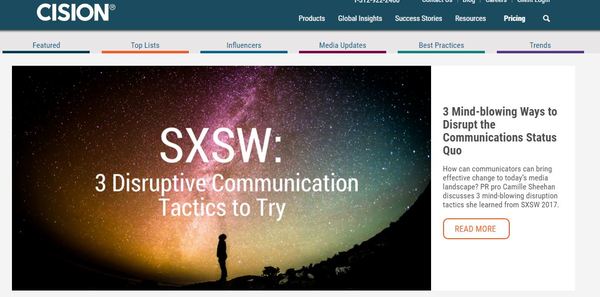 Focused heavily on news and current events, the Cision blog keeps marketers up-to-date on the latest trends and events. If you're planning to attend SXSW, for instance, you'll want to stop by this blog before you go.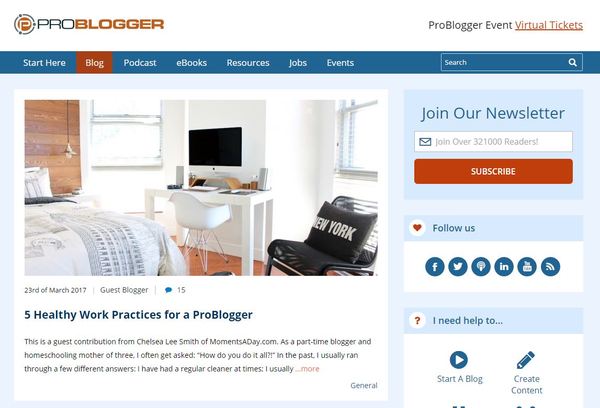 Problogger has existed nearly as long as Copyblogger. It was founded by Darren Rowse, an Australian marketer who also helms the popular Digital Photography School blog. Here, you'll find plenty of insights on the blog on social media, blogging, and advertising.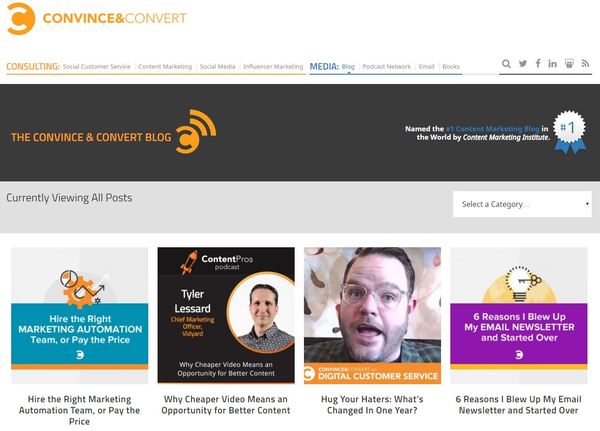 If you ever need inspiration for a quirky or lighthearted headline, this is the place to go. You'll also love Convince & Convert's blog for its frank take on subjects ranging from data mining to podcasting.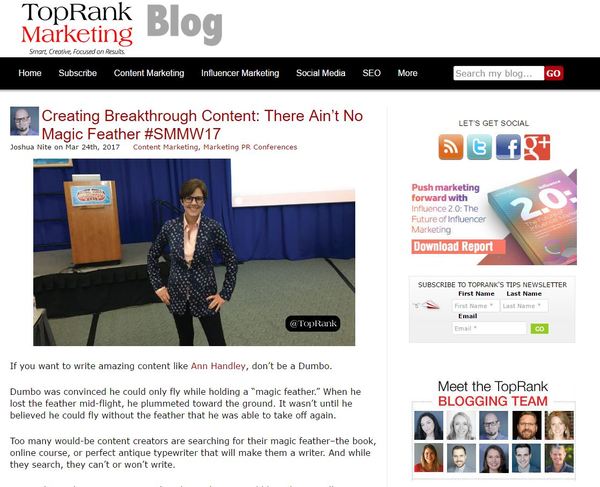 Nearly a dozen marketers contribute to the TopRank Blog, which tackles content marketing subjects of every kind. It's particularly useful for B2B companies that need new ways to tackle their target audiences.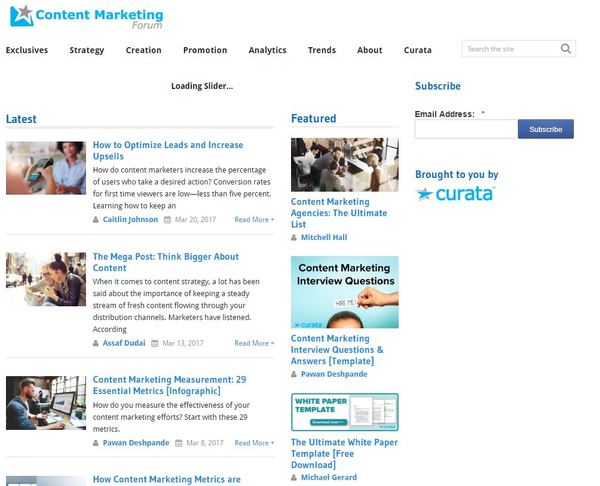 Since 2012, Curata's blog has offered inspiration and food for thought on content marketing. Although the company doesn't post as often as some of its counterparts, the articles are detailed and informative.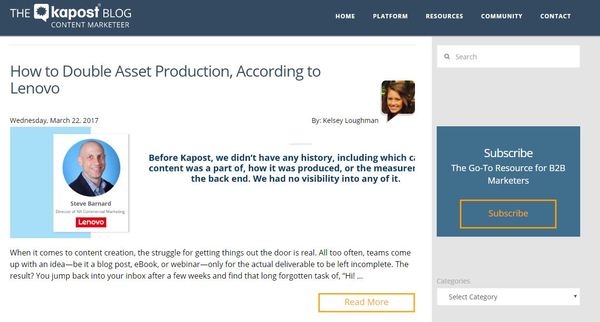 Innovation is the name of the game at Kapost. The writing team behind this successful blog doesn't just want to explore new ideas and test new theories. The writers want to take content marketing tactics to their extremes and experiment with new ways to reach their audiences.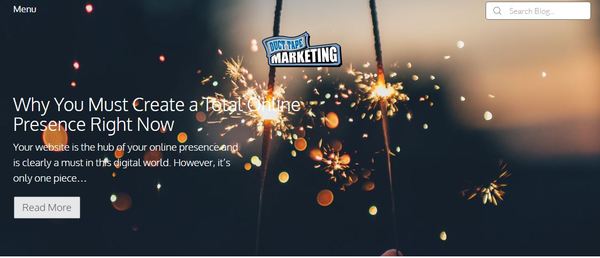 Like a strip of its namesake adhesive, the Duct Tape Marketing blog focuses on combining content marketing strategies to great effect. The publishers view all content as parts of a greater puzzle, so this is a great resource if you're hoping to branch out from just blogging or occasionally posting links to social media.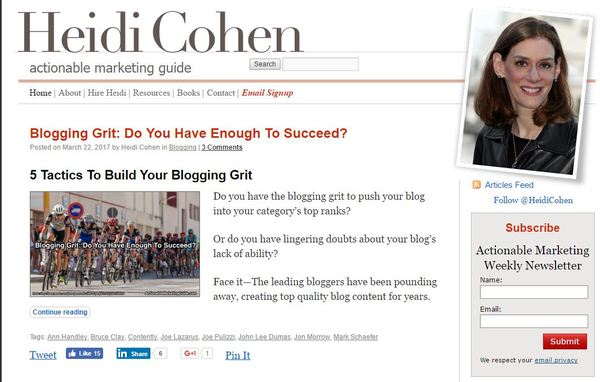 Cohen's resume speaks for itself. Not only has she practiced content marketing — she's also taught it at some of the nation's most prestigious schools. Her blog is full of tips and tricks that content marketers can use in their own efforts.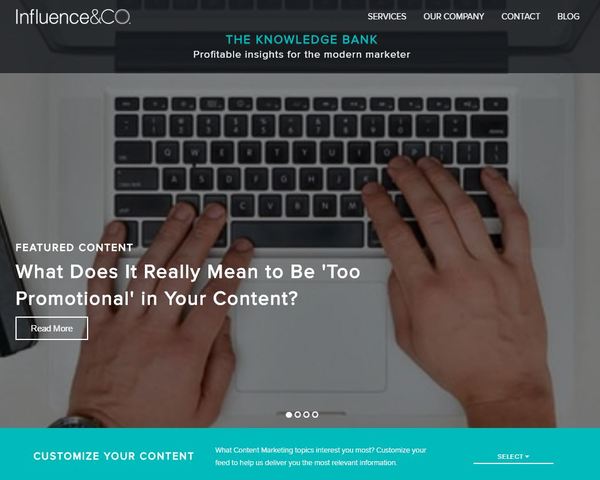 If your business is feeling a little poor on the content marketing side, take a withdrawal from Influence & Co's The Knowledge Bank. It's geared primarily toward business owners and new marketers who want to dip their toes in the content marketing pool, but don't quite have their sea legs yet.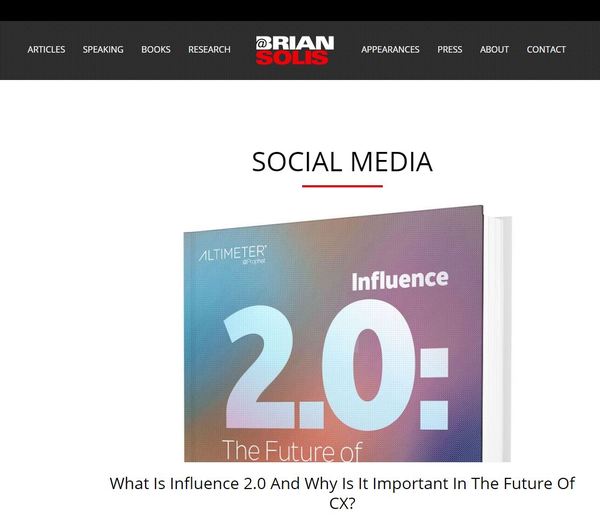 Keynote speaker, published author, and marketing expert Brian Solis gives away some of his secrets for free. Check out his blog to learn about his unique, innovative approach to finding and keeping an audience.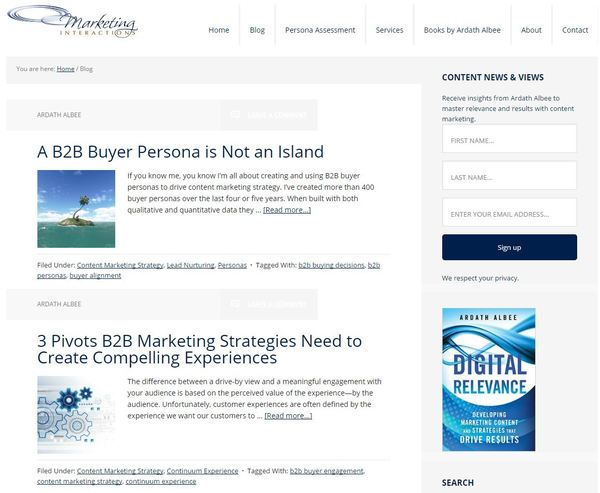 This is another blog that focuses on B2B business owners. If you're hoping to hook a few new accounts, you won't want to miss a single post on this blog.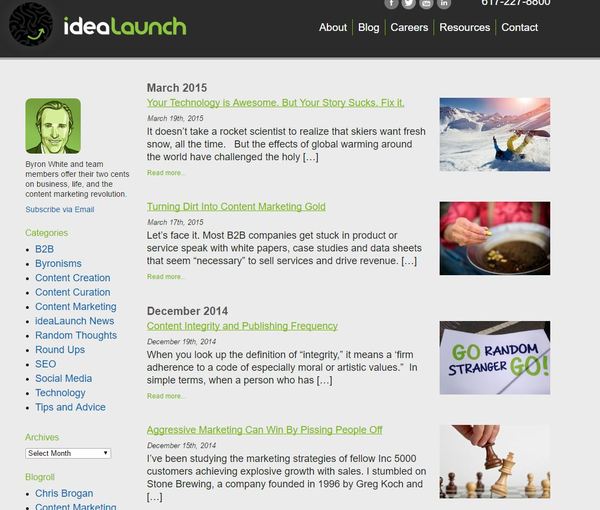 As its name implies, ideaLaunch focuses on ideas: testing, weighing, quantifying, and judging them. How often should you publish to your blog? When should you join a social media platform? Get the answers to these questions and more.
Are you feeling inspired yet? After you search the archives for tidbits of useful information on the above sites, consider recruiting a few experts for your corner. Get three free content ideas from the friendly team at Media Shower and learn how we can help you step up your content marketing game.
NOTE: If you own a content marketing blog that you feel deserves a place on this list, get in touch with us to let us know!