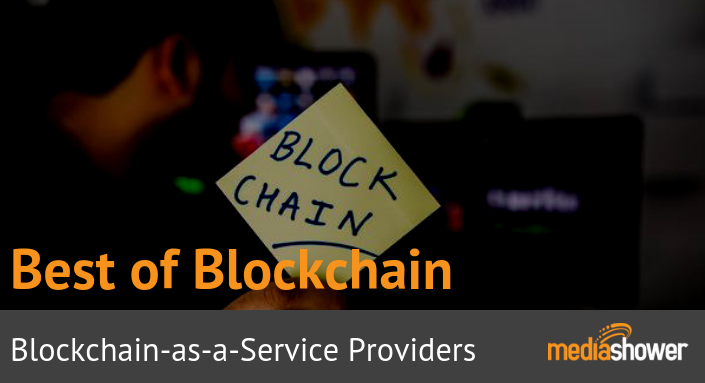 Most experts agree that blockchain technology is poised to disrupt the status quo of almost every industry. So far, however, the impact of blockchain disruption has been rather limited as the resources and expertise to develop new blockchain technologies has been a major hurdle for businesses that want to adopt the blockchain.
To address this issue, several leading technology companies have launched Blockchain-as-a-Service platforms that enable businesses to build blockchain solutions with the help of cloud-based blockchain architecture and technical support.
What Is Blockchain-as-a-Service (BaaS)?
A Blockchain-as-a-Service platform is a full-service cloud-based solution that enables developers, entrepreneurs, and enterprises to develop, test, and deploy blockchain applications and smart contracts that will be hosted on the BaaS platform. Moreover, the BaaS platform will provide all the necessary infrastructure and operational support to ensure that the blockchain applications run smoothly.
Blockchain-as-a-Service providers are, therefore, key for large-scale blockchain adoption among businesses as they enable companies to adopt the blockchain without having to spend anywhere near as much money as they would have to if they were to develop blockchain solutions on their own.
Best Blockchain-as-a-Service Providers
We have compiled a list of the leading Blockchain-as-a-Service providers that you can use to develop, test and deploy blockchain solutions to improve your business.
| Provider | Description | Service Launch Year | Notable Partners | Reputation in the Blockchain Industry | Twitter Followers | Degree of Company's Blockchain Focus | Score |
| --- | --- | --- | --- | --- | --- | --- | --- |
| Microsoft | Launched in 2016, Microsoft Blockchain on Azure is a blockchain application development platform hosted on the Microsoft Azure cloud computing platform. On this popular BaaS platform, businesses can "develop, test, and deploy secure blockchain apps." This has helped Microsoft to attract a wide range of high-level partners such as Ripple and BitPay and has seen the platform become one of the go-to BaaS solutions for industry proofs-of-concept. | 2016 | Bitpay, Factom, Ripple, Openchain | 5 | 8,490,000 | 4 | 4.0 |
| IBM | Launched in 2017, the IBM Blockchain Platform is one of the powerhouses in the BaaS space. IBM Blockchain is a fully-integrated distributed ledger technology platform that enables businesses to "'develop, govern, and operate a blockchain ecosystem quickly and cost effectively on a flexible, cloud-based platform." Some of the biggest names in banking and commercial industries have already started to develop blockchain solutions using the IBM Blockchain Platform. | 2017 | Stellar, Travelport, UBS, Commerzbank | 5 | 502,000 | 5 | 3.5 |
| SAP | Launched in 2017, SAP's cloud-based blockchain service platform, SAP Leonardo, aims to empower businesses to digitally transform at scale through the use of distributed ledger technology. The platform provides plug-and-play blockchain solutions and allows for the easy setup and hosting of blockchain nodes. | 2017 | Hyperledger, Lufthansa, Intel, Deutsche Telekom | 4 | 252,000 | 2 | 3.0 |
| Amazon | In 2018, Amazon launched Blockchain on AWS, its blockchain-as-a-service solution, which enables businesses to "easily build scalable blockchain and ledger solutions." Amazon enables businesses to build blockchain solutions on top of either Ethereum or Hyperledger Fabric as well as provide access to Amazon AWS' other cloud computing services. | 2018 | R3, ConsenSys, Tradewind | 4 | 1,710,000 | 2 | 3.0 |
| Oracle | In 2017 Oracle launched its Blockchain-as-a-Service platform, called Oracle Blockchain Cloud Service, to provide an enterprise-grade distributed ledger platform that can help businesses to "increase trust and provide agility in transactions across their business networks." Oracle Blockchain Cloud Service customers can develop blockchain solutions that can seamlessly connect with a range of popular Oracle solutions such as Oracle Supply Chain Management (SCM) Cloud, Oracle Enterprise Resource Planning (ERP) Cloud, and other Oracle cloud solutions. | 2018 | OriginTrail, Technovative Group | 4 | 748,000 | 3 | 2.5 |
| Hewlett-Packard | In 2017, HP launched its Blockchain-as-a-Service platform, called HPE Mission Critical Blockchain, which "enables customers to execute distributed-ledger workloads in environments that demand 100 percent fault tolerance at mission critical levels and ensures massive scalability to grow with the business as well as SQL integration with legacy systems." The BaaS platform was developed in partnership with software company R3 and is offered on HPE Integrity NonStop platforms. | 2017 | Streamer, Global Blockchain Technologies | 3 | 1,070,000 | 2 | 2.5 |
The Bottom Line
As more businesses look for convenient and cost-effective ways to leverage blockchain technology, it is likely that BaaS offerings will continue to proliferate. Keeping an eye on the space can help you choose the right BaaS provider for your business needs.