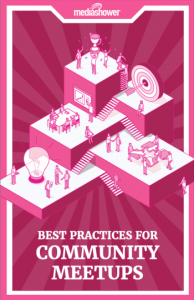 Learn how to grow a powerful local community to spread the word about your product, service, or company.
If you want to run amazing meetups that build your local community of product evangelists, download our best practices guide. You'll learn:
How to develop meetups that people will eagerly attend
How much to spend on a meetup (including sample budget)
Where to hold your meetup, with sample schedules and timing
Enter your name and email address below to download the free e-book and get ready to supercharge your community meetups.
Download our Best Practices for Community Meetups here.