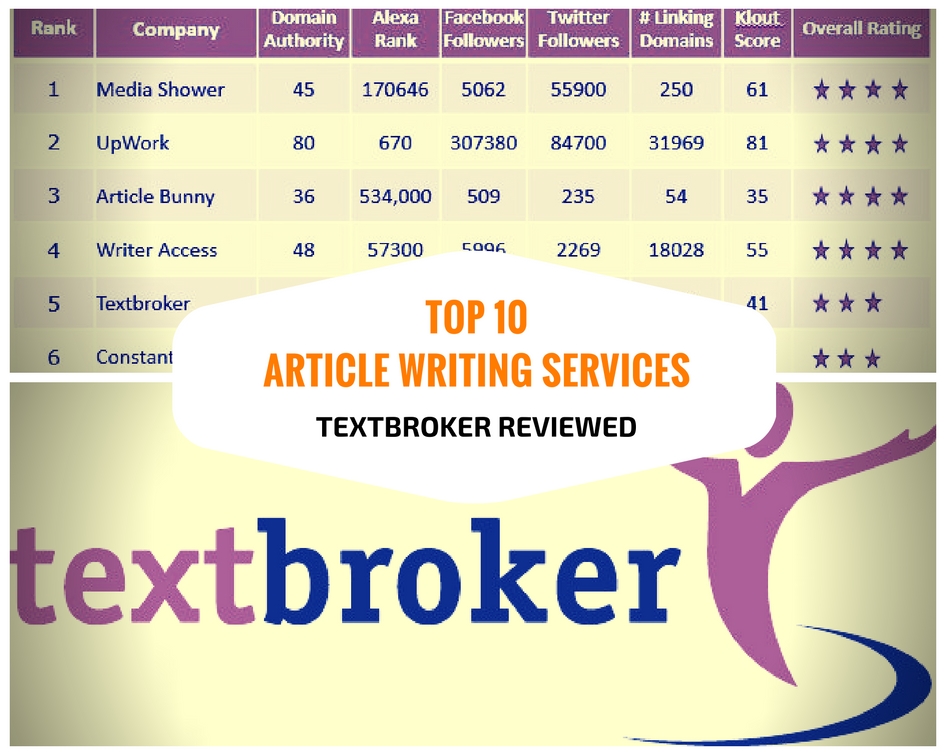 You've probably heard of Textbroker. It's one of the oldest article writing services in the industry — at least on its scale — and many companies have used it to purchase single articles or batches of content.
If you're in the market for an article writing service, you might find yourself tempted to try Textbroker. Before you put down your credit card, however, read this in-depth review. We're covering the top 10 article writing services, so business owners and consumers can make educated choices.
Textbroker Pros

Textbroker makes it easy to place an order for an article.
If you want to buy articles through Textbroker, you can sign up for free as a client. Once you've created your account, you'll put an order into the system. You can specify details like article length, subject matter, keywords, and other details. However, you're limited to the form you fill out in your client dashboard.
When you need an article quickly, Textbroker might offer the best solution. You can choose each article's deadline, so this service works well for clients who need content at the last minute. Additionally, Textbroker has an excellent reputation for protecting clients from copyright infringement and other issues common with content writing.
Textbroker Cons

Learn how to compare Textbroker authors.
You can submit a direct order to a specific writer or create an open order, which means that any writer can pick it up and write it. Both choices carry certain risks.
With a direct order, you'll have to search for a writer and carefully evaluate each author's profile. Does he or she have sufficient experience? Has the writer ever worked in your industry?
Alternatively, if you choose an open order, you won't know what quality to expect. Since any writer can accept the assignment, you might find yourself with subpar content that you can't use.
Writing quality is generally hit-or-miss on Textbroker, and writers often refuse to write for clients who request revisions or reject work more than a few times. They don't want to risk wasting their time.
What Customers Say About Textbroker
Nearly 70 people have reviewed Textbroker on SiteJabber, with only 22 percent recommending the company. Nearly half of all reviewers have given this article writing service just one star out of five.
Most of the reviews are from writers who have worked for Textbroker. However, a few clients have chimed in. Josh M. gives the company three stars, stating that his experience boils down to "good articles but slow delivery." Meanwhile, Scott B. dishes out five stars and a glowing recommendation: "I've been using TextBroker.com for about a month and the service and support are amazing!"
Ray C., however, gives Textbroker just one star, saying, "I've found the quality average even for the top quality service level."