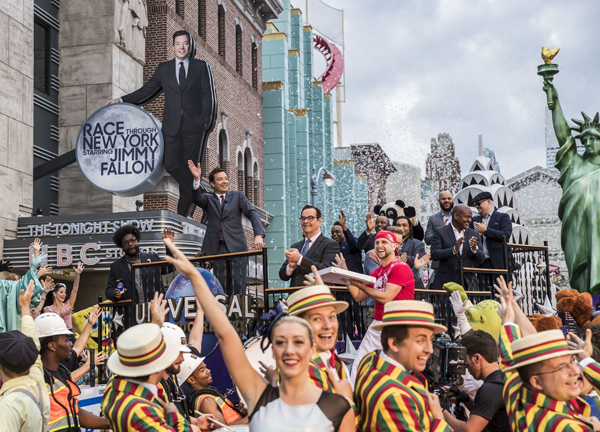 How would you like your brand to be showcased in a thrilling ride at Universal Studios to be enjoyed by millions of park-goers every year? Nothing says brand building like a 3D motion-activated, multi-sensory, high-speed movie ride in the popular Universal Studios Orlando theme park.
Universal Studios Orlando just launched its newest ride experience, 'Jimmy Fallon's Race Through New York.' The ride is housed in an exact replica of the NBC headquarters at 30 Rockefeller Plaza in New York City. Guests are taken through the black marble, gold stained halls and exposed to what thousands of celebrities and NBC employees experience on a daily basis.
As guests walk through the halls, they are shown a history of the Tonight Show behind glass encasements, met with the Ragtime Gals singing on an exact replica of Fallon's NYC stage and then ushered into the main event, a 3D multi-sensory movie ride. The warp-speed movie race starts with Fallon in a go-kart in his studio and continues down Times Square in a tour of NYC, hitting the Statue of Liberty, pizzerias, road traffic, the East River, empty subway trains and a high-speed roller-coaster ride through space.
Watch Jimmy Fallon and Blake Shelton take a tour of the "Race Through New York"
High-Speed Ride or Low-Ball Advertising?
While hundreds of thousands of unassuming park-goers enjoy their 3D ride through the streets of New York City, NBC will be watching its exploding ratings and Comcast will be counting its profits. That's because these corporations managed to package blatant in-your-face promotion in a high-speed thrill ride wrapped in fun and laughs for the whole family.
As ride-goers curiously walk through the hallways of the building replica, they are met with not only dozens of unavoidable cues to become avid Tonight Show watchers, but they are also shown billboards from some of the hottest current NBC shows on television.
Watch as the President of Universal Creative, Mark Woodbury, gives Jimmy a tour of the new ride for the first time. Notice the advertisements for NBC's show lineup.
As guests peruse, they are likely thinking about the excitement of the ride in their not-so-distant future and unaware of the marketing ploys and advertising.
Is this sneaky? Not at all. It's arguably some of the best content marketing I have seen. Besides all of the hoopla surrounding the event in the form of celebrity ride tours, news interviews and hashtag campaigns (#fallonride), Comcast got something else right.
This ride displays one of the most fundamental inbound and content marketing principles: Give away LOTS of value and don't let your prospects know they are being sold to. 
While you can't give your potential customers a high-speed 3D movie ride, you can give them something they will value and enjoy. A free report? An ebook? A free software demonstration? Give them something of high value. When you do, they will feel more connected to you and their defenses will come down. So when it comes time to sell, they will be more apt to buy because you have already established a relationship.
Never let them feel like you are promoting your products directly to them. Keep your focus on serving them and their needs and you will reap the rewards—not Universal-sized rewards—but profits that will sustain and grow your business for the long term.
Want to have some 3D-roller-coaster-sized fun with us? Now it's our turn to give you something of value. If you want to knock your content marketing out of the park (no pun intended), let us give you three free content ideas here. They will be lead-generating and targeted to your brand, and will help you get real results. Let's ride this one to success together (pun intended).