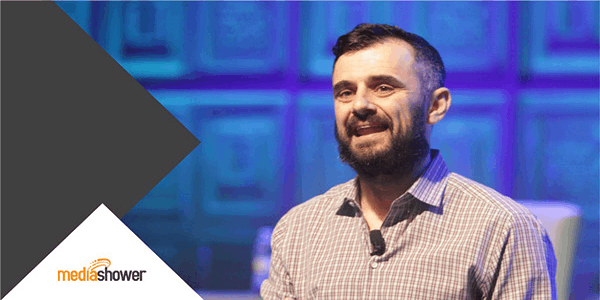 Overview:
Gary Vaynerchuk now spearheads multiple successful companies and heads a top global podcast because he refused to be anything less than the best.
This hardworking immigrant to the U.S. advises others in his field to look for underpriced attention, try new things and fail often until you succeed, and lead with empathy.
So What?
Vaynerchuk knows what it takes to be successful in marketing because he has lived in the trenches and done everything he's telling you to do (or not do).
---
Gary Vaynerchuk, or as some know him, "GaryVee," went from having a lemonade franchise at age 7 to bringing his parents' wine business online and growing it from $3 million to $60 million in five years. Now, his holding company VaynerX includes a marketing company that works with Fortune 1000 companies like PepsiCo, an NFT company, a top podcast, and several other enterprises.
Vaynerchuk has been able to accomplish so much in his life because he is constantly looking for opportunities, trying new things, and pursuing new avenues of business that others never see coming. Marketers and entrepreneurs who want to emulate Vaynerchuk have big shoes to fill. Here are some takeaways from Vaynerchuk's life and experience.
Capitalize on Underpriced Attention
"Underpriced attention" is a term coined by Vaynerchuk, and it means those forms of advertising that give the most return for the least money. Right now, he says social media ads and content are underpriced attention, mainly when mid-level influencers are used as part of that advertising. Looking for the right niche accounts or buying ads on the right platform can target your ideal audience to help your conversion rate explode compared to platforms that can be a mile wide and an inch thick, like television or a billboard.
For your brand to capitalize on underpriced attention, you need to spend some time figuring out your target market, what your customers are looking at on social media, and what you need to do to get the attention of others like them. Vaynerchuk says this is both an art and a science. You can hit it with creativity and math to figure out what is working quantitatively. Using just one or the other will be less successful.
Be an Early Adopter
Vaynerchuk's entire career as a serial entrepreneur has been centered around using upcoming technologies to build business success. How did Vaynerchuck know which technologies were going to work and which wouldn't? He says he didn't. Instead, he gravitated toward what he felt a passion for, and he adapted quickly away from things that weren't working and toward things that were.
If you fail quickly, regroup, and try something else, you will eventually hit on some things that succeed. You can then pursue those things and follow them down the path of success as far as it will go. There's no doubt that some level of gut instinct leads many to business and marketing success, but being able to adapt when you see yourself start to fail is just as important and can help you recognize success when it is present.
Find the Motivation to Do Your Best
Vaynerchuk's competitive disposition is what he believes motivates him to do his best work 100% of the time. His advice? See yourself as #1 in your sector and view being #2 or #3 as a complete and total failure. Take the view that no one other than you or your brand can give more value to your clients than anyone else in the industry.
Being ultra-competitive may not be the thing that motivates you or your brand to be wildly successful, but if Vaynerchuck's narrative doesn't resonate, then find the thing that motivates you the most and pursue it single-mindedly. If you are aimed full bore at success and approach it confidently, it is much harder to miss than if you aim haphazardly and uncertainly.
Stay Down in the Dirt
VaynerMedia is perhaps Vaynerchuk's largest and most successful company, but he explained that it also serves a useful purpose: it keeps him in the dirt. By this, he means that by working with Fortune 1000 brands on their marketing strategy and implementation, he continues to know what is really happening in marketing, what works, and what doesn't.
He can also stay on top of new trends and movements in marketing so that when he does a podcast or writes a book (he is a 5-time bestseller), his content resonates with others and informs them on marketing's current realities. He knows that when you get too far removed from what's happening with your brand, you risk losing what has made you successful, and he doesn't want to see that happen.
Lead With Empathy
The last two years have been a time of sky-high stress and anxiety for the American workforce. COVID-19 ripped many lives apart with the loss of jobs, lost loved ones, and the crippling fear of those losses. It was hard to know from day to day what would happen, and the unknown was also highly stressful. Would kids be in school or at home on distance learning? Would retail stores have the items you needed, or would the shelves be empty?
Vaynerchuk says the way to navigate these times with your brand is to lead with empathy. For him, kindness is the best business strategy. If your brand is floundering in the wake of COVID and doesn't seem to know how to pick up the pieces, he advocates that the leadership admit that things aren't going as planned, then ask employees how they can help them execute at a higher level.
According to Vaynerchuk, supporting employees and leading forward is the only successful way. As a leader and CEO of multiple companies, it's powerful that he would say that the buck truly stops with leaders. If they can't figure out why a team isn't working, then they are the ones with the problem, he says. The only real solution is support and empathy from the top and at every level.
Like Gary Vee, Media Shower wants to help you discover a marketing strategy that can bring you success. Click to try us for free.