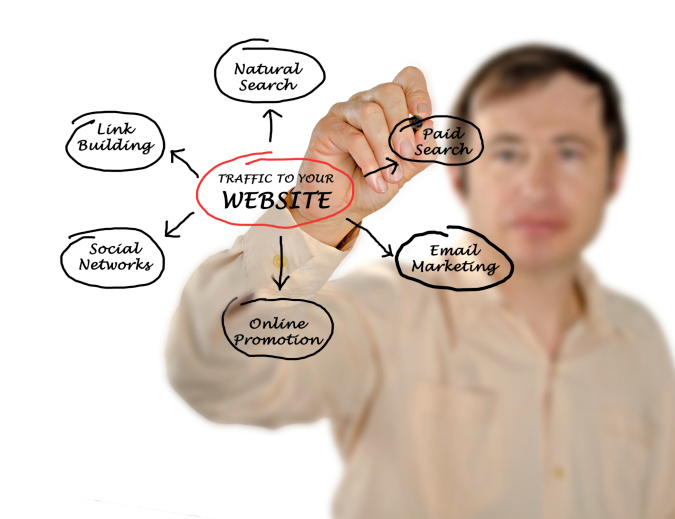 There are millions of websites out there and several thousand new sites created each day. In order to reach the right audience and be seen by potential customers, launching a multi-faceted online marketing campaign is critical, says Steve Giordano, CEO of Revisitors.com.
"To reach optimal results, any marketing campaign should include – in addition to PPC advertising and SEO – a direct stream of targeted traffic to increase site's overall reputation, show the product offer to potential clients and increase chances of success," he says.
That's where Steve's team at Revisitors.com comes in. The advertising agency helps deliver targeted web traffic to brands hoping to increase their online presence and make more sales.
Here, Steve shares how Revisitors works and what businesses need to know about purchasing site traffic.
Tell us about Revisitors … what services do you offer?
Revisitors operates an online advertising network built to help businesses get high-quality targeted website traffic at reasonable prices. Revisitors.com was built to help small business owners and online marketers get high-quality, geographically targeted website traffic through our full-page advertising technology, which eliminates the need to produce costly marketing materials such as banners or text ads. As Internet marketing maintains its rapid growth, Revisitors continues to improve its offerings by developing new technologies and innovative marketing tools. In order to meet the constant challenge of converting visitors into buyers, we at Revisitors constantly invest in reviewing and optimizing our traffic network to offer our clients a reliable, cost-effective advertising solution.
How does Revisitors work?
Revisitors operates an online advertising network composed of thousands of websites designed to cover a wide variety of topics and categories. Some of these websites are large portals, while others have their own narrow market. Every day millions of users access over 20,000 (and growing) sites in the Revisitors Network to watch music videos, get their local weather, play games, get sports headlines, movies reviews and more. In addition to these sites, we maintain over 12,000 expired domains, which generate large amounts of traffic. We continuously monitor the quality of the sites in our traffic network, add new sites, and remove under-performing sites on a daily basis, resulting in a constant improvement of our traffic quality.
What are your options when it comes to buying site traffic?
We at Revisitors decided to divide our traffic offer into six packages, starting from 2,500 visitors/month up to 100,000 visitors/month. When a client purchases traffic from us, she decides the geographical target region, the destination website address, a category and the amount of visitors needed. We will then review the campaign and activate the campaign. In addition, for every campaign purchase, one of our marketing specialists will visit the client website and send their feedback, comments or advice on its content. It is in our best interest to do so, because if a client campaign converts to sales, sign-ups, or referrals, clients will be more likely to come back for another purchase. Thanks to our manual review process and our online advertising technology, our customers are able to maximize their internet advertising dollar.
When it comes to web traffic, what is the difference between high-quality traffic and poor-quality traffic?
There are several traffic providers that offer cheap bulk traffic. Unfortunately, some of them resell poor-quality traffic coming from residual inventories. In some other cases, these providers even generate the traffic by themselves (but this is a scam, and it's far away from the way legit businesses operate). I always recommend, when purchasing a traffic campaign, to make sure that the seller is reputable, well established, provides contact information (better if there's a telephone number) and uses safe billing procedures. Then, once the campaign has started, it is very important to verify that traffic appears in third-party stats (such as Google Analytics) and it comes from the preferred geotarget. Also, it's important to check that visitors come from multiple IPs (not just one or two).
What should business owners look out for when it comes to using the services of companies like yours? What are some tricks less reputable traffic providers try that won't necessarily translate in sales for the business?
As already discussed in the previous question, it is very important to pay lot of attention to the reputation of the company. The traffic company should have a physical address, a real customer support and be very transparent with final users about itself, its network and the way they redirect traffic to customers' websites. Companies that use shady techniques to do businesses usually tend to be shady on their communication. Last, pay attention to the refund policy.
Don't rely too much on comments left by people on the internet: targeted traffic may bring some very good results, but also some very poor results regardless of its quality. People tend to have very high expectations and don't consider that they are paying for – in most cases – 1/1,000 of PPC traffic (that may not work well either). Therefore, my best recommendation is to try traffic by itself starting with a small campaign, and then, if satisfied by the traffic and the provider, order a larger one.
What should businesses be doing to ensure they are getting more high-quality traffic to their site?
For optimal results with targeted visitors, businesses should pay attention to the destination page they redirect traffic to. In most cases, better results can be reached by directing visitors to an uncluttered, compelling, quick-loading page, created with your core campaign goals in mind. Think about your full-page ad from a web-surfer's point of view. When a full-page ad is displayed, a visitor shouldn't need to spend time figuring out what the site is trying to sell. If the message isn't compelling, they'll simply close their browser window. For example, if a website visitor is shown an ad which requests their contact information without a detailed description of what they might be signing up for, they're unlikely to keep that ad open for long, let alone fill out the form.
How can business owners increase the likelihood that visitors to their site will translate into increased sales?
Again, the target page (business home page or a specifically designed landing page) is the most important factor to increase sales. A few hints on how to create an optimized full-page ad include a prominent logo, an attractive image, a brief (but detailed) description of what the site has to offer, and a single action button.
Outside of buying traffic, what are the best ways businesses can grow site visits more organically?
I recommend to pay attention to every single detail of the site and user experience. Invest in customer support, and in the quality of the products. The best way to increase a business organically is to have returning customers, and, with the multitude of choices the internet has to offer, only satisfied customers return.