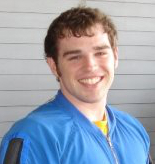 As a senior software engineer at Broadleaf Commerce, Phillip Verheyden is always thinking about how to make eCommerce better. He recently shared some of his expertise on eCommerce with us.
Hey, Phillip! What's the one thing you wish everyone knew about eCommerce?
That reinventing the wheel with eCommerce will lead you down a road full of pitfalls. At this point, the path for selling products online is well traveled, and it makes more sense to build your eCommerce system on top of a well-architected and hardened eCommerce framework. However, most eCommerce systems will give you about 90% of the functionality that you need out of the box; very, very few will get you 100% of the way there, and if they do, the solution ends up feeling hacked together. Because each business has small intricacies that make them unique, the real question becomes, how easy is it to implement the final 10%?
Has eCommerce become essential for every business, or should some hold off on adopting it?
Absolutely essential. In fact, I would take it one step further than that: Technology continually needs to be at the core of your business in order to get ahead in the marketplace. Gone are the days in which "the business" can throw things across the office to IT and expect everything to work out. The companies that have the most success are those that understand this and invest in making technology a key part of what they do.
Where do POS systems like Square fit into an eCommerce model? Can they be better integrated than they are?
I don't think that POS systems are going away, at least not any time soon. There will always be small local businesses that serve a niche market along with those that want their products immediately. That said, Amazon is already experimenting with same-day delivery, and mobile apps like Open Table can already accept payments after booking at a restaurant. I think the real question with POS systems is, how well can they grow with your business? When you get to the point where your local business needs to start selling online, how easy is it to manage in-store and online orders? It seems that PayPal will have an easier time with that use case since they already have the infrastructure and investment in online payments.
What are some technical considerations of eCommerce we should consider?
Storing customer credit cards is not something that should be taken lightly, as can be seen by Target and Home Depot database breaches this year. This is something that we recommend business leave to their payment gateway. Modern payment gateways support all kinds of user experiences without a credit card number ever entering a particular business's infrastructure.
What's next in eCommerce?
Everything around mobile devices continues to effect eCommerce. Various reports indicate that up to 1/3 of online shopping is done via mobile devices as of 2013. This has been a growing trend over the years and will continue to grow as more and more consumers use smartphones.
Another trend to follow is in the fulfillment space, or how quickly products can get in the hands of customers from an online sale. Amazon has even started experimenting with same-day delivery. Other online businesses will have to follow suit in order to compete.
For more from Phillip and the Broadleaf team, keep up with them on Facebook and Twitter.