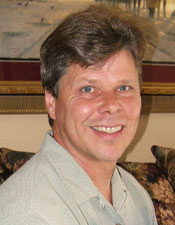 It's been said you need roughly 10,000 hours of experience to become an expert in something, but our interviews with experts take just 10 minutes to read. Sweet deal, huh?
Today we're getting to know Rob Fore, the man behind Sonnar, one of the best blogs to be found covering online marketing. Rob has years of experience in marketing, both in the real world and the digital one. Join us as we discuss the advantages and challenges in marketing your business online.
How did you get started in online marketing?
Since 1996, my wife Lisa and I have built five six-figure, even multiple six-figure businesses on the Internet. We started by converting a book we had written for professional real estate agents and started offering it online. From there we branched out into building and hosting lead generation web sites for real estate agents and have never looked back.
Today we focus on affiliate marketing, network marketing and selling our own products and services within the internet marketing niche. We have a team of 11,000 active network marketing distributors in one company and earn tens of thousands each month promoting a variety of affiliate programs.
There are a lot of confusing terms out there surrounding the Internet and marketing. What's a good definition of "Internet marketing"?
In my experience, marketing can be defined as "getting the word out" about the products and services you are promoting. Internet marketing is simply using the communication channels available on the internet to accomplish the task of getting the word out. This might include blogging, building and promoting a web site to rank on the search engines, video marketing, email marketing and striving for more social media exposure through Facebook, Twitter, Linkedin and Pinterest. Internet marketing would also include any type of advertising methods you are using.
What advantages does the Internet offer when it comes to promoting a business?
The Internet levels the playing field and lowers the barriers of entry for most businesses. Meaning, it only takes a nice web site or a blog to appear to be a big business and once you have your content published it is all about driving targeted traffic to your site. Targeted traffic equals leads equals sales. Plus, the time it takes to effectively advertise and market your new online business is significantly less.
For example, before we started promoting online, we used to run full-page magazine ads to promote our real estate lead generation system. If we wanted to test a new headline or a new offer, it would take thee to four months before the new offer was published, so there was significant lag time–and it was expensive. Depending on the periodical, we would spend $5,000 to $12,000 per month to run the ads.
Today, thanks to the wonders of internet marketing, we can change our headlines and offer within a few minutes, publish the content and test the new offer by driving both organic and paid traffic to the offer, literally overnight.
Another advantage to using the internet is your marketing efforts are easily scalable. You can add more products and services with a click of your mouse and expand your marketing reach with another click of your mouse.
The Internet also allows you to communicate with your prospects and customers in real time which helps increase the trust relationship you have established.
What role do social networks play in marketing a business?
Watch any popular TV show, news broadcast, or national advertisement and you will notice virtually every name-brand encourages social media engagement. So, today, creating an active presence on various social networks is almost expected. If you don't have a social presence, then the perception is you are not a big company or, worse, the perception is you are not giving your prospects and customers a voice.
In regards to marketing, it is also critical to have a number of active social network accounts set up because the major search engines like Google, Bing, Yahoo and even YouTube are measuring "social media engagement" metrics to help them determine which websites, blogs and videos they will rank on the first page on their search results pages. The more Facebook likes, Twitter tweets and Google+ buzz you create, the higher your content will rank on the search engines for organic traffic.
Are there any "requirements" in internet marketing; things any business absolutely must do?
First and foremost you need to provide quality content your prospects and customers are looking for when "shopping" or "searching" for more information related to what you are promoting.
The days of crass advertising are over. Today you are much better served to embrace an attraction marketing model where you seek first to lead with value and then, when appropriate, gently guide your visitors to take the next step.
If you intend to market primarily using paid media methods like banner ads, Youtube promoted videos, Google Adwords and even Facebook ads, then you simply need to create compelling content and drive targeted traffic to it. Encouraging social media engagement is also critical because it lends social proof that your business cares enough to care to listen. Plus, as people share their experiences you benefit from real-time testimonials.
If you intend to promote primarily using organic traffic methods  — that is, getting your content to rank on the search engines for the actual keywords and phrases real people are typing in when shopping or search for your products or services — then you need to also pay attention to a number of on-page SEO principles, make sure you make it easy for people to engage on the social networks and execute a well-planned SEO campaign as well. This is where you get other web sites, blogs and social networks to link back to your content because you have unique, valuable content.
It is also important to plan for long-term results. While internet marketing has reduced the barriers of entry and has also significantly reduced the cost of advertising and marketing,  it is not a magic pill. It takes time, effort and skill to profitably promote a business online just like it does to promote a business off line.
How has marketing on the Internet changed? We've come a long way from banner ads and pop-ups.

Yes, back in the early days of the Internet novelty drove a lot of business. So all you really had to do was post a few banners ads and… voila! You made money. Not so much today.
Today there is a lot of competition online and you need to find a way to get your message seen and heard through all the clutter. You must also make it very easy to do business with you by providing full contact information and a choice of purchase options via Paypal, credit card and even an E-check. You must also focus on providing value first versus a sales pitch because, frankly, people do not like to be sold anything…but they sure LOVE to buy.
What are some common pitfalls businesses stumble into, marketing themselves online?
Perhaps the biggest mistake we find with those just starting out on the Internet boils down to the lack of a professional online presence. And by professional I mean a website or blog that matches their audience and follows a few standard presentation protocols like presenting your content in both written and video formats.
For example, building a site with white text on a black background might be perfect for a younger, game-playing audience but would be a complete disaster when targeting the aging baby-boomer market.
Not offering a free trial, a risk-free money back guarantee, or even fair shipping and handling changes is often a common mistake. Not featuring customer testimonials, encrypted order forms and featuring other "Trust Seals" like the Mastercard, Visa and American Express logos can also reduce conversion rates. And perhaps the most common beginner mistake of all: not offering a live telephone number.
People like to do business with people they have come to know, like, and trust, and the more you match their model of how they want to do business and the more you make doing business with you completely transparent, the more business you will do.
How does a small business handle attempts to derail their internet marketing efforts?
Competition can be fierce online in the more expansive markets like affiliate marketing. But most local businesses should not have any challenges building a profitable presence online. Most derailments do not come from outside influences, but from within the company itself by not treating their internet marketing efforts with the time, energy, investment and respect it deserves.
It has been reported people spend more time on YouTube and Facebook today than they spend watching their favorite TV shows. So the world is changing, and if we want to continue to grow our bottom lines we have to evolve with the market.
What do you see as the future of internet marketing?
Consider Google TV. People can now engage with a company in real time as they are watching a TV show or perusing the news. They can even immediately make a purchase from the comfort of their couch while an infomercial is still airing.
People can visit YouTube and finds dozens, even hundreds of free product tutorials and other "how to" information and the entrepreneurs and businesses that make it a point to lead with this type of valuable content first, before attempting to sell anything, will do more in the long run.
Visit a mall and spend some time watching the youth. They run their entire lives from their smart phones and as the phones get more powerful and as the data delivery speeds continue to increase, internet marketing will be the only game in town.
Bottom line, in my opinion, if you do not have a website,  you are out-of-sight. Out of sight, out of mind.
Looking for more Fore? Follow Rob on Twitter @RobertFore. Thanks fort all the awesome insight, Rob!