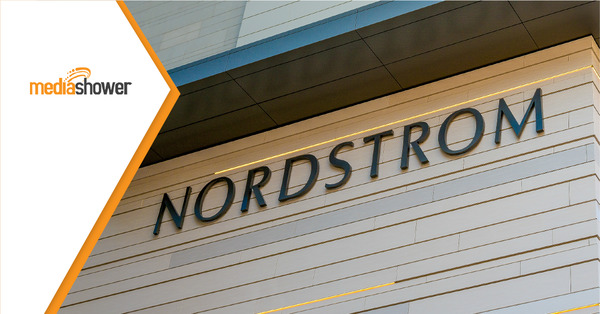 TLDR: 
Nordstrom is a retail brand that has been around for over 100 years. They've always had a strong reputation for customer service, but as the world changes and technology advances, they continue to win at customer engagement in new ways.
So What?
In this day and age of e-commerce, where customers can purchase items from anywhere at any time with the click of a button, it's essential to make sure your brand is staying relevant. Here are some ways Nordstrom continues to win at customer engagement to stay ahead of the curve.
Introduction:
Nordstrom has been a department store staple since 1901 – and for a good reason. They have continued to innovate and improve the customer experience with a focus on personalization, convenience, and service. Simply put, Nordstrom is always looking at ways to make life easier for customers.
In this post, we're highlighting some of our favorite examples of how they continue to win at customer engagement by thriving in the age of digital marketing and e-commerce.
1. Use Personalized Emails
Nordstrom has mastered the art of customer engagement by personalizing customer experiences through email. With an extensive customer database, they can curate newsletters and send personalized emails to keep customers engaged.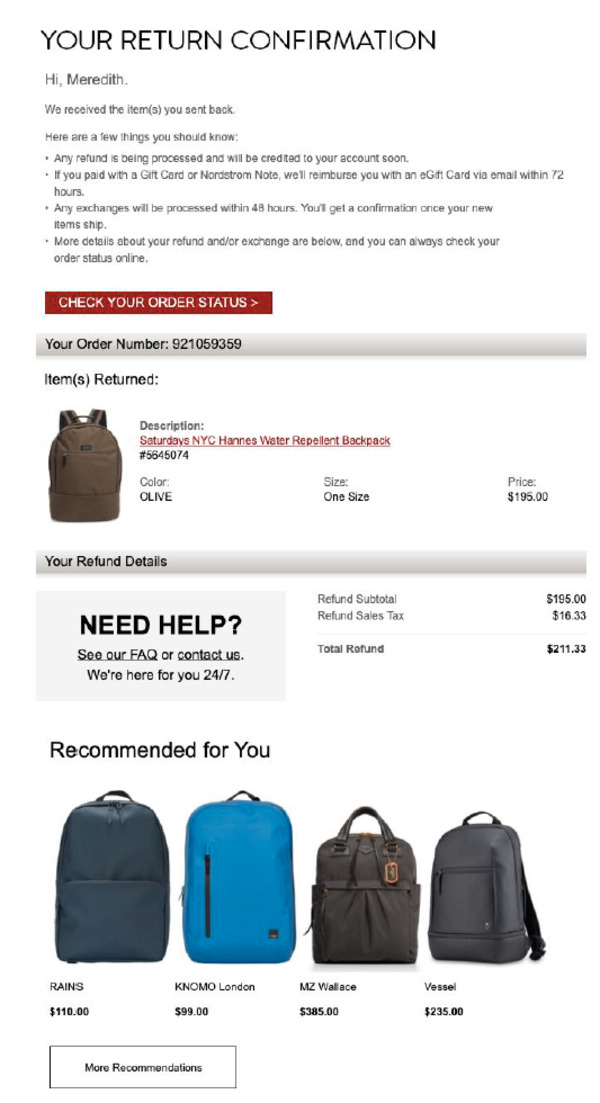 They also use different messages for specific customer segments like loyal customers or VIP members. For example, they might send customers an email wishing them a happy birthday (and including a redeemable discount) or notify them of special in-store events.
This personalization ensures that customers feel appreciated and keeps them engaged with the store. You, too, can use customer data to personalize email campaigns by segmenting customers according to purchase history, demographics, and engagement levels.
2. Offer Seamless Shopping Experiences
Nordstrom offers a customer-friendly platform complete with an easy-to-use website and apps, customer reviews, customer service chat options, and seamless payment processing.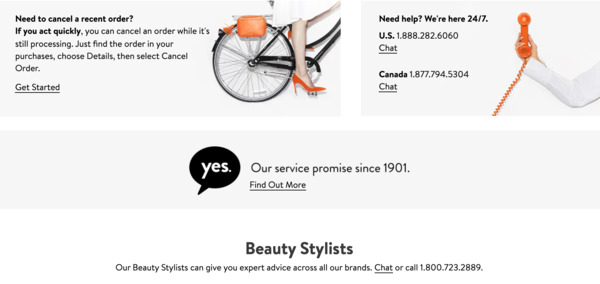 In addition to physical touchpoints throughout their stores, Nordstrom is available anywhere that customers want them to be – whether they're at the mall or in the comfort of their own homes.
Their customer-friendly platforms make it easy for customers to purchase what they want when they want it and how they want it. This combination of online and in-store customer engagement tactics creates a seamless shopping experience that's difficult to replicate elsewhere.
Think about how you can make your customer's shopping experience easier and more convenient, and work to provide that across all customer touchpoints.
3. Embrace Mobile Marketing
Along with having customer-friendly platforms, Nordstrom has recently focused on mobile marketing. They've also released a dedicated mobile app that allows customers to buy products, curate looks, create a wish list, venture in-store for events, and call customer service.
This comprehensive app provides an all-in-one experience for customers and empowers them to engage with Nordstrom in a way that suits their needs.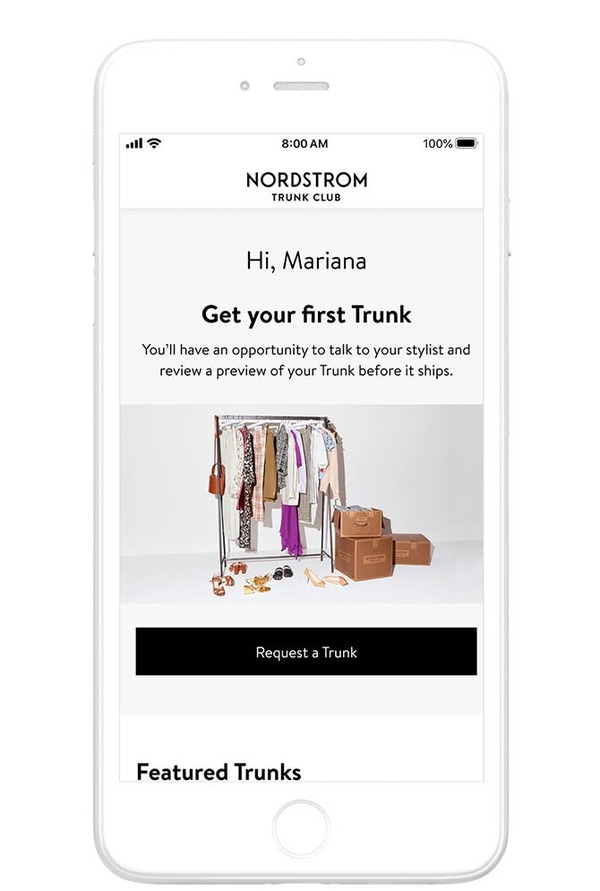 On top of those features, customer service chat is available right from the app to offer convenience and ensure customer satisfaction before, during, and after the purchasing process.
This focus on customer engagement through mobile apps demonstrates Nordstrom's commitment to meeting customer needs in the era of smartphones and tablets. They understand that an increasing number of customers are using their mobile devices for shopping, so they've prioritized providing an excellent customer experience through their app.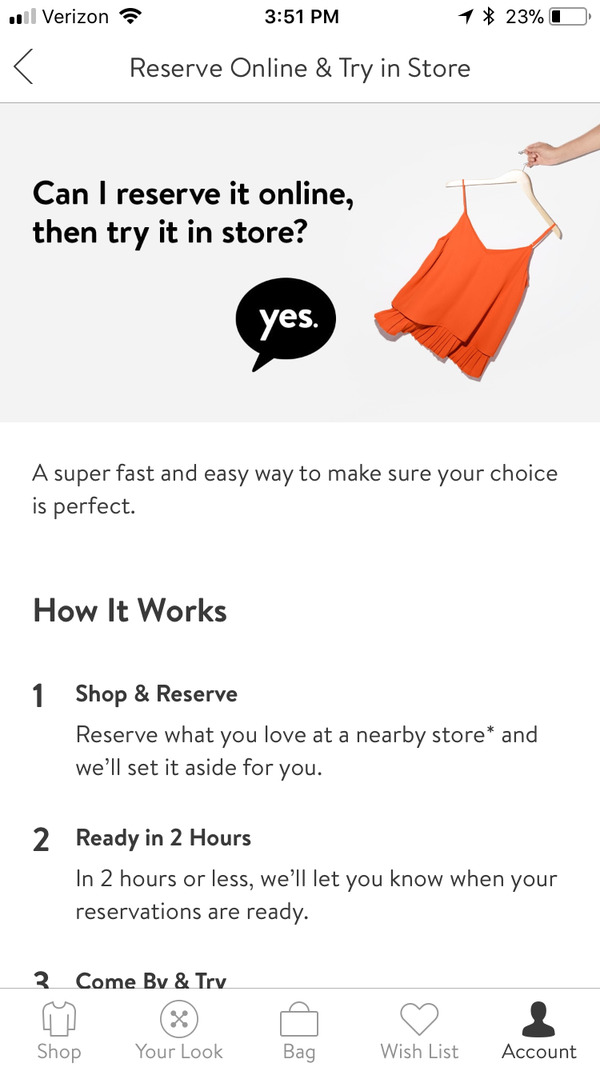 That's something you can offer as well. The customer expectation for mobile capability is higher than ever, so you risk losing your customers to the competition when you're not meeting customer needs through your mobile site and app.
4. Redefine In-Store Experiences
Nordstrom is constantly innovating their in-store customer experiences to keep them fresh and exciting. They've partnered with various companies over the years to create unique experiences for customers, like the recent collaboration with Rent the Runway.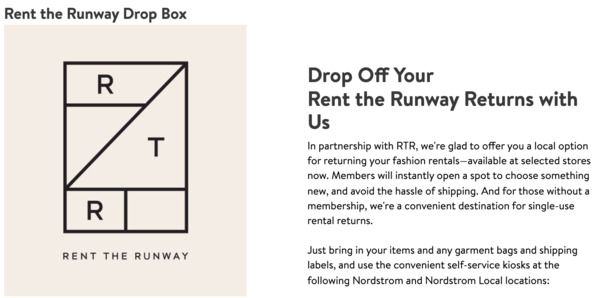 This partnership allows customers to rent designer clothing and accessories from a Nordstrom store for a special event and return them the next day. In essence, it gives customers access to designer pieces they might not buy otherwise while streamlining the customer experience by allowing for easier returns.
Another example is that, through Nordstrom Local, they offer a styling service or personal shopping experience for customers who want help putting together outfits.
Nordstrom Local is described as the "redefining of the brick-and-mortar version of this department store" because, instead of customer service associates standing behind a counter, they're embedded in an intimate customer experience that offers seating, room to try on clothes, and customer service via face-to-face chatting with personal stylists.
It's essential for your business to constantly evaluate the customer experience you're providing and look for ways to innovate and improve. What can you do to make your customer feel special and unique? Can you create a more intimate customer experience, like Nordstrom Local, that'll encourage customer loyalty?
5. Stay Relevant to Your Customers
To stay relevant, Nordstrom showcases trending brands and products in their stores. They regularly rotate the brands and products they carry to ensure that their selection is fresh and appealing to customers.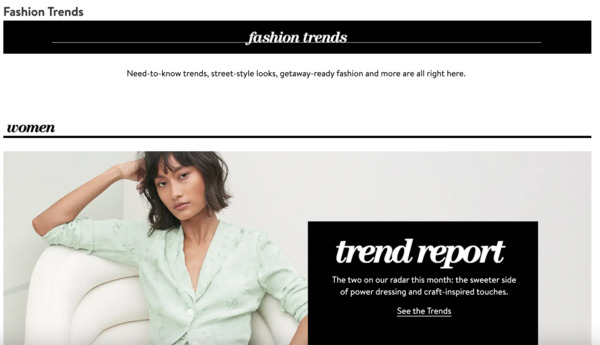 This strategy entices customers to come back frequently to see what's new at Nordstrom, keeps them engaged with the store, and encourages them to explore different brands and products. In doing so, Nordstrom has cultivated a reputation as the go-to for shoppers who want to stay up-to-date on the latest fashion trends.
To stay relevant, it's crucial to constantly evaluate your customer needs and wants and make sure your product selection reflects that.
Final Thoughts
Nordstrom is a customer engagement master, and there are many lessons to learn from the brand. If you want to implement some of these customer engagement strategies at your company and see the results, find out how Media Shower can help. We can help you strategically implement customer engagement strategies that'll yield results. Click here to try Media Shower for free.