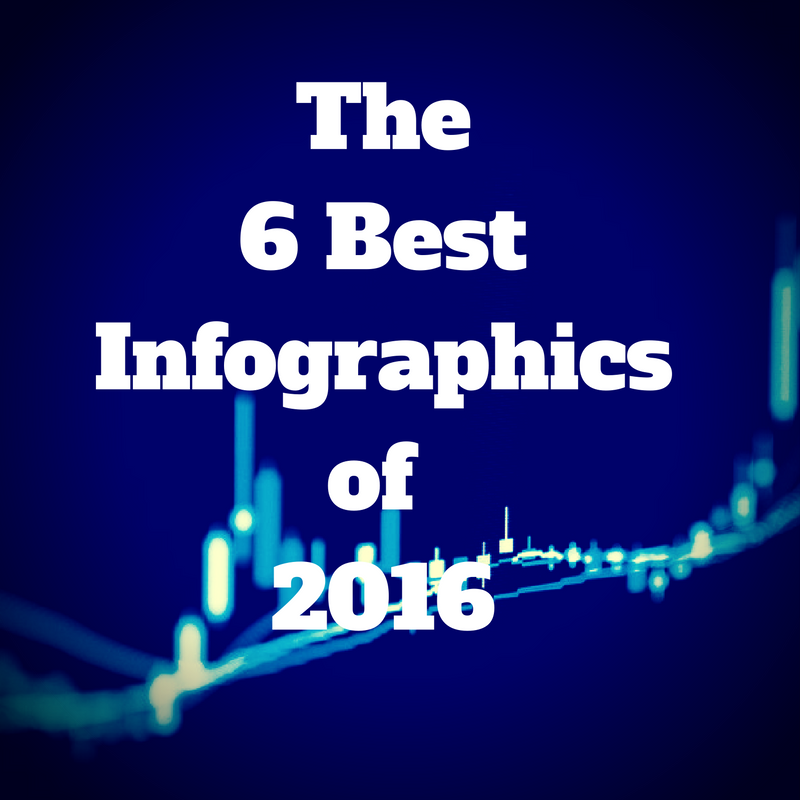 Infographics have been and remain hot items in the worlds of online and social media marketing. They're visually appealing, informative, and they're a terrific, safe way to share information about your organization.
Moreover, they're fantastically shareable, and when people share your infographics they by definition are sharing information about your organization, whether that's specific company information, or broader information about what your organization cares about.
Here are our favorite infographics from 2016 and why we like them!
1. Democratic vs. Republican Professions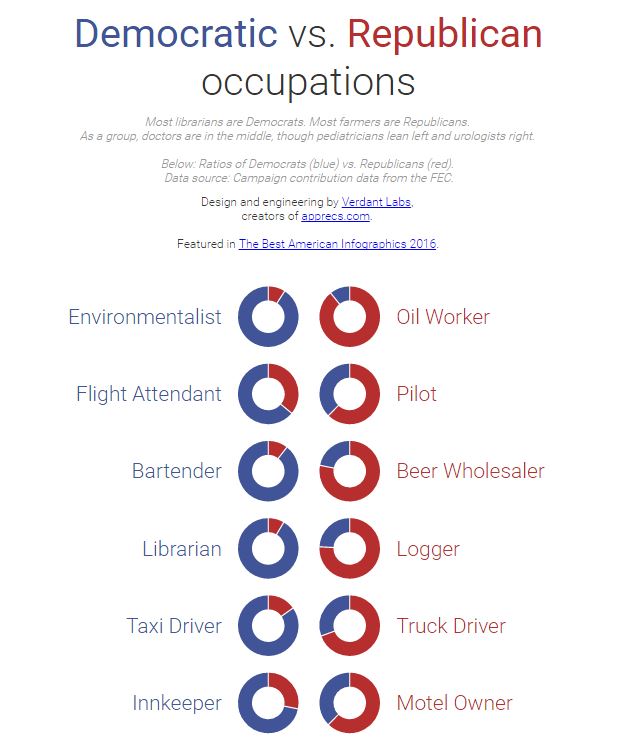 The presidential election felt as if it permeated every aspect of 2016, and although many of us are relieved to have a break of at least a couple of years before the next election extravaganza starts up, Verdant Labs created an infographic that offered fascinating insight into not the candidates, but the electorate. Using an intuitively informative series of "donut" graphics, they created an infographic showing how people in different occupations tend to vote. While some political leanings are to be expected, others offer some surprising insights.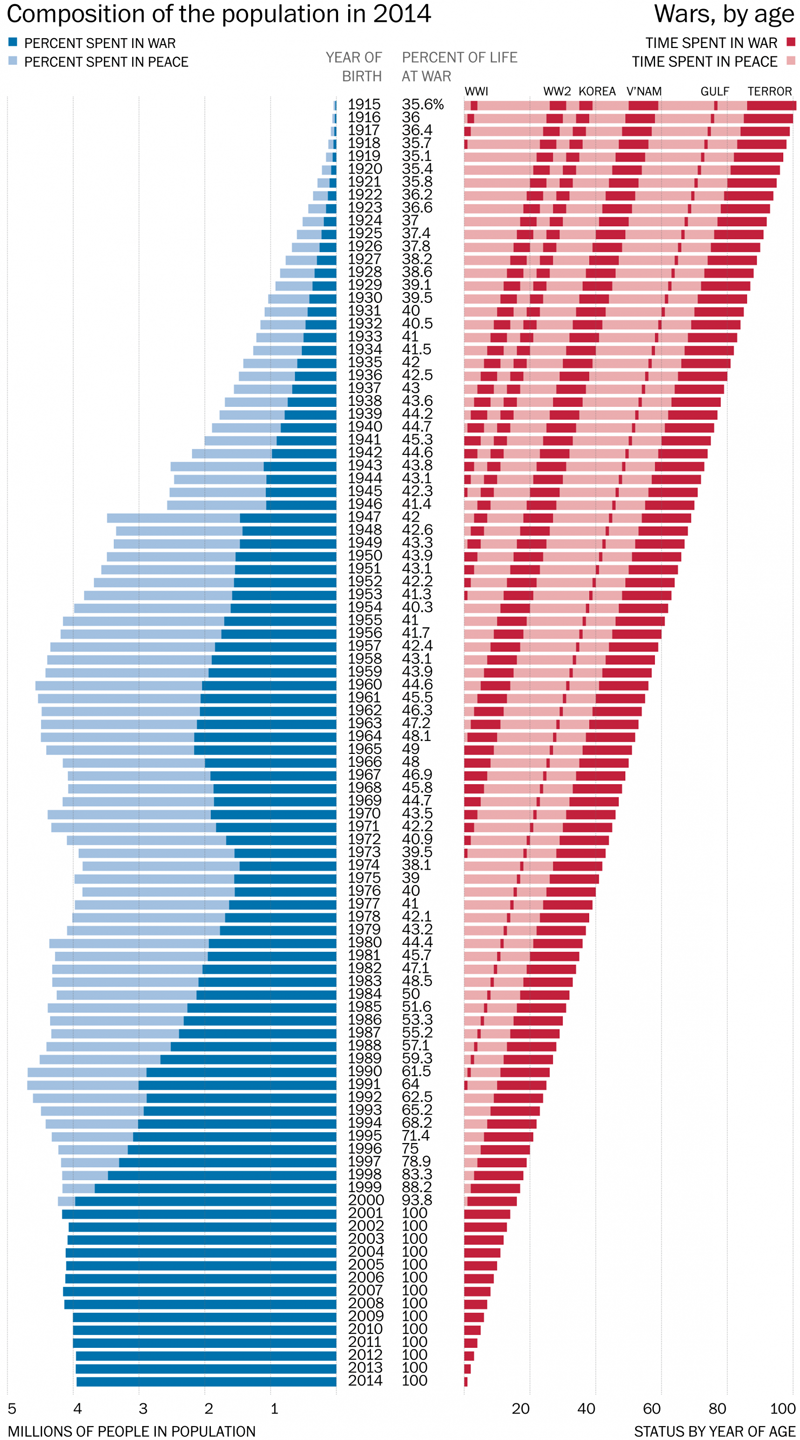 OK, technically this one was published in 2015, but the content it presents is important enough to bear repeating. Basically, the Washington Post created an infographic showing what percentage of an American's life has been spent with the country at war, based on their birth year. One interesting point this remarkable infographic makes is that although we tend to imagine a "war generation" centered around World War II, for the most part the younger an American is, the greater the proportion of his or her life has been lived when the United States was involved in a war.
3. Stories of Past and Future by XKCD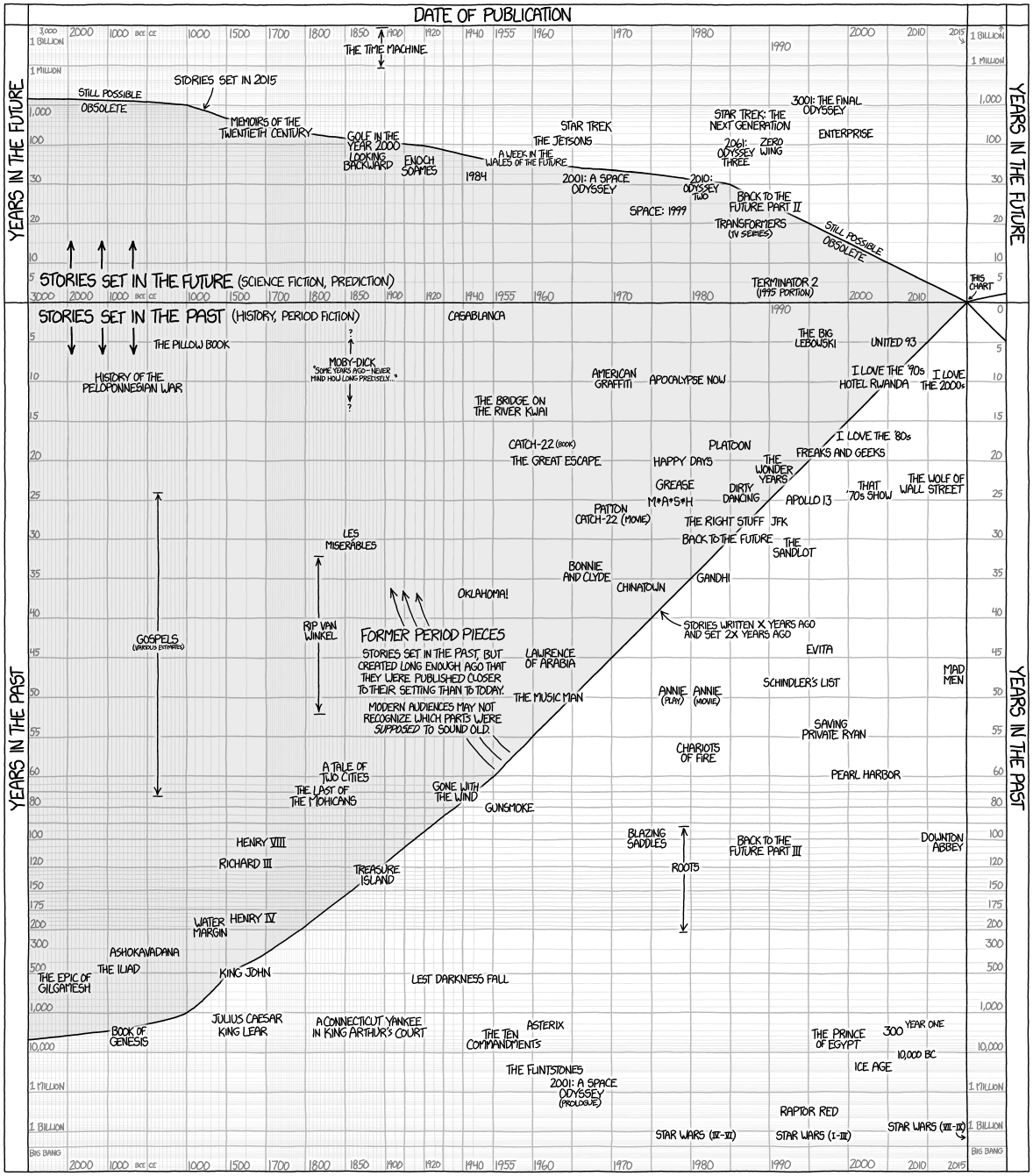 The webcomic XKCD, created by Randall Munroe, is about almost everything under the sun, and you have undoubtedly seen the iconic XKCD stick figures describe universal romantic situations, or discuss mathematical or linguistic concepts. The "Stories of Past and Future" infographic is a wonderfully informative reference for visualizing, over time, trends of authors setting stories in the past versus setting them in the future. It also indicates how far in the past or future stories were set. For the fiction fanatic, it's an outstanding encapsulation of fascinating literary data.
4. Words in Hit Song Titles by Decade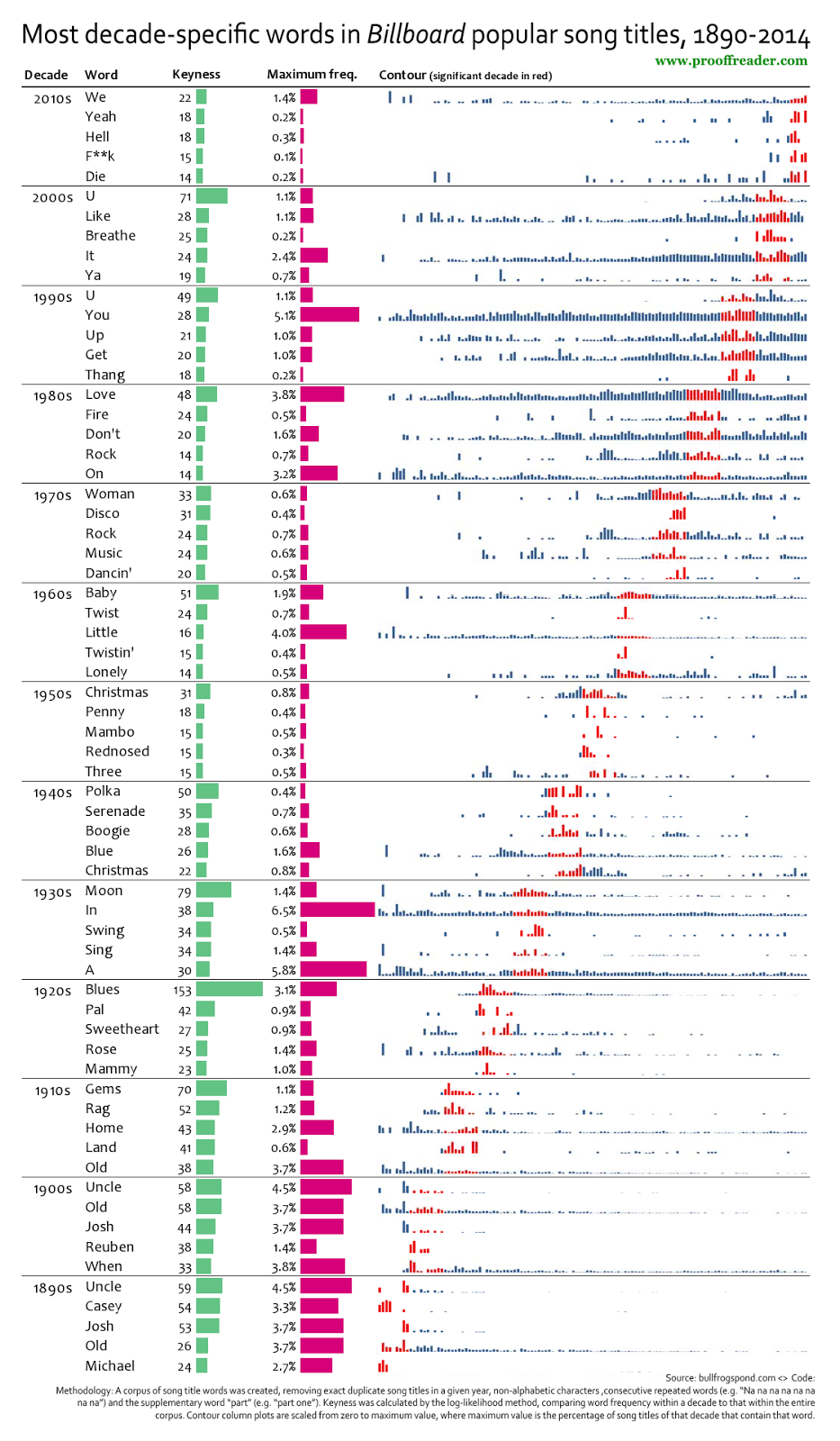 Here's a fun one. And yes, it's from a couple of years ago, but it just goes to show how infographics can gain and maintain traction over time, and the data contained in it are still relevant. Prooffreader.com created an infographic that shows the most popular words appearing in Billboard popular song titles by decades, starting back in the 1890s. You'll discover that Christmas songs made the biggest splash during the 1950s, and probably won't be surprised to find that song titles have become more vulgar since the turn of the 21st century.

The "How to Stop Worrying" infographic from happify.com is great anytime but particularly if you're in your New Year's Resolution mindset. It starts with some fascinating statistics. For example, did you know that the average person spends an hour and 50 minutes per day fretting about things? This infographic also briefly recaps the damaging effects of excessive worry, and then gives several practical tips for reducing the role worrying plays in your life, tips like exercising, keeping a regular sleep schedule, and learning to let go of harmful negative thoughts.
6. Why Website Redesign Doesn't Always Work

Let's wrap up with a practical, work-related infographic. Software A/B testing firm VWO created an infographic about why website redesigns fail and what you can do about it. This can be especially relevant for companies planning website makeovers in the new year. Generally speaking, website redesigns result in greater revenues, but that's not the entire story. This infographic shows how organizations invest their website redesign resources, and how they should be doing so to maximize return on investment. If your organization is considering a website upgrade in 2017, you definitely want to check out this infographic.
If you're interested in infographics, social media, or any other aspect of content marketing, we would love for you to request a free content marketing assessment. Media Shower has put in the time and the work to learn exactly what works today to help our clients gain traffic, leads, and best of all, customers and we would be delighted to share that with you.