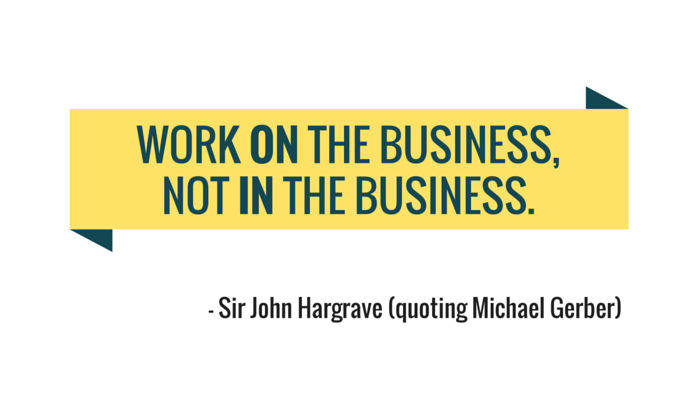 I got my MBA at Babson College. There are two great things about Babson: first, their sports team is called the Babson Beavers, and I challenge you to find a funnier team name. Second, it really is the best school in the country for entrepreneurship, which has served me well as an entrepreneur. I studied with gifted professors like Anirudh Dhebar and William Bygrave, and of course read all the great business books and case studies required of any MBA student.
Since graduating, however, I've discovered several books that have had a greater impact on my thinking than any of the required coursework. Here are my top five, the ones that I recommend not just for aspiring entrepreneurs, but for our content marketing clients at Media Shower — or for anyone involved in business.
The Magic of Thinking Big by Dr. David Schwartz. Every day, we have a choice: we can either think small, or we can think big. We all know "small-minded" people (petty, bigoted, etc.), but we may not know many "big-minded" people (visionary, generous, etc.) Thinking big is not the same as being smart — anyone can learn it. This book contains useful, practical "mind hacks" for expanding your thinking not only around your business, but around your life. Ironically, the book is rather small. (GoodReads rating 4.2)
The E-Myth Revisited by Michael Gerber. Most small businesses are started by entrepreneurs who want to "do the work": you're a web designer who realizes you can make more money freelancing, so you start your own web design shop. As the company grows, however, the entrepreneur's role must shift from "technician" (doing the work) to "manager" (running the work) to "entrepreneur" (planning the work). An easy read, written as an imaginary dialogue between the author and his client. It teaches you how to "work on your business, not in your business." (GoodReads rating 3.9)
How to Win Friends and Influence People by Dale Carnegie. In her excellent biography of Warren Buffett entitled "The Snowball," Alice Schroeder tells how Buffett read "How to Win Friends" in his youth, and decided to test the book scientifically, trying each of the tips and noting the results. (I'd say they worked.) If you read Buffett's annual letters to Berkshire Hathaway shareholders, you can still see him exercising the principles found in this classic book. I read this book as a teenager, and I'm now reading it with my own kids around the dinner table. (GoodReads rating 4.0)
Good to Great by Jim Collins. The author and his research team studied a handful of companies that defied gravity, companies that wildly beat stock market returns over an extended period of time. What made these companies great? Collins has a knack for taking sophisticated business concepts and distilling them into easy, humorous analogies like "The Flywheel" and "The Hedgehog Concept" (a diagram of which sits next to me as I write this). (GoodReads rating 4.0)
Think and Grow Rich by Napoleon Hill. As the story goes, Napoleon Hill interviewed Andrew Carnegie toward the end of the tycoon's career. Hill asked Carnegie about his secrets to success in business, and the old mogul was so impressed with Hill's questions that he suggested Hill embark on creating a "science of success." Carnegie would put Hill in touch with his most powerful friends (the good news), but Hill would have to do it for free (the bad news). The result of Hill's interviews — as well as a lifetime of coaching salesmen — was "Think and Grow Rich." The granddaddy of all motivational books. (GoodReads rating 4.1)
I've included each book's average rating on GoodReads. To give you an idea how difficult it is to impress the average GoodReads reader, Moby Dick only gets an average rating of 3.4.
Most of what you learn as an entrepreneur, or with anything in life, is by doing it. But having the right mental frameworks in place can accelerate your learning and put you on the fast track to success. As an entrepreneur, content marketer, or businessperson, these books provide incredibly valuable mental frameworks that can literally earn you millions of dollars. For about ten bucks, one of these books could prove to be the smartest investment you'll make today.
Sir John Hargrave is the CEO of Media Shower and author of Mind Hacking, the how-to manual for hacking your head, available in 2016 from Simon & Schuster's Gallery Books.
This post is free to distribute under Creative Commons 4.0: if you like it, share it.