Some of the biggest brands out there have a number of other large brands competing for the same exact market on a regular basis. There are certain products you only need one of at a time, after all.
Coming up with innovative, cutting edge technology is only half the battle.
The other half? Getting noticed.
So how do some of these brands make sure they stand out in a crowd?
Content marketing, of course! Sometimes to the extreme.
Can You Hear Them Now?
Any deodorant that can keep you dry as you defy death will probably work pretty well for more moderate sports, or even a first date, right?
With that in mind, Speed Stick deodorant (once owned by Mennen but now a Colgate-Palmolive product) launched its Speed Stick Gear line for the kind of advance performance required in extreme sports. The line features their trademarked Drycore technology.
Extreme Performance! Captured on Film
YouTuber and extreme filmmaker Devin Graham (otherwise known as Devin Supertramp) got in on the message and the action by heading to Panama City to film a few wildly fearless souls testing their luck on the world's largest urban zip line.
Launching from the rooftop of a 700-foot building, the group of courageous aerialists took off on the 10,000-foot-long zip-line. As he began his descent, the very first zip liner undid his safety clip to free fall right into the city below. Needless to say, shock and awe ensued among the bystanders, captured in the video, not to mention the YouTube audience watching from the safety of their screens.
Luckily, he quickly opened the parachute on his back and disembarked without incident on a Speed Stick landing pad. The other stunt artists all followed suit, planned of course, but not announced before hand.
The element of surprise certainly served to increase the attention already garnered by the death-defying display.
Graham got some amazing visuals, capturing the entire affair with his Red Dragon, Phantom Miro and GoPro Hero 3+, scoring it to The Chosen by Scott & Brendo, then enhancing production with Fullscreen.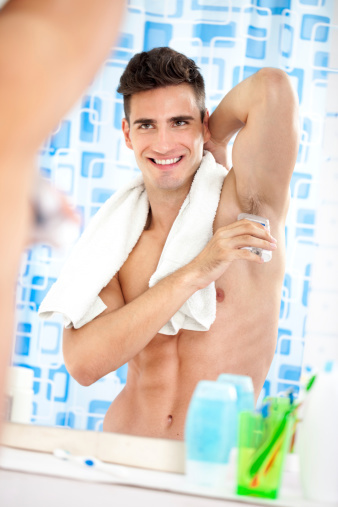 Speed Stick knew how to make deodorant a product to remember!
Viral Shares
Not surprisingly, the video is making its way around the web. Comments by those watching include a lot of digital oohs, ahhs, gasps, and even colorful descriptions about the sanity of the Speed Stick Gear team, and what might happen if some of the viewers attempted such a feat.
During their stunt, the six professional BASE jumpers set a number of records for highest, longest building-attached zipline (and dual zip line) ride transcending both city and water.
A Branding Match
Bill Van De Graaf, VP and GM of U.S. Colgate-Palmolive's Personal Care division, announced via press release that Graham was a perfect match for the brand's image.
Graham told viewers and Facebook fans that he has always loved capturing extreme shots, and was thrilled when Speed Stick Gear presented him with such a challenge. With 2.2 million subscribers to his YouTube channel, it seems a lot of viewers were equally thrilled.
What is Your Extreme?
Not every stunt requires plane tickets, dare devils and skyscrapers. How can you make head turns for your brand?