We're pleased to announce the launch of Media Shower Metrics, an industry-changing keyword and content reporting tool that is being offered free to our Content Engine Plus and Content Engine Pro subscribers. These reports show you the Return on Investment of your content marketing efforts.

Most marketers think, "I know content marketing is important, but show me the money." With Media Shower Metrics, we will show you the money. Here's how it works.
Content Reporting
In your Media Shower account, click "Content Reporting" to see traffic to each piece of content we've produced for you, along with live search results in the top search engine. You can use Content Reporting to:
Learn which content pieces are getting the most traffic
Optimize your content strategy
Ensure your content is being properly indexed
See how your content is appearing in search engines
See where your promotional efforts are driving the most value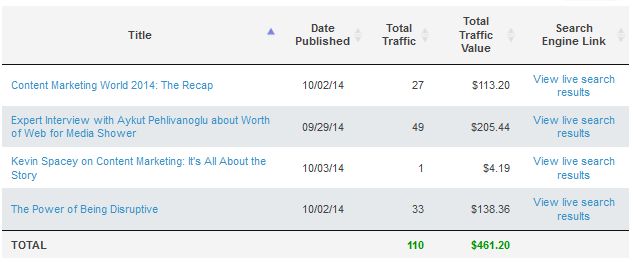 We also calculate the traffic value of each content piece, by averaging the Cost Per Click across your top keywords, and multiplying by the number of content views.
Note that we can only track content where you include the Media Shower tracking code, so if you are seeing very low traffic or missing content, be sure you're posting content as we deliver it.
Keyword Reporting
In your Media Shower account, click "Keyword Reporting" to see the progress made on your top-selling SEO keywords, and the value of that organic traffic. You can use Keyword Reporting to:
Compare your current SEO rankings vs. before Media Shower
Estimate organic traffic being driven by each keyword
Show the value of this organic traffic
See the relative value of each keyword (all keywords are not created equal)
Identify areas of keyword opportunity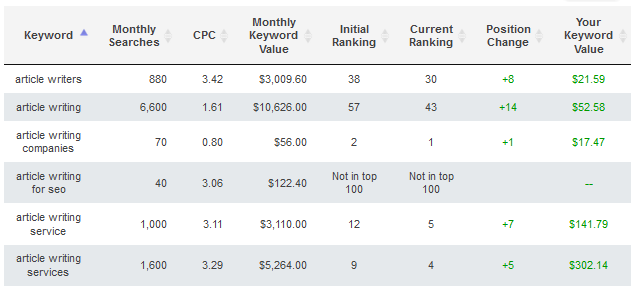 For example, let's say you were ranking #12 on the keyword "article writing service" when we started working together, and you are now ranking #5 on the same keyword (see above). Our keyword report estimates the monthly organic traffic you now receive at #5.
Knowing how much monthly traffic you are receiving, we can multiply that times the average Cost Per Click to get the value of that organic traffic, which we report as "Your Keyword Value." Put another way, this is the monthly value of your organic traffic, if you were to buy the traffic via paid search.
Our keyword reports are updated weekly, on Sunday nights, using the default global search in the top search engine.
Personalize Your Metrics
If you'd like to make these metrics even more accurate, you can input two additional values:
Conversion rate: The percentage of your website visitors who convert into paying customers. For example, if you get one paying customer for every 1,000 visits, your conversion rate is .1%. Be sure to input this number as a percentage. 
Customer lifetime value: The total revenue earned from a paying customer, over the lifetime of that relationship. For example, if you run an ecommerce site where your average order is $80, and the average customer makes 6 orders, the CLV is $480 (6 x $80). If you run a subscription service at $10,000/month, and the average customer subscribes for 5 years, the CLV is $600,000 ($10,000 x 12 x 5).
By entering these two numbers, or your best estimates on each, we can personalize your Media Shower Metrics to reflect your actual business value from our work together. If you need help on either metric, contact us and we'll be happy to lend a hand.
Incredible Value; No Additional Charge
Keyword reporting services cost hundreds or thousands of dollars per month, and they still don't offer you this level of customization. We've worked hard to make Media Shower Metrics easy and useful, and we're offering it to Content Engine Plus and Content Engine Pro subscribers at no additional charge.
If you're not on one of these plans yet, or you'd like to see a demo of Media Shower Metrics for your business, contact us. We'll be happy to personalize a report for you.