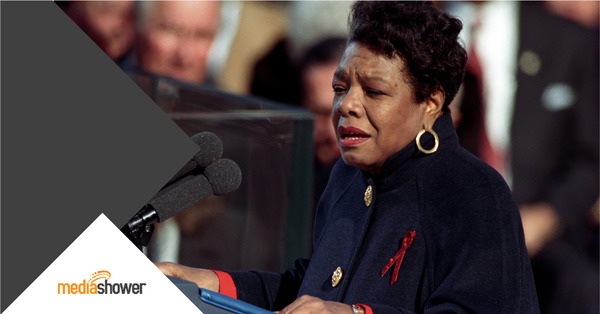 Overview:
Maya Angelou offered wisdom to the world through a number of creative means, using strong images in her work to describe the injustice of the Black experience and a vision of greater equality.
She spoke the truth even when it might not be popular, but did it in such a captivating way that it won the hearts of the public and changed their way of thinking about race.
So What?
Any message worth putting out into the world involves risk and offers great reward. Being authentic should not be rare among marketers, but be embraced.
Maya Angelou was a poet, essayist, civil rights activist, Broadway performer, filmmaker, and teacher. She grew up under segregation, had a difficult home life, and was raped as a child. But her overarching message was one of hope and resilience.
Angelou was descriptive about the emotional impact of the traumas she and others in the Black community faced. And she also talked about the hope for a better future as the world woke up to inequality, and many worked to overcome it.
Angelou's message became very popular with people of all colors and races, especially after her autobiography was published in 1967. She later met Oprah Winfrey and became the fledgling media mogul's mentor. By 1993, she became the first female of color to give an inaugural recitation at Bill Clinton's inauguration.
Let's look at how Angelou communicated wisdom to the world in a unique and revolutionary way through her writing.
Know Your Audience
Angelou had a gift for reaching her audience, which was not just people of color. She wanted to communicate the experiences of her people to a world that was just beginning to care about them. For many people, Angelou was a window into a world they had never been able to see before, because of cultural differences or ignorance.
She spent her life dedicated to pursuing justice and equality, and she did it in a gracious way that didn't seek revenge for injustices, but emphasized understanding and forgiveness. She was able to touch so many because she knew her audience and what they wanted from her, as well as what she could give to them.
Never Stop Learning
Looking at Angelou's life, it's easy to see that she never stopped learning and pursuing knowledge and mastery in different areas. When Angelou became a professor at Wake Forest in North Carolina in 1981, her colleagues expected her to lack the intellectual quality of most professors, because all of her degrees were honorary rather than earned.
Angelou proved to her community that she had the depth and curiosity to be their intellectual equal — even without formal training — because she continued to learn through her life experiences and the many roles she played during the 1960s and 70s.  When a brand constantly learns about its audience, competition, and even itself, high-quality results will follow.
Try Different Things
Angelou tried many different things in her life, and her experiences helped her narrow down her areas of expertise, figure out what she wanted to do most, and hone that craft to near perfection. She evolved from dancer to Broadway writer/producer/director and performer; then she evolved again into civil rights leader and public face of a generation of people of color.
While brands have to be careful not to throw everything against the wall to see if it sticks, there is some room for experimentation in order to broaden the appeal or reach of content. At the very least, trying different things will show what works best, which might not otherwise happen.
Celebrate Creativity
One big draw of Maya Angelou for people of color and everyone in society is that she possessed a creative spirit like few people of her time. She captivated people with her creativity, and they wanted to see and hear more.
Brands often pay a premium for creative content, but one of the best ways to find it is to let the fans post content on social media, which can be curated to avoid any problems that could come up with user-generated content. Using fans' ideas is possible if you go about it the right way, and can extend your creativity beyond your own creative team.
Use Strong Images
Angelou was able to get people to understand her experience as a person of color by using strong images in her writing. In her autobiography "I Know Why the Caged Bird Sings," Angelou used the imagery of a bird in a cage to aptly describe her feelings of being restricted as a person of color, yet seeing the hope of freedom in the future — a hope she got to realize during her lifetime.
Images are some of the strongest descriptors, whether visual or written, that marketers can use to capture the essence of their brand or product. Taking the time to find the right images that resonate with your target audience and help them experience your product is one of the most valuable things you can do as a marketer.
Worry Less About Popularity and More About Truth
It was important for Angelou to speak the truth about the Black experience so that people could see the pain that segregation and other injustices had caused. Much of the power of Angelou's writing had come from the juxtaposition of painful experiences and hope for the future, and she was more concerned with telling the truth than about whether it ruffled any feathers.
In the same way, it is vital for marketers to be bold in telling the truth about their products. There will always be haters in any situation, and no brand or brand message will resonate with everyone. Knowing that you can't make everyone happy should free you to be true to the brand, no matter what a few detractors say.
It can be risky for marketers to be so boldly truthful. But most highly successful brands have succeeded because of taking risks, just like Angelou did in being candid about her experiences. But the kind of authenticity Angelou exhibited throughout her life is a big part of the reason she became the beloved public figure she did. It's worth the risk to offer something real.
There's no risk in trying Media Shower's services to see if we can help you find your marketing sweet spot. Try Media Shower for free by clicking here.