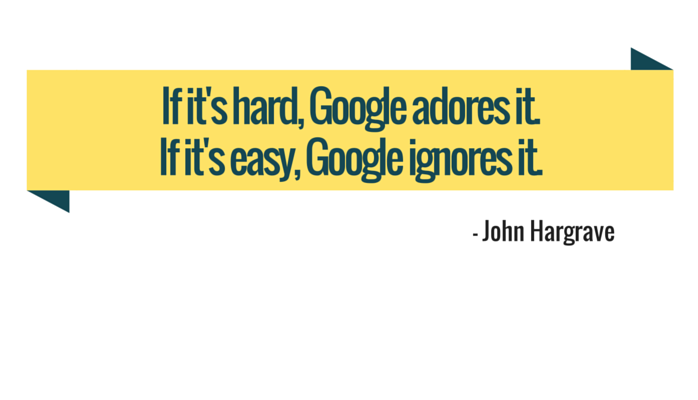 Years ago, I went to this local marketing meetup, and they had a guy from Google as the featured speaker. This was back when Google was a little more open about how their algorithm worked, and the Google employee said something that changed my life.
"You guys all make it so complicated," he told us. "If you want your website to show up at the top of Google results, just focus on two things: creating good content, then building links into that content."
He went on to explain that links are the basis of the Google algorithm. Even today, professionals estimate that 80-85% of the results you get in Google are based on the quality and quantity of links. Each link you get to your site is like a vote of confidence. It's like finding a book on Amazon with 2,000 positive reviews; you take it more seriously than a book that has 7 positive reviews, which you figure came from the author's mom.
But, the Google employee explained, links are only half the equation! The other half is creating good content. In other words, you need something to link to. Here he emphasized something counterintuitive: you should not write content with search engines in mind. Instead, you should write content for your users. Content your customers will find helpful, useful, and unique.
I remember being struck by the simplicity of this formula: leave it to a Google employee to take this massively complicated algorithm and distill it down to two simple elements!
This is how we start off every sales presentation at Media Shower, by talking about these two elements of content marketing. I have talked with hundreds of companies, and every person nods their head at this point. No one has ever said, "That's insane! Go back to the future, you fiery-eyed prophet of doom!" Yet, very few companies live out these two values. Here's why.
Element #1: Great Content
In the early 2000s, we were running a humor website called ZUG, and we wrote this article called "The Credit Card Prank." We noticed that no one ever checked the signature on credit cards, so we spent a few weeks signing crazy credit card signatures: "Beethoven," "Zeus," hieroglyphics, and so forth. Then we took pictures of the receipts, and published it on the site.
We had done plenty of pieces like this before, but this one got linked from CollegeHumor. From there it went viral (read: lots of links), and after a few months we showed up on Page 1 of Google when you searched "credit card." Now, this was back in the day when Google was not yet a household word, so we didn't even know the value of what we had, until all these credit card companies came to us and said, "We'll pay you a lot of money to advertise on that page."
There are a few lessons from this story:
We did not try to show up in Google. Paradoxically, we just tried to write something funny. The advice, "Write for users, not search engines" was absolutely correct.
We wrote a lot of content before getting that epic win. Hundreds of articles, thousands of pages over a period of years. It took a lot of swings before we hit the home run.
It didn't happen overnight. Even after we got the links, it was months before we showed up on Page 1 of Google. These things take time.
Now contrast this with how most people approach content marketing:
They write for search engines, not users. Instead of "How can I show up in Google," change your thinking to "What information are my customers actually looking for?"
They don't go "all in" on content. Today, everyone's a publisher. This means doing a lot of content, and sticking with it for the long haul. If you don't, your competitors will.
They look for quick results. What you want to see is steady, measureable progress. Nothing great happens overnight, but you want to see steady improvement.
Element #2: Great Links
Going back to "The Credit Card Prank," here were a few lessons we learned about the value of links.
The links were key. If the piece had not been featured on CollegeHumor, the very same article would have had zero success. The very same article!
One link from an influencer can have a domino effect. Getting one well-read blog to link to your stuff can result in dozens of additional links.
Web links, not social media mentions, made the difference. Tweets and Facebook posts are easy, which is why Google doesn't value them. Actual links are hard.
Somehow, we web marketers got confused about all this. We invented a discipline called Search Engine Optimization, and we started hiring SEO professionals, who actually have very little control over either of these things. In a large company, content and links belong to other departments, so SEO professionals focus on "optimizing" content, which really doesn't matter that much.
The popular myth is that Google cares about technical details like ALT tags and H2 tags and keyword density and a lot of other nonsense. I can show you dozens of examples where top-ranking Google pages do not follow any of these technical rules. But it's rare to find a top-ranking page that does not have great content and great links.
People like to emphasize the technical details for one simple reason: that stuff is easy. They don't like to talk about the two things that really matter, because that stuff is hard. Which leads us to the rule of thumb for how Google works:
If it's hard, Google adores it. If it's easy, Google ignores it.
This means that where most people spend most of their time with "Search Engine Optimization" is just not that important, because everyone can add H2 tags. Does that make a better article? Does that make something that people are more likely to read? Why would Google value it?
Take this article. I'll spend a couple hours writing this, weaving in some stories to hold your attention, while trying to leave you with a few useful takeaways. I'll break it into sections, so you can skim it and get the gist. I'll add an image, but there will be no ALT tags, because they don't matter.
Then we'll go promote this article to a few people. We'll actually pitch the article by hand to some editors at top marketing blogs. If we're lucky, we'll get a link. And if we get a link, more links are likely to follow. If we don't get a link, well, I'll try again next week. That's the way it works: you keep swinging until you hit a homer.
Great content, promoted with great links. They're difficult, but they're the only things that matter.

Sir John Hargrave is the CEO of Media Shower and author of the upcoming book Mind Hacking. This post is free to distribute under CC 4.0: if you like it, share it.