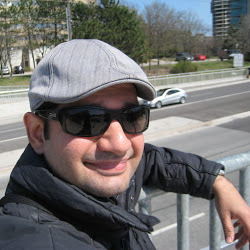 Zubin Kutar of Web Traffic ROI knows that content is king when it comes to having a great website and blog. He started his site from scratch and did what many site owners and bloggers fail to do – he networked. He commented on top blogs and generated organic leads back to his own site. Now he has a solid following of readers and plans to keep on growing.
He shared some of what he learned on his journey here in this interview.
As anyone with a website knows, driving traffic to it can be difficult. What is your approach to generating web traffic?
I started the blog in 2008. At that time, I used a high-traffic blog to post comments on in order to drive traffic to my blog. I used to do close to 100 genuine comments a day on the top eight to 10 blogs. This drove a lot of traffic to my site. I haven't done anything more to drive traffic. The users that came on initially kept coming once I had stopped commenting.
Commenting on other blogs also helped me network with top bloggers like John Chow and Shoemoney, who helped by writing about me on their blogs.
If you could select three of the most important factors contributing to web marketing, what would those factors be?
Regular blog posts
Interacting with users by commenting
Building an email community
Your advice on your site helps make business better for entrepreneurs, business owners, bloggers, etc. How do you select the best advice to give to your customers (or those who seek you out for advice)?
All advice comes through experience; I can only teach you what I've learned myself by making mistakes and repeating them. I can't teach you to swim if I don't know how to swim.
What trends do you see happening in terms of web marketing? How will these trends help or hurt those looking to build a larger web following, increase conversions, do better business, etc.?
Mobile is the biggest trend that's happened in the last few months. Get your blogs and sites mobile, optimized and responsive. Also create simple check-out processes and lead-generating forms. This will help create better conversions.
SEO is something the novice and professional blogger can sometimes struggle with. What tips do you offer pertaining to SEO?
Forget SEO…Google's killing it. Build a community slowly and steadily without relying on SEO. If more than 50% of your traffic is from search, you're in trouble. I've stopped doing any SEO-related activities. Just concentrate on engaging content, and you'll get people coming in to read what you've got.
E-commerce is not something that all web owners deal with, but for those that do, what do you think web owners can do to make the e-commerce process better?
Make the check-out process and the website navigation simple. Simple works best.
Blogs are an important part of any website. That said, what do you think makes a blog best in terms of reader friendliness?
Write content that your readers want to read; the rest is on how you tell a story through your blog posts. Keep it simple and to the point.
What role do you feel social media plays in increasing web traffic?
Facebook has killed its reach; the reach in 2015 is going to be less than 1% – they want you to advertise to reach your audience. If you're an e-commerce site, it's going to be difficult to get viral traffic. Content-based sites and blogs, however, may still get traffic from social media.
If there was just one thing you could tell someone to do to increase web traffic, what would that thing be?
Write engaging content, build a network of bloggers, build an email list, publish your content on content curation sites like BizSugar.com, and use LinkedIn groups.
Please share anything else you would like individuals to know about WebTrafficROI.com
I got the domain about three or four months before I published my first post – I just did not know how to start a blog and what to write. It's been a long journey since then, but worth it.