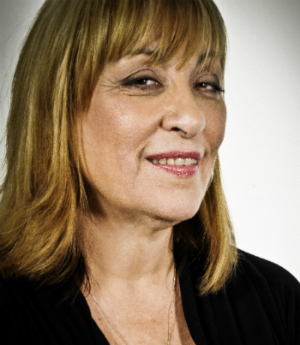 In an interview with Entrepeneur Magazine during the summer of 2014, Papa John's founder John Schnatter was quoted as saying, "I am the American Dream," turning $1,600 worth of used restaurant equipment, a great idea, and a lot of hard work into a $1.4 billion dollar payday.
The idea that enough hard work, dedication and innovation can lead to financial independence is not exclusive to the United States, but it does fit with the frontier spirit. But for a long time, entrepreneurship didn't seem like that viable of an option. The turbulent financial waters of the past few years, however, are making starting your own business a realistic goal.
Rieva Lesonsky is the founder of Small Biz Daily, a website dedicated to everything an entrepreneur could need to make their business flourish. Don't let the name fool you; the wisdom she imparts is sound for every business owner and manager, no matter the size.
What is your background, and how did you get started with online marketing?
My "involvement" with online marketing revolves around writing about it and marketing the content my company produces for our website on SmallBizDaily.com and for our clients.
As for my background, I have owned my own company GrowBiz Media for nearly 7 years now. Before that, I was the long-time editorial director of Entrepreneur magazine. I was a journalism major in college.
Who is your audience at smallbizdaily.com? How can others who are not in that main demographic derive benefit from the site?
SmallBizDaily.com is for people who own their own businesses or want to start one. If you serve that market (sell to entrepreneurs), there's a lot you can learn there as well.
In a recent blog post,you talked about word-of-mouth referrals as being the most effective way to earn new customers for small businesses. In fact, word-of-mouth is responsible for 250% more business than the next highest category, social media marketing. What advice do you have for building word-of-mouth recommendations?
.
Make your customers happy. It's as simple as that. Satisfied customers will be happy to tell their friends, family and colleagues about your business. You might need to ask for the referral and even incent some of your customers to give it, but the most important thing is to follow the Golden Rule – treat your customers as you would want to be treated.
You also wrote a recent blog post about using social media to find customers. How widely are you involved with social media, and what are some of the techniques that you use to increase business with it?
I love Twitter best of all. We post our content on Pinterest, Facebook, LinkedIn (my 2nd fave) and Google +, but Twitter is where I spend most of my time. We post about content we write, and also tweet content written by others that I think will help small business owners. On Twitter, I have found clients, formed relationships and uncovered great entrepreneurs to write about. But you need tools to manage your social media. I'm a big fan of HootSuite and Tweetdeck.
You've also recently written about measuring your ROI with social media. What are some of the methods that you use to measure return on investment, and how does that data help inform your decisions?
A lot of the social media platforms have introduced analytics for their users. The ones at Twitter & Pinterest are quite robust. That said, you have to determine what you're using social media for in order to determine what your ROI is. If you're looking for a certain amount of dollars back, that can be hard to measure. For me, it's about the conversation and the relationships.
There was also a recent post about Big Data and its application for small businesses, which is quite a hot topic. Do you use Big Data personally in your campaigns, and what are some useful apps and resources for getting started with this emerging field?
Big Data is very hot right now. But many small businesses don't understand why it's so important and how relatively easy it is to use. Big Data is merely capturing information about your customers that helps you know more about them, and then using that information (wisely, I hope) to market to them. It can be as simple as wishing your customers a happy birthday and offering a promotion to go along with that. Of course, it can get far more complex than that. To implement Big Data, you need a solid CRM program and a smart marketing campaign. Email marketing is key, but don't forget that a lot of customers still respond to direct mail.
There was a post on Small Biz Daily about never wasting a networking opportunity. Obviously, online marketing is important, but what are some of the ways that you bring your business into the physical world?
For me personally, I love to meet small business owners. Since we don't have any events ourselves, I take advantage of any opportunity I have to talk to groups of small business owners. I found the events sponsored by national and local branches of SCORE and the Small Business Development Centers are a great way to meet small business owners. Last year, I also had the opportunity to speak at the Sage Summit and meet so many great entrepreneurs there.
I have also teamed up with 2 colleagues to create a rewards program called the RuleBreakers. Last year was our inaugural year. This year, we will hold the event at the Sage Summit, which is exciting since we will get the chance to present to a great group of small business owners.
You regularly post reading lists on Small Biz Daily. Do you have any recommendations on what our readers should be reading right now, either in print or online?
I think it's important to read (online or digitally) everything you can about your own industry. But it's also important to keep track of trends in general and business trends in particular.
I regularly read the NY Times, Inc magazine and Inc.com, Businessweek, HubSpot and of course all the publications I write for (AllBusiness.com, Success magazine, Small Biz Trends, and Fox Small Business among them). But I find inspiration everywhere. I've found people to write about reading House Beautiful. The most important thing is TO READ, because reading is the path to discovery and enlightenment.
You talked about some demographic trends lately, including teenagers and single women. Who are some of the top spenders right now, and what advice can you give about formulating a campaign for specific demographics?
Demographic marketing is so interesting. Teens spend like crazy and they're getting more fickle with their dollars. A recent survey from Piper Jaffrey that issues reports on teens twice a year says they're now spending more on food (dining out) than clothes. That says a lot, and restaurants should figure out how to target them without alienating other customers.
Another great demo right now is the oft-overlooked Gen X. Once thought of as slackers, Gen Xers are earning a lot of money; and they're the majority of parents of kids under 18 (and we all know how much spending those parents are responsible for.) Gen X is, on the whole, a positive and happy generation; so it's important to market accordingly. They have big dreams and big responsibilities, and they are wanting to spend and save (for their kid's education, etc.) at the same time.
Obviously marketing campaigns are important, but do you have any advice on adding value to content, and why that's important?
They say content is king right now. We do know Google thinks it's important to have updated content on your site (it helps you rise organically in the search engines). But you need to make sure your content is not about selling, but informing. Your customers will come to look at you as a trusted source of information. Content should never be about you, it's about them (your customers)
For more updates from Small Biz Daily, like them on Facebook, connect with them on LinkeDin, and follow them on Twitter, Google+, and Pinterest.
.