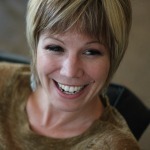 When trying to build your brand in a crowded online marketplace, sometimes the best marketing method doesn't involve a tweet, like or re-pin.
Try a little old-fashioned reciprocity.
"The best way we have found to grow our audience is through a mutual exchange of generosity," says Megan Barnes, owner of The Mogul Mom. "For those who are partners, blog contributors, or members – many of whom have their own community of customers or readers – we actively promote their successes, and we have found that they voluntarily do the same."
Of course, Megan says, social media and webinar promotions have also been useful for spreading the word.
Here, Megan shares more about her site, the challenges of entrepreneurship, and offers advice on marketing your online venture.
Tell us the story behind The Mogul Mom…when and why was the site started?
The Mogul Mom was founded in 2007 by Heather Allard. The mission was to provide honest, accessible, and actionable content to support mompreneurs in running their businesses, raising their families, and rocking both. In October of 2013, I picked up the mantle of The Mogul Mom from Heather as she moved into new entrepreneurial endeavors.
As a writer, I found myself fixating on the word "mogul." Moguls build lucrative ventures and turn them into empires. Moguls are fierce, independent, and fulfilled. In connecting with and surveying a subset of mompreneurs, I realized there was room for more moguldom in our mogul moms' lives. I knew that I wanted to build upon Heather's vision for empowering mompreneurs and take it to a new level of possibility. I began researching the mompreneur space to see what was being offered, and I did a series of in-depth interviews with mogul moms at various stages in their entrepreneurial journey. I discovered there was a lot of one-way advice and information being offered to mompreneurs, and most of it was really good. And yet, mompreneurs still struggled – a lot. My interviews revealed certain trends and correlations between the moms who were living their desired level of success and those who weren't … and the wheels began turning in my mind…a vision of possibility emerged.
We decided to create a space to nurture and amplify entrepreneurial efforts, where mompreneurs could actively work on their businesses in a collaborative environment. The member community that we designed is made up of an aggregate of small groups (called Groves) where mompreneurs can network, share, learn, and collaboratively grow their ventures.
What services do you offer, and who should be using them?
The Mogul Mom member community was built especially with solopreneurs in mind. As solopreneurs, we all have our areas of brilliance and expertise. Conversely, we each have areas of our business that feel intimidating, overwhelming, and out of reach. Whether or not the business task ahead of you is in your wheelhouse, limited resources of time, money, and energy mean that you need to focus your attention on those parts of your business that will leverage radical growth. That's where the member community comes into play.
Membership is about positioning yourself for growth. It's the difference between casting seed and strategically planting. You become a TMM member because you're ready to invest in yourself and your business; you come to actively do the work that defines the entrepreneur. The Member Suite is more than just a workspace. It's a strategic focal point. When you're here, you're working on your business, not just in it. The tools and layout of the Member Suite were designed to help you focus on what matters and to amplify the impact of your efforts. The Member Suite includes access to:
Bulletins: We do the legwork of researching news trends, publicity opportunities, new selling platforms, and anything else we believe will highlight you in the public eye. What's more, we warm the opportunities by building collaborative partnerships with the people and agencies looking for your stories.
Market: You can list an unlimited number of your products and services in our search engine optimized Market where anyone can browse and be redirected to your site for purchase. There are no service or handling fees, and you can manage your Market presence direct from your Suite.
Forum: We have a fantastically navigable forum where members can learn, strengthen, and build their businesses through robust peer-to-peer and expert-moderated discussion.
Mogul Monitor: We place you in a one-on-one compatibility-tested relationship where you can meet quarterly for confidential assessment of your strategic business objectives and your performance in key areas.
The Wire: This is a live social where you and your fellow Grove members can connect, network, and share.
Can you share a story of a Mom Mogul you find especially inspirational? What has she done that's been especially innovative and worth copying?
One of our moms, Kimberly Cromwell, was recently selected as the 2014 Rising Star ETHOS Award winner by the Direct Selling Association! Her company, Celadon Road, was recognized for its sound business strategy, growth, and commitment to ethics, as well as charitable, humanitarian, and environmental initiatives. This is the second consecutive year that Kimberly's company was recognized by DSA as an industry leader and received an ETHOS Award.
This is an outstanding achievement! This win is especially significant, considering all of the previous winning companies are now doing at least $100M in revenue.
What do you think are the biggest challenges facing entrepreneurs today?
Running a small business presents manifold challenges for anyone. But as women in small business, we face a unique set of challenges.
While these challenges may present greater difficulty for us than for our male counterparts, I believe they also hold the potential for us to excel – thereby enriching the social and economic landscape of our world through our innate gifting of vision, connection, intuition, and creation. I believe in the possibility to turn our unique challenges into heightened impact.
These challenges are opportunities to be your best self.
One of the most obvious challenges for women comes of our often substantial domestic obligations and our dual roles as leaders in our homes/families and leaders in our businesses. The sheer breadth and diversity of tasks that make up a given day in our lives present challenges to our focus, energy conservation, and time management.
Women have been long-heralded as "natural multitaskers," and we DO manage multiple tasks, often juggling a mountain of topics at once, without dropping the ball. But the most recent scientific findings dub the "women as multitaskers" notion as myth, saying it is not physically possible to render more than one idea at a time in our brains. What looks like multitasking is actually a series of quick-fire toggles between various tasks and ideas.
Another challenge comes in financing growth. All of the statistics from the major players in small business investing reflect a disparity, not only in the start-up funding received by women small business owners, but also in the likelihood that women will pursue funding. According to the National Women's Business Council, even when women do seek funding, only 8.7 percent of women-led ventures are awarded financing, compared to 18.8 percent of ventures led by men. But before you despair at these statistics, I have another number for you: from 1997 to 2007, women-run companies grew at TWICE the rate of men-run companies.
The third and last is one I've seen plague women friends of mine time and again, and regularly wrestle with it myself. I'll be hit with a stroke of genius, an "Aha!" moment, a truly inspired idea. And then somewhere in the process of mulling it over or sharing it with a friend, the largesse of the idea will dawn on me and I falter. I shrink the idea down to next to nothing.
Why do I do that? Why do I let my ideas be made smaller than they are? Why do I spend the time and energy I could put toward the creation and execution of my brilliant idea into back-pedaling notions of implausibility? Sometimes I think it's because I am scared of knowing my own power and potential.
Long have women been the visionary leaders of society. We are intuitive, reflective, relational, and idealistic. We bring life into the world, not just through our wombs, but by the rigor of our spirits and our union of heart and mind. We are the seers and dreamers of the world. I read once that there is something desperate about a world in which women are too busy to be dreamers, and it's true.
What are some best practices for entrepreneurs to build their brand in today's digital marketplace?
Go deep: The persona of your business brand is an extension of your individual persona and is similarly created. It is therefore crucially important that you understand how your individual persona is structured – the exact mechanism that shapes and motivates your choices and behaviors.
We all have complex parts of ourselves at the core of our identities. These parts are driven by memories, principles, fears, and motivations that were formed by your experiences.
When contemplating the conscious creation of your brand personality, it is a good time to begin unearthing these parts, identify them and friend them. How, you ask? It is not an easy nor straightforward process, but it is absolutely doable.
I find it very useful to begin by charting a map of your parts. Start with identifying powerful moods, tendencies, strengths, and weaknesses that you encounter over and over in your experience of yourself.
I encourage you to take the leap, go inward, explore, and make that map. I guarantee you will meet iterations of your own self that surpass your wildest imagination. All that is good and excellent in you is housed there, and the other parts – well, they have their reasons, too, and the experience of negotiating peace with these parts and entering an assimilated state of cooperation will do more for your business than all of the entrepreneurship programs in the world, I promise.
What are some marketing no-nos you see that you try to steer entrepreneurs away from? Why are they problematic?
Generic marketing. The truism that if you market to everyone, you market to no one is true. Someone visiting your site for the first time should be able to ascertain your ideal customer within the first minute. Chances are if site visitors can't tell who you're targeting, your ideal customers can't tell you're reaching out to them either.
Get to know your ideal customer: What is her name? Is she married? Does she have children? What does she do in her spare time? What are her motivations, fears, and anxieties? What gets her excited?
The more you know about your customer, the better you will be able to understand the marketing that could entice her to buy your product.
What advice do you have on writing useful, shareable web content?
I believe the words of blogger James Chartrand, that all writers "have a mental factory hard at work in their heads." Chartrand suggests recognizing three critical roles within your own writing process. She (James is a nom-de-plume) calls them the Visionary, the Draft Worker and the Editor, and admonishes that you give each her due by allowing each to work independently without impingement from the other roles.
In other words, recognize your own inner visionary – lend her free reign in coming up with the brilliant and fantastical ideas that only she can imagine. Don't let the draft writer try to launch into the drafting until she has completed her task, and rein in your inner Editor from criticizing her. Likewise, when the Visionary has completed her work, hand the project over to your Draft Writer and let her do what she does best – turn that brilliant, ephemeral idea into smooth prose – without interruption from either the Visionary or the Editor.
And lastly, let the Editor have her time – now and only now is the time to question the idea's validity, the function of the prose, the piece's construction. Your Editor is your quality control when kept within the right parameters. Let your inner Editor have free rein over the whole process and you will be doomed before you even begin – with all your promising but fledgling ideas being shot down before they have a chance to coalesce. Check out Chartrand's complete article "How to Unblock Your Writing and Create Effortless Words" – I recommend printing it out and posting it somewhere prominent in your workspace. For me, it has been an invaluable resource.
What are some trends you've noticed in web content today? What ideas are worth borrowing?
I've seen a schism between high-quality blogs with professional quality writing and images and others that – even if they have great ideas – have such terrible editorial quality, the reader doesn't have the patience to find the genius. We have definitely sided on the side of quality content and writing.
What should entrepreneurs/startups consider when it comes to the aesthetics of their website? What are some must-haves? What about some website no-nos?
Funny you should ask; we just finished a major redesign of our site! My tip – hire someone who knows what they're doing!! Website design is an art form; if you use a generic template, you will get generic results. That may be OK for some companies, but we are trying to stand out in a crowded market. It is important for our website to show our personality and philosophy while being informative and to the point. It's a fine line that we feel we have achieved with our new design.
It's also important to sweat the details; we spent two days picking the images and another full day on the introductory paragraph alone! You never get a second chance to make a first impression!